The IM Niche Domination course has recently been launched by a guy named Lee Murray & through it, you're promised that you'll be provided with everything you need to finally begin making as much as $233.65 per day online.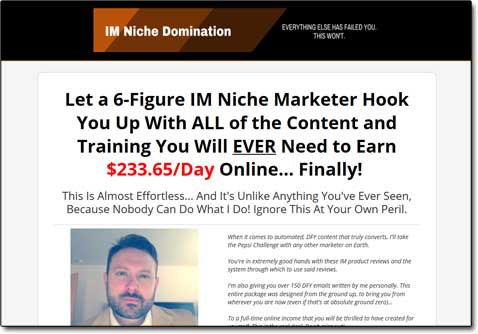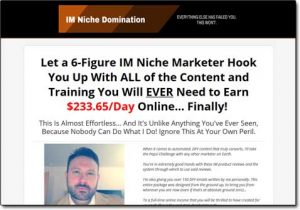 But we hear these promises time & time again when it comes to money-making programs so no doubt you're pretty sceptical about the whole thing.
You're probably wondering is it actually legit? Or is IM Niche Domination a scam that'll just see you losing money rather than making it?
Well, don't worry because you've landed in exactly the right place to find out. I've taken a closer look into how it all works & in this honest review, I'll be uncovering the truth & outlining whether or not you can actually make any money with it.
What Is IM Niche Domination?   |   How Does IM Niche Domination Work?   |   The Truth   |   Is IM Niche Domination a Scam?   |   A Better Alternative
What Is IM Niche Domination?
IM Niche Domination, which stands for Internet Marketing Niche Domination is a training course that has been designed to teach you how to make money through affiliate marketing by targeting specific niches.
And the concept is that most of the heavy lifting has allegedly been "done-for-you".
You see the method Lee uses to make money involves writing product reviews which contain affiliate links, getting them ranked in Google & then earning commissions as people come from Google & make purchases via his links.
To be honest, I'll admit that it's a pretty solid way to make money online, but as you can expect it takes quite a bit of work because you've got to actually write decent product reviews if you want to stand a chance of having them ranked anywhere near the top in Google.
So whilst it is a very good method, many people are put off because of the hard work that's involved.
And that's where Lee's IM Niche Domination product comes in because through his product he claims that he will actually be providing you with the reviews himself so that there's no need for you to write anything.
He states the following (which I have directly quoted from his promotional page):
All you need to do is plug in your name, the name of the product you're promoting, and a few minor details. You'll have an expertly-crafted review in your hands, ready to pull in big profits fast.
Almost sounds too good to be true right? And you know what they say about stuff that sounds too good to be true… It probably is!
Well in this particular instance I can confirm that sadly it is indeed too good to be true – but you probably already assumed that anyway. After all why on earth would somebody be selling an automated way to make $233.65 per day for just $67?
The reality here is that the program has actually been primarily designed with the intention of making Lee more wealthy, not you, and whilst there is actually some decent substance to his product… Sadly it just doesn't quite make the cut.
You'll soon see that for yourself below though when I explain how it all really works…
How Does IM Niche Domination Work?
Okay so as I said above the whole concept basically relies on publishing product reviews to a website, getting them ranked in Google (and other search engines) then making money from the visitors that come to read the reviews.
You could make money from the visitors by either promoting the product that is being reviewed or by recommending a better alternative instead.
And like I said it is indeed a legit way to make good money online.. It's just that obviously it takes a fair bit of work which puts most people off. So Lee claims to have come up with a way to take that work out of the equation.

The problem though is that whilst his method sounds good in theory, in practice, it won't actually work out.
You see the reason for that is because the reviews he's providing his members are what's known as "spun" reviews. In other words, they're basically computer generated & not very good to read.
The computer program that generates them basically grabs a real review, then it just replaces words & sentences throughout it to try & make it seem different. Google (and other search engines) don't rank duplicate content you see.
However, in doing this the content becomes pretty poor quality & it's not exactly readable to a human. This causes another problem because search engines also don't like content that isn't good to read. They reserve the top positions for the best & most engaging content, so you with your "spun" content will struggle to get ranked anywhere decent within the search listings.
This means that yes, you'll have a site full of reviews & affiliate links… But you won't be getting any traffic which will mean that you won't be getting any sales… So in short you won't be making any money.
You Might Also Like:
The Truth Is There Are No Shortcuts…
If you want to make good money online then you must be prepared to put in the work to make it happen, period. If you could really just make money by using automated systems then everybody would be doing it & nobody would be left working a real job… Heck, the world would be in crisis.
It's a case of "you get what you pay for". If you really want to take the hassle of writing your own product reviews then you hire a writer to do it for you… That's the only way to get around it.
Sure it won't be cheap but you get what you pay for. You get good quality content that still ranks in search engines, and if you do it right then your profits should outweigh your spend… That's business.
Lee's product on the other hand costs $67… So do you really think you are going to be getting high-quality content that will rival a real writer for that price? No way on earth! Instead, you get low-quality content which won't rank & as a result, you won't make money.
Therefore it might sound crazy but Lee's IM Niche Domination program would end up costing you more, even though it's cheaper… If that make sense.
In fact Lee even states that he's against push buttons himself on his very own blog (found at leemurray.com). Take a look at a screenshot from a post he wrote on April 8, 2017, below:

He states, and I quote: "Y'all push-button pushin' mofos can bounce"…
So it's a bit strange that he's now released a "push button" style program isn't it?
Plus in that same post, Lee also shows his ClickBank earnings & the most he earns in a day on the snap he included totals $69.72… Which is way off the promised results of $233.65 per day he claims you can achieve through his IM Niche Domination program.
I'll admit it was a year ago he published the post though so maybe he has finally got his income up… But it just really does all seem a bit strange to me, which brings me onto…
Is IM Niche Domination a Scam?
Well, it's not a scam, and it would be pretty harsh to call it that. The IM Niche Domination course by Lee Murray is indeed a legitimate training course, however, it won't really help you make money like it claims it will.
The truth is that it's really just been designed to make Lee wealthy, not you, as he'll be making money from everybody that buys into the program. Those that do buy into it will just be left to find out the hard way that it doesn't really work as promised.
So for those reasons (and the fact that it seems Lee himself potentially isn't even making $233.65 per day), I won't be recommending this program to you because I don't believe you'll get much value out of it. Instead, you'll probably just find yourself disappointed with what you receive.
The good news though is that if you are still interested in making money online & you are prepared to put in the work required to make it happen then there are legitimate programs out there like Commission Academy which can help you get started.
But anyway whether you decide to join Commission Academy or not I just hope that my review here gave you a good insight into how Lee's program really works & hopefully it helped you save some cash.
If you do happen to have any further questions or comments though then don't hesitate to leave them below & I'll do my best to get back to you as soon as possible.
A Better Alternative
The sad truth is that unfortunately most of the programs promising to help you make money online are scams. I can say that confidently after exposing over 500+ of them here on this blog.
But the good news is that even though most of them are indeed scams, there are actually some very good programs in amongst them - some programs that can truly help you to earn money.
And out of all of the legit programs I've seen, the one I would recommend the most to anybody looking to get started online is Commission Academy. In my own opinion, that's the best place to start.
At Commission Academy, you'll be provided with everything you need (including the training & tools) to begin earning real money by promoting products or services for companies like Amazon online.
The best part is that there's literally no limit on the amount you can earn with it & the process is pretty simple which means that it's absolutely perfect for people that don't have much experience.
Some wealthy affiliates even earn as much as 5-figures per month... Or more!

I mean don't get me wrong, that kind of money won't just fall into your lap without doing any work... But the harder you're willing to work at it, the more you stand to earn with it.
So if you're looking to get started but don't know which route you should go down or which program you should join (and don't want to waste money on bogus things that don't actually work), then I'd highly recommend checking out Commission Academy first. You can learn more about it here.