Ordinary people are manipulating a secret Netflix algorithm to earn hundreds of dollars per day according to Perpetual Income 365.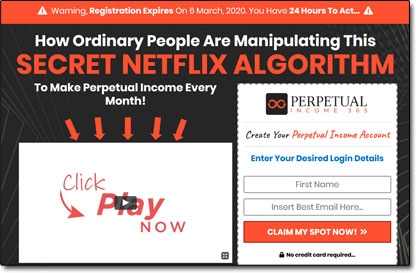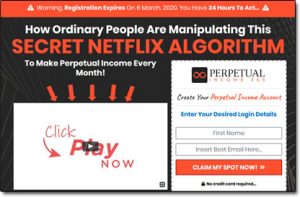 And guess what?
Shawn Josiah, the man who's allegedly behind the Perpetual Income 365 program wants to cut you in on it.
He self-claims to be a 7-figure online entrepreneur & he allegedly wants to "give back" by helping you generate your own millions using his little-known Netflix secret… But is it legit?
Or is Perpetual Income 365 a scam that you'll just want to run a mile from?
Well, I suspect that deep down you probably already know the answer & that's likely the reason you searched for a review before you joined. Unfortunately, Perpetual Income 365 is NOT legit.
I'll explain why in this review & I'll explain exactly how it all really works.
Plus I'll also share some legitimate alternatives so be sure to keep on reading if you're still interested in earning online. 🙂
What Is Perpetual Income 365?   |   How Does It Work?   |   What Does It Actually Involve?   |   The Big Problem   |   Is Perpetual Income 365 a Scam?   |   A Better Alternative
Perpetual Income 365 Review – What Is It?
If you've already visited the Perpetual Income 365 sales page prior to coming to this review then you'll have probably noticed something, which is that the page doesn't give much away about the whole thing actually works.
Instead, the page just starts out with a story about an alleged "renegade Netflix data scientist" that was supposed to keep a secret about how Netflix really made their money but decided to leak it.
Then you're introduced to a man named Shawn Josiah, the creator of the program who claims to be a 7-figure entrepreneur & ClickBank Platinum earner.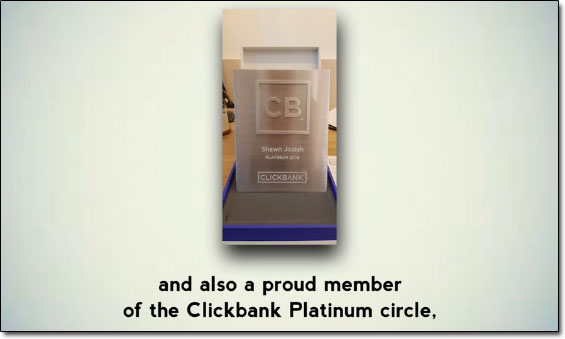 At this point, I was a little confused as to why Shawn mentioned his ClickBank status as that's something totally different from Netflix (more on that in a moment)…
But the important part is that he claimed you'd be getting access to an "inner circle of loophole exploiters".
So he essentially leads you towards believing that you'll just be able to sign up to his Perpetual Income 365 program & get access to some sort of Netflix loophole that'll see you earning hundreds of dollars per day.
Not once does he mention anything about you having to do any work, and nor does he mention that in reality, you'll probably just find yourself spending more money on his program than you actually ever manage to earn.
He knows that if he mentions those things you probably won't hand over your cash, and that's why he's come up with the bogus Netflix story instead.
Yep, I said it – the whole Netflix is bogus. The Perpetual Income 365 program has nothing to do with Netflix & I can say that so confidently because it's pretty much just a re-hashed version of his previous program, Profit 365.
Profit 365 was created by Jamie Lewis, Andrea Fulton & Mr Netflix Loophole himself – Shawn Josiah.
It simply seems that Shawn Josiah has potentially decided to relaunch it but potentially go it alone this time around in an attempt to bank even more profits from the people that get tricked into signing up.
But how exactly does it work? Keep reading as that's exactly what I'm going to explain next…
How Does Perpetual Income 365 Work?
Well as mentioned in the previous section of this Perpetual Income 365 review, it certainly doesn't involve Netflix – and unfortunately, there are no "secret loopholes" that'll see you earning money on autopilot.
Instead, the whole thing is actually just loosely based around something called affiliate marketing.
And this is where I want to stress that affiliate marketing in itself is actually a legitimate way to earn money online. You can actually earn very good money with it & it's the same way I personally make most of my own money.
The problem though is that the training provided via the Perpetual Income 365 program isn't really all that great.
It seems Shawn's real interest doesn't really lie with helping you to find success & make money with affiliate marketing, it lies more with him just trying to squeeze as much cash from you as possible so that he can line his own pockets at your expense.
You see even though the program is supposed to be just $47 per month, that's not really the case.
Sadly though your only left to discover that the hard way after signing up as it's after joining you'll find out that you haven't really got access to everything & that you'll need to purchase additional upsells.
Remember when Shawn Josiah mentioned he's a 7-figure earner & that he made $500,000 in the last year from ClickBank in the Perpetual Income 365 sales video?
Well yeah, he probably did earn that amount – but he'll have likely done it by just squeezing cash out of people in the exact same way he's trying to squeeze it out of people through this system.
Pure trickery, that's all it is.
So What Does It Actually Involve?
If you were to hand over your cash & sign up to Perpetual Income 365 you'd be left to discover that the program actually revolves around teaching you how to promote products from ClickBank as an affiliate.
This means that you promote the products using unique referral links & if anybody that clicks through the links buys them, you get paid a commission.
As I mentioned in the previous section of this review affiliate marketing in itself is legitimate but there are a few problems with this Perpetual Income 365 program in particular which are as follows:
Most of the products on ClickBank are low quality/scams
The training isn't very in-depth & there's no community support
The training is focused on paid advertising methods which are costly & not recommended for newcomers
Plus, naturally, Shawn also makes a push on getting you to promote his own product (Perpetual Income 365) which means that you'll be trying to make money by selling others the opportunity to make money.
Doesn't sound too good, does it?
So instead of signing up for a program like Perpetual Income 365, if you truly wanted to learn how to make good money from affiliate marketing (the right way) I'd recommend just sticking with a proven program like Commission Academy.
At least Wealthy Affiliate lets you try their program for free…
Plus you can rest easy knowing that Wealthy Affiliate has been around for over a decade, has literally millions of members and is the largest affiliate marketing training community in the world.
So yeah, I think with that in mind it becomes pretty easy which program to pick – LOL.
You Might Also Like:
Understand There Are No Shortcuts
There are many, many programs out there like Perpetual Income 365 and they all prey on the exact same thing… They prey on the fact that most people are looking for quick results.
Unfortunately, though quick results don't exist – especially not if you're brand new.
Think of it as the world of dieting… Everybody knows that deep down there isn't any "quick fix" to lose weight and tone up yet still companies keep on pushing them & people keep on falling for them.
The only way to get a great body is to diet well & work hard at the gym.
It's no different when it comes to business… If you want a good business that's going to earn you good money then you must appreciate that it's going to take work & time before you start seeing results.
Heck, if you could just sign up & start profiting so easy then everybody would be doing it – nobody would be left working a job.
The internet is fantastic & it certainly provides many great opportunities to make money but it's not magical & none of those opportunities are ever going to see you getting rich (or even just replacing your income) quickly.
Over time yes, but not quickly…
Is Perpetual Income 365 a Scam? My Final Verdict
"Scam" is a pretty harsh word, so it depends on how you look at it. I mean yes, the Perpetual Income 365 program does give you training on a legitimate method for making money (affiliate marketing), but ultimately, in my opinion, the training isn't all that great.
This means that realistically your chances of making money after buying into the Perpetual Income 365 program will be very slim, especially if you're brand new – and that's far from how it's being sold.
The program is essentially being sold as an "easy way" to make money & you're almost led to believe that it'll actually provide you with an automated way to earn money which simply isn't the case.
For that reason, in my opinion, I do believe it to be a scam as I believe it's been launched with the intention of "tricking people" so that Shawn Josiah, the man behind it, can earn himself money at their expense.
Plus there's also a ton of hidden costs involved which you only get to find out about after initially handing over the first $47.
But regardless of what you think, scam or not, there are ultimately better programs out there – like Commission Academy for example. There's simply no need to waste money on hyped-up gimmicky programs like Perpetual Income 365.
I mean put the two programs side by side – Perpetual Income 365 is brand new, not backed up by any success stories & overly hyped-up. Commission Academy, however, has been around for over a decade, isn't hyped-up & is backed by thousands of legitimate success stories.
It's a no brainer which one to choose as far as I'm concerned.
But of course, aside from affiliate marketing, I should point out that there are also several other ways that you can make money online which if you're interested in, you can learn about on my top picks page here.
Whatever you decide to do though I just simply hope that this review of Perpetual Income 365 has given you a good insight into what you can expect from the program & most importantly I hope it's helped you to save some money. 🙂
A Better Alternative
The sad truth is that unfortunately most of the programs promising to help you make money online are scams. I can say that confidently after exposing over 500+ of them here on this blog.
But the good news is that even though most of them are indeed scams, there are actually some very good programs in amongst them - some programs that can truly help you to earn money.
And out of all of the legit programs I've seen, the one I would recommend the most to anybody looking to get started online is Commission Academy. In my own opinion, that's the best place to start.
At Commission Academy, you'll be provided with everything you need (including the training & tools) to begin earning real money by promoting products or services for companies like Amazon online.
The best part is that there's literally no limit on the amount you can earn with it & the process is pretty simple which means that it's absolutely perfect for people that don't have much experience.
Some wealthy affiliates even earn as much as 5-figures per month... Or more!


I mean don't get me wrong, that kind of money won't just fall into your lap without doing any work... But the harder you're willing to work at it, the more you stand to earn with it.
So if you're looking to get started but don't know which route you should go down or which program you should join (and don't want to waste money on bogus things that don't actually work), then I'd highly recommend checking out Commission Academy first. You can learn more about it here.