Pincoin is one of the latest cryptocurrency-based money-making opportunities to launch & like the majority of the other companies that have come before it this one too makes outrageous income claims such as promised ROI's of up to 312%.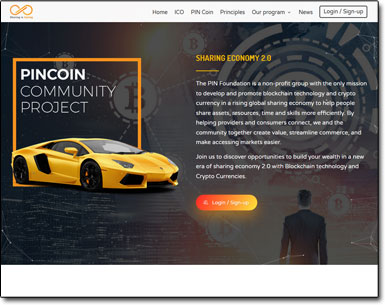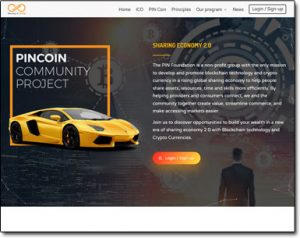 But again, just like the others that have come before this is a company that also runs recruiting alongside their "investment scheme" so what's the deal?
Is this one actually legit or is Pincoin a scam that'll just see you parted with your cash like the rest of these crypto-opportunities?
Thankfully you've landed in the right place to find out because I've taken a closer look into the so-called Pincoin Community Project & in this review, I'll be sharing everything there is that you need to know, including the big question – whether or not you can actually make money with it.
What Is Pincoin?   |   How Does Pincoin Work?   |   The Red Flag   |   Is Pincoin a Scam?   |   A Better Alternative
What Is Pincoin?
Pincoin, or the Pincoin Community Project as they call themselves is basically a newly launched cryptocurrency that allegedly focuses on "sharing". They claim they've launched to help people share assets, resources, time and skills more efficiently.
However, after just taking a short look around their website, it's very clear that the whole thing is geared towards a money-making opportunity, through which they promise returns of up to 40% per month.
And also, here is something that I want to bring your attention to which I've quoted directly from their website:
"Join us to discover opportunities to build your wealth in a new era of sharing economy 2.0″…
So high returns, a recruitment scheme & a so-called "sharing economy"… If that doesn't scream Ponzi scheme then I don't know what does. So yeah, I want to point out right away that in my opinion the whole Pincoin Community Project thing certainly looks an awful lot like a scam.
But I'll give credit where it's due, they've certainly gone all-out on developing their website to make it seem legit. We could potentially be looking at another high-scale operation like BitConnect here…
And by the way, in case you didn't see it in the news BitConnect was a similar company that was recently forced to close resulting in thousands of members losing their investments.
Davor Coin was another company that was also recently forced to shut down too, so it's certainly not looking great for these types of things but I won't brush it off so quickly, instead let's take a look at how it works…
How Does Pincoin Work?
Well firstly there's Pincoin's side of the story – they claim that they've created a revolutionary new cryptocurrency which will make for better "sharing". You're led to believe that if you, therefore, invest in the coin, its value is likely to increase in the future (according to them at least).
However what's much more likely to happen is that if you invest in the coin, you will be likely to find out that not so long down the line the company will be forced to close, leaving you short of your investment.
The reason for that is because the reality here is that, in my opinion at least, Pincoin is merely a well covered-up money-making opportunity (or should I say scheme).
You invest money, and you get an ROI.
That's how Pincoin really works, which you'll find out once you manage to navigate your way through all their spiel (aka the cover-up). However this promised ROI is not safe, in fact, it's totally the opposite.
Firstly let me run through what they claim to offer:
PIN 100 Package – Invest $100, get 156% ROI (capped at $600)
PIN 400 Package – Invest $400, get 182% ROI (capped at $2,600)
PIN 2000 Package – Invest $2,000, get 208% ROI (capped at $14,000)
PIN 10000 Package – Invest $10,000, get 234% ROI (capped at $80,000)
PIN 50000 Package – Invest $50,000, get 260% ROI (capped at $450,000)
PIN TOP Package – Invest $250,000, get 321% ROI (capped at $2,500,000)
And let me also start by saying again those promised ROI figures are insane… Ludicrous… and most importantly, impossible – from a legitimate scheme at least.
I mean come on, if there was a legitimate way to invest $10,000 and turn it into $80,000 or $250k and turn it into $2.5 million then everybody would be doing it – we'd be hearing about this thing from the news, not via some spam email.
The reason we're not hearing about it via the news is that like the majority of the other cryptocurrency schemes out there it's complete utter garbage & the chances are you will lose all of your money, not make any.
That's because going off those ROI figures it's clear to see that the company is operating a massive Ponzi scheme. This basically means that you invest, then they're using the investments from the new members coming in after you to pay you off… That's why there's such a heavy push on getting you to bring new people in too.
But the problem is that this business model is totally unsustainable, at some point, there won't be enough new people coming in to pay off the old members & this is when the whole thing will collapse & disappear.
Disappearing with your money too.
You Might Also Like:
The Big Red Flag
Whenever you're looking into any sort of investment opportunity there are 2 things you should immediately look for before even looking for anything else. Those 2 things are the owner's details (such as the company behind the operation) and the owner's license from their countries regulating body.
You should also check up on them to make sure they're actually legit, because I've known some websites use fake details. It's easy to do, all you need to do is search the given license number against the register & see if it holds up with their company name.
You should never, ever trust a company who doesn't even do as much as to show you who's behind it (like Pincoin). The reason for that is because that's a massive common trait of a scam.
Scammers hide their details from their sites so that when they do collapse they can simply launch another one under a completely different name & continue the scam without any trace whatsoever.
Despite their website being very detailed & almost looking legitimate, Pincoin definitely displays all the common traits of a scam for sure. They also provide absolutely no information as to who owns it. Basically there is no way I would even investment so much as $1 with this company, let alone $100… and NO WAY $250,000.
Is Pincoin a Scam?
With the crazily high promised ROI's & the lack of information as to who actually runs the company, I can say confidently that Pincoin does indeed look like a scam. I believe it's nothing more than a mere Ponzi scheme.
Sadly with the fact that cryptocurrency transactions are untraceable, there are more & more of these things launching every day so when it comes to looking at cryptocurrency opportunities it pays to do your due diligence.
These types of companies are just looking to jump on the ever-increasing hype of crypto & take advantage of the new people that are looking to get started with it & looking to make lot's of money quickly.
So overall I am going to be giving the whole Pincoin Community Project thing a big thumbs down because as far as I'm concerned it's certainly not legitimate & it's something you should definitely avoid.
Anyway, hopefully, this review provided you with the insight that you were looking for & helped you decide whether or not you really want to join this place. If you do happen to have any further comments or questions don't hesitate to leave them below.
A Better Alternative
The sad truth is that unfortunately most of the programs promising to help you make money online are scams. I can say that confidently after exposing over 500+ of them here on this blog.
But the good news is that even though most of them are indeed scams, there are actually some very good programs in amongst them - some programs that can truly help you to earn money.
And out of all of the legit programs I've seen, the one I would recommend the most to anybody looking to get started online is Commission Academy. In my own opinion, that's the best place to start.
At Commission Academy, you'll be provided with everything you need (including the training & tools) to begin earning real money by promoting products or services for companies like Amazon online.
The best part is that there's literally no limit on the amount you can earn with it & the process is pretty simple which means that it's absolutely perfect for people that don't have much experience.
Some wealthy affiliates even earn as much as 5-figures per month... Or more!

I mean don't get me wrong, that kind of money won't just fall into your lap without doing any work... But the harder you're willing to work at it, the more you stand to earn with it.
So if you're looking to get started but don't know which route you should go down or which program you should join (and don't want to waste money on bogus things that don't actually work), then I'd highly recommend checking out Commission Academy first. You can learn more about it here.