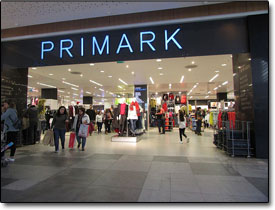 Primark is a name that you're probably already familiar with. It's one of the worlds largest fashion stores & it has a dominating presence in the United Kingdom with the brand being renowned for cheap, yet stylish garments.
As a result, it's quite often hitting the headlines, usually with news of seemingly ever-increasing profits however this time it appears to have been hitting the headlines for different reasons.
Lately, it's because of something that's being referred to as the Primark Franchise Scam.
In short, a third-party company that has no affiliation whatsoever with Primark has been offering people the opportunity to start & manage their own Primark store in return for an upfront sum of cash. Unfortunately, the offer is completely fake.
In this article, I'll be uncovering details of exactly how the Primark franchise scam works, how you can avoid it & how you can potentially get your money back if you've already fallen victim to it.
What Is The Primark Franchise Scam?   |   How To Avoid These Types of Scams   |   Already Been Scammed?   |   Similar Scams To Watch Out For
What Is The Primark Franchise Scam?
Essentially the scam itself is pretty simple. Some third-party companies that are completely unaffiliated with Primark have been reaching out to people about a potential opportunity to become a franchise-owner of Primark.
This means that they're essentially promising to provide you with the ability to run your own Primark store, for a fee.
So if you were to chat with the fraudsters that are behind the scam then you'd be left with the impression that they would set everything up for you, build the store, and that you'd then simply be left to manage it.
Sounds great, right? After all, as I mentioned at the start of this article everybody already knows about the booming profits of Primark… Who wouldn't want to get in on the action & get a cut of the profits?
Sadly though Primark doesn't actually offer a franchise opportunity. Here's their official stance on it:

(image above shows a snippet of this page: https://www.primark.com/en/franchise-scam)
This means that if you were to hand over money to get started with the "franchise opportunity" then you'd essentially just be handing over that money to scammers & you'd be left with nothing in return.
Now upon reading this article, you might think it sounds like an obvious scam, however, the people behind it are pretty smart. They've created replica versions of the Primark website in an attempt to trick people into believing it's legit & some of them even send out physical information packs containing the Primark letterheads.
Basically, it can be pretty convincing – and of course, scams prey on emotions like excitement. This means that if you are excited about the opportunity of running your own store, you may not necessarily be checking all the facts.
It can be easy to overlook things.
And the people behind the Primark franchise scam have been really pushing to promote it & lure people in. Many people claim to have been contacted directly via email, but also I've personally come across listings on classified ad websites & online jobs boards.
I'm also confident that the scam will likely also be getting pushed via social media too, so definitely stay alert.
So How Can You Avoid Scams Like This?
The internet is great, but there's no doubt about it – there are a lot of scams online & it sometimes it can seem almost impossible to avoid them. Almost every other website you click on seems to contain "dubious" ads to say the least.
But as well there are also great, legitimate opportunities & it can help us find them… So how can you tell what's not legit, from what is?
Well, there are 2 simple things I always recommend doing, which are as follows:
1. Check the official website, or contact the company in question directly.
If whatever it is you're concerned about mentions an opportunity with a company such as Primark or Amazon, then the first thing you should do is verify it with the company themselves. Check Primark's website, check Amazon's website – and if you can't find the information, call them.
Even if the websites promoting the opportunities appear to look legit, they could be spoofed. This means that whilst you might think you're on the official websites for the companies, you may not be.
Simply open a new window, and load up the website by typing the official address in the browser, then check the info.
2. Do your due diligence, look for what others are saying.
Even if something looks like it's 100% legit, it still may not be – and even if it is legit, it still may not be worth your time or money. The best way to find out is to simply search for what other people are saying.
Head to Google, run a search – look through multiple websites & see what folks are saying. As an example, if you search for "Primark franchise" then the top result is an official article from Primark stating that it's a scam.

That quick 30-second search could save you a ton of cash.
Plus you could also look for reviews right here on this blog.
You Might Also Like:
What If You've Already Been Scammed?
Have you already fallen victim to the Primark franchise scam prior to coming across this article? Whilst it's obviously not the most ideal situation, there is still a chance you could recoup the money you've lost.
Primark state that on their official website that you should contact their customer care team if you've had somebody approach you about it. They'll likely have staff who have been trained on the subject & can advise you.
Aside from that though I would also contact your bank. Inform them of what's happened, and ask for advice on what to do next. Your bank will be able to walk you through the next steps from there.
Some Similar Scams To Look Out For
Whilst this particular version of the scam targets Primark & primarily residents of the United Kingdom, there is no doubt that they will also be latching onto other brand names too, such as Walmart etc.
You should, therefore, stay vigilant for that – and also alongside this particular franchise scam, there has also been a trend of Amazon-related scams launching (none that are actually affiliated with Amazon of course).
The Amazon scams I've recently come across include:
And finally, I will close out by making you aware of the link posting job scam too which targets people through similar sites as the Primark franchise scam. If you've come across the Primark scam, you may well come across the link posting one as well.
Of course though if you happen to know of any more then feel free to leave details of them into the comments & I will publish them here on the blog.