Have you received a robocall or voicemail telling you to visit a website named RetailRiches.org in order to gain access to a great work from home Amazon job? If you have then you certainly wouldn't be the only one…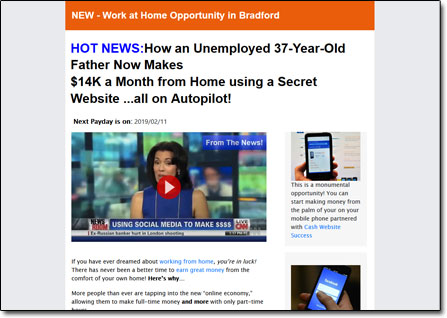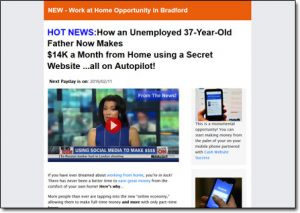 These calls & voicemails have been getting "blasted" out to millions of phones over the past few weeks & some people have even reported that they've received as many as 22 of them in a single day… But is there anything legit at the other side? Will RetailRiches.org really provide you with access to a legitimate work from home Amazon job as the calls claim?
Well, the short answer to that is NO – not really, but I urge you to continue reading this blog post to see exactly how this scam really works & to see its true intentions of what it's really trying to sucker you into.
What Is RetailRiches?   |   How Does It Work?   |   Can You Actually Make Money With It?   |   Is RetailRiches a Scam?   |   A Better Alternative
What Is RetailRiches.org?
If you haven't visited the website already then to be honest I'd advise you not to. The reason I say that is because the RetailRiches.org is essentially just a "redirector" URL & the destination that it takes you to frequently keeps changing.
Right now at the time of writing this blog post, it's redirecting its visitors through to a URL entitled "mswsupforsnews.pw" but soon enough browsers (like Mozilla FireFox & Google Chrome) will begin warning people about the dangers of the page & when they do, the owners of RetailRiches.org will simply redirect people through to a brand new, random URL.
It's worth pointing out that there are also a few other of these "redirectors" getting sent out in the voicemails/calls too such as:
RetailRecruit.org
AmazonMoney.co
AmazonWealth.org
AmazonProfits.org
RetailPay.org
AmazonRecruiter.org
However, the one thing that does stay the same is the scam itself & regardless as to what URL the "redirector" takes you to the same scam will present itself, which is a scam known as the Cash Website Success scam.
The website tricks its visitors into making them believe that it is actually a news article they're being presented with, but it's not – it's just a one-page website that somebody has created to replicate a news article.
They want you to believe it's a news article because they know if you believe that then you'll be more likely to trust the links on the page, but you shouldn't trust the links because they all go to the Money Sucking Websites scam.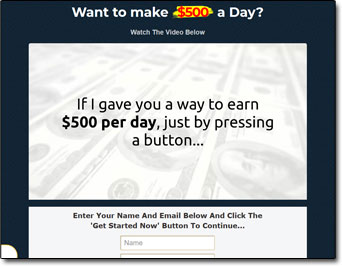 So RetailRiches.org leads you to the Cash Website Success fake news site which attempts to trick you into thinking you'll be getting fixed up with a legitimate work from home Amazon job & then that leads you through to the Money Sucking Websites scam where you'll be asked to part with your cash in order to get started.
Sadly though none of it's true as you'll soon see for yourself below when I show you how it all really works…
How Does The RetailRiches.org Scam Work?
Okay, so first things first the scam hits you up with a robocall or voicemail telling you about a great opportunity to work from home for Amazon through which you'll allegedly be able to earn a good living.
You'll likely be sceptical about it (and rightly so) but the call asks you to visit a website & if you do then you'll be presented with what looks to be a real news article discussing exactly what the call just mentioned.
Many people at this point will be able to spot that it's a scam due to the "over the top" promotion of something called Money Sucking Websites – but admittedly they've made it seem very believable by including both videos & "proof" so it could be pretty darn easy to get drawn in…
Anyway, if you do happen to get drawn in & click one of the links on the page then as I mentioned in the previous paragraph you'll be taken through to something different entirely, something called Money Sucking Websites.
On that website you'll be told that you'll be able to "earn $500 per day just by pressing a button", and obviously that's a pretty wild claim – but they're hoping that the fake news article they presented you with first has made you think it might actually work & they're hoping that you'll at least get curious enough to want to try it out…
But surprise surprise, trying it out isn't free. Instead, in order to get access to the so-called Amazon Cash Websites you'll be asked to hand over $47 of your hard-earned cash (apparently reduced from $97) as shown below:

And the website continues to use high-pressure tactics to lure you in by telling you that there's "only 8 spot lefts"… So even though you might only be curious & still think it's possibly a scam, the creator just wants to now pressure you to sign up fast to avoid missing out…
Unfortunately, many people do, but this is only just where the scam begins. Once inside the creator continues to give more hype about the amazing opportunity you've allegedly found yourself presented with, but in order to begin you're told you need more and more bits of the system – all of which cost more & more money.
The creator though is very good at one thing & that's getting people excited, so it would be very easy to get drawn into the whole thing & then by the end of the sales funnel you could have found yourself parted with thousands.
You Might Also Like:
Can You Actually Make Any Money?
In my opinion spending money isn't a problem if you're actually going to make that money back & more, but in the case of the MSW System scam, there's just absolutely no chance you'll find yourself making money.
The system promises that you'll be getting provided with "done-for-you" websites that are ready to generate profits from Amazon & whilst this is half-true in the sense that they do provide their members with some websites, there are a few really big problems…
Firstly all of the websites the members are getting are absolutely identical. They're just automatically generated duplicates & search engines like Google, Yahoo & Bing are not interested in listing duplicate content… This means that getting visitors from search engines to the websites is out of the question…
And without visitors you won't make any money – after all, it doesn't matter how many great products you have on your website, if nobody is visiting it then you're still not going to make a penny.
So without that free source of visitors from search engines, you have only 1 real effective option left which is to use paid advertising – however as a newcomer, I can say that you will 100% just end up losing even more money here.
Even online marketing experts struggle to put together a profitable campaign without burning through a whole load of their budget first. I've seen companies burn through literally 10's of thousands before they manage to turn their campaign into a profitable one.
In short paid advertising is not easy & it's VERY risky – especially for a newcomer.
But there's just no need to find yourself forced to go down this route because there's a much better option. Simply avoid the RetailRiches.org scam in the first place & just go through a legitimate platform like Wealthy Affiliate where you'll get a genuine, custom website & where you'll get free visitors from search engines.
Plus did I mention that you can join Wealthy Affiliate for free? So yeah, it's basically a no-brainer. The creator of the MSW System scam is just set out to earn himself some cash at your expense – he doesn't really care about your success.
I think I've said enough now though & that brings me right onto…
Is RetailRiches.org a Scam?
Yes, it is, there's absolutely no doubt in my mind that the whole thing including the Cash Website Success & MSW System is a scam. It's entirely built around deceit & the fact that they're using illegal voicemail/robocall spam as their main method of marketing pretty much says it all.
Whilst the program promises you with access to an amazing work from home Amazon job, it hands down doesn't deliver – instead, you just get a bogus website that'll likely never see any visitors other than yourself and it's safe to say it certainly won't see any profits.
So with all that being said, I'm definitely going to be advising that you steer clear of the RetailRiches.org site & whatever site it redirects you to because it's just been set up to make its owner creator wealthy, not you.
Instead, if you want to make good money online legitimately then I highly recommend you check out the free Wealthy Affiliate program as that's where you'll truly learn to find great success (and get all of the tools you need to do so).
But also be sure to check out my other top picks for making money before you go as well.
And I'd just like to add that I really hope my blog post here was able to help you save your hard-earned cash rather than losing it to the crooks behind this Amazon scam. If you do happen to still have any further questions though (or maybe some comments) then feel free to leave them below. 🙂
A Better Alternative
The sad truth is that unfortunately most of the programs promising to help you make money online are scams. I can say that confidently after exposing over 500+ of them here on this blog.
But the good news is that even though most of them are indeed scams, there are actually some very good programs in amongst them - some programs that can truly help you to earn money.
And out of all of the legit programs I've seen, the one I would recommend the most to anybody looking to get started online is Commission Academy. In my own opinion, that's the best place to start.
At Commission Academy, you'll be provided with everything you need (including the training & tools) to begin earning real money by promoting products or services for companies like Amazon online.
The best part is that there's literally no limit on the amount you can earn with it & the process is pretty simple which means that it's absolutely perfect for people that don't have much experience.
Some wealthy affiliates even earn as much as 5-figures per month... Or more!


I mean don't get me wrong, that kind of money won't just fall into your lap without doing any work... But the harder you're willing to work at it, the more you stand to earn with it.
So if you're looking to get started but don't know which route you should go down or which program you should join (and don't want to waste money on bogus things that don't actually work), then I'd highly recommend checking out Commission Academy first. You can learn more about it here.