The Amazon Wealth program (found at amazonwealth.org) promises to provide you with an exclusive work from home opportunity with Amazon & leads you into believing that you'll be able to earn as much as $14,000 per month, even without any technical experience whatsoever.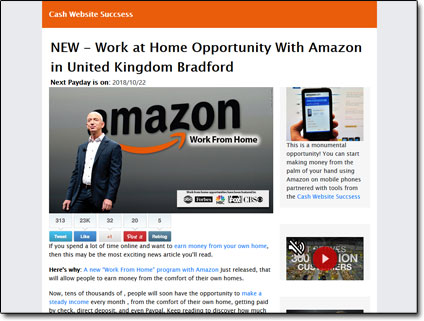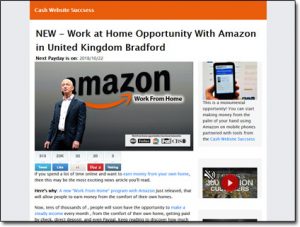 You're told that you'll get a work from home kit which will show you exactly what you need to do and that with just 1-2 hours of work per day you could see yourself generating life-changing "extra" income…
But is it really legit? Or is Amazon Wealth a scam that's just set out to part you with your cash rather than actually help you make it?
Thankfully you've landed in the right place to find out as I've personally taken a closer look into it after receiving a spam call about the opportunity & in this honest review, I'll be uncovering the REAL truth about how it all actually works (and of course whether or not there's really any money to be made).
What Is Amazon Wealth?   |   How Does Amazon Wealth Work?   |   What Is The Amazon Work From Home Kit?   |   Is Amazon Wealth a Scam?   |   A Better Alternative
What Is Amazon Wealth?
The Amazon Wealth program is a website which claims to provide you with access to a legitimate work from home job with Amazon, and claims to provide you with everything you need to get started in the form of what they call a "work from home kit".
The website that the program is promoted via is named "amazonwealth.org", however, upon visiting that URL visitors are immediately redirected to another URL which frequently changes. Right now the URL visitors are being redirected to is "todaysnewspages.pw" but just recently it was going to another one named Real Profits Online.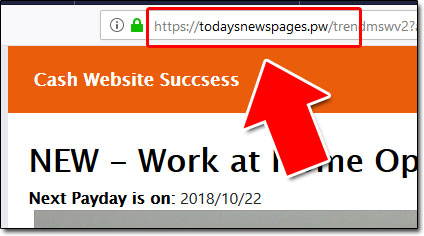 Either way, at whatever website you get redirected to you'll be presented with what looks to be a news article, and the lookalike news article goes on to talk about a brand new program named Cash Website Success.
The whole article is basically geared towards hyping you up about the potential to make lots of quick & easy money, and it portrays the job as being a legitimate work from home with Amazon job… But it's not!
In fact, the whole Amazon Wealth website itself is totally fake, it's not a real news article at all & the only reason they've tried to make it look like a news article is to try & trick you into purchasing their so-called work from home kit.
The reason I can say that so confidently right from the off is that the whole thing is actually part of the Amazon Cash Websites scam, which is a scam that I've previously exposed here on this blog in the past.
But obviously I don't expect you to just take my word for that, after all, I appreciate that after coming across the Amazon Wealth website you might have been getting really excited about the opportunity & might not want to believe it doesn't work so easily…. Therefore I've decided to explain below how it all really works so that you can see first-hand for yourself what's really going on & why it won't make you any money.
How Does Amazon Wealth Work?
Okay so in short just to reiterate in case you happened to jump straight down to this section of the review, the Amazon Wealth program basically does not work as promised, at all, and it will not help you make any money.
So here's how it works…
Basically the Amazon Wealth website, which as I mentioned is found at "amazonwealth.org" is being promoted via calls and text messages, in particular from these following 3 specific phone numbers:
865-290-2516
832-637-6895
812-594-4423
The numbers will often ring a phone, let it dial out & then leave a robotic voice message telling the listener to visit the Amazon Wealth website.
Likely out of curiosity many of the people who've received such messages will do exactly that, and upon visiting the website that's when they'll then be redirected through to one of the fake news sites.
It's then on these fake news sites, like the one pictured below, that the creators of the Amazon Wealth program begin to really hype the opportunity up.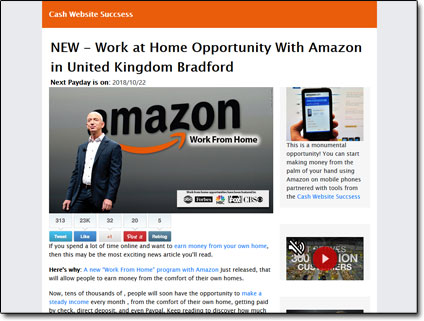 They state that you'll be getting access to a legitimate work from home with Amazon job, of which only 150 are allegedly available – and that all you need to do in order to get access to it is purchase their work from home kit.
The link to the work from home kit then takes you through to another different website entirely, which is usually the Money Sucking Websites page and this is where you'll be asked to hand over your cash.
Now normally most people would be wary of handing over their cash to a random website like that, but because they've made it out to be recommended by a "news website", which it actually hasn't, sadly many people are actually falling for this scam.
They're simply buying into the Money Sucking Websites program which is just a flat-out scam. They promise that you'll be able to make thousands per day online but it's all fake & after handing over your cash you'd just be left to find that out the hard way.
The only people making money from it are the creators behind the whole thing and that's why they're using so many dodgy tactics to try & trick you into buying it – as well as frequently changing the names of their websites too.
You Might Also Like:
Amazon Work From Home Kit – What Is It?
Since the whole thing revolves around the work from home kit no doubt you're probably wondering what it actually is & how that comes into play, but the truth is there is no work from home kit after all.
The whole promise of an Amazon work from home kit is just another trick that they're using to get you to sign up to the scam. All you'll really be provided with after handing over your money is some extremely basic training on something called affiliate marketing.
Now don't me wrong here affiliate marketing in itself a legitimate way to make money, and it's the same method that took me from $0 to over $10k per month, but the training provided via the Amazon Wealth program is total junk.
If you really want to get started with affiliate marketing & make money with it properly then you need a legitimate & proven program like Wealthy Affiliate, which is actually my all-time top-rated program.
So I know, next question – how does affiliate marketing work?
Well, affiliate marketing is basically where you promote 3rd party products or services online in return for commissions. So as an example you could sign up to Amazon's affiliate program which would give you the ability to promote products from their website & get paid commissions for any sales you manage to generate.
That's why the Amazon Wealth program claims you can work from home with Amazon – but the problem is that they portray it as being some sort of "job" which it's not, because you'll need to make sales to make money.
Here's an example of how it works: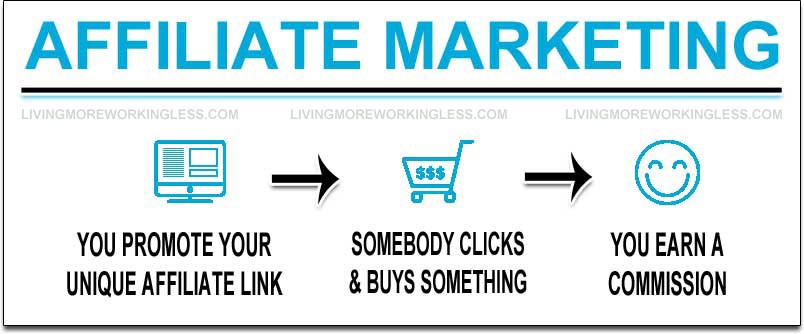 A "job" is totally different because in a job you get paid directly in return for your time, regardless as to whether or not you make sales… And sadly the whole promise of a work from home "job" is just another trick used by the Amazon Wealth program to con you out of your cash.
Anyway, I think I've probably said enough now, I'm sure you get the idea, which brings me onto…
Is Amazon Wealth a Scam?
The Amazon Wealth program is indeed 100% a scam & it's been solely designed to part you with your hard-earned cash. The only people making money from it are its creators & the people who are promoting it.
There is simply no way that by becoming a member of the Amazon Wealth program or by buying one of their Amazon work from home kits that you'll find yourself making money because they have no real interest in helping you at all… They just want to take your cash.
But like I said there is simply no need to waste your time on a program like Amazon Wealth because there are many legitimate & proven programs you can get started with instead (for free) such as Wealthy Affiliate.
Either way, it's safe to say that I will NOT be recommending the Amazon Wealth program to you because as far as I'm concerned it's just a dangerous scam that should be massively avoided.
Hopefully though my review here did help you avoid it & hopefully it's helped you save some cash. If you do happen to have any further questions or comments then don't hesitate to leave them below & I'll get back to you as soon as I can.
A Better Alternative
The sad truth is that unfortunately most of the programs promising to help you make money online are scams. I can say that confidently after exposing over 500+ of them here on this blog.
But the good news is that even though most of them are indeed scams, there are actually some very good programs in amongst them - some programs that can truly help you to earn money.
And out of all of the legit programs I've seen, the one I would recommend the most to anybody looking to get started online is Commission Academy. In my own opinion, that's the best place to start.
At Commission Academy, you'll be provided with everything you need (including the training & tools) to begin earning real money by promoting products or services for companies like Amazon online.
The best part is that there's literally no limit on the amount you can earn with it & the process is pretty simple which means that it's absolutely perfect for people that don't have much experience.
Some wealthy affiliates even earn as much as 5-figures per month... Or more!


I mean don't get me wrong, that kind of money won't just fall into your lap without doing any work... But the harder you're willing to work at it, the more you stand to earn with it.
So if you're looking to get started but don't know which route you should go down or which program you should join (and don't want to waste money on bogus things that don't actually work), then I'd highly recommend checking out Commission Academy first. You can learn more about it here.