Earn massive 100% commissions & get an opportunity to begin earning money before you actually pay anything to get started…
Those are some of the bold claims made by the Prosperity Marketing System, a system that defines itself as being a "funded proposal branded advanced attraction marketing system".
Yeah, I'm not kidding – that's really what it calls itself, take a look below:

That's certainly one heck of a title… So just what exactly is a "funded proposal branded advanced attraction marketing system"?
Or in short, how does the Prosperity Marketing System work?
And more importantly, can you really make money with it as easily as you're led to believe you can?
…can you make money with it at all?
Well, you're in the right place to find out because those are exactly all of the things I'm going to be uncovering here in this Prosperity Marketing System review & good news – I'm not affiliated with it which means I won't be just "hyping it up" to try to get you to join so that I can earn a commission.
If it's good, I'll tell you it's good – but if I think it's worthless, I'll tell you that too.
Not got much time? To summarise it quickly the Prosperity Marketing System is an MLM that's designed to help people promote MLM's but in my opinion, it just adds confusion to the process & makes things even more "pyramid-like". On the surface, it sounds great but in reality, you're probably better off without it and I believe there are better alternatives that'll help you make more money.
Keep reading for my full review to see what made me come to that conclusion…
What Is The Prosperity Marketing System?   |   How Does It Work?   |   Testimonials   |   An Inside Look & The Process Explained   |   The Issues With Paid Advertising   |   Is The Prosperity Marketing System a Scam?   |   A Better Alternative
Prosperity Marketing System Review
One thing you've probably noticed already is that the Prosperity Marketing System's website doesn't really give a great deal away as to how the whole thing works.
You're simply told that it's a "$12 funnel system" and that'll it'll supposedly enable you to earn "100% massive commissions".

But I'm always sceptical when things don't fully explain themselves before you have to sign up or hand over credit card details because usually, the reason they leave out details is because they've got something to hide.
The Prosperity Marketing System claims to offer a free 7-day trial though which might seem a little reassuring.
The problem?
In order to actually get access to the "free" trial, you have to hand over your credit card details. You probably don't want to do that until you know exactly how it works, right? And that's probably why you came to this review.
So How Does The Prosperity Marketing System Work?
Basically the Prosperity Marketing System is an MLM, that's designed to help people promote their MLMs… And it's also supposed to serve as a way to introduce additional income into your business.
But what if you don't already have a business to promote?
Well, the Prosperity Marketing System enables you to sign up & then promote the PMS system to others in return for 100% commissions (only as you'll see in a moment the commissions aren't really 100%).
So you'll sign up to the Prosperity Marketing System for $12/month, then refer others & earn $12 per month from their subscription.
On the surface that does indeed seem like a 100% commission, but the problem is that there's passups involved… So not every member you refer will be placed underneath you, meaning you'll get 100% commissions, but only from some of your referrals.
Then, when you sign up you'll be placed under a sponsor… And the sponsor will have a business opportunity to pitch to you. That's how it works.
You'll go through to the basic training lessons inside of the program to learn about marketing, but ultimately you'll be pitched an opportunity. The lessons are kinda just a "warm-up" to the pitch.
Of course, you don't have to join your sponsor's opportunity…
Instead, if you already have your own opportunity that you're promoting you can add your signup link to that inside of the Prosperity Marketing System (along with some other links, such as links to autoresponders, etc).
Then once you've connected your opportunity to the Prosperity Marketing System your job will be to promote your PMS page rather than your opportunity, in the hope that people will sign up, go through the training & then join the opportunity.
The problem? They won't.
The Prosperity Marketing System gives people the opportunity to earn money before they spend money, so guess what the majority of the people that you refer to the system will do?
They'll sign up, try to get a referral in the first couple of days, fail, and then cancel their subscription before they get billed.
You'll never hear from them again because as far as they're concerned, "it doesn't work".
And even if they manage to get a referral, they still won't stick around because their referral will do the same thing & won't pay, meaning the person that referred them won't get any commission… Again, leading them to think "it doesn't work".
So the concept is "OK" in theory, but in reality, it's just not going to work as well as you're led to believe it will.
Prosperity Marketing System Testimonials
You might have noticed that whilst the Prosperity Marketing System website doesn't give away much information about how it works, one thing it does do instead is throw a ton of member "success" testimonials at you.
There's an absolute stack of people who claim to be having massive success with the system which might encourage you into trying it out… But I decided to check up on a few of those testimonials.
William H. Stoner below for an example praises the system:

However, upon checking out his website, it seems that it's disappeared as shown below:

I guess his success wasn't very longlived…
And he's not the only one. Stanley Tsoumas also praised the system:

His site has also bitten the dust though: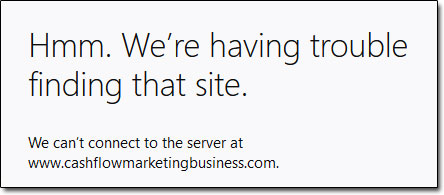 And it seems to be the same for most of them… So whilst the Prosperity Marketing System portrays itself as being a system that provides an easy way to find success, in reality, that doesn't seem to be the case.
Nevertheless though, just in case you're still interested in trying it out, let's take a look at the process.
An Inside Look At The System & Process…
Upon signing up to the Prosperity Marketing System to take advantage of the 7-day free trial you're immediately taken to a page which looks like the one below:


At a glance, it looks like you're about to get access to the system as you're instructed to just enter a password & it seems like after that you'll be good to go, but not quite…
Instead, after inputting a password you're then taken to a sales page which looks like the one below: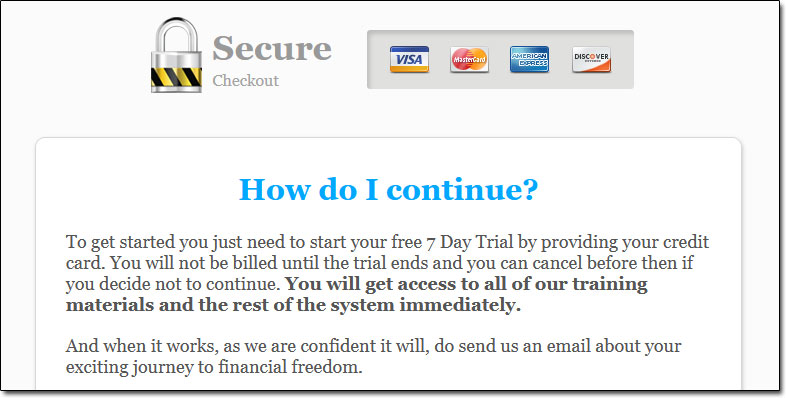 From there you're forced to enter your credit card details before you can continue. This is so that if you forget to cancel within your first 7 days they can automatically bill you, and I think that's primarily what this system is relying on… People forgetting about their subscriptions.
After that though, what's next?
Well from there you're taken through 4 relatively short "training" videos which realistically are more geared towards getting you warmed up for the pitch that'll come immediately after them.
So you'll then get introduced to your sponsor, and get pushed towards signing up to your sponsor's business opportunity. Alongside that there are also 5 other "income builders" you're encouraged to sign up to.
Those are as follows:
Autoresponder
Ad Tracker
Advertising Coop
List Builders
Traffic Exchanges
Then, finally, you'll be instructed to connect all of your affiliate links into the Prosperity Marketing System & begin promoting it.
Here's another kicker though – they want you to promote it via paid advertising.
You Might Also Like:
The Problem With Paid Advertising
Honestly, even experts struggle with paid advertising & despite it seeming to be an easy process on the surface, running a profitable paid advertising campaign is actually a really difficult thing to do.
Why?
Because there are so many variables and some of them which are just simply out of your control – such as the cost of the bids that other advertisers are placing to battle you for placements.
So as a newcomer, you can imagine that finding success with paid ads is VERY difficult.
It requires a lot of trial & error & all of that trial & error costs real money. When it comes to paid advertising you could literally find yourself losing thousands by the hour & that's no exaggeration.
In all my years of working online, I don't believe I've ever seen any newcomer find sustainable success by starting out with paid advertising & so I'm always sceptical of programs that push people towards going down that route.
As far as I'm concerned there is a MUCH better alternative which is to generate free traffic (visitors) to your offers by producing content & getting it ranked in search engines.
The reason that's better, in my opinion, is because firstly it's free, but secondly, because it's long-lasting. It's sustainable.
You see the moment you stop a paid advertising campaign, your traffic will stop – whereas once you've produced content it's there to stick around, meaning even if you stop, the traffic will still keep coming.
And the other benefit is that once you've got a source of free traffic you can play around – you can try different offers, different sales pages, and see what works best without worrying about wasting a ton of cash.
If you're interested in learning about how to get content ranked in search engines I'd advise you to check out Commission Academy which is a training program that'll teach you (and give you everything you need) to do exactly that.
Concluding my review of the Prosperity Marketing System though…
Is The Prosperity Marketing System a Scam?
The Prosperity Marketing System isn't a scam, but at the same time, in my opinion, it isn't really useful either. In theory, the concept sounds good but in practice, there's just no way it'll be effective.
This means that even though you'll be technically promoting more programs as a whole by promoting the Prosperity Marketing System, I think realistically you'll find yourself earning less money than if you were to just promote the offers directly.
The reason for that is partly down to the added level of confusion the Prosperity Marketing System introduces, but it's also partly (and primarily down) to the free 7-day trial offer.
You see if you refer somebody to a system like the Prosperity Marketing System where they can try to earn in their free trial, then they're going to do exactly that & then just cancel before they get billed if they fail.
So you'll just find yourself referring people who never actually go on to do anything, meaning you'll struggle to earn anything in return.
In my opinion, there are simply better alternatives & for that reason, I won't be recommending the Prosperity Marketing System.
If you really want to find success in earning from an MLM then I'd just recommend going through a training program like Commission Academy & learning how to effectively promote using free methods online.
Plus Commission Academy will also teach you how you can earn good (if not better) money through something called affiliate marketing instead, which is my personal favourite way for sustainably earning money online.
But whatever you decide to do is completely up to you – I just hope that my honest review of the Prosperity Marketing System here has given you a good insight into how it all really works & helped you to decide if it's really right for you or not.
A Better Alternative
The sad truth is that unfortunately most of the programs promising to help you make money online are scams. I can say that confidently after exposing over 500+ of them here on this blog.
But the good news is that even though most of them are indeed scams, there are actually some very good programs in amongst them - some programs that can truly help you to earn money.
And out of all of the legit programs I've seen, the one I would recommend the most to anybody looking to get started online is Commission Academy. In my own opinion, that's the best place to start.
At Commission Academy, you'll be provided with everything you need (including the training & tools) to begin earning real money by promoting products or services for companies like Amazon online.
The best part is that there's literally no limit on the amount you can earn with it & the process is pretty simple which means that it's absolutely perfect for people that don't have much experience.
Some wealthy affiliates even earn as much as 5-figures per month... Or more!

I mean don't get me wrong, that kind of money won't just fall into your lap without doing any work... But the harder you're willing to work at it, the more you stand to earn with it.
So if you're looking to get started but don't know which route you should go down or which program you should join (and don't want to waste money on bogus things that don't actually work), then I'd highly recommend checking out Commission Academy first. You can learn more about it here.