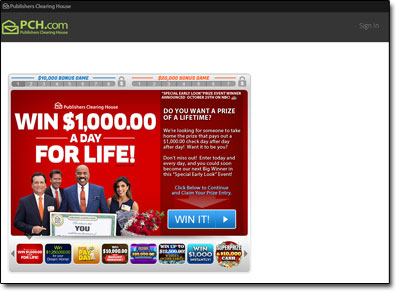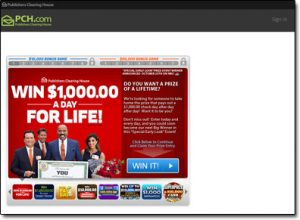 You might have already heard about Publishers Clearing House but you are likely here because you want to learn more about this possible prize-winning sweepstakes opportunity. You have come to the right place and we welcome you to our trusted Publishers Clearing House review.
It is important to notice that sceptics are always there ready to talk ill of something that manages to emerge as a successful venture. On the other side, there are people always ready to promote anything without properly investigating the program under discussion.
We are different because we don't make up our minds before investigating the program. This is what we did before coming up with this third-party Publishers Clearing House review.
Today, you will learn precisely what you need to explore about PCH before making a decision about giving it a go. We will tell you what this program is and how Publishers Clearing House works before reaching to the final verdict – scam or legit.
What Is Publishers Clearing House?   |   How Does Publishers Clearing House Work?   |   Pros   |   Cons   |   Is Publishers Clearing House a Scam?   |   A Better Alternative
What Is Publishers Clearing House?
Publishers Clearing House is a famous marketing company that is known for direct marketing in various subscriptions in newspapers and merchandise. The concept is based on sweepstakes. This is how they manage to boost the sale of their magazine. Most of the buyers are basically hoping for a jackpot.
The mechanism is designed in a way that the stakes are set as win-win for the company as well as for the buyers. PCH increases its sales and customers get a chance of winning awards and prizes. Everything seems legitimate and straightforward. There is nothing tricky as everything on this platform makes sense.
The good news is that PCH isn't known to violate rules. For instance, PCH itself has set restrictions for visitors from the regions where sweepstakes are legally banned. For instance, residents of various Asian countries can't access the website because sweepstakes are not legal in their region.
The PCH website features various board games where you could win prizes. Harold Mertz is the man who created Publishers Clearing House and he is a well-known and respected individual. The company started working in 1953 and since then it continued to flourish by each passing day.
How Does Publishers Clearing House Work?
Simply speaking, direct marketing is what Publishers Clearing House does. They sell books, newspaper subscriptions, jewellery, etc. There are various gaming websites which PCH also operates. But the major attraction is its magazine that features the sweepstakes.
As soon as you buy the magazine, you become a contestant for the major prize. The magazine, most of the time, is available at a discounted price. It simply means that you don't have to buy the ticket because buying the magazine qualifies you as a contender. In addition, they run the sweepstakes on a daily basis. So, the probability of winning increases with the increasing frequency of sweepstakes.
To subscribe to the magazine or sweepstakes, you could opt for email, phone, or online platforms. Visit the website and sign-up. There is nothing fishy going on like the scam sites which claim to generate millions overnight. We love the way how Publishers Clearing House administration has managed to keep everything to-the-point and true.
Pros of Publishers Clearing House
Nice and clean marketing strategy
No misleading claims
Daily sweepstakes
No need to buy tickets
The magazine subscription is mostly available at discounted prices
The company has a credible history and is around there for over 60 years
The customer support team is agile, helpful, and caring
Cons of Publishers Clearing House
They take some time to enrol you after you sign-up and subscribe
If you subscribe for email notifications, you will receive emails almost every day
Is Publishers Clearing House a Scam?
We are happy to conclude our Publishers Clearing House scam review by announcing that this is a completely legitimate opportunity…
But should you subscribe?
It depends on what you are looking for. If you are looking for consistent online income, this is not the platform because it is based on sweepstakes. This program attracts those who want to try their luck. And there are millions of subscribers so the chances of winning are slim. Yes, they run sweepstakes every day but you still have to be extremely lucky to win a huge prize.
On the other hand, yes, people win every day! And they also had some chances as of anybody else. It is really fun you know! Anticipating a big one, getting up every day knowing that there a chance to win a jackpot is an interesting feeling in itself regardless of what the outcome is, there is always another chance the next day and so on.
Still though, overall in my opinion sweepstakes are not the best way forward because as mentioned above they rely on luck… And with so many great opportunities available online there is simply no need to rely on luck.
Rather than relying on sweepstakes to win things you could actually just put in some work with your time instead & earn an income which would allow you to buy the things that you "may" potentially win with luck.
In fact overall with something like affiliate marketing, for example, you would likely be able to earn much more in the long run than you would do if you were just relying on sweepstakes. Well, to be honest with sweepstakes you may actually never win anything at all. Some people never do.
So before you dive in and begin entering into sweepstakes I would strongly suggest you check out these legitimate alternatives for making money. I'm sure that they will likely turn out to be much more lucrative for you.
Whatever you decide to do though I just hope that my honest review of Publishers Clearing House here has given you a good insight into the company & hopefully it has set your mind at ease. If you happen to have any further questions or comments about it then, of course, don't hesitate to leave them below. 🙂
A Better Alternative
The sad truth is that unfortunately most of the programs promising to help you make money online are scams. I can say that confidently after exposing over 500+ of them here on this blog.
But the good news is that even though most of them are indeed scams, there are actually some very good programs in amongst them - some programs that can truly help you to earn money.
And out of all of the legit programs I've seen, the one I would recommend the most to anybody looking to get started online is Commission Academy. In my own opinion, that's the best place to start.
At Commission Academy, you'll be provided with everything you need (including the training & tools) to begin earning real money by promoting products or services for companies like Amazon online.
The best part is that there's literally no limit on the amount you can earn with it & the process is pretty simple which means that it's absolutely perfect for people that don't have much experience.
Some wealthy affiliates even earn as much as 5-figures per month... Or more!


I mean don't get me wrong, that kind of money won't just fall into your lap without doing any work... But the harder you're willing to work at it, the more you stand to earn with it.
So if you're looking to get started but don't know which route you should go down or which program you should join (and don't want to waste money on bogus things that don't actually work), then I'd highly recommend checking out Commission Academy first. You can learn more about it here.