Recently I've been getting asked a lot about the Reward Survey site – it's a site that promises to provide its members with various rewards such as a free magazine in return for sharing their opinion online…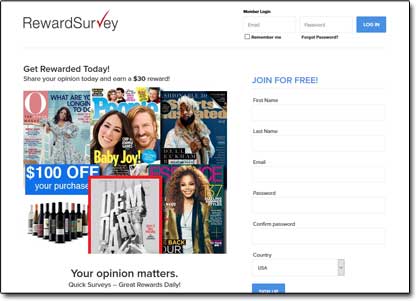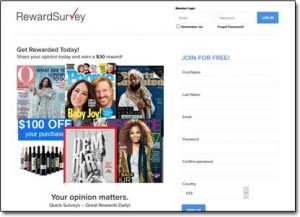 You're led to believe that in return for a filling in a 2 minute or so survey you can earn as much as $30 in rewards… But a lot of people have been wondering is it actually legit? Or is Reward Survey a scam that'll somehow end up taking money from you instead?
I have to admit that the site sure does look suspicious but thankfully you've landed in the right place because in this honest review I'm going to be uncovering everything you need to know & getting to the bottom of whether you can actually make money through this site or not.
What Is Reward Survey?   |   How Does Reward Survey Work?   |   The Processing Fee   |   Is Reward Survey a Scam?   |   A Better Alternative
What Is Reward Survey?
So essentially Rewards Survey is like a paid surveys site but with a bit of a twist. Instead of getting paid in money which most survey sites pay people in, through Reward Survey you're led to believe that you can get access to expensive rewards instead.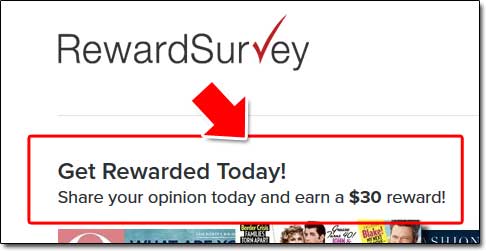 Obviously most people would probably rather just be paid out in cash but the problem is most of the survey sites that do pay out in cash only pay out extremely small amounts for each survey that you complete.
And that's why in general I don't really recommend paid surveys because you can't really make much money with them & I personally feel that they're just a waste of time (since on average you probably won't even earn $1 per hour).
However Reward Surveys claim to pay out much more in the form of rewards. So if you don't mind getting free magazines or gifts then they claim you'll be able to earn much more with them as for a mere 2 minute survey they promise to pay you $30 worth of rewards…
But it sounds way too good to be true right? And you know what they say about stuff that sounds too good to be true… It usually is!
So can you really make money with Reward Survey? Do they really actually give you the free magazines? Let's take a look…
How Does Reward Survey Work?
Well the good news at least is that signing up with Reward Survey is indeed free – there are no catches there (other than the fact that you get added to a newsletter which means you could get a few annoying emails)…
But anyway all you have to do is enter your name, email, password & where you're from… Then you're straight in.
And the first thing you're presented with immediately after signing up is a survey, which admittedly is a little weird. You don't get access to the dashboard, you don't get to see how things work… You just get thrown straight in to a survey which you're forced to complete before you can go any further.
At first you're just asked a few basic questions – when were you born? what's your gender? what's your household income? etc… The usual stuff. Though there is something interesting on this page & that's the warning that you must be 18 to participate.

Most survey sites let anybody participate regardless of their age, and usually when a site states that you must be 18 it's often because there's some sort of payment going to be required.
Still, so far, no sign of payment just yet…
But this is were the site took a bit of a weird turn, because after asking me the basic stuff about myself it then started asking some weird questions about how I normally check the time & whether I wear a watch or not…
Then the intention became clear because I was asked if I wanted to (and I quote) "receive a complimentary one-year print subscription to Watch! Magazine".
Sounds good… Why not? It's free right?
Nope not quite!
The Reward Survey Processing Fee
The magazine subscription was supposed to be complimentary yet I was told that in order to get access to it I'd need to pay a small $0.99 processing fee. The team at Reward Survey claims this is a requirement as it is what allegedly enables them to provide such great offers "free" of charge.
Anyway I happened to discover a link to the Reward Survey Facebook page & it's there that I came across a worrying comment.
Here's the comment (with the names blurred out for privacy reasons):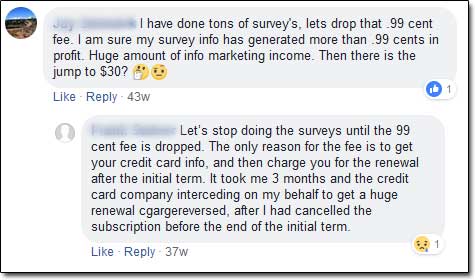 The guy who wrote the comment is claiming that Reward Surveys do indeed send the magazines/rewards out to you as promised, but he claims the $0.99 processing fee is a way for them to get your card details so that they can then automatically renew your subscription after the first "free" year.
I've gotta admit it does seem very odd that they charge a "processing fee", and I have seen many other things which operate a similar scheme… Promising free or discounted stuff only to throw in a hidden subscription renewal at a later date, like the Seven Figure Formula for example.
So the good news is that the site does seem to be legitimate in the sense that you do actually get sent the rewards… However ultimately it looks like if what this guy is saying is true then it could end up costing you a LOT of money in the long run.
I mean let's just pretend the average subscription here is $30 (which is what Reward Survey claim it is)… What if you happened to sign up for 100 "free" rewards throughout the course of a year?
That would result in you getting charged a whopping $3,000 when they all renew!
It all looks a bit dodgy in my opinion, which brings me onto…
Is Reward Survey a Scam?
Well I wouldn't go as far as to call it an outright scam, after all according to the member reviews on their Facebook page it does indeed seem like they are providing the magazines as promised… However in my opinion I would say it's "borderline legit" because it also seems that people are being tricked into signing up for automatically renewing subscriptions.
The other worrying thing is that they don't provide any information as to actually who's behind the website – no company details or office address or anything like that which makes me doubt its overall legitimacy even more.
So overall it's safe to say that I won't be recommending it to you as a place that you should join because not only do I believe there are better ways to make money online, but in my opinion there are also better paid survey sites too (if that is your thing).
Hopefully though after reading this review you can see why I've come to the decision not to recommend it. I mean don't get me wrong the rewards are enticing (if you're into magazines) but the risks of getting secretly enrolled into automatically renewing subscriptions outweigh the benefits in my opinion.
If you do still happen to have any further questions or comments though then don't hesitate to leave them below & also if you'd like to check out the method I personally use to make money online then be sure to click here before you go.
A Better Alternative
The sad truth is that unfortunately most of the programs promising to help you make money online are scams. I can say that confidently after exposing over 500+ of them here on this blog.
But the good news is that even though most of them are indeed scams, there are actually some very good programs in amongst them - some programs that can truly help you to earn money.
And out of all of the legit programs I've seen, the one I would recommend the most to anybody looking to get started online is Commission Academy. In my own opinion, that's the best place to start.
At Commission Academy, you'll be provided with everything you need (including the training & tools) to begin earning real money by promoting products or services for companies like Amazon online.
The best part is that there's literally no limit on the amount you can earn with it & the process is pretty simple which means that it's absolutely perfect for people that don't have much experience.
Some wealthy affiliates even earn as much as 5-figures per month... Or more!

I mean don't get me wrong, that kind of money won't just fall into your lap without doing any work... But the harder you're willing to work at it, the more you stand to earn with it.
So if you're looking to get started but don't know which route you should go down or which program you should join (and don't want to waste money on bogus things that don't actually work), then I'd highly recommend checking out Commission Academy first. You can learn more about it here.