The number of "secret" money-making formulas and explorers of overnight fortune-turning opportunities is increasing with the passage of each day. Greg Guenthner's Seven Figure Formula is yet another addition to the list of seemingly surprising and attractive income generation systems.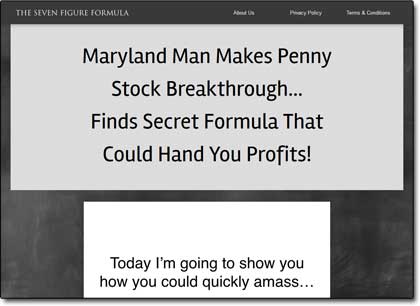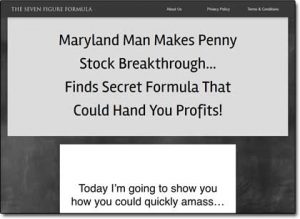 I came to know about this offer through one of my friends who is always in the search of something which could turn him into an overnight-millionaire & he asked for my thoughts on it. How could I disappoint him? So here's my version of The Seven Figure Formula review.
The fact that I'm reviewing a website doesn't mean that it's a must-join platform. The purpose is to present important facts and let the readers make the final decision. The Seven Figure Formula scam rumours have already spread but regardless of those reviews, let's be neutral and go through all the important facts before deciding whether it is good to try this formula or if you should just leave it aside.
What Is The Seven Figure Formula?  |   How Does The Seven Figure Formula Work?   |   Is The Seven Figure Formula a Scam?   |   A Better Alternative
What Is The Seven Figure Formula?
The Seven Figure Formula features interesting graphics which remind me of a primary school classroom. Apparently, it is a multi-page website but the reality is the opposite. The website is actually based on a single page with additional options Privacy Policy and Terms and Conditions. If you hit any of these tabs, a new window opens and takes you to the Agora Financial page.

Agora Financial is the same company that's behind other similar websites such as The Big Book of Income & The Ultimate Retirement Loophole. I've already reviewed those here on my blog & despite the hype I personally felt that they didn't live up to their expectations.
The Promotional Video
The video found on the website advertises a secret formula which has the potential to return unbelievable profits. It looks virtually impossible but this is how most of the promotional videos tend to manipulate facts. The video introduces us to a "Shy man from Maryland" who somehow managed to explore or invent an impressive formula to increase profits on investment. The presenter in the video talks about penny stocks and that this formula anticipates the shoots well ahead of time.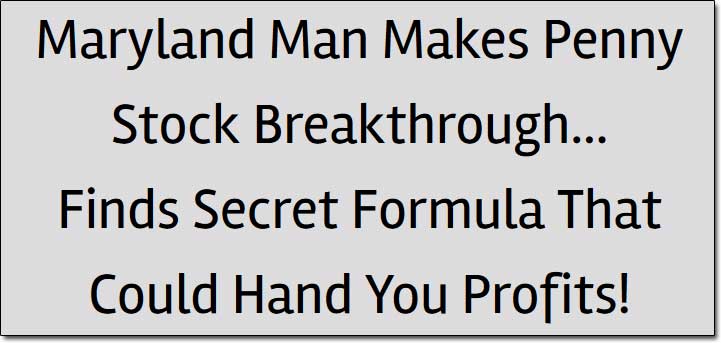 Wow! Sure sounds amazing… But does it really work?
Wait Wait Wait!
Just below the promotional video, don't forget to read the disclaimer, bold and clear, stating the following
The examples don't ensure 100% provision of the identical results. Upon investment, your capital isn't free from the risk factor. You may end up facing a partial or complete loss. Don't risk anything more than what you can afford in the case of a loss.
I must appreciate this courageous move because most of the money-making systems (especially scammy ones like the AZ Formula) tend to hide such disclaimers by either placing the disclaimer right at the end of the page or by reducing the font size so much that most of the visitors don't even bother to read.
Agora Financial
Agora Financial is a publishing company and the Privacy Policy and Terms and Conditions on The Seven Figure Formula website take you to Agora's website. I must say that it gives rise to suspicion because Agora Financial continuously suffers from criticism for practising doubtful deeds. Agora Financial is associated with some other profit generation opportunities of the similar nature and all of these feature misleading facts, high sales pitch and unrealistic claims.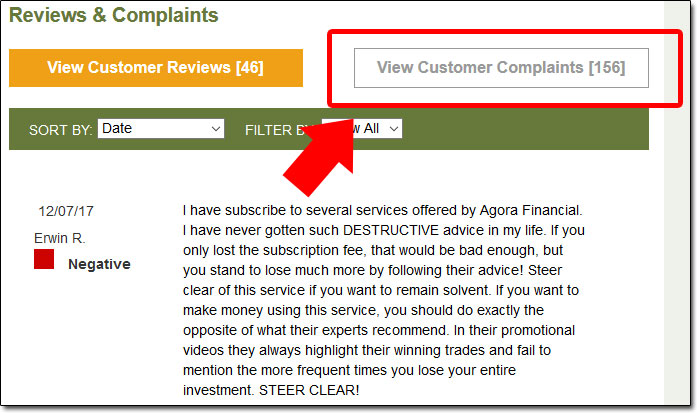 The Altucher Report, for example, another one of their publications has come under massive scrutiny with several people calling it "nothing but a flat out scam". I reviewed it personally and whilst I didn't deem it a scam, I felt that in my opinion, it was indeed extremely misleading.
Factor 148 – The Magical Formula
The Seven Figure Formula is being promoted with the propagation of a secret computer-based formula – factor 148 – which is allegedly capable of anticipating shoots in the penny stocks market.
To me, this is nothing but a promotional tactic. The promotional video or the website content doesn't explain the legitimacy or logic behind this formula. Greg Guenthner is said to be the man who somehow managed to discover this formula which was originally created by a computer geek named Jonas Elmerraji.
As per my knowledge, both of these names are basically associated with Agora Financial. They are said to be the senior market analysts. Let's come back to the point and firstly find out how the system really works.
How Does The Seven Figure Formula Work?
The website features three types of plans, namely Silver ($49 per year), Platinum ($79 per year) and Gold ($89 per year). Did you notice something strange? Read the prices again!
Isn't strange that the Platinum membership is actually cheaper than the Gold membership? Well, there is a reason behind this. It is the result of a smart marketing move which I've never seen anywhere else. The Platinum membership is shown with $99 a year (crossed) and $79 is the discounted price. So, obviously, everybody will reject the Gold membership ($89 per year) which offers fewer features than the Platinum plan. Effectively, they're offering more features with a package which is 10$ cheaper than a plan which offers fewer features. Realistically speaking, there are only two plans, and the Gold plan is just a trick and only a fool would opt for it.

What Do You Get?
Monthly Newsletter – this contains hints about the anticipated performance of various stocks and points out which stocks may return over 100% within a year.
Weekly Update – contains information about different companies and suggestions about smart investment opportunities.
Apart from this, the website claims that the subscribers will get to know how the secret formula actually works. To my imagination, this is just a promotional strategy to convince potential subscribers that the secret formula really exists.
Is The Seven Figure Formula a Scam?
Well, no The Seven Figure Formula is not a scam & it would be wrong for me to label it as one… However, in my opinion, the whole thing is extremely misleading & as far as I'm concerned there is no such "secret" formula.
The reason I say it's not a scam is that ultimately the whole thing is getting you to subscribe to an investment newsletter & if you do, then they do indeed send the newsletter to you as promised… But in terms of making you money, I personally don't believe it will live up to its claims.
If they really could guarantee such profits then there would be no need for such a disclaimer. The trouble is that when you do see a disclaimer on their page you really can't believe a word you say.
The other bad news is that many of the other Seven Figure Formula reviews online mention about extremely high upfront investment being required. Some people mentioned around as much as $20k!
In my opinion that is just way too much money to put on the line because ultimately when it comes to investing there is always risk involved. For that reason, I tend to avoid it & stick with proven risk-free methods of making money instead. If you want to see how I personally make my own money then you should check out the Wealthy Affiliate program as it's there that you'll learn all about the method I personally use (and it's free to get started with).
Therefore overall despite me coming to the conclusion that The Seven Figure Formula is not a scam, I still won't be recommending it because in my opinion, it is not really a good opportunity to join & after reading this review I hope you can see why I've come to that verdict.
If you do still happen to have any further questions or comments about it though then don't hesitate to leave them below & as always I'll get back to you with a response as soon as I can.
A Better Alternative
The sad truth is that unfortunately most of the programs promising to help you make money online are scams. I can say that confidently after exposing over 500+ of them here on this blog.
But the good news is that even though most of them are indeed scams, there are actually some very good programs in amongst them - some programs that can truly help you to earn money.
And out of all of the legit programs I've seen, the one I would recommend the most to anybody looking to get started online is Commission Academy. In my own opinion, that's the best place to start.
At Commission Academy, you'll be provided with everything you need (including the training & tools) to begin earning real money by promoting products or services for companies like Amazon online.
The best part is that there's literally no limit on the amount you can earn with it & the process is pretty simple which means that it's absolutely perfect for people that don't have much experience.
Some wealthy affiliates even earn as much as 5-figures per month... Or more!

I mean don't get me wrong, that kind of money won't just fall into your lap without doing any work... But the harder you're willing to work at it, the more you stand to earn with it.
So if you're looking to get started but don't know which route you should go down or which program you should join (and don't want to waste money on bogus things that don't actually work), then I'd highly recommend checking out Commission Academy first. You can learn more about it here.