Looking to learn more about the ROI Machines platform created by Rudy Mawer? If yes, then you're in the right place.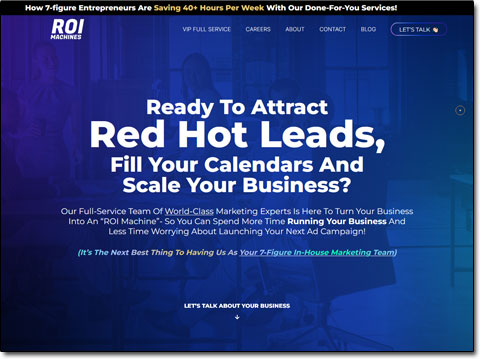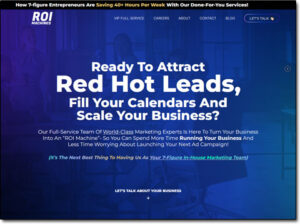 You may be wondering if this platform is a worthwhile venture or if it is just another online scam.
Well, the good news is that in this in-depth review, you'll find out everything there is to know about ROI Machines, from its features and authenticity to its credibility, quality and cost.
For context, ROI Machines was created to provide both small and large businesses with the tools and resources they need for online marketing and to help them get the results they desire online.
So without further ado, let's review this platform and get a better understanding to determine whether or not it's worth investing in.
What Is ROI Machines?
ROI Machines is a platform that gives online businesses and individuals the tools and resources they need to grow and thrive in the online marketing industry.
They help clients and companies reach their goals in their respective fields by focusing on lead generation, social networking, Facebook marketing, YouTube ads, and more.
They provide a number of training courses that teach the methods and strategies used by Rudy Mawer over the years to build his Internet empire.
Brands and businesses can also rely on ROI Machines, an agency made up of a marketing team, to handle their advertising and business needs.
Rudy Mawer and his team not only offer to help businesses with their marketing and product launches, but they are also available on an as-needed basis to help these businesses grow and scale. In exchange, ROI Machines frequently take a small percentage of the revenues.
Whether a company is just getting started or has been around for several years and is already making seven or eight figures, ROI Machines claims its ability to help it scale.
Who Is Rudy Mawer?
Rudy Mawer, a well-known international businessman and skilled marketer who has established several multimillion-dollar companies, founded ROI Machines.
He is the founder of four other profitable businesses and a Forbes Agency Partner. He is also known as a leading expert in the fields of Facebook ads and sales funnels, especially in the health, fitness, and weight-loss industries.
Rudy was drawn to the field of digital marketing, where he is now well-known for becoming a leading teacher and working with other big names in the field like Tai Lopez and many others.
BodyBuilding.com, Men's Health, Forbes, The Huffington Post, Entrepreneur, etc., have all featured articles and magazines about Rudy.
Rudy Mawer is now in charge of ROI Machines, a company that uses Facebook ads and a sales funnel to expand the reach of businesses, among others.
What Is The 30-Day Challenge About?
The 30-Day Challenge is a 30-day program where students learn from Rudy and his team how to launch a new offer, make a new funnel, and grow their business with Facebook advertising.
This challenge will teach students how to make money using ads and funnels and is open to anyone who sells digital goods, services, eCommerce, digital coaching, or anything else related.
Students who finish the challenge in 30 days will have a new funnel and ads running and will be able to grow their online businesses while learning how Rudy scales businesses using Facebook ads.
Students get unlimited access to the whole course inside the membership site, even after 30 days. A live Q&A session for one to two hours every week, and more as the challenge progresses, is also made available via WhatsApp.
For anyone interested in taking part in this training program, you can sign up for this course and learn the skills taught in the 30-Day Challenge for $30.
An Inside Look At The 30-Day Challenge
The 30-Day Challenge is made up of three parts: making an offer and a funnel, running ads, and optimizing and growing.
Phase 1: Offer and Funnel Creation
Day 1: Perfecting Your Offer Or Picking Other Products to Promote
​Day 2: Your Perfect Avatar Plan
​Day 3: Your 10x Product Stack
​Day 4: 10 Elements Of A High Converting Sales Page
​Day 5: How To Double Initial Sales With Upsells
​Day 6: Selling High Ticket + Agency Services
​Day 7: LIVE Video Training with Rudy (recording)
​Day 8: Backend Profits
​Day 9: Cart / Order Bump to Double Sales
​Day 10: Funnel Road Map + Launch Plan
Phase 2: Launch Ads
Day 11: Facebook Set Up & Creative Masterclass
​Day 12: Step-By-Step Facebook Campaign Build Out
​Day 13: Facebook Audience Scale & Tricks
​Day 14: Facebook CBO Management
​Day 15: IG Story Ads For Getting Sales
​Day 16: Monitoring & Optimizing Your Ads
​Day 17: Advanced Facebook Bidding Strategies
​Day 18: Rudy's Omnipresence Re-Targeting System
​Day 19: 10x Scale Methods
Phase 3: Optimize and Scale
Day 20: LIVE Video Training with Rudy (recording)
​Day 21: Split Tests & Heatmaps to Scale
​Day 22: Ecom Contest Funnels To Generate Unlimited Leads/Sales
​Day 23: Conversion Rate Optimization Tricks
​Day 24: Quiz Funnel Mastery
​Day 25: SMS Text Message Secrets
​Day 26: Scaling Beyond 30 Days
​Day 27: Funnel Audits
​Day 28: LIVE Video Training with Rudy (recording)
​Day 29: Scaling Beyond 30 Days
​Day 30: Guest Speaker Celebrity Training (recording)
What You Will Get Buying The 30-Day Challenge…
Let's take a closer look at what will be covered during each phase of the 30-Day Challenge over the course of 30 days:
How to pick a great offer or products that will actually sell online
The secret hacks Rudy uses to find his perfect buyer (and how to target them)
​How to avoid the biggest mistakes most entrepreneurs make when selling online
​Three things you must have in your product stack to get people to buy instantly
​How to build out the right upsells that make people want to spend a lot more
​Step-by-step Facebook Campaign buildout
​How to create ads that get the clicks and the sales
Fun ways to increase sales using your Facebook and Instagram accounts
​How to set up quiz funnels that help you sell more products and services
Making more profits with a dialed-in backend
​…and much more.
How Does The 30-Day Challenge Work?
To help you understand better, we'll go into more detail about the topics covered in this course and what you can expect.
How To Pick a Product or Offer That Sells
Even if you don't have your own product or service, this may still be effective. You can make money by recommending goods and services to others and splitting the earnings with the seller by putting affiliate marketing into practice and finding products with affiliate commissions.
There are hundreds of thousands of digital products in many different fields, but the truth is that there are far more fake products than real ones. Because of this, it's essential to understand how to choose a lucrative offer that will be well-received by customers.
Additionally, you will learn how to distinguish between good and bad offers so that you don't end up endorsing the wrong ones.
The Secret Hacks To Finding The Perfect Buyer
Making a good offer to your visitors is a good way to convert them into paying customers.
Increased traffic to your offerings and services will not help you unless that traffic, in the form of visitors, is eager to learn more about what you have to offer.
The 30-Day Challenge provides the secret hacks Rudy uses to find his perfect buyer and also shows how to target them.
How to Avoid the Biggest Mistakes When Selling Online
You can avoid some of the pitfalls that most digital marketers make when they sell online by being able to learn from experienced people like Rudy Mawer who are already familiar with the challenges of this industry.
Particularly if you're new to this, you can save a ton of time and effort by doing this.
How To Build The Right Upsells
Upsells are extra charges for extra services that you can offer along with your main product.
For an upsell to work, it needs to add value to the customer's first purchase and come with some very valuable and appealing extras.
By giving your customers the option to buy related extra items, you could make more money if you know how to use upsells correctly.
This training promises to show you everything you need to know about building the right upsells.
Step By Step Facebook Campaign Builder
Although learning how to run lucrative Facebook advertisements might be very rewarding for you, there is also a chance of financial loss.
The goal of the Facebook Campaign Builder is to help you avoid some of the problems you might run into if you did everything on your own.
The campaign builder cannot guarantee that your Facebook ad campaigns will be profitable, especially if you're not familiar with Facebook ads.
How To Create Attractive Ads
One of the best ways to make sure your ads get clicks and sales is to ensure they are eye-catching and appealing. This will also keep you from wasting money on ads that don't work.
The 30-Day Challenge explains how to handle ad copy so you know exactly what you're doing when making ads for your online business.
How To Setup Quiz Funnels
Quiz funnels, which can make the user experience more personalized and interesting, are now working well for conversions and sales.
Most of the time, quiz funnels have higher conversion rates than regular funnels. This is because getting your visitors to interact with you through a quiz will make them more interested in what you have to offer.
In this part of the course, you'll learn how to set up quiz funnels for your visitors.
Using Your Facebook and Instagram Accounts to Boost Sales
Because so many people use these two social media sites, "Facebook and Instagram," it's safe to say that no matter what your niche is, you can find your audience on them.
This section of the course will show you ways to use Facebook and Instagram to boost sales.
In the 30-Day Challenge, you'll learn the exact strategies Rudy Mawer uses in his online marketing and how to replicate them.
In the next segment of this review, we'll be looking at the products that can be found in ROI Machines and their purpose in the industry.
What Are ROI Machines' Products?
When it comes to online marketing, Rudy Mawer ROI Machines has a number of courses available to students, depending on what they want to learn more about, whether on Facebook, Instagram, or some other platform.
These products are made to help marketers, and business owners learn everything they need to know about online marketing.
Rudy Mawer and his team do this by giving them the tools, strategies, and advice they require to start and grow their businesses online.
In this part of our ROI Machines review, we'll take a look at the many tools and resources that can be found there. These include:
Messenger Bots
Social Media Marketing Agency
IG Accelerator
Rudy Mawer's Websites And Sales Funnels
ROI Machines VIP Full Service Growth Package
Messenger Bots
In a 7-day masterclass, Messenger Bots will show you how to leverage Facebook chatbot marketing to make profits and scale your online business, just like Rudy Mawer and his team.
If you're not one to simply copy and paste but would rather develop your own unique strategy, this method will show you how to do just that.
Over the course of this 7-day masterclass, you will gain access to the following materials:
Day 1: Download Messenger Bots Into Your Business
The chatbot is the marketer's secret weapon, so the first day will be spent learning about what makes up chatbots and how to effectively engage them.
It's not necessary to be a nerd to learn how to use chatbots. The technology you will be exposed to is straightforward once you understand how it works.
Rudy will spend the first day walking you through all of the available features and settings so that you can start creating chatbots like a pro.
Day 2: Messenger Bots To Generate High-Ticket Leads
Everything you learned on Day 1 about configuring chatbots will be put to use on Day 2 of the course.
Here, you'll learn how to use messenger bots to get email addresses from potential clients on a regular basis.
Getting emails from potential customers with the help of these chatbots is a great first step in developing a strong relationship with them.
If you give your followers valuable content on a regular basis, they will stick with you and trust you; this is another way to build relationships, which is essential for developing a lucrative web-based business.
Day 3: How to Create Your First Messenger Bot Ad
On Day 3, you'll learn to zero in on your prospects' pain points and provide them with a solution.
To do this, you'll need to combine your existing knowledge of chatbots for messengers with paid advertising to boost the likelihood that individuals will see your message sequence and sign up for your mailing list.
You will also gain insight into the psychological mechanisms behind attention-grabbing and conversion-inducing techniques.
One of the most important things you need to do to be successful online is be able to quickly and accurately figure out what your target audience wants and needs.
Keep in mind that your offer's success rate will increase if you successfully cater to your consumers' deepest, most hidden needs.
Day 4: How To Grow Your Facebook Group With Facebook Ads & Bots
The fourth day is dedicated to expanding your Facebook fan base. Using Facebook ads and bots is a great way to get potential customers to join your group or sign up for your webinar.
You could use this method to build up a social media following, which you could then use to send people to a webinar funnel that converts well.
When you want, you can try out the techniques and see if you can replicate the outcomes on your own.
Day 5: Messenger Bots To Sell Physical and Digital Products
On Day 5, you'll go into more depth about the topics that have been covered so far, such as how to attract clients to your chatbot and efficiently convert them into buyers.
Obviously, not everyone will buy, but if you use the strategies and techniques taught in Rudy Mawer's Messenger Bots course, you may be able to increase your overall success rate.
Day 6: Increasing Your Revenue With Follow-Ups
You'll learn everything you need to know about establishing a solid follow-up system for your chatbot ad on Day 6.
You'll be creating a system to regularly ask customers for their opinions and upsell them on products that fit their needs.
You will also learn how to get a high open rate, which is important because properly executed follow-up messages can dramatically boost conversion rates.
There is a high chance of success in attracting the attention and interest of your target market with this method.
Day 7: Split-Testing & Optimizing Your Flow
On Day 7, the last day of this seven-day course, you'll learn how to split-test and optimize your whole flow to make more money and give your customers more real value.
When it comes to paid ads, it's important to remember that anything that doesn't work as planned will lead to a loss of money.
Therefore, if you are using paid ads, one of your top priorities should be to carry out regular testing and optimization.
It's also a smart method to monitor your finances and find out what's working and what isn't.
This training course concludes on Day 7, and the Messenger Bot is available for a one-time fee of $99.
Social Media Marketing Agency
Given how quickly the industry is growing, it's not surprising that many companies and individuals are thinking about outsourcing their digital marketing, especially their social media marketing.
This course is designed to teach marketers and owners of digital businesses just that. We've summarized everything that'll be covered in this training module, which includes:
Social Media Marketing Agency Launch Plan
Client Management Training
Sales And Marketing Training
Effective Business Systems To Scale Fast
Building An Elite Team To Work For You
R.A.P.I.D. Agency Certification
R.A.P.I.D. Lead & Client Matching
Social Media Marketing Agency Launch Plan
This plan gives you everything you need to build a solid, expandable foundation for your business.
You will be led through the steps you need to take to think like an entrepreneur, create a workable action plan (also called a business plan), evaluate your unique agency offering, and create a successful launch plan.
You'll need all of these things to successfully build your brand in the industry and confidently start offering your services.
Client Management Training
While marketing and advertising can bring in new customers, customer retention and satisfaction are the keys to long-term success.
It's a crucial component of running an agency, but many business owners ignore it because they believe they should take on every client.
You will be shown how to attract the right clients and weed out clients that probably won't work out, regardless of whether you are establishing your agency through recommendations or from scratch.
Sales And Marketing Training
You need to be able to market yourself and your agency if you want to succeed as a business owner.
You'll be taught a tried-and-true method for making sales, from finding potential customers to vetting them before a sale is made.
Everything you need to know about self-promotion and advertising your agency to land dream clients will be disclosed to you.
Effective Business Systems To Scale Fast
Having many wealthy clients is important, but an agency's success also depends on the quality of service it provides to its clientele.
It doesn't take long for unhappy customers to cancel contracts and leave negative online reviews if the proper infrastructure isn't in place.
Here, you'll learn how to avoid these problems by setting up systems that help you get more done in less time, keep your team's morale high, and avoid fallouts with clients.
If you have no business expertise, you can still use these methods and techniques to your advantage.
Building An Elite Team To Work For You
There is usually more than one person involved in keeping an agency running smoothly. Therefore, you still need to hire the proper personnel and make sure everyone is on the same page if you're going to have contractors run different divisions of your agency.
Your own personal ideal team should share your vision, be prepared to act on it, and be excited to develop together with you.
This guide covers how to find the best people to work with, how much to pay them, what they should be doing, and how to advertise the positions they're applying for.
R.A.P.I.D. Agency Certification
You'll get a certificate, a letter signed by Rudy, and a proposal to become an ROI R.A.P.I.D. Certified Agency.
If your agency is certified as meeting the R.A.P.I.D. Agency criteria, it will be easier to get clients.
Your clients' trust in your agency will skyrocket when they learn that you apply the same tried-and-true methods Rudy used to manage his own branding business.
In addition to the downloadable certificate and a letter that verifies your agency's certification, you will also get a R.A.P.I.D. Agency Badge that you can put on your website and other marketing materials.
R.A.P.I.D. Lead & Client Matching
After meeting certain requirements, according to Rudy Mawer, you will receive leads directly from him. However, there is no evidence to back up this claim.
Rudy promises to help his students attract a steady stream of high-paying clients, and if you have certification, you will have access to leads that have already been pre-qualified, making the closing process smoother.
You will be notified via email whenever a new lead comes in, giving you the chance to connect with prospective clients.
In addition to the aforementioned training, students will also be provided with additional sales and marketing courses to help them further develop their abilities. Some of these courses include:
Facebook Ad 24-Hour Accelerator
Here, you'll learn how to track your Facebook ad performance and increase its reach to boost your ROI.
Marketing & Funnel Mastery
In this course, you'll learn everything you need to know about marketing and how to set up effective sales funnels.
You will learn the top ROI factors that every successful funnel needs, as well as how to create a high-converting funnel for products or services.
Email Marketing Master Class
Learn which email promotions actually convert and use these ideas in your clients' inboxes. You will find out how to optimize everything from subject lines to body copy and CTAs in email campaigns for clients in any industry.
Students will also have access to sales script training and the 10x accelerator, which are both meant to help them grow their businesses by using standard scripts.
The cost of the training course "Social Media Marketing Agency" is $97 for a one-time purchase.
IG Accelerator
The IG Accelerator course is designed to assist business owners and marketers in maximizing the benefits of their Instagram accounts.
In this course, you'll learn the strategies and tactics to build up large followings on Instagram.
Topics discussed in this tutorial include the following:
How to target your perfect customer in your chosen niche
How to plan your IG feed for your content
How to create viral posts
Rudy's personal IG content machine and the ideal posting schedule
Rudy's "IG Hashtag Hacks"
How to leverage an Instagram business account and the metrics that matter
Instagram Pods to increase your engagement (comments, likes, etc.)
How to get your account featured on the IG Homepage
The best way to use IG Lives to grow your followers
How to create, launch, and manage IG ads to sell your product/service
Rudy IG Stories Secret Formula to Success
This training will show you how to build a successful Instagram presence and attract a steady stream of clients who will buy what you're selling.
Rudy Mawer offers a 10-week money-back guarantee on the course if you aren't happy with the results you get from using it.
To gain access to IG Accelerator, it will cost you a fee of $47.
Rudy Mawer's Websites & Sales Funnels
Here, you will learn more about sales funnels, including what they are, why they're useful, and how to incorporate them into your marketing plan.
The following is a detailed account of how Rudy Mawer and his team at ROI Machines create a standard sales funnel for their clients:
Lead Magnets
One of the main goals of marketing is to get leads and generate interest from potential customers.
In the case of lead magnets, a valuable freebie is being given away in the hopes that customers who want it will give their email addresses in exchange.
Because this is a freebie they'll find useful, they'll gladly hand over their email addresses in exchange for the chance to get their hands on it.
Lead magnets can also be used for an opt-in form. But this strategy will only work if the freebie is truly irresistible.
Ebooks, PDF files, video series, software, tools, etc. all qualify. To be effective, your lead magnet ought to pique the interest of your site visitors and make them want to grab a copy.
Sales Page
Any sales page's success depends on how well it gets the message across to visitors.
Your sales page is where you'll promote and sell your main products. It's also where most of your business will come from.
So, if you wanted to build your own sales funnel from scratch, you would probably spend a lot of time on the sales page, which is the hardest page to build in the whole funnel.
High Converting Checkout Page
A well-placed and personalized checkout page can help keep people from abandoning their carts.
When your traffic, which is made up of people who visit your website, clicks the "buy now" button, they will be brought to this page.
Upsells & Downsells
You might be able to make even more money if you know how to add upsells and downsells to your sales funnel in the right way.
You will be able to increase your earnings by 100% by providing an additional product (for a price) that works in tandem with the main offer.
Your income can skyrocket if you master the art of effectively allocating this product.
Thank You Page
This is the last page of the sales funnel. Its purpose is to give any extra information about the product or service that was just bought, as well as links to your social media accounts.
The pricing of "Rudy Mawer's Website Builds and Funnels" varies depending on the specific services you require, so be sure to schedule a call with a representative to get an accurate quote.
ROI Machines VIP Full Service Growth Package
The whole point of Rudy Mawer's ROI Machines VIP Full Service Growth Package is to have Rudy and his team manage all of your marketing and business operations for you.
If you hire Rudy and his team, they will take care of all of your marketing needs, including but not limited to: sales funnels, graphic design, strategy development, advertising campaigns, marketing videos, and more.
Rudy Mawer and his team will also come up with strategies for your online business and send you weekly reports with important data and statistics.
You will get weekly reports that inform you about your overall performance and keep you up to date on any changes, successes, or setbacks that happen.
In addition, you'll be assigned a dedicated account manager who will help you every step of the way as you expand your business. This is very helpful because there are many changes in a flourishing business, and it's always good to have someone on hand to keep everything in order.
A month of VIP Full-Service Growth Package access will cost you between $12,500 and $20,000.
But if you're a beginner looking for the best way to make passive money online, there are better and less-expensive ways to do it.
Keep on reading because we'll be revealing a user-friendly alternative that's free to get started with at the conclusion of this review.
You Might Also Like:
Who Is ROI Machines For?
ROI Machines benefit a wide range of businesses and individuals. Users can apply what they learn in a number of fields, depending on the course they take and the skills they learn.
Most of the people who could use these resources are people who work in digital marketing or own businesses that mostly transact online.
But there are many more who can benefit as well, and they are:
Ecommerce Business Owners
Digital Business Owners
Facebook Marketers
Social Media Marketers
Bloggers And Website Owners
E-commerce, low-priced e-books and information products, cold-traffic conversion, digital coaching courses, webinar funnels, and other online enterprises are all prime targets for ROI Machines.
Is ROI Machines A Scam?
No, ROI Machines is not a scam. Rudy Mawer and his team of experts have successfully developed a marketing service that can be used by anyone to boost their online business.
In contrast to the vast majority of scammers out there who attempt to pass themselves off as someone else online, industry authority Rudy Mawer is actually a true and reputable expert.
Although the products offered by ROI Machines are not as simple as they make them sound, you can make money with this program.
In the end, you have to put in the time and effort, but one downside is that there is no guarantee that you will get your investment back. Your success also depends on a number of factors.
The sales pages' exaggeration was the only problem we could identify. Except for that one drawback, it seems like ROI Machines is a solid option, as it has been met with mostly positive customer feedback.
As a result, it can be concluded that ROI Machines is not a scam.
ROI Machines Pros and Cons
Pros
When it comes to digital marketing, Rudy Mawer knows his stuff.
The 30-Day Challenge covers all bases and doesn't break the bank.
A comprehensive catalogue of high-quality products and services
Those who already have a successful digital business can benefit greatly from VIP coaching.
Customers and clients have given positive reviews.
Guaranteed refund, but there are a few hoops to jump through.
Cons
Advertising and sales pages that exaggerate the benefits.
The procedures are presented to look easy and effortless.
Results are not guaranteed.
Is Rudy Mawer's ROI Machines Recommended?
Not really, and here's why. Rudy has shared his technique based on his own experiences, but your outcomes may vary, and many factors will determine your ultimate success or failure.
There is also zero assurance that your investment will pay off. Although you can learn a lot at ROI Machines, you should consider whether the investment is worthwhile.
However, if you're a digital business owner seeking expertise to help you grow and scale your business or a marketer looking to broaden your horizons, there's nothing wrong with this approach.
But if you are a newcomer to the world of making money online, there are better and more cost-effective options to launch your online business and build the kind of financial independence that you desire from the comfort of your own home.
We might just have the perfect online income opportunity for you if you've been looking for something flexible and cost-free to start.
Read on as we reveal this exciting online opportunity in greater detail.
My Final Thoughts
Marketing your business online takes a lot of time and money before you can expect to see any returns on your investment.
Because most of these approaches are geared toward expanding and extending an existing web business, they are probably not the best choice for first-timers.
However, the ROI Machines training modules cover a wide range of topics that can help organizations and marketers learn the ropes of making money online.
Know that you can't achieve your goals without putting in the time and effort required, and that the only way to truly benefit from what you learn is to put it into practice.
What gets results is action, dedication, and consistency. Also, no matter how easy these solutions may appear, there is no such thing as overnight success.
Thankfully, however, there is a better alternative, which I will explain below…
A Better Alternative
The sad truth is that unfortunately most of the programs promising to help you make money online are scams. I can say that confidently after exposing over 500+ of them here on this blog.
But the good news is that even though most of them are indeed scams, there are actually some very good programs in amongst them - some programs that can truly help you to earn money.
And out of all of the legit programs I've seen, the one I would recommend the most to anybody looking to get started online is Commission Academy. In my own opinion, that's the best place to start.
At Commission Academy, you'll be provided with everything you need (including the training & tools) to begin earning real money by promoting products or services for companies like Amazon online.
The best part is that there's literally no limit on the amount you can earn with it & the process is pretty simple which means that it's absolutely perfect for people that don't have much experience.
Some wealthy affiliates even earn as much as 5-figures per month... Or more!

I mean don't get me wrong, that kind of money won't just fall into your lap without doing any work... But the harder you're willing to work at it, the more you stand to earn with it.
So if you're looking to get started but don't know which route you should go down or which program you should join (and don't want to waste money on bogus things that don't actually work), then I'd highly recommend checking out Commission Academy first. You can learn more about it here.