Recently I reviewed a program named The Laptop Entrepreneurs which turned out to be nothing more than a sales funnel that had been put together to get people to buy into an online business opportunity named The Six Figure Mentors.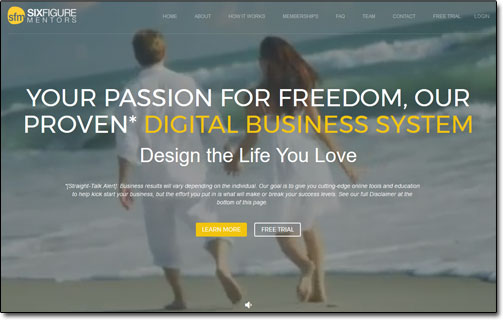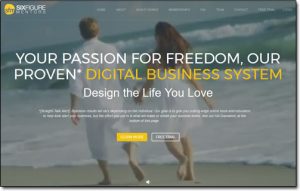 So today I've decided to take a closer look at The Six Figure Mentors program itself to find out what it's all about, how it actually works, whether it can really help you make money & most importantly whether there's any truth behind the Six Figure Mentors scam rumours that have been circulating around the web.
Therefore if you've been thinking about joining The Six Figure Mentors (also known as SFM) program then you can rest assured that you've landed in exactly the right place to find out everything you need to know before you do.
And let me point out that I'm not affiliated with the SFM program meaning you'll be getting the honest truth about the company as opposed to biased information that's only been put together to get you to sign up (like what many of the other reviews consist of).
What Is The Six Figure Mentors?   |   What It Involves   |   Is It An MLM?   |   The Costs   |   Is The Six Figure Mentors a Scam?   |   A Better Alternative
What Is The Six Figure Mentors?
Launched in 2012 by 2 guys named Stuart Ross and Jay Kubassek The Six Figure Mentors is an online marketing training program that claims to contain literally everything you need to start your own successful online business, including the tools, training, resources & community support.
And alongside the opportunity to educate yourself The Six Figure Mentors also give you the opportunity to earn money by reselling the program onto other people through a multi-level-marketing style compensation plan.
However, the training provided through SFM is pretty expensive & it's what's known in the industry as a "pay-to-play" program which means if you want to make money by reselling their products then you must first purchase the products yourself, otherwise you'll miss out on any commissions earned.
It's quite similar to the Digital Altitude & MOBE programs which are high-ticket network marketing companies that also teach online marketing so if you know anything about those then you'll probably already have a good idea as to what The Six Figure Mentors is like – though admittedly SFM has a slightly more genuine sales pitch & higher quality training than those 2 companies (in my opinion).
Plus it's not as expensive as those other programs either – though it still does get fairly costly.
What The Six Figure Mentors Involves
The Six Figure Mentors claims to have been "expertly designed to show you how to become an effective affiliate marketer", and in case you don't know affiliate marketing is basically where you promote other peoples products/services & receive a commission for each of the sales you make in return.
It's actually a pretty good way to make money online but the problem with training material provided by The Six Figure Mentors is that it's all very heavily geared towards teaching you how to resell SFM itself onto other people as opposed to teaching you how to build your own affiliate marketing business based around a passion of your choice.
So whereas other affiliate marketing programs like Wealthy Affiliate (which is actually free to join) teach you how you can build your own website & make money from any interest of your choice, SFM doesn't (really). Instead, you'll find yourself pushed into creating a make-money-online website & then trying to get other people to buy into the SFM opportunity itself who'll then also be pushed towards doing the same.
Therefore whilst SFM is technically legit and does provide some level of affiliate marketing training, in my opinion, it's more of a "make money from this program by selling the idea of making money from this program to other people" type gig… Again, similar to Digital Altitude/MOBE.
The one positive thing about SFM though in comparison to it's other high-priced competitors (like Digital Altitude/MOBE) is the fact that SFM isn't massively hyped up like the others which kinda claim you can simply make money at the push of a button… And whilst it's still pricey it's a lot less pricey at the top end than the majority of its other high-ticket rivals too.
Depending on the membership level you purchase, alongside the training (which consists of videos/written tutorials) you'll also be given access to multiple live weekly training webinars, a private community where you can chat with other members & the option to attend company events hosted in the UK, US & AUS.
Again the additional webinars & events etc are all geared more for those who are actually promoting SFM.
Is The Six Figure Mentors an MLM?
One thing The Six Figure Mentors program stresses is that it's not an MLM, which stands for multi-level-marketing – but if you take a quick look at their compensation plan you'll see that it clearly is.
A typical affiliate program pays you a commission for referring a customer – it could be a one-time commission or a recurring commission on a subscription but typically you won't then earn anything if that customer you referred then goes on to refer other customers themselves.
However there are some programs that do pay commissions on multiple levels, and surprise surprise these are called multi-level-marketing companies. SFM happens to be one of them because, on top of getting paid for your own efforts, you also get paid a commission from the efforts of those that you refer to the company as well.
I've highlighted this in the image below which is a screenshot of their compensation plan:

So when it comes to SFM you'll not only be encouraged to promote SFM to other people yourself, you'll also be encouraged to then encourage the people you've promoted it to start promoting it themselves as well… LOL… because this is where the real money is at.
It's all about promoting SFM, getting a load of people to sign up, then getting those people to promote SFM too so you can earn commissions from their efforts as well as your own.
And whilst these kinds of compensation plans can be lucrative, most companies tend to stay away from them & stick with normal 1 level affiliate programs because these multi-level things can kinda look like pyramid schemes.
I'm not saying The Six Figure Mentors is a pyramid scheme – but you can probably kinda see how these multi-level-marketing compensation plans can closely resemble one & that's why I personally stay away from them.
You Might Also Like:
What Are The Costs Involved?
Sadly I feel like The Six Figure Mentors is yet another company that's priced its products with affiliate commissions in mind as opposed to pricing them based on the actual value that they provide to customers.
The entry-level product (named the Student Membership) costs $25 per month & gives you access to nothing other than an introductory module, live event recordings & the tools required to promote SFM. It's clear just designed to be a doorway in to give you a taster so that they can then get you to upgrade into the higher membership levels.
The next level of membership (named the Essential Membership) costs $297 one-off + $97 per month & this gives you access to additional training, the private community, live webinars & the eligibility to attend the events whenever they're hosted.
And on top of those, they also offer an add-on named Elite which costs a whopping $2,500 & surprisingly doesn't consist of anything much really. You'll basically get a "system setup certificate" which in the real world is meaningless, and access to additional "exclusive" webinars.
It's worth mentioning that to get to the Elite level it's not just a case of purchasing that package on its own, you must also first purchase the Essential Membership & maintain a subscription in order to hold Elite status.
Is The Six Figure Mentors a Scam?
Well, I wouldn't go as far as to say it's a scam because technically there is the potential to make money, but in my opinion, the products are way overpriced & it's clear to me that it's heavily built around reselling SFM itself as opposed to teaching you how to build a successful stand-alone business so for that reason, it's definitely not going to be something I'll be recommending.
The other big problem, in my opinion, is that as I mentioned above the products definitely seem to have been priced with affiliate commissions in mind as to opposed to their actual content because there's no way that the $2,500 price tag can be justified for the Elite membership – and to be honest nor can the cost of the Essential membership.
In my opinion, there are much better programs out there like Wealthy Affiliate for example which will teach you everything you need to know to put yourself into profit through affiliate marketing & WA specifically even provides you with all the various tools you need including a website builder (which SFM doesn't actually provide even at the highest level) without the crazy price tags associated with programs like SFM.
A Better Alternative
The sad truth is that unfortunately most of the programs promising to help you make money online are scams. I can say that confidently after exposing over 500+ of them here on this blog.
But the good news is that even though most of them are indeed scams, there are actually some very good programs in amongst them - some programs that can truly help you to earn money.
And out of all of the legit programs I've seen, the one I would recommend the most to anybody looking to get started online is Commission Academy. In my own opinion, that's the best place to start.
At Commission Academy, you'll be provided with everything you need (including the training & tools) to begin earning real money by promoting products or services for companies like Amazon online.
The best part is that there's literally no limit on the amount you can earn with it & the process is pretty simple which means that it's absolutely perfect for people that don't have much experience.
Some wealthy affiliates even earn as much as 5-figures per month... Or more!

I mean don't get me wrong, that kind of money won't just fall into your lap without doing any work... But the harder you're willing to work at it, the more you stand to earn with it.
So if you're looking to get started but don't know which route you should go down or which program you should join (and don't want to waste money on bogus things that don't actually work), then I'd highly recommend checking out Commission Academy first. You can learn more about it here.