In this review I'll be taking a look at The Smart Crowd by Lionbridge (who recently took over Virtual Bee) to find out if it's a legit company, if you can really make money & whether or not the jobs are going to be actually be worth your time.
And it's worth pointing out before I get started that I'm not affiliated with The Smart Crowd or Lionbridge in any way shape or form so you can rest assured that you'll be getting an unbiased honest review.
Meaning if you've been thinking about joining The Smart Crowd but aren't quite sure whether you should or not then you've landed in the right place to find out everything you need to know about the company.
So without further ado let's jump right in & take a look at the company to see what it's all about…
What Exactly Is The Smart Crowd by Lionbridge?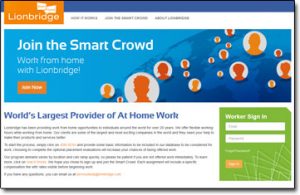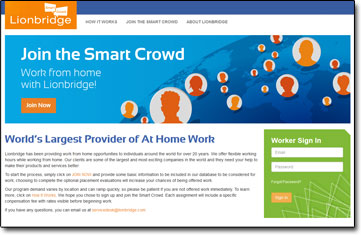 Lionbridge is a company that gives you the opportunity to earn money from home by joining what they call "The Smart Crowd" which is basically a group of people that have registered through their website who they send small jobs too.
As a member of Lionbridge's Smart Crowd you'll be sent emails notifying you when new jobs are available & you'll be told how much you can earn for completing them before you start. If you decide the job & the money sounds good then you can undertake it & get the earnings will be paid into your account once you've completed it.
The jobs vary but generally they include things like testing websites & giving your feedback, translating languages, data entry & so on…
Now it's worth pointing out that you don't have to complete every job you are given as the whole concept of The Smart Crowd is that it's supposed to be flexible working around whatever you've currently got going on in life, but there's the chance that if you deny too many of them you'll be kicked out of the program.
And there is also a restriction on who can join The Smart Crowd – anybody can apply, but there is no guarantee that you'll be accepted. You'll have to meet certain criteria & to find out if you meet their criteria you'll be asked to sit a few tests before you can begin undertaking tasks & earning money.
So Is The Smart Crowd a Scam?
Sadly the internet is filled with scams especially when it comes to the make money online industry so it's always wise to tread carefully but you'll be glad to know that The Smart Crowd is NOT a scam, it is in fact a legitimate company.
However in my opinion whilst you can make money through The Smart Crowd it is not something which will provide you with any sort of sustainable full-time income so if that's what you're hoping to achieve then I'd recommend you look into affiliate marketing instead.
The Smart Crowd is merely designed to be something that will fit around your current job & enable you to earn extra money on the side. If that's what you're looking to do then The Smart Crowd could actually be pretty good for you, providing you meet their criteria.
And if you're still concerned about The Smart Crowd being a scam, to give you some peace of mind let me tell you that the company (Lionbridge) is based in the USA, has over 5,000 employees & turned over around $480 million in revenue last year. It's a pretty big company to say the least!
Where Does The Money Come From?
Basically Lionbridge (the creators of The Smart Crowd) act as a middleman for companies needing jobs doing, and you, the person that is looking to make extra money & willing to complete small jobs.
These companies tell Lionbridge what they want doing, who they want doing it & how much they're willing to pay to have it done. Lionbridge then send these jobs to the relevant people on their Smart Crowd panel & they pay you a percentage of the money they were paid by the company requesting the work whilst taking a cut for themselves in return for handling everything.
Who Can I Join & How Much Does It Cost?
It's completely free to join The Smart Crowd but it's worth pointing out that Lionbridge have quite a strict criteria as to who can join their panel & there's no guarantee that you'll be accepted.
Firstly you must be at least 18 years old to even be considered, and you should be fairly computer literate with a good idea as to how use word processing programs.
And since quite a lot of the work will be data entry I'd recommend that you only apply if you're a fast at typing because these types of online jobs don't really pay well at the best of times so if you're typing slowly the chances are you'll finding yourself trading a LOT of time for very little money.
Throughout the initial application you'll also be asked a few questions about yourself, such as your employment status, your education etc… This is so that they can try & work out your demographic.
After you have completed the initial action you'll receive a score & then you'll be provided with some evaluation tests to take. These test enable Lionbridge to determine what type of work they should send you.
But as I say it's all completely free so if you're interested & you feel that those types of jobs mentioned above are something you can do then there's absolutely no harm in applying, the worst thing they can do is say you're not eligible.
How Much Money Can I Make?
If you're expecting to make quite a lot of money through the jobs provided by The Smart Crowd then I'm sorry to burst your bubble but it's not going to happen – in fact the earnings are actually quite low.
You'll probably be able to make more through The Smart Crowd than you would at a paid survey company but that's hardly an impressive statement. As mentioned above for something close to generating a full-time income you're best off trying affiliate marketing.
I've had a look around the web & it seems that the common trend is that the earnings seem to be around 20 to 60 cents for every 1000 characters typed – so if you get quite a lot of jobs you could see yourself generating around $50 per month but again the amount of jobs you get offered will depend on your evaluation test results when you joined.
50 bucks is better than nothing but don't expect it to come easy as you'll be investing quite a lot of your time to generate anywhere near that amount, and in my personal opinion I don't think it's worth it… Not since I know that there's better alternatives.
Should You Join The Smart Crowd? My Honest Opinion
Well joining is free & it's certainly not a scam so you don't really have anything to lose by trying it out but in my opinion because there's so many people willing to do these jobs they are too low paid to make them worthwhile.
If you're struggling financially & you're really in dire need of generating a little bit of extra income then The Smart Crowd could certainly help you get it, but if your financial situation is OK then you probably wouldn't want to waste your time…
You see one of the main problems in my opinion is that as a member of The Smart Crowd you'll see yourself investing a lot of your time into their jobs but despite this your income will never increase over time. You'd be better off starting an affiliate marketing business (which is also free) through which you'll have the opportunity to continually increase your income over time to the point where it could become a full-time income.
That's just my two cents – but regardless I hope you found this review of The Smart Crowd useful & hopefully it helped you make up your mind as to whether or not it's actually going to be worth your while.