Social Sale Rep is a website that claims it can teach you how you can generate a large income online by simply sharing informational products such as eBooks on social networking sites like Facebook, Twitter & YouTube.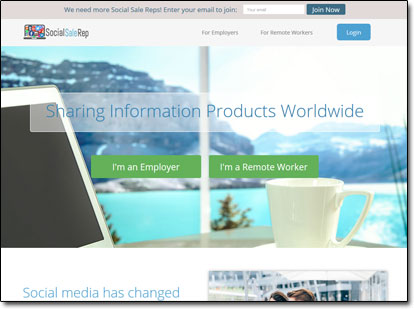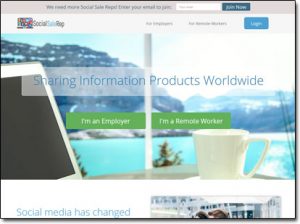 You're led to believe that as a remote worker you'll be able to generate a full-time income through the site & that you'll get everything you need to get started, but is it actually legit or is Social Sale Rep a scam?
Thankfully you've landed in exactly the right place to find out because I've taken a closer look into the Social Sale Rep opportunity & in this review I'm going to be uncovering everything there is that you need to know, including whether or not you can really make money through it.
What Is Social Sale Rep?   |   How Does Social Sale Rep Work?   |   Is Social Sale Rep a Scam?   |   A Better Alternative
What Is Social Sale Rep?
The Social Sale Rep website is actually 2 things – it's a website that provides you with the training you need to see financial success from social media & on top of that it's a website that connects product vendors with what they call "social sale representatives" that can promote the products for them…
Well, that's what they claim it is anyway…
I'll be honest though, some of the things you're told through the Social Sale Rep website are pretty misleading & it's unlikely that you'll make anywhere near as much money they say you will with their program.
The truth is that you probably won't actually earn anything at all…
You see the creators of Social Sale Rep make it seem like you can just sign up, follow some simple training & start sharing eBooks on various social networking sites to begin making money fairly quickly.
They also claim to give you access to what they call "Viral Multiplier Technology" which will allegedly enable you to massively boost your income. The problem though is that this is mostly hype.
Yes, you can make money by promoting things on social media, and yes the Social Sale Rep website does actually provide you with some training that will help you see how it all works but it consists of a lot more hard work than you're led to believe.
How Does Social Sale Rep Work?
Basically the Social Sale Rep program is an affiliate marketing training course that focuses on using social networking sites as a promotional method (as opposed to a blog or email list etc).
So what's affiliate marketing you ask?
Well, basically affiliate marketing is where you promote companies for 3rd party products online & get provided with the ability to earn commissions as a result of any sales you generate.
There are many websites you can affiliate yourself with. In fact, these days most sites actually have an affiliate program, including big names like Amazon. So let's say you signed up as an Amazon affiliate, basically, you'd get a unique tracking link for each of the products which you could share online… Then if anybody clicked your link & made a purchase, the sale would be tracked to you & you'd end up earning a commission.
The Social Sale Rep website actually has their own in-house affiliate offers too – so people can sign up to the Social Sale Rep website as product creators & list their products for the "social sale representatives" to promote (as shown below).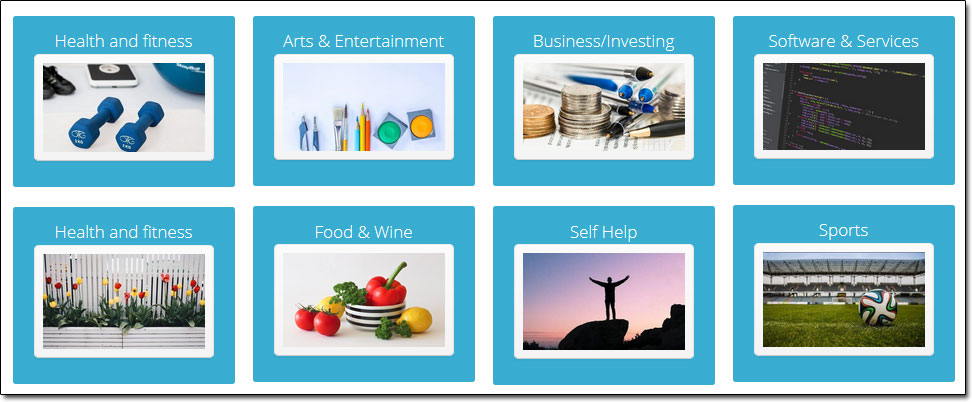 For the product creators to have their products listed inside of the Social Sale Rep platform they have to upload a promotional eBook – it's this eBook that you'll then be required to share on social media to promote the products.
So the process looks like this…
You sign up to Social Sale Rep as a remote worker & you get access to training which shows you how to promote things on social media.
You browse the Social Sale Rep marketplace, look for products you wish to promote & get the rebranded promotional eBook.
You then promote the eBook on social media in the hope that people download it.
The eBook contains your affiliate links for the product that's being promoted & if anyone reading it clicks & purchases something, you'll get paid.
You Might Also Like:
Sounds good, right?
I'll admit that it does sound pretty good in theory & you might be tempted to try it out in the hope that you'll be able to make lot's of money with relative ease, but in reality, it will be much harder to make money.
That's the main thing I don't like about Social Sale Rep – the fact that they've really hyped everything up. I mean sure, it's not a total scam like the Paid Social Media Jobs program I previously exposed but because of the false promises, they make it is kinda like they're "tricking" you into buying it in my opinion.
The method itself is sound – you can earn money through affiliate marketing and you can get people to buy through your affiliate links by promoting information products on social media… BUT to see any great deal of success it's going to require you using paid advertising.
The Social Sale Rep website claims that you'll be able to use their "Viral Multiplier Technology" to make lot's of money without paid advertising but honestly, this is just nonsense. Don't get drawn into the hype of this because it's really nothing special. Basically the concept is that the people who download your eBook will then re-upload it and share it to their friends too & that it will still contain your affiliate links so your promotion will go "viral"…
This is just something else that sounds good in theory but won't happen in reality. As I say instead you'll be required to use paid advertising if you really want to see any level of success & not only will that cost a lot of money but it will involve a lot of trial & error. In my opinion, paid advertising is certainly NOT the right place to start as a newbie… It's too risky.
If you really want to get a good start with affiliate marketing then you should check out my review of Wealthy Affiliate which is one of my top-rated programs for beginners.
The other not-so-great thing about the Social Sale Rep website is that there's a lack of decent products to promote in their marketplace. This means you likely won't see exceptionally great conversions from your promotions even if you do actually manage to reach people.
Is Social Sale Rep a Scam?
Well, I wouldn't go as far as to say it's a scam because there is the potential to make money as a result of following their training… But I will say that it's unlikely you'll actually see any profits.
As far as I'm concerned the whole thing is just too misleading & too hyped up so if you do buy into it then you will likely just find yourself disappointed at what you receive because your expectations will be set much higher.
For that reason, I'm not going to be recommending the Social Sale Rep website to you because in my opinion there are much better ways to get started online, ways that are actually proven to provide results.
The good news though is that the product is actually being sold through ClickBank so if you happen to buy into it & don't like what you receive then you should stand a good chance of getting your money back by contacting ClickBank directly.
Anyway, that's all I've personally got to say about this program but if you do happen to have any further comments or questions yourself then don't hesitate to leave them below & I'll respond as soon as I can.
A Better Alternative
The sad truth is that unfortunately most of the programs promising to help you make money online are scams. I can say that confidently after exposing over 500+ of them here on this blog.
But the good news is that even though most of them are indeed scams, there are actually some very good programs in amongst them - some programs that can truly help you to earn money.
And out of all of the legit programs I've seen, the one I would recommend the most to anybody looking to get started online is Commission Academy. In my own opinion, that's the best place to start.
At Commission Academy, you'll be provided with everything you need (including the training & tools) to begin earning real money by promoting products or services for companies like Amazon online.
The best part is that there's literally no limit on the amount you can earn with it & the process is pretty simple which means that it's absolutely perfect for people that don't have much experience.
Some wealthy affiliates even earn as much as 5-figures per month... Or more!

I mean don't get me wrong, that kind of money won't just fall into your lap without doing any work... But the harder you're willing to work at it, the more you stand to earn with it.
So if you're looking to get started but don't know which route you should go down or which program you should join (and don't want to waste money on bogus things that don't actually work), then I'd highly recommend checking out Commission Academy first. You can learn more about it here.