Stepium is a newly launched website that claims it can enable you to passively earn Ethereum cryptocurrency online. You're led to believe that all you need to do is sign up, purchase a contract & that you can begin making money right away.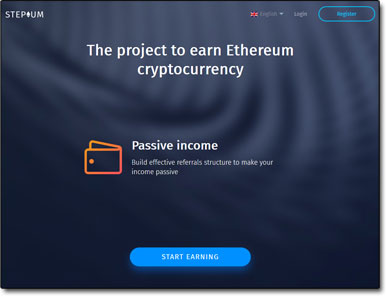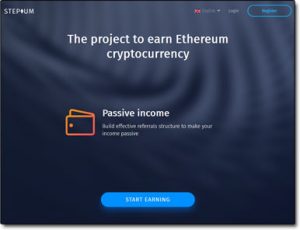 But I think you'll agree that it all sounds a bit too simple… I mean, making money legitimately can't really be that easy right? So what's really going on here?
Is it actually legit or is Stepium a scam that's just going to part you with your cash instead?
Thankfully if you've been looking at getting started with this opportunity you've landed in the right place to find out everything you need to know before you do. I've taken a closer look into it all & in this review I'll be showing you why I don't recommend Stepium one bit.
What Is Stepium?   |   How Does Stepium Work?   |   Is Stepium a Scam?   |   A Better Alternative
What Is Stepium?
Stepium pitches itself as a network marketing opportunity through which you can passively earn Ethereum cryptocurrency online. As I mentioned above they make the whole thing sound really easy…
You're led to believe that you can start earning a passive income simply by signing up & purchasing a contract. Allegedly there's no mining & there's no work involved – you just receive profit from "your projects and invitees daily" (as quoted from their website).
It might initially all sound fair and well, especially if you're new to cryptocurrency investing – but what you've got to question is where is all of this "free money" supposed to be coming from?
After all, it's got to come from somewhere…
And the other big issue with this site is that it doesn't display any company details or ownership identification whatsoever. That's especially bad news considering it's an investment-related site… Not only should they be displaying their companies details, but they should also be displaying a license number too since the company would have to be regulated to work within the financial industry.
It's a requirement by law for companies in the investment space to display these things on their website or promo material – otherwise, they could simply set up, take the money & disappear without a trace… Like many do.
And sadly that looks exactly like what Stepium is set out to do since the whole thing very closely resembles a Ponzi scheme.
How Does Stepium Work?
After taking a closer look at the website & digging into exactly how it all works I was quickly able to see that as per suspicion this whole thing blatantly is just a money-making scheme, not a legitimate opportunity.
There are absolutely no products involved, no mining going on & the business isn't making any money elsewhere other than the money that's getting paid in by new investors. They're simply then distributing this out between older investors & keeping a chunk for themselves.
It's a classic Ponzi scheme & sadly these are becoming all too common in the cryptocurrency space lately. With that being said it's never been more important to do your due diligence when looking into online opportunities like this. Thankfully you came to this review first!
I hope you did anyway, because if you invested in Stepium before coming here then there's a good chance you'll end up losing your money as these companies are renowned for collapsing without warning like BitConnect recently did.
Anyway, here's the process…
Basically to get started with Stepium you have to create an account & purchase a "contract". The minimum contract you can buy to get started costs 0.06 ETH which currently equates to around $50.
This money that you invest will simply be distributed straight to the other members that signed up to this thing before you. They'll be glad you joined because they'll have been desperately hoping more people would join after they did so that they could recoup some of their funds… If they invested & nobody else signed up, they'd simply lose their money.
Anyway, 0.06 ETH might not sound like the end of the world, but the reality here is that you'll be pushed into investing as much as 155.01 ETH which equates to around $132,000. This is because they promise that the more you invest the higher returns you'll get overall.
Basically, when you buy the contracts these will enable you to earn from your "downline", which is basically the people below you. The higher the contract you buy, the more levels of downline you'll be able to earn from.
In total, you'll be able to earn from 16 levels of downline – but on top of that, you can also make money by recruiting others into the scheme yourself as you'll be paid a commission on the amount they invest.
It might sound like a good way to make money but the problem is that it's totally unsustainable. There is no guarantee that after you invest new members will still be coming into the company – and if none are then you will lose your money rather than make anything.
The reality here is that even just to recoup your initial investment you are going to need a LOT of people coming into the company after you. This means that unless you get in right at the very beginning then the odds are likely against you.
By now it's no doubt already too late.
You Might Also Like:
Is Stepium a Scam?
Well, it's not a scam as such since there technically is the potential to make money – they're not necessarily just going to take your money & run, but at the same time the company could collapse at any moment meaning you would lose any money you had invested.
It's clear to me though that it's not a legitimate program or long-term program by any means, it's nothing more than a cash gifting scheme or Ponzi scheme whatever you want to call it.
It's been solely designed to make the creators wealthy at other people's expense & a few who get in with them very early may also make a bit of money too, but everyone else will most likely only lose it.
Therefore overall it's safe to say that I am not going to be recommending the Stepium opportunity to you since I believe there are much safer ways to make money online without putting your money at risk like that.
Anyway on that note hopefully this review provided you with the insight you were looking for into this company & if you do happen to have any further comments or questions then don't hesitate to leave them below.
A Better Alternative
The sad truth is that unfortunately most of the programs promising to help you make money online are scams. I can say that confidently after exposing over 500+ of them here on this blog.
But the good news is that even though most of them are indeed scams, there are actually some very good programs in amongst them - some programs that can truly help you to earn money.
And out of all of the legit programs I've seen, the one I would recommend the most to anybody looking to get started online is Commission Academy. In my own opinion, that's the best place to start.
At Commission Academy, you'll be provided with everything you need (including the training & tools) to begin earning real money by promoting products or services for companies like Amazon online.
The best part is that there's literally no limit on the amount you can earn with it & the process is pretty simple which means that it's absolutely perfect for people that don't have much experience.
Some wealthy affiliates even earn as much as 5-figures per month... Or more!

I mean don't get me wrong, that kind of money won't just fall into your lap without doing any work... But the harder you're willing to work at it, the more you stand to earn with it.
So if you're looking to get started but don't know which route you should go down or which program you should join (and don't want to waste money on bogus things that don't actually work), then I'd highly recommend checking out Commission Academy first. You can learn more about it here.