Supreme Ecom Blueprint is the name of a newly launched course which has been put together by dropshipping entrepreneur & self-claimed E-commerce expert, AC Hampton.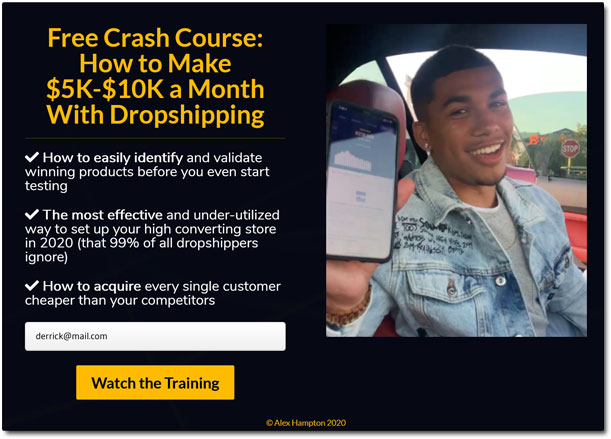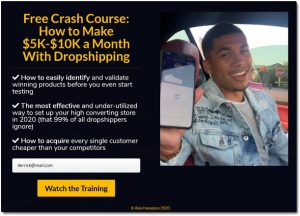 AC Hampton has been heavily promoting the course on YouTube & Instagram & he claims that it has been designed to "catapult its members into a lifestyle of income, freedom and impact".
But is it actually legit? Or is Supreme Ecom Blueprint a scam?
Those are questions I've been getting asked a lot since the launch of his course & so I decided to take the time out to put together this honest Supreme Ecom Blueprint review to answer them once & for all.
So if you've been thinking about investing in his course then I'd recommend that you stick around & read this review right to the end to find out everything you need to know before you do.
What Is Supreme Ecom Blueprint?   |   Who Is AC Hampton?   |   How Does Supreme Ecom Blueprint Work?   |   The Downsides   |   What Are The Costs?   |   Is Supreme Ecom Blueprint a Scam?   |   A Better Alternative
What Is Supreme Ecom Blueprint?
The Supreme Ecom Blueprint course by AC Hampton is a course that focuses on teaching you how to set up your own E-commerce business on Shopify by leveraging the dropshipping model.
And in case you don't already know, dropshipping basically involves listing items for sale & then having them shipped directly from the suppliers to the customers.
It's a method that's become really popular over the past few years as the fact that it doesn't require holding stock or investing in stock upfront makes it seem pretty attractive.
And it is indeed a method that can prove to be pretty lucrative too… In fact, there are many dropshippers that earn tens of thousands each month.
AC Hampton claims to be one of them.
But whilst dropshipping seems pretty attractive on the surface, there are some major downsides (and risks) that could actually see you losing a lot of money, as opposed to actually making it.
This means that in order to see success with dropshipping it's absolutely vital that you have access to great training to avoid the common pitfalls that most newcomers make.
AC Hampton claims that his training is the training you need.
In fact, AC Hampton actually claims that his course will "catapult you into a lifestyle of income, freedom and impact" and that it will enable you to "sprint to $100k/yr in record times".
But will it really? That's the question.
We'll find out in just a moment but first, let's take a closer look into the man behind the program himself, AC Hampton.
Who Is AC Hampton?
At the time of writing this Supreme Ecom Blueprint review, a quick Google search of AC Hampton doesn't really reveal much information other than links to his YouTube & Instagram profiles.
That's pretty unusual for somebody who claims to be a "7 Figure Marketer & Business Coach" and to have generated a whopping $1.8m in sales in a mere 8 months, as stated in his Instagram profile: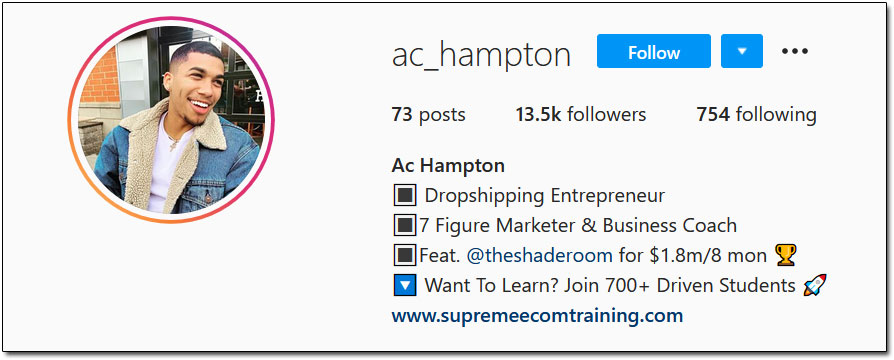 Thankfully, however, his YouTube page was more reassuring. In fact, on his YouTube page, he actually gives out quite a lot of valuable dropshipping information.
Take the video shown below for example:


In it, AC Hampton outlines the basics of setting up a dropshipping store on Shopify. It's pretty detailed for its duration, however, at just 3 minutes long it's quite clear that it's just a push for his paid course.
But based on his YouTube videos it's fair to say that it appears AC Hampton does indeed know a thing or two about dropshipping, so even though there isn't any third-party information his claims, I think we can give him the benefit of the doubt.
So with not much else really to say about AC Hampton, let's take a closer look into what to expect from his course.
How Does Supreme Ecom Blueprint Work?
As outlined towards the beginning of this review, the Supreme Ecom Blueprint course is a course that's been designed to teach you how to leverage dropshipping through the popular E-commerce platform Shopify.
Overall, the course is broken up into 8 parts & those parts are as follows:
Shopify Training & Setup
Running Your First Ad
Video Testing
Icebreaking Interesting/Lookalike Audience Testing
Retargeting Funnel
Scaling
Automate Your Store
Important Bank Criteria
I've touched on each one of those modules in further detail below so that you can get an idea of what to expect:
Shopify Training & Setup
Shopify is the name of the platform that you'll be building your E-commerce store on & therefore the first module of the course is geared around teaching you how to actually use it.
You'll learn how to navigate the platform & how to set up a store on Shopify, plus you'll also learn some more advanced things such as leveraging the "abandon cart" feature.
AC Hampton also includes a theme for your shop with his course, so he'll show you how to set that up in this module too, and he'll give you 950 examples of products that you can sell.
Running Your First Ad
AC Hampton's training is all geared around promoting your store through the Facebook ads platform, so in this module, you'll learn how to do exactly that.
He'll walk you through setting up your first ad & he'll provide some tips on how to get the most bang for your buck when it comes to using the Facebook ads platform.
Video Testing
AC Hampton puts a primary focus on leveraging video advertising, so in this module, you'll learn how to create videos, how to buy videos & how to determine which video will perform the best.
Icebreaking Interesting/Lookalike Audience Testing
This is simply yet another module on video advertising, only this one focuses more on the data side of things & discusses how you can use data to place more targeted advertisements.
Retargeting Funnel
This is a really short module consisting of just a mere 2 videos that talk about leveraging retargeting advertisements in an effort to increase your conversion rates by following up with the people that seen your ads but didn't make any purchases.
Scaling
The title says it all really. This module is all about scaling your ads so that you can ultimately create a bigger ad spend to reach a wider audience & generate larger profits.
Automate Your Store
This section discusses how you can outsource some of the tasks of running the business once it's up & running & generating profits so that you can free up some of your time.
Important Bank Criteria
This 2-video-long section literally just talks about setting up bank accounts for your business. Nothing special.
You Might Also Like:
The Downsides
AC Hampton has put out some relatively insightful training in his course & he clearly knows what he's talking about when it comes to dropshipping & Shopify, no doubt.
However, there are some immediate problems that I noticed.
The first problem is the fact that whilst his training is high-quality & insightful, it is pretty "minimal" to say the least. The modules are short & the videos are short… It's not as in-depth as I'd have hoped it would be.
I guess that's partly my own fault though because on his sales page he describes it as a "crash course" as in reality, that's all it is. Maybe I was just expecting a little bit too much.

Then, on top of that, the other downside is that it relies extremely heavily on paid advertising. In fact, paid advertising is literally the ONLY method he discusses in the program.
That means you'll be required to invest quite a lot of money to stand any chance of actually seeing success with your business & take it from me, paid advertising is by no means an easy game.
I always recommend that newcomers start out with the free methods of generating traffic first because that way, you can learn how to generate sales without putting your money on the line.
More often than not, if you start out with paid advertising you are just going to find yourself losing money rather than making it. That's the unfortunate reality.
How Much Does Supreme Ecom Blueprint Cost?
On the sales page of Supreme Ecom Blueprint, Alex (AC) claims that he has dedicated his life towards helping people start their own E-commerce businesses.
Here's the quote:
Alex started to dedicate his life towards helping people start their E-commerce journey and sprint to $100k/yr in record times.
So, with that in mind, I wonder why he is charging a whopping $397 for his course.
And on top of that, I also wonder why he is only giving his customers a mere 24 hours to change their mind about the course & get a refund.
A 24-hour refund policy is not the practice of good business in my opinion. Most companies typically offer 30-day refund policies at least & some even offer 60 days.
It's this that really lets the whole thing down for me because at a much lower price the course would have actually been a relatively decent purchase, however, as it is I just think it's way too expensive.
I guess it's now pretty easy to see how he affords all of the luxury things he boasts on his Instagram page.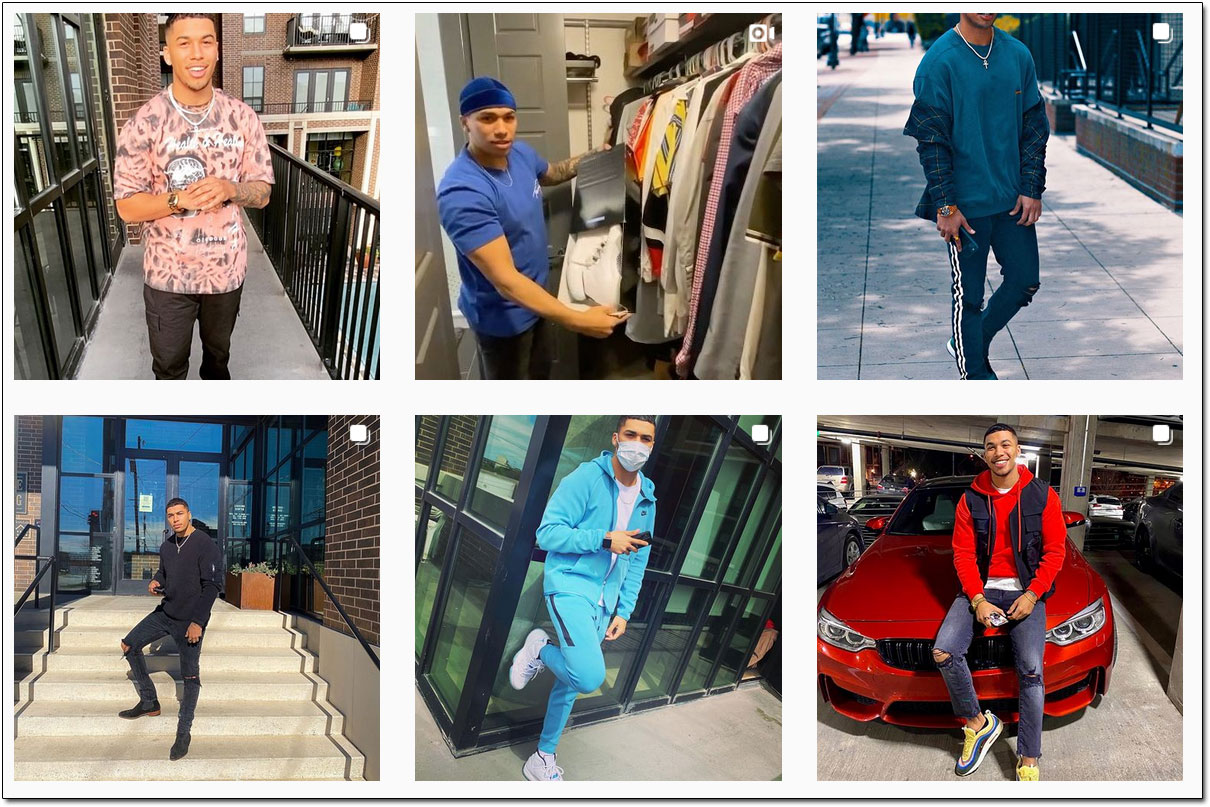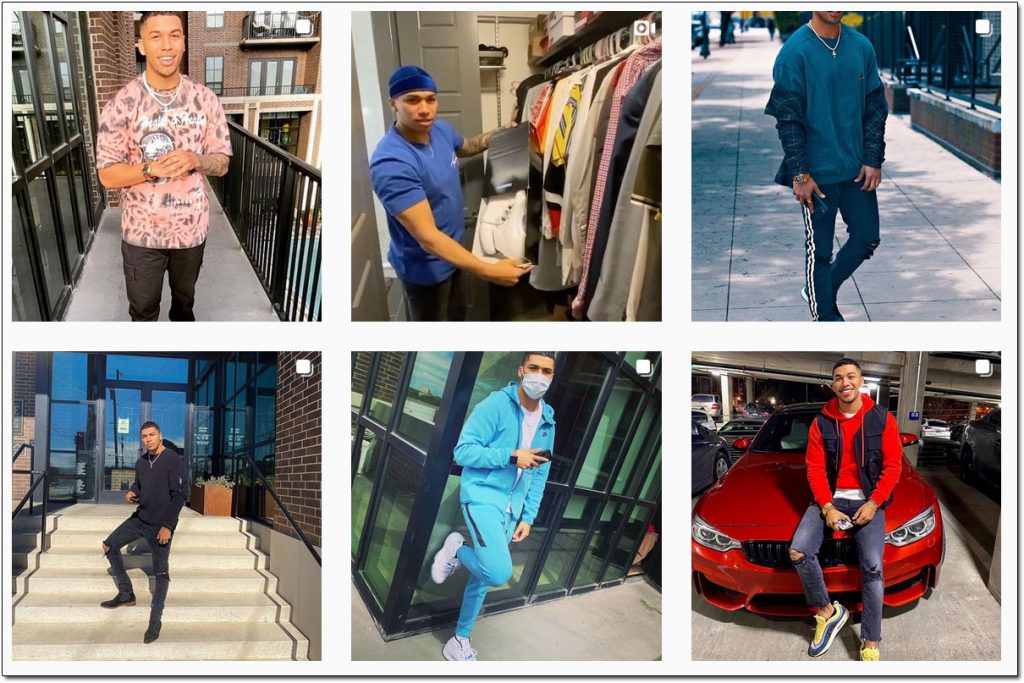 So that brings me onto my next point…
Is Supreme Ecom Blueprint a Scam?
I can conclude this review by telling you that the Supreme Ecom Blueprint course by AC Hampton is certainly not a scam, but in my opinion, it's also not really worth the price-tag.
At a lower price, I would have happily recommended this training course, however at the large price tag of $397 I just personally believe that there are better alternatives.
That, and the fact that you only get a mere 24 hours to decide whether or not you want a refund. As far as I'm concerned, that refund policy almost kinda makes it seem like a "trap".
It's a shame, however, because AC Hampton has actually put some relatively good training into his short course & with either a lower price tag or more training, I'd have certainly considered recommending it.
But to be honest, I have to admit that in general, I don't really recommend the method of dropshipping as a whole.
The reason for that is because there are a lot of things you have to take care of to find success with dropshipping & there are also a lot of things that could go wrong & cost you a lot of money.
A better alternative, in my opinion, is something called affiliate marketing.
Through affiliate marketing, you can make the exact same kind of money, by leveraging other peoples products (meaning that they deal with the work, rather than you).
So if you'd like to learn more about that instead then be sure to check out my free guide here.
But whatever you decide to do I just hope that you found my honest Supreme Ecom Blueprint review here useful & hopefully it gave you a good insight into what to expect.
As always, feel free to leave any comments or questions below. 🙂
A Better Alternative
The sad truth is that unfortunately most of the programs promising to help you make money online are scams. I can say that confidently after exposing over 500+ of them here on this blog.
But the good news is that even though most of them are indeed scams, there are actually some very good programs in amongst them - some programs that can truly help you to earn money.
And out of all of the legit programs I've seen, the one I would recommend the most to anybody looking to get started online is Commission Academy. In my own opinion, that's the best place to start.
At Commission Academy, you'll be provided with everything you need (including the training & tools) to begin earning real money by promoting products or services for companies like Amazon online.
The best part is that there's literally no limit on the amount you can earn with it & the process is pretty simple which means that it's absolutely perfect for people that don't have much experience.
Some wealthy affiliates even earn as much as 5-figures per month... Or more!

I mean don't get me wrong, that kind of money won't just fall into your lap without doing any work... But the harder you're willing to work at it, the more you stand to earn with it.
So if you're looking to get started but don't know which route you should go down or which program you should join (and don't want to waste money on bogus things that don't actually work), then I'd highly recommend checking out Commission Academy first. You can learn more about it here.