The VIP Team has been put together by a guy named Lieven VanNeste & it claims to be the first-ever online university through which you can learn and earn both at the exact same time.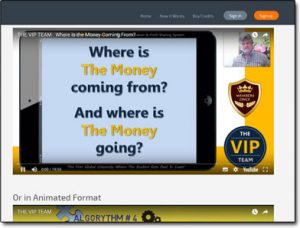 Quoted directly from their website The VIP Team System "powerfully rewards any VIP member who shares & introduces any new members to the VIP team" which immediately screams Ponzi scheme to me… So what's the truth?
Is it actually legit or is The VIP Team a scam that'll just see you spending money rather than making it?
If that's what you've been looking to find out then thankfully you've landed in the right place because I've taken a closer look at this system & in this review, I'll be uncovering everything there is that you need to know about it.
What Is The VIP Team?   |   How Does The VIP Team Work?   |   Can You Make Money With It?   |   Is The VIP Team a Scam?   |   A Better Alternative
What Is The VIP Team?
As I very briefly touched on above The VIP Team claims to the first-ever online university that allows you to earn whilst you learn – though it's clear they put a much heavier focus on the earn side of things.
In fact, as far as I could see on their website there was no real mention of the learning side at all… I mean as part of the university what are students actually going to be learning? That's a major red-flag as far as I'm concerned…
And when you land on their "How It Works" page to try & find out more the first video you're presented with is titled "Where Is The Money Coming From?" which is another huge red-flag in my opinion too.
Lieven VanNeste (the founder of The VIP Team) starts out in the video by stating that worryingly this is one of the most frequently asked questions by members…
Thankfully though 1:35 minutes into his video he states "let's be very clear, this is not a Ponzi"…" even though we handle money in a very innovative and creative way"… So it's all good right? LOL.
I have to say right from the off that this is one of the most sketchy looking money-making schemes I've ever seen.
But I won't be too quick to brush it off – after all, there could (maybe) be some potential to make money here right? Let's take a look…
How Does The VIP Team Work?
After doing further digging into The VIP Team is quickly became clear that as I initially suspected it's not really about learning or education at all – the focus is entirely on making money through a RevShare style scheme.
In my opinion, RevShare is generally just a fancy word for a Ponzi scheme, and these wouldn't be new to Lieven VanNeste either as based on his history he's been involved in several others prior to launching all of this…
Some of the other programs he's been involved with include HourlyRevShare, PMrevshares & allegedly according to a source on YouTube he's also involved with something named AutomaticMobileCash too.
Basically they're all very sketchy programs that look like potential scams & whilst carrying out my research I even noticed that there had been a dedicated website set up entitled "The Truth About Dr. Lieven Van Neste" which warned people about his programs.
So it's safe to say things don't look too promising with regards to his program, but regardless here's the "money flow" chart for The VIP Team which he claims will enable you to generate substantial wealth: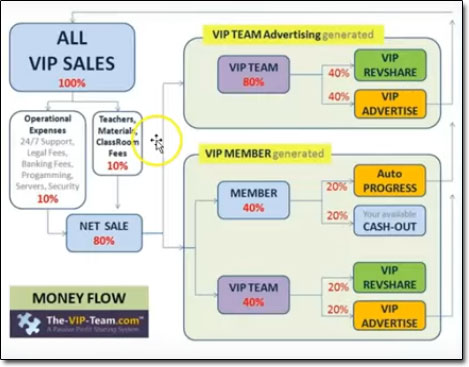 The chart might initially make the whole thing seem legitimate to you, but after inspecting it closely it became clear to me that the whole thing is indeed just a Ponzi scheme. There's no real product here & the entire focus is on investing & recruitment.
To get started with The VIP Team you can indeed sign up for free as Lieven VanNeste claims but this won't see you earning any money. If you want to open up the opportunity to earn money you must invest between $1,000 and $50,000 into what he calls VIP Tokens.
So, in reality, to actually get started with the program there's a minimum investment of $1,000 required.
From there it's a case of recruiting others into the program – that's how people in this scheme are making money (or trying to), the whole thing about getting paid to learn is just total nonsense.
You Might Also Like:
Can You Make Money With The VIP Team?
Well, I'll admit here that yes, there is the potential to make money with The VIP Team but in all honesty, it's very unlikely that you will actually manage to do so – the likelihood is that you merely lose money rather than make it.
Basically, to make money with it as mentioned above you'll need to actively promote it & recruit other people into it, getting them to invest at least $1,000 into the VIP Tokens just like you did.
When they invest you'll earn 50% of whatever money they put forward – and they too will get the opportunity to earn money just like you. It's worth noting though that this all they will get as they don't get access to any sort of product.
The other 50% is added to The VIP Team & that gets paid out through a RevShare model to all members in the scheme through 4 different algorithms.
I won't go into detail on the specifics of these algorithms because in all honesty, it's just nonsense – it's a scheme designed to make you think like you'll be able to earn money easily but in reality, the money paid out through this RevShare (based on the way it's split) will be absolutely minimal.
Ultimately the scheme is set up to make the creators wealthy & the creators only. Sure you can make some money by signing up & promoting it (if you're actually successful at getting others to join) but it's clear to me that the main intention is just to make Lieven VanNeste rich… Anybody else making money from it is just a "fluke" as far as I'm concerned.
Is The VIP Team a Scam?
In my opinion yes it is – because it's extremely misleading & the way the money is being distributed the whole thing looks an awful lot like a typical Ponzi scheme, something Lieven VanNeste is known to have involvement with.
Not to mention the fact that in order to "try it out" you'll have to invest a whopping $1,000 which as far as I'm concerned just introduces way too much risk considering there's no guarantee of getting anything back.
Therefore overall there's just way I'll be recommending this program to you because honestly if you end up buying into it I just know you'll likely end up very disappointed. If you still do want to make money online the right way then I suggest you check out my Wealthy Affiliate review instead, that's one of the best legitimate programs I've come across to date & it doesn't require any stupid investment to get started with as The VIP Team does.
If you happen to have any further questions or comments though don't hesitate to leave them below – I'll do my best to get back to you as soon as I can.
A Better Alternative
The sad truth is that unfortunately most of the programs promising to help you make money online are scams. I can say that confidently after exposing over 500+ of them here on this blog.
But the good news is that even though most of them are indeed scams, there are actually some very good programs in amongst them - some programs that can truly help you to earn money.
And out of all of the legit programs I've seen, the one I would recommend the most to anybody looking to get started online is Commission Academy. In my own opinion, that's the best place to start.
At Commission Academy, you'll be provided with everything you need (including the training & tools) to begin earning real money by promoting products or services for companies like Amazon online.
The best part is that there's literally no limit on the amount you can earn with it & the process is pretty simple which means that it's absolutely perfect for people that don't have much experience.
Some wealthy affiliates even earn as much as 5-figures per month... Or more!

I mean don't get me wrong, that kind of money won't just fall into your lap without doing any work... But the harder you're willing to work at it, the more you stand to earn with it.
So if you're looking to get started but don't know which route you should go down or which program you should join (and don't want to waste money on bogus things that don't actually work), then I'd highly recommend checking out Commission Academy first. You can learn more about it here.