The Trading With John system has supposedly been put together by a guy named John Miller & you're led to believe that through it you'll be able to earn as much as $2,200 per day with automated binary options trades.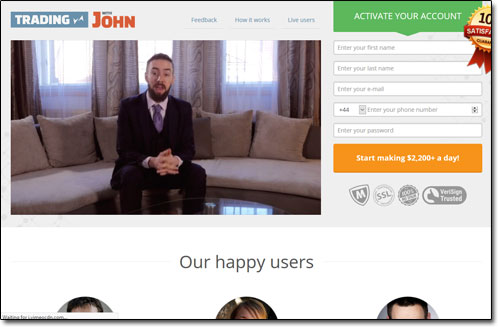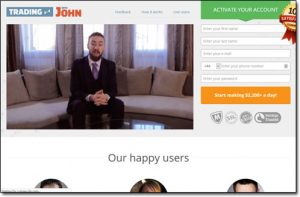 According to the website, there's allegedly a "100% satisfaction guarantee" but it's likely that you'll be sceptical about the whole thing & rightly so…
So what's the deal?
Is it actually legit or is Trading With John a scam that'll just ultimately see you losing money rather than making it?
Thankfully you've landed in exactly the right place to find out because I've taken a closer look into this system & in this review, I'll be uncovering everything you need to know, including how it all works & whether or not you can really make money with it.
What Is Trading With John?   |   How Does Trading With John Work?  |   The Red Flags   |   Is Trading With John a Scam?   |   A Better Alternative
What Is Trading With John?
The Trading With John system has allegedly been put together by a guy named John Miller, who according to the Trading With John website is a "young sensation" and "successful online entrepreneur" that's managed to make millions through online trading.
You're led to believe that he's used his knowledge of trading to create a system (which he's called the Trading With John system) that can allegedly generate you profits of $2,200 per day all on complete auto-pilot…
Apparently the system is based on a "high-speed analysing algorithm that can scan the trading markets"…
And you might be almost led into believing that it actually works because I'll admit that the whole thing (especially if it's the first time you've come across anything like this) looks pretty darn convincing.
But I can tell you right from the off that it's NOT legit – it's actually just a flat out binary options scam that as opposed to being set out to help you make money as it claims, is actually just set out to take money from you instead.
And I appreciate you might not just want to take my word for it so in a moment I'll show you exactly how it all really works so that you can see for yourself what's actually going on, but first take a look at this image:

You're led to believe that's John Miller stood outside of his house which he was able to buy with all of his trading profits but in truth the image has been Photoshopped & the house is actually Stone Mansion, the most expensive home in New Jersey.
Here's the original photo, without John Miller Photoshopped in: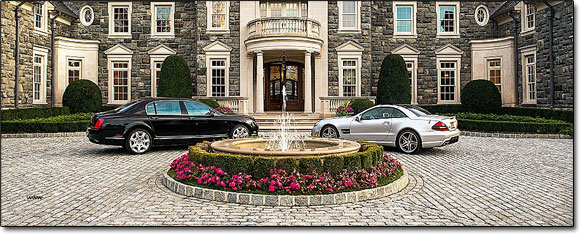 And despite John allegedly being a "young sensation" surprise surprise there are no details to be found about him online. The likelihood is that our guy John Miller is actually just a paid actor, which turns out to be the case with many of these binary options scams… The true creators, of course, keep themselves hidden & just quietly cash in at the expense of those who sign up.
Which brings me onto…
How Does Trading With John Work?
The truth is that the Trading With John system doesn't actually work at all – the whole website is nothing more than a ploy to trick you into signing up with the creators "recommended" binary options broker so that he (or she) can earn a commission at your expense.
The binary options broker that you're "recommended" by the way is in on it too.
So basically the Trading With John website just makes a ton of false promises, such as "100% satisfaction guaranteed", "start making $2,200 per day" in an attempt to lull you into a false sense of security…
The creators merely want you to believe that you'll just be able to "try it out" without any real risk to your deposit. They want you to think that you can sign up, make a deposit to try it out & that if you find it doesn't work as promised just withdraw your funds…
However, as I said above the broker is on it too – and the "broker" you're recommended to via this system is just a rogue unlicensed company, meaning that once they've got your cash there's no way they'll be letting you get it back… Even if you decide not to trade with it all.
The entire thing is just a full-blown scam to trick you into parting with your money – and if you do, then you'll be left to find out the hard way that the system doesn't actually work as promised.
Instead of profits, you'll see nothing but losses, and like I mentioned above if you think you'll just be able to withdraw your funds back out then think again… There's no way the broker will let you do that.
Once they've got your money that's it, you've been scammed… So don't fall for it.
The Red Flags To Look Out For
I've come across several of these binary options scams before & I know exactly what to look out for – I'll share a few of the red-flags here so that in the future you'll hopefully be able to spot a scam yourself.
1. No Contact Details or License
Companies operating within the investment industry (like Trading With John) must prominently display both their registered office address AND their relevant license number. They must also have a license number for every company they obtain customers from, not just the company they are based in.
If they don't display either of these on their website – do not invest. There is no way you should ever risk depositing or trading money with a firm that doesn't make their identity 100% clear because the likelihood is that it's a scam.
2. Unverifiable/Fake Testimonials
Legitimate websites tend to use 3rd party companies such as Trustpilot to manage their reviews – this way visitors can know that the reviews are managed externally & that customers can post the truth. Scam sites like Trading With John don't (because they know the reviews will be bad) so instead, they put together doctored reviews or testimonials directly on their website as shown below:

A quick Google reverse image search proves these testimonials are fake, since the image used for "Peter" who apparently made $459 in 2 hours is actually a photo of a man named Harry Crawford living in Greece as shown below:

3. The Promise of Easy Money With Little Work
Yes, the internet provides you with fantastic ways to make money however it's not magical & there is no way to earn lot's of money with little to no work. If there was then everybody would be doing it and therefore if something promises it (like the Trading With John system) – it's likely just trying to scam you.
Is Trading With John a Scam?
Yes, in my opinion, Trading With John is indeed a scam. As far as I'm concerned the whole thing is set out to part you with your cash purely in an effort to make the creator wealthy at your expense.
Everything you're told is complete lies but sadly you'll only be left to find this out after depositing with the "recommended" broker & by then its too late because the broker will make it nearly impossible to get your money back.
Therefore overall it's safe to say I won't be recommending this system to you, instead, I'll actually advising that you stay away from it because rather than helping you make money, in reality, the only thing it's going to do is help you LOSE money.
If you really want a legitimate way to learn how to make money online properly then I suggest you check out Commission Academy instead. That's one of my top-rated programs for people looking to get started online the right way.
Anyway, hopefully, my review here helped you save some money & of course if you do happen to have any further questions or comments then don't hesitate to leave them below & I'll get back to you as soon as possible.
A Better Alternative
The sad truth is that unfortunately most of the programs promising to help you make money online are scams. I can say that confidently after exposing over 500+ of them here on this blog.
But the good news is that even though most of them are indeed scams, there are actually some very good programs in amongst them - some programs that can truly help you to earn money.
And out of all of the legit programs I've seen, the one I would recommend the most to anybody looking to get started online is Commission Academy. In my own opinion, that's the best place to start.
At Commission Academy, you'll be provided with everything you need (including the training & tools) to begin earning real money by promoting products or services for companies like Amazon online.
The best part is that there's literally no limit on the amount you can earn with it & the process is pretty simple which means that it's absolutely perfect for people that don't have much experience.
Some wealthy affiliates even earn as much as 5-figures per month... Or more!


I mean don't get me wrong, that kind of money won't just fall into your lap without doing any work... But the harder you're willing to work at it, the more you stand to earn with it.
So if you're looking to get started but don't know which route you should go down or which program you should join (and don't want to waste money on bogus things that don't actually work), then I'd highly recommend checking out Commission Academy first. You can learn more about it here.