A popular website is one of the most reliable sources of passive income. People come up with various ideas but the competition is so high that even the best SEO experts need months to help the pages climb up. Traffic Ivy is a popular platform that promises to serve your website with quick and sufficient traffic.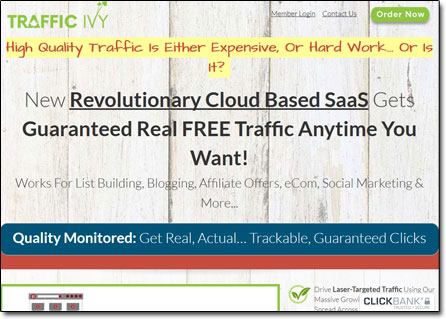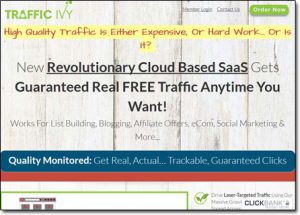 Have you come across this platform & want to know if it's really legit? Or do you own a website and want to seek help from a traffic generating mechanism? Well this Traffic Ivy review is going to cover various important aspects to let you know how this thing really works and if it can do anything good to your website.
The bigger the claims the greater the chances of maliciousness. This Traffic Ivy scam review will push back the curtain that the truth is hiding behind & uncover everything there is to know.
What Is Traffic Ivy?   |   Who Is Behind It?   |   How Does Traffic Ivy Work?   |   The Costs   |   Is Traffic Ivy a Scam?   |   A Better Alternative
What Is Traffic Ivy?
Traffic Ivy is an online platform that advertises itself to be a reliable traffic generating platform. It addresses website owners by claiming that this traffic generating tool is going to help them bring in more traffic in a short period of time.

On the surface, Traffic Ivy appears to be a platform that offers its clients with tools to build long term traffic to their website. Most of the existing Traffic Ivy customers are basically bloggers. Even the website claims that this tool is there to primarily serve blog owners as well as the owners of YouTube channels.
There is certainly no shortage of traffic generating bots available online but those things are not going to serve you if you are looking for affiliate and advertising commissions. Bots don't purchase anything and they don't also click on ads… All they do is increase your traffic statistics…
Sadly though many people often get conned into purchasing bot traffic when they believe that they will actually be getting real people visiting their website… As a result I am often very sceptical whenever coming across any website promising traffic & if you have any experience with purchasing traffic then you likely are too.
Who Is Behind Traffic Ivy?
Cindy Donovan is the person running this platform, claiming to be a full-time marketer. She claims that she has decades of experience and has sold millions of products over the years and that using her experience, she has managed to come up with an efficient tool.
Traffic Ivy is something that makes itself look like way different from bot-driven traffic generators. Cindy seems to be serving with training and tips on SEO and campaign publication too, so it does look promising to say the least.
Let us now have a look into the system to see how things work with this traffic generating platform (and to see if it can really generate traffic that can actually potentially convert into sales or commissions)…
How Does Traffic Ivy Work?
Apparently, it seems as if Traffic Ivy has a set of integrated tools to generate traffic. For instance, you can connect social media handles to your website. A tool to analyse the relevance of the website's subject and material or content to help you come up with the most relevant content to engage the visitors.
This is basically a centralized system allowing its users to manage everything from a single point/interface. You have various options regarding content targeting, social media sharing, and more. It supports Pinterest, LinkedIn, Twitter, and Reddit where you can share your posts.
What Is Good About Traffic Ivy?
The best part is that Traffic Ivy doesn't rely on bots. This system really shares your content with real users. This is encouraging because if you are looking to generate income via your blog or website you basically are looking to attract real generic traffic.
How Much Does Traffic Ivy Cost?
You can either opt for the least – $9.97/month or the premium $49.97/month.
If you are a beginner then we'll recommend you to try the lowest tier first and see how it works for your website or blog. Remember, nowadays people are making more via affiliate commissions & traffic is all about running trials because what works for one person may not work for another.
If Traffic Ivy does the trick for you by converting your blog from novice to something around 1000 visitors are week then it is good. You can give it a couple of months to build consistent traffic. Once you achieve from 5k to 10k a week then it is the right time to start thinking about affiliate promotions.
Is Traffic Ivy a Scam?
While putting together this Traffic Ivy scam review we didn't come across anything suspicious. The good thing is that it generates results for most of its customers (according to their testimonials).
As long as you talk about traffic generation, yes Traffic Ivy does the trick. But you can never underestimate the significance of traffic quality. That is what makes the real difference. Until and unless your website attracts quality traffic, well-targeted and relevant, you can't expect the results.
Yes, Traffic Ivy brings in traffic but the quality of traffic is still an issue… So you will definitely see yourself getting real people onto your website as a result of purchasing traffic from Traffic Ivy but the reality is that it's incentivised traffic which typically converts VERY low (if it converts at all).
So you may not be getting bots which is a good thing, but at the same time you may not be getting sales either which obviously isn't good… Therefore in my opinion it would be better to just learn first-hand how to generate your own traffic rather than relying on purchasing traffic from elsewhere.
And one of the best places where you can learn how to generate consistent high-quality traffic in my opinion is Commission Academy. They have excellent training courses on traffic generation and you can even get started with them for free.
Also if you're looking for additional ways to monetize your blog or website to squeeze the most revenue out of the traffic that you do generate then definitely be sure to check out my huge list of ways to make money from a blog or website here.
Whatever you decide to do though I just sincerely hope that my review of Traffic Ivy here has given you a good insight into how it works & the type of traffic that you'll actually be getting from it. If you still have any questions or comments though then of course don't hesitate to leave them below. 🙂
A Better Alternative
The sad truth is that unfortunately most of the programs promising to help you make money online are scams. I can say that confidently after exposing over 500+ of them here on this blog.
But the good news is that even though most of them are indeed scams, there are actually some very good programs in amongst them - some programs that can truly help you to earn money.
And out of all of the legit programs I've seen, the one I would recommend the most to anybody looking to get started online is Commission Academy. In my own opinion, that's the best place to start.
At Commission Academy, you'll be provided with everything you need (including the training & tools) to begin earning real money by promoting products or services for companies like Amazon online.
The best part is that there's literally no limit on the amount you can earn with it & the process is pretty simple which means that it's absolutely perfect for people that don't have much experience.
Some wealthy affiliates even earn as much as 5-figures per month... Or more!


I mean don't get me wrong, that kind of money won't just fall into your lap without doing any work... But the harder you're willing to work at it, the more you stand to earn with it.
So if you're looking to get started but don't know which route you should go down or which program you should join (and don't want to waste money on bogus things that don't actually work), then I'd highly recommend checking out Commission Academy first. You can learn more about it here.