The Ultimate PayDays system claims to be a fool-proof system that can allegedly enable you to bank as much as $1,316.69 per day online even if you've never actually managed to make a single penny online before.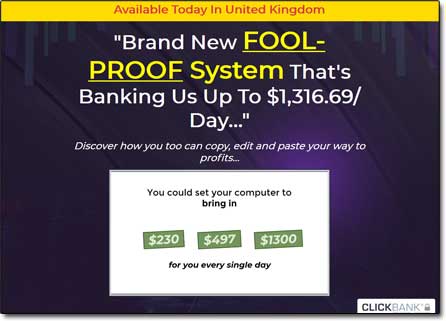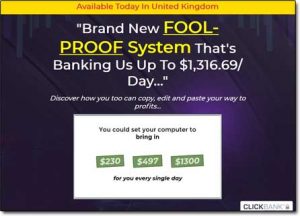 You're led to believe that the whole thing is stupidly simple & that you can literally just copy & paste your way to profits…
But is it actually the real deal or is Ultimate PayDays a scam that'll just end up taking your money rather than helping you make it?
Thankfully if that's what you've been trying to find out you can rest assured that you've landed in the right place to do so as I've taken a closer look into how it all works & in this honest review I'll be uncovering the truth that I found.
What Is Ultimate Paydays?   |   How Does Ultimate PayDays Work?   |   The Good News   |   Is Ultimate PayDays a Scam?   |   A Better Alternative
What Is Ultimate PayDays?
The Ultimate PayDays system is a product that's just recently launched on ClickBank & it has been getting promoted rather heavily through Facebook. The promotions all state that it will provide you with a super-easy way to make money & that you won't really have to do anything at all…
In fact, you're led to believe that the whole thing pretty much works on complete auto-pilot & even the website for the system itself states that all you need to do is copy, edit & paste your way to profits.

So naturally, it's gained quite a lot of interest & as a result, I've had many people reaching out to me & asking if it's legit. Can you really make the promised $1,316.69 per day with the Ultimate PayDays system? In fact, can you make any money at all with it?
The simple answer to those questions is NO. Sadly the Ultimate PayDays system is not what it seems & in reality it is very unlikely that you'll actually be able to make any money through it… You'll probably just end up losing money instead.
Now I appreciate that might seem like quite a hasty statement to make, but the reason I can say that so confidently right from the off is that I've exposed this same system already several times before.
And when I say system a better name for it is probably a get-rich-quick scam, because really that's what the whole thing is.
It's previously been launched as the Click Cash Machine & Amazon Cash Websites… The websites are slightly different & the names have changed, but the founders are the same & so are their intentions. They want to take your cash!
But I do appreciate that you might have been really hoping that this system would work for you, after all, who doesn't want to make $1,000+ per day on autopilot? So for that reason, I'll show you how it all really works so that you can see for yourself what's actually going on (and why you should avoid it).
How Does Ultimate PayDays Work?
Basically, the Ultimate PayDays system is loosely based around something called affiliate marketing, which is actually a legitimate way to make money online. Affiliate marketing is also the same way I personally make most of my own money online & I'll be the first to admit that it's a darn good method.
However whilst affiliate marketing itself is legit, the Ultimate PayDays system is not. They're just piggybacking onto a proven method to try & trick you into handing over your cash so that the creator can earn at your expense.
You see affiliate marketing basically involves you promoting products online for 3rd party companies. So, for example, you could sign up to Amazon as an affiliate & that would mean you could promote the products from their website & earn commissions on any sales you generate.
You basically get a unique tracking link to the products which you can share & if people click on it & then buy something, you get paid. It's pretty straight forward & there are legitimate places you can get started with it such as Commission Academy.
Here's a quick visual breakdown of how it works: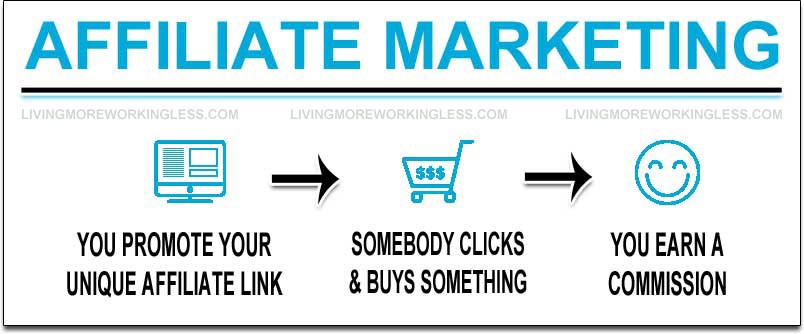 Anyway, so you're probably wondering where the Ultimate PayDays system comes into play & why I'm saying that it's no good so now let me move onto that…
In short, affiliate marketing takes work. It's possible to make money with it but it will take time & effort to do so… Just like anything in life really. However, the creator of the Ultimate PayDays system is basically trying to trick people into thinking he's developed an automated system that uses artificial intelligence to generate a passive income of $1,000's per day.
Of course though to get access to that so-called system you have to firstly hand over some cash – and prior to handing over the cash, there is no mention of how the whole thing actually works (a common trait of a get-rich-quick scam).
You're basically just promised the world, asked to hand over some money, then left to find out that what you actually get is not what you were promised.
Rather than getting access to an automated money-making system (which doesn't and never will exist) all you actually get access to is some very, very basic training on affiliate marketing.
And I stress the word "very" because honestly, the training will not help you get anywhere at all – instead you'll just be left feeling very disappointed with your purchase. Meanwhile, though the creator will be sitting back & laughing at your expense.
The whole thing is honestly just a trick.
You Might Also Like:
There Is Some Good News…
The slightly good news is the fact that if you've already bought into the Ultimate PayDays system prior to reading this review then all may not be lost just yet. There's a good chance you can get your money back.
The first port of call to do that is obviously to contact the vendor themselves, aka the creators of the Ultimate PayDays system – however it's likely that they'll just ignore or point blank refuse your request.

The next port of call though is to contact ClickBank because that's where the product is being sold through… And whilst many of the products sold through ClickBank are crappy (ahem scammy), ClickBank themselves are actually often fairly good at offering refunds when contacted directly.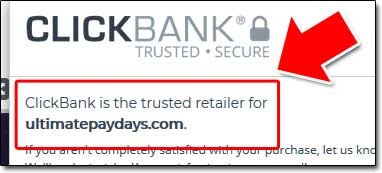 So like I say if you have lost money to it then the good news is that you'll probably be able to get it back by doing that. ?
Is Ultimate PayDays a Scam?
In my opinion yes, I would say that Ultimate PayDays is a scam. The reason I say that is because whilst you do get some training, the whole thing is built upon false promises & therefore I feel like the creator is just essentially tricking you into purchasing something by telling you lies. That to me is a scam.
The reality is that you would be extremely lucky to make a single penny through the Ultimate PayDays system, never mind a passive income of over $1,000 per day… That's just ludicrous.
So for those reasons I am not going to be recommending this system to you because as far as I'm concerned it's just a waste of money & instead of wasting your money on it you should just sign up to a legitimate program like Commission Academy if you really want to achieve success online.
But hopefully, my review here has helped you save your cash, and hopefully, it has given you the insight into it that you were looking for. If you do still happen to have any further questions though or maybe some comments you'd like to add then don't hesitate to leave them below. I always try & respond as quickly as I can.
A Better Alternative
The sad truth is that unfortunately most of the programs promising to help you make money online are scams. I can say that confidently after exposing over 500+ of them here on this blog.
But the good news is that even though most of them are indeed scams, there are actually some very good programs in amongst them - some programs that can truly help you to earn money.
And out of all of the legit programs I've seen, the one I would recommend the most to anybody looking to get started online is Commission Academy. In my own opinion, that's the best place to start.
At Commission Academy, you'll be provided with everything you need (including the training & tools) to begin earning real money by promoting products or services for companies like Amazon online.
The best part is that there's literally no limit on the amount you can earn with it & the process is pretty simple which means that it's absolutely perfect for people that don't have much experience.
Some wealthy affiliates even earn as much as 5-figures per month... Or more!


I mean don't get me wrong, that kind of money won't just fall into your lap without doing any work... But the harder you're willing to work at it, the more you stand to earn with it.
So if you're looking to get started but don't know which route you should go down or which program you should join (and don't want to waste money on bogus things that don't actually work), then I'd highly recommend checking out Commission Academy first. You can learn more about it here.