Valued Opinions surveys are supposedly super simple & in return for completing them, you're led to believe that you'll be greatly rewarded with earnings of up to £5 per fully completed survey.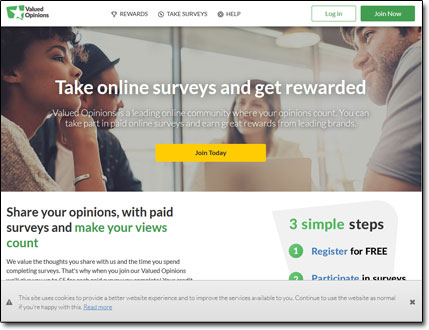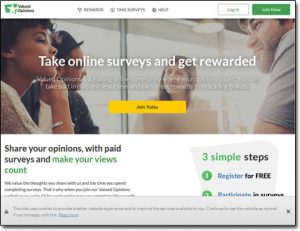 However when it comes to paid surveys a promise of up to £5 per survey seems like an awful lot of money considering most sites usually pay out less than a £1 per survey, so what's the deal?
Is it actually a legit survey site or is Valued Opinions a scam that'll just see you wasting your time?
Thankfully you've landed in the right place to find out because I've done the digging & in this review of Valued Opinions surveys I'm going to be going over everything you need to know, including whether or not you can make money with them & if the whole thing will really be worth your while.
What Is Valued Opinions?   |   How Does It Work?   |   Valued Opinions Complaints   |   Is Valued Opinions Legit?   |   A Better Alternative
What Is Valued Opinions?
Valued Opinions is a market research company – they act as a middleman connecting companies who are looking for opinions on their products (and willing to pay for them) with people who are looking to make extra money and willing to share their opinions.
Through Valued Opinions, you can get the opportunity to complete surveys or test products & in return for doing so, you'll be rewarded with credit which can be later redeemed for gift vouchers that you can spend at many leading retailers.
You might lean towards thinking that Valued Opinions is just your average paid survey site, but to be honest it's not really. Valued Opinions isn't available to just anybody like most other survey sites are – instead they only open up their registration periodically & they are very selective as to who they actually allow in to work through their site.
This is likely because the advertisers they work with are very specific about the type of people that they want to have testing their products or answering their survey questions. Admittedly whilst this is a bit of a kicker, the good news is that if you do get in then Valued Opinions claim to pay a lot more than most other survey sites in return.
That's right, whereas most other survey sites I've reviewed such as Global Test Market, Survey Junkie only pay out roughly around £1 or less per survey Valued Opinions surveys claim to pay out up to £5 for every one that's fully completed. That's a big difference!
Obviously the key words though are "up to" £5 per survey, so the likelihood is that the average will be much less… But hey-ho, even if a few surveys land in at the full £5 payout that could soon boost up your earnings.
How Do Valued Opinions Surveys Work?
Honestly, the process over at Valued Opinions is pretty straight forward – the hardest part is actually getting in. To find out when registration opens you'll need to follow their Facebook page but know that when it does open you'll need to act quick because it doesn't open for long & there's likely a lot of other people also waiting to get in just like yourself.
Anyway, basically you sign up for free, fill in some details about yourself (this is actually quite extensive) & then once you are successfully a member you will simply be notified when new surveys come your way.
You don't have to complete every single one of them but you are obviously heavily encouraged to – and to be honest, when it comes to Valued Opinions I would advise you try & keep on top of them because with it being an "exclusive" site the last thing you'd want is for them to kick you out which can & does happen.
Plus as with all survey sites the more you complete the more you'll likely be sent in return. Usually, they employ algorithms which work to reward the most active users by sending them surveys more frequently.
From time & time, you'll also be offered the odd product to test – usually, you'll just be asking to comment on things like how the packaged looked, how the product performed (or sometimes tasted) and things like that…
Then in return for your efforts, you'll start racking up "credit" inside your account. You'll get credit for all the Valued Opinions surveys that you fully complete & as they state on their site this can equate to up to £5 per survey.
Sadly the credit can't be redeemed for cash, cheques & you can't have it sent to your PayPal – instead if you want anything other than a gift card you'll be forced to get the money sent to you on a prepaid Visa card… I guess it's not the end of the world.
They really do push gift cards upon you though & your credit can be exchanged for these once you've reached either £10 or $20 depending which version of the site you're using. In my opinion, the gift cards are still pretty good since there's a lot of brands that they can be used with but personally I do prefer sites that will simply let you withdraw straight out via PayPal.
You Might Also Like:
Valued Opinions Complaints
Okay so before I run over a few of the complaints that I've picked up on from other sites the one thing I want to reiterate is the fact that Valued Opinions is indeed a legitimate company, not a scam.
However, as you can appreciate even legitimate programs have their problems so I thought I'd round up a few of the main concerns people seem to be having:
Repetition of questions – many members are annoyed that after having to complete an extensive profile they are then asked the same questions they already entered details for again & again in the surveys. When you're not being paid a huge amount for your time I can see how seemingly unnecessary questions could be frustrating.
Surveys not paying – several members have complained of being "kicked out" of the survey halfway through which means that despite spending some time completing a portion of it they don't end up getting paid any credits. This seems to be one of the most common complaints.
Few surveys available – some people claim that they are provided with a good amount of surveys whilst others say that they have hardly been provided with any surveys at all. I guess depending on your demographic you may find that you do not get offered many surveys through Valued Opinions.
Anyway, this brings me onto…
Is Valued Opinions Legit?
I'm confident in saying that Valued Opinions is a legitimate site, however, the honest truth is that you're not really going to be able to make any life-changing amounts of money through this site, just pocket money at most. For that reason I don't personally really recommend paid survey sites because generally, they see you wasting a lot of your time for very little reward – and as far as I'm concerned there are better ways to make money online.
But if paid surveys are your thing & you're lucky enough to get accepted into Valued Opinions when their registration is open then with them paying up to £5 per survey it could prove to be a nice little bit of pocket money at least.
The one main downside I'll point again though is that a lot of members seem to have been complaining about getting kicked out of the surveys halfway through, and complaining that if this happens you're not paid a thing. Some members reported spending around 15 minutes on surveys before they were told that they weren't eligible to finish it & it's easy to see how that could be very frustrating.
So anyway overall Valued Opinions surveys are legit, but I'll leave it up to you to decide whether or not you want to join. If you do happen to have any further comments or questions don't hesitate to leave them below.
A Better Alternative
The sad truth is that unfortunately most of the programs promising to help you make money online are scams. I can say that confidently after exposing over 500+ of them here on this blog.
But the good news is that even though most of them are indeed scams, there are actually some very good programs in amongst them - some programs that can truly help you to earn money.
And out of all of the legit programs I've seen, the one I would recommend the most to anybody looking to get started online is Commission Academy. In my own opinion, that's the best place to start.
At Commission Academy, you'll be provided with everything you need (including the training & tools) to begin earning real money by promoting products or services for companies like Amazon online.
The best part is that there's literally no limit on the amount you can earn with it & the process is pretty simple which means that it's absolutely perfect for people that don't have much experience.
Some wealthy affiliates even earn as much as 5-figures per month... Or more!

I mean don't get me wrong, that kind of money won't just fall into your lap without doing any work... But the harder you're willing to work at it, the more you stand to earn with it.
So if you're looking to get started but don't know which route you should go down or which program you should join (and don't want to waste money on bogus things that don't actually work), then I'd highly recommend checking out Commission Academy first. You can learn more about it here.