Vector Marketing claims to provide you with a fun, flexible way to gain income & experience. You're led to believe that you can join the company (even without experience) and that you'll receive good pay by selling quality products on a part-time or full-time basis.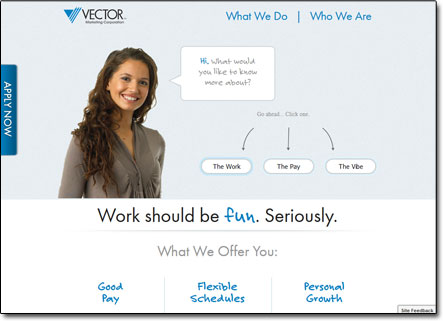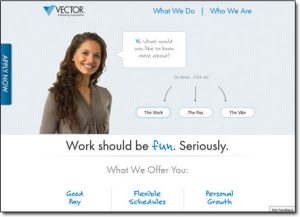 They put it across as if it's some sort of dream job but many of the consumer reviews seem to state otherwise with several stating that it's nothing but a flat out pyramid scheme… So what's the truth about this company?
Is it actually legit or will Vector Marketing scam you & just see you spending money rather than making it?
Thankfully if that's what you've been trying to find out you've landed in exactly the right place because I've taken a closer look at it & in this review, I'll be uncovering everything there is you need to know, including how it all works & whether or not the opportunity is actually worthwhile.
What Is Vector Marketing?   |   How Does Vector Marketing Work?   |   Is Vector Marketing a Pyramid Scheme?   |   Is Vector Marketing a Scam?   |   A Better Alternative
What Is Vector Marketing?
Vector Marketing is associated with a company named CUTCO Cutlery & in short, they basically provide people with a way to earn extra income as their own boss by selling the companies products.
To quote CUTCO Cutlery's website:

So Cutco sells the product & Vector Marketing provide the income opportunity for you to resell the products. It also seems that they primarily target their opportunity towards students as they specifically state on their website that "sales reps can work part-time during the school year and full time during the summer".
Now I've got to point out here that based on my past experience with biz-ops like this when they specifically target students it always makes me a little bit sceptical as students are generally seen as being easier to take advantage of making them primary targets for scams…
I'm not saying that itself means Vector Marketing is a scam – I'm just saying that from the off when I see that it always makes me a little more wary about an opportunity.
But I will say that based on the customer reviews found over at the BBB (as shown below) it doesn't look like an overly great start for Vector Marketing…

They have 8 customer reviews, 7 of which are negative and a whopping 46 customer complaints.
Before I touch more on those though, let's firstly take a look at how it all actually works…
How Does Vector Marketing Work?
The funny thing about Vector Marketing is that despite repeatedly stressing how great they are as a company & how great the opportunity is, they don't really go into many details in terms of the specifics as to how it all actually works.
I had to actually do quite a lot of digging to find out what was really going on & how the company actually worked…
So to get started with Vector Marketing you will first need to undergo an application & interview process. From what I've heard the application process is quite drawn out & could potentially involve a physical interview as well.
This means that unlike with many typical biz-ops, employment through Vector Marketing is technically not guaranteed, you'll have to prove yourself first & make it through the application process.
If you do manage to get through the application process (which you should be able to do with fair ease) then you'll get the opportunity to promote Cutco's products – but know that you won't start making money right away.
In fact, before you can even think about making money you'll actually have to invest some first. That's right, to get started as a Vector Marketing sales rep you actually have to purchase your own set of demo Cutco knives first.
Well "technically" they claim to loan these demo knives to you, but what I've heard in several reviews is that if you decide not to pursue the opportunity or don't make enough sales, you'll have to pay for this "loan" out of your own pocket & it could end up costing you around $400.
Take a look at this excerpt from the review I'm talking about:

So rather than treating it as a "loan", I would definitely approach it more as being an investment since there's no guarantee that you'll manage to make the required amount of sales to cover the so-called "loan".
I think it's a bit of a sneaky tactic to be honest if you ask me…
Anyway let's say you go ahead with all – after this you'll be required to go round knocking on doors & setting up appointments with people to come round and demonstrate the products.
Take note here that you don't get paid for this – arranging appointments & travelling to appointments is all to be done in your own time at your own cost. You'll only start earning money once you actually start attending the appointments & demonstrating the products…
For each of the demonstrations, you'll receive a guaranteed base pay and on top of that you'll receive a commission should you go on to actually manage to sell any of the products demonstrated.
Vector Marketing don't actually specify the rates of pay on their website but from the research I've done, it seems to be around $15/hour. Keeping in mind that the average demonstration will last well under an hour, that's not too great at all… If you don't make a sale it will likely only just about make up for your travel costs.
So despite the base pay, it's clear all about sales, sales & sales… So as a Vector Marketing sales rep if you want to see any success at all it looks like you're certainly going to have to be a ruddy good salesperson.
You Might Also Like:
Is Vector Marketing a Pyramid Scheme?
A common trend I noticed in the reviews I was looking at when carrying out my research into Vector Marketing was that many people were concerned that it was just a flat out pyramid scheme… However, this isn't quite true.
Whilst I don't really agree with some of Vector Marketing's practices, it's actually far from being a pyramid scheme.
A pyramid scheme is basically where people in the scheme are recruiting others in to earn from their efforts. So for example, if Vector Marketing were offering you the opportunity to introduce your friends & told you that you could earn additional commissions from the sales they made & so on then yes, it could potentially be operating as a pyramid scheme (depending on whether more people were buying in for the actual product itself or just for the attached opportunity)…
But as it is Vector Marketing does not operate any sort of multi-level-marketing program.
You sign up to Vector Marketing, you earn from your own efforts – that's it… They don't give you the opportunity to recruit other people in with the promise of being able to earn from their efforts too.
This means that Vector Marketing couldn't possibly be a pyramid scheme – essentially it's just a commission-based job… One that could cost you money though if you didn't manage to sell enough to cover the "loaned" demo kit.
Is Vector Marketing a Scam?
Well, I don't like some of the practices associated with Vector Marketing but it's certainly not a scam. It's a legitimate way to make money, but I'm not going to lie in my opinion there are much better ways to make money… Not to mention the fact that you could actually end up losing money through Vector Marketing instead.
It seems that they're quick to tell you about all the potentially good things involved with their opportunity, but not so quick to tell you about the financial outlay that you'll have to spend if you don't manage to succeed with it.
On top of that there are just countless amounts of negative reviews online surrounding this company, so whilst they're technically legit it doesn't seem like they're really the best company to be working for in my opinion.
Therefore overall I'm not going to be personally recommending Vector Marketing – I think that in my opinion there's just too much risk involved. If you're looking to make money you should check out the way I personally make money instead – there's no risk involved since you can get started for free. If you'd like to find out more be sure to check out my Wealthy Affiliate review here – it's there that you'll learn how to get started.
I do hope you found my review here useful though and hopefully it gave you the insight you were looking for into this company. If you do happen to have any further comments or questions don't hesitate to leave them below.
A Better Alternative
The sad truth is that unfortunately most of the programs promising to help you make money online are scams. I can say that confidently after exposing over 500+ of them here on this blog.
But the good news is that even though most of them are indeed scams, there are actually some very good programs in amongst them - some programs that can truly help you to earn money.
And out of all of the legit programs I've seen, the one I would recommend the most to anybody looking to get started online is Commission Academy. In my own opinion, that's the best place to start.
At Commission Academy, you'll be provided with everything you need (including the training & tools) to begin earning real money by promoting products or services for companies like Amazon online.
The best part is that there's literally no limit on the amount you can earn with it & the process is pretty simple which means that it's absolutely perfect for people that don't have much experience.
Some wealthy affiliates even earn as much as 5-figures per month... Or more!

I mean don't get me wrong, that kind of money won't just fall into your lap without doing any work... But the harder you're willing to work at it, the more you stand to earn with it.
So if you're looking to get started but don't know which route you should go down or which program you should join (and don't want to waste money on bogus things that don't actually work), then I'd highly recommend checking out Commission Academy first. You can learn more about it here.