The Viral Money Method is a new system that's been launched by Matthew Neer & it claims to be a piece of automated software that can provide you with a whopping online income $4,598.73 per day, even if you've never made a penny online before.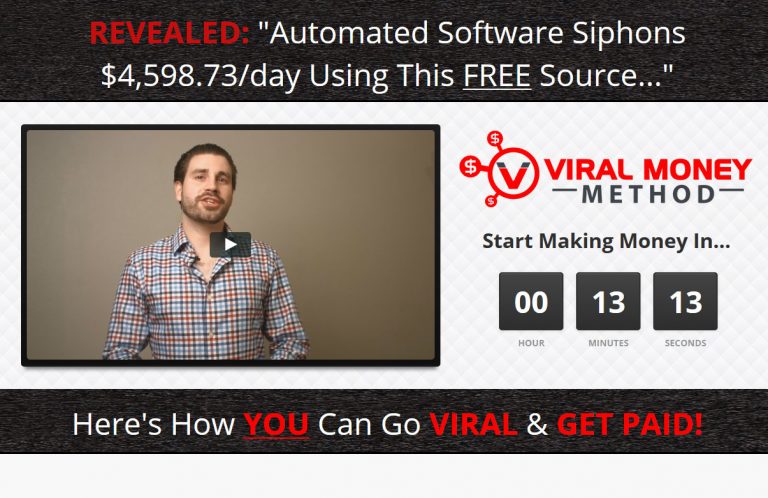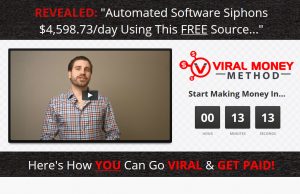 Allegedly, the system utilizes the power of "going viral" & can generate you a ton of commissions with very little work required on your behalf – but is it actually legit? Or is the Viral Money Method a scam?
Let's take a look…
What Is The Viral Money Method?   |   How Does The Viral Money Method Work?   |   Is The Viral Money Method a Scam?   |   A Better Alternative
What Is The Viral Money Method?
The Viral Money Method is a system that's been launched by a guy named Matthew Neer, and Matthew is renowned for launching various products in the "make money online" space which all tend to help you obtain easy riches.


Not so long ago he released the Speed Wealth & Wealth Ascension System programs – now here he is again with the Viral Money Method, which at a glance looks kinda similar.
But the first thing I want to point out is that Matthew Neer, the creator of the system (and the guy that you see in the video) is actually a real person & he has actually had genuine success online over the years.
The reason I want to make that clear is that scam programs often use fake names & actors to present their products because they want to hide the real author (like in the TAI Robotic scam for example) – when somebody puts their face behind something generally there's more chance that there's actually going to be some substance to it.
But of course, that's not always the case…
Through the Viral Money Method system, Matthew claims to give you access to his special software that can build you an automated viral website, enabling you to generate fast riches without you really having to do anything.
However whilst that might sound good in theory, one thing I've learned from working online over the years is that there are no shortcuts.
Sure, it's possible to make money online (and a lot of it at that) but when a program or system claims that it can make you money without you doing anything usually that raises a massive red warning flag.
So whilst I know off the bounce that it's not going to hold entirely true to its claims, let's take a closer look at it to find out if it can actually make you any money at all…
How Does The Viral Money Method Work?
The concept behind the Viral Money Method is actually quite simple – basically, as a result of buying into the program, you'll be setup with a website that will automatically grab viral trending videos from YouTube & list them on the website.
You'll then be told how you can monetize the pages which the videos are placed on through things like advertising & affiliate marketing – so that essentially you'll be able to leverage other peoples videos to get a slice of the pie for yourself (allegedly).
But the reality is that whilst this method may sound convincing if you are new to making money online, sadly, in reality, it won't work quite as promised.
Yes you'll get the software & yes you're website will update with new videos automatically – but the chances are you won't make a penny from any of them like you're told you will.
That's because you can't just copy videos & expect visitors to start coming through your website to watch them – so you'll be left with a website full of videos but no visitors which means no money.
You're led to believe that they'll be able to find it through search engines like Google, Yahoo & Bing but the thing is these search engines really don't like duplicate content so they'll only show the original video & not yours, because essentially an almost duplicate result in their search listings is pretty pointless in their eyes.
Is The Viral Money Method a Scam?
Well, I wouldn't go as far as to say it's a scam because you do get something in return for your money, but I can say confidently that you won't make $4,598.73 per day as a result of buying into this system as you were promised.
You'd be lucky to make any money at all.
But I guess the training does give you a little bit of an insight into how money is made online, which sadly is really the only plus point I can find about it – however this alone is not worth the $97 price tag.
I kinda feel like the Viral Money Method has been put together in a bit of attempt to trick newbies into parting with their cash by making them feel like they can profit quickly & easy using this method – which in reality won't be the case.
It's certainly possible to make money online but it will require at least a little bit of work on your behalf – there are no automated systems that can make you money without you doing anything at all (if there were then everybody would be using them).
So for those reasons this Viral Money Method system will be getting a thumbs down from me & I won't be recommending it to you because overall I don't think you'll find any real value in it – certainly not for the money.
A Better Alternative
The sad truth is that unfortunately most of the programs promising to help you make money online are scams. I can say that confidently after exposing over 500+ of them here on this blog.
But the good news is that even though most of them are indeed scams, there are actually some very good programs in amongst them - some programs that can truly help you to earn money.
And out of all of the legit programs I've seen, the one I would recommend the most to anybody looking to get started online is Commission Academy. In my own opinion, that's the best place to start.
At Commission Academy, you'll be provided with everything you need (including the training & tools) to begin earning real money by promoting products or services for companies like Amazon online.
The best part is that there's literally no limit on the amount you can earn with it & the process is pretty simple which means that it's absolutely perfect for people that don't have much experience.
Some wealthy affiliates even earn as much as 5-figures per month... Or more!

I mean don't get me wrong, that kind of money won't just fall into your lap without doing any work... But the harder you're willing to work at it, the more you stand to earn with it.
So if you're looking to get started but don't know which route you should go down or which program you should join (and don't want to waste money on bogus things that don't actually work), then I'd highly recommend checking out Commission Academy first. You can learn more about it here.