Online trading is one of the favourite pass-time activities for people who already have enough in their bank accounts. But is there something profitable for the average Joe to make money extra from? The Weed Millionaire system tries to make you believe such claims.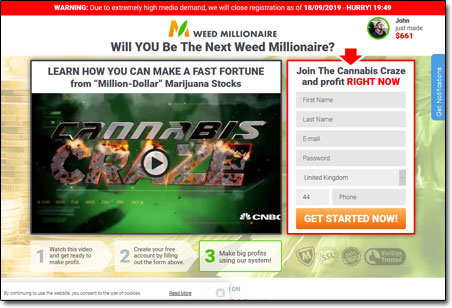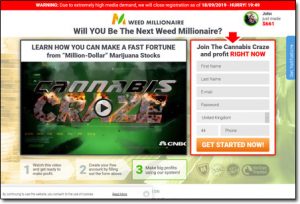 We came across this possibly profitable investment opportunity a few days back via an email from a subscriber.
We looked into it before coming up with this Weed Millionaire review.
We have managed to extract some interesting yet disturbing information about this platform. Today we are going to reveal everything about Weed Millionaire to help you protect your money from the crooks behind it.
What Is Weed Millionaire?   |   How Does Weed Millionaire Work?   |   Is Weed Millionaire a Scam?   |   A Better Alternative
What Is Weed Millionaire?
After going through scores of similar platforms (such as Brexit Trader & the Libra Method App) we straight away came to the conclusion that this is yet another auto-trading platform. They claim that the system is designed to make you rich overnight. This is what most of them say but never do.
The representatives of the platform try to make you believe that this is the last online system which could make you rich overnight even if you have little to invest. But how? Well, these people are also making full use of the weed/CBD hype. The industry is on the rise and they say that it may well take your bank account on a high too.
They tell you that marijuana stocks are elevating in terms of their price. They encourage you to make most of this trend before it also settles down. Well, the bubble does burst at some stage and you never know when and why…
This is just the way trading works and surprises via its unpredictable tendencies, so when a system comes along promising "guaranteed returns" it always makes me extremely sceptical because it is not possible to promote such a thing.
But is there any truth to it? Can you make any money at all with the Weed Millionaire system or is it just best avoided entirely? Keep on reading to find out as that is exactly what I am going to uncover next as I delve into how it all really works…
How Does Weed Millionaire Work?
There are a number of suspicious things which are basically conventions to such systems. Firstly, they say that the registration is closing TODAY which means that the industry is not waiting for someone but these people are waiting for you to put in some money through them. Most of the scams feature such phrases to trigger a sense of urgency which hinders your decision-making ability.
To prove that these counters are fake you can take a look at the screenshot below. I took the screenshot on the 18th of September 2019 & it said registrations will close at the end of the day, but no doubt it will still say the exact same thing even if you are viewing it in the future:

Then they claim that the system is 99.7% accurate. But they don't like to tell you which statics they are taking into considerations. If, however, they want to say that their trading predictions are 99.7% accurate then let us warn you that your investment will fall under the remaining 0.3% window of uncertainty or inaccuracy.
And then they tell you that you don't need to do anything at your end. The industry is allegedly on the rise and you can just get ready to be a millionaire… Which is the number 1 type of claim associated with a typical get-rich-quick scam.
What's Actually Happening Behind The Scenes…
If you somehow decide to sign up with Weed Millionaire – God Forbid – you will be redirected to an unregulated broker. A strange-looking broker which you would never trust in any case! This is what their past members suggest.
In addition, their FAQ sections clearly state that you don't have to pay any fee or commission. Well, if this is the case, how on earth are they going to earn anything against their services? They are giving you software and saying that you can use it and become rich but they don't need anything in return – how generous of them!
Nothing is clear, to be honest! This platform is more of an illusion. Yes, the tip of the iceberg is even illusive! Let us have a look at the iceberg below the surface…
To sneak below the water surface, one of us decided to sign up. It just requires your email, contact number, and address, etc. The dashboard shows a deposit icon along with the name of the broker assigned to the subscriber. This looks like a fake name because nothing online is available to verify the credentials of this assigned broker.
Then something alarming happened as soon as we tried to check the deposit mechanism. Hitting the deposit button triggered the malware alert on the system and the message read "Trojan Found".
We didn't proceed further because the system stopped us from proceeding. Most of the people don't install malware protection software because they think that it is going to slow down the system's speed. Weed Millionaire tries to use this vulnerability to its benefit…
But if you have some malware protection (like we do) and your computer produces a warning you that there is something suspicious ahead then you can assume there is almost definitely something bad going on & the website should not be trusted.
If you deposit money, there is no way you are going to get it back. Yes, the system will show an increase in the amount in your trading account but you will never be able to withdraw any of it. This story of what a binary options scam did to a single mum & her kids highlights that point & shows you that really, it is just like playing a video game… The profits aren't real.
They get money from malicious brokers. Those brokers pay them commissions for each referral. This is how they make money but trust us, you are not going to generate anything from this system. The whole thing is just a ploy to trick you into depositing…
And that brings me onto…
Is Weed Millionaire a Scam?
Oh yes, indeed Weed Millionaire is a scam! They are elusive, they are cheating you & they are using some sort of Trojan Attack, maybe to extract your personal information so that they could sell it advertising agencies. This is a total fraud which is set up to cheat on you. We can safely say that Weed Millionaire is a get-poor-quick system & it definitely should be avoided!
It's also worth pointing out that I have actually seen the Weed Millionaire system before launched under different names. It is just a re-hashed version of the Brexit Trader system & the Libra Method App.
The scammer behind the whole thing just keeps on changing the name of the system every so often in an attempt to escape the negative reviews that surface (like mine here) so that he can continue tricking people into signing up & depositing to earn himself more commissions.
If you really want to make good money online then you should avoid hyped-up systems like the Weed Millionaire system which are just designed to take your money & instead proceed with a legitimate, proven platform like Commission Academy.
It's at Commission Academy that you'll learn the REAL ways to make money online. You'll learn about the same way I personally make most of my own money online (which is called affiliate marketing) and it is one of my top recommended methods.
Alternatively, though you can also check out these other methods too.
But whatever you decide to do I just hope that my honest review of the Weed Millionaire system here has given you a good insight into how it really works & I also hope that it has helped you to save some of your hard-earned cash.
If you have any further questions or comments about it then don't hesitate to leave them below. 🙂
A Better Alternative
The sad truth is that unfortunately most of the programs promising to help you make money online are scams. I can say that confidently after exposing over 500+ of them here on this blog.
But the good news is that even though most of them are indeed scams, there are actually some very good programs in amongst them - some programs that can truly help you to earn money.
And out of all of the legit programs I've seen, the one I would recommend the most to anybody looking to get started online is Commission Academy. In my own opinion, that's the best place to start.
At Commission Academy, you'll be provided with everything you need (including the training & tools) to begin earning real money by promoting products or services for companies like Amazon online.
The best part is that there's literally no limit on the amount you can earn with it & the process is pretty simple which means that it's absolutely perfect for people that don't have much experience.
Some wealthy affiliates even earn as much as 5-figures per month... Or more!


I mean don't get me wrong, that kind of money won't just fall into your lap without doing any work... But the harder you're willing to work at it, the more you stand to earn with it.
So if you're looking to get started but don't know which route you should go down or which program you should join (and don't want to waste money on bogus things that don't actually work), then I'd highly recommend checking out Commission Academy first. You can learn more about it here.