The Libra Method App claims to be the worlds smartest crypto-trading software & the website promoting it promises that it can easily enable you to earn between $950 to $2,200 every day even if you don't know the first thing about trading.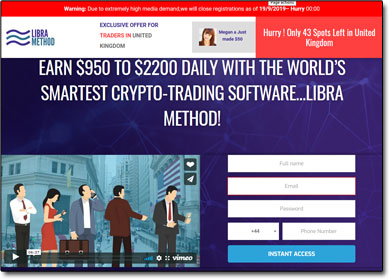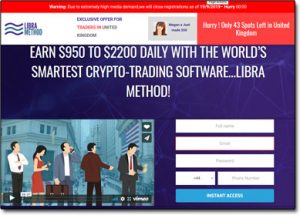 But could that really be true? Could a trading app really see you earning so much money every day on complete auto-pilot? Or is the Libra Method App a scam that will just end up taking YOUR money instead?
Well, you'll be glad that you decided to do your due diligence & came to this review first before jumping in & trying it out because what I can tell you right from the off is that the Libra Method is NOT what it's made out to be…
What Is Libra Method?   |   How Does Libra Method Work?   |   The Red Flags   |   Is Libra Method a Scam?   |   A Better Alternative
What Is Libra Method?
The Libra Method App claims to be an "all-in-one trading tool" that can allegedly see you generating an automated income of over $1,000 per day from your computer or smartphone by trading cryptocurrencies on your behalf.

You're led to believe that you don't need any experience or technical knowledge & that the Libra Method App will do everything for you so that you can just sit back & relax whilst the earnings come pouring in…
It also even claims to have been backed by the likes of Bill Gates & the Winklevoss twins…
But is it really true? Could you really make so much money so easily? And if you can then why isn't everybody doing this – why are people still working jobs they dislike if they can just make thousands of dollars per day on autopilot through this app?
Well sadly the answer is NO, it's not true. I can tell you right here from the off that the Libra Method App is actually just a scam & I can say that so confidently because I've seen this exact same thing several times before.
The creator of these scams (which are known as binary option broker scams) simply keeps launching the so-called "systems" under various different names in an attempt to escape the negative reviews so that he/she can continue tricking more people into signing up & depositing.
Some of the previous names of these scams include Bitcoin Evolution, Bitcoin Future, Crypto Revolt & Bitcoin Profit… They all promise the same things (easy riches) but they ALL fail to deliver.
So how do they really work? What's the scam? Keep on reading because that's exactly what I'm going to explain next…
How Does Libra Method Work?
The Libra Method App portrays the idea that you'll be able to make money really easily by just signing up, depositing & "activating it" however in reality the whole thing is just a ploy to trick you into depositing with an unregulated broker that the creator is affiliated with.
This means that when you deposit with the broker that is "recommended" the creator of the Libra Method App gets paid a handsome commission, and then you're simply left to discover that the whole thing doesn't actually work as promised.
But you should be VERY careful because the people & brokers behind these types of scams have also been known to fake your profits to make it seem like it's working in order to get you to deposit even more money.
The bottom line though is that you will never be able to make a withdrawal, so any money that you deposit (regardless of how much they claim you've made) will be gone for good… They'll make it nearly impossible for you to get it back.
The whole thing is just a flat-out scam from start to finish & you'll be able to easily see that for yourself when I highlight the red-flags below:
The Red-Flags That PROVE It's Fake
Well firstly there's the fact that it simply sounds WAY too good to be true, and as the saying goes "if something sounds too good to be true, it probably is". That definitely applies in this instance.
I mean think about it – if it really worked as promised then the world would be in complete crisis as nobody would be left working jobs, everybody would just be making an "automated income" from the app. It couldn't physically happen.
Sure, the internet does provide many legitimate ways to make money but it's not magical & none of them are going to see you getting rich with little to no work. If you really want to make good money online then you should expect to have to put in work to make it happen.
The good news though is that if you are prepared to put in the work then there are places like Commission Academy where you can learn how to get started.
But aside from that there are also many red-flags on the website too…
For example there's the fact that at the very top of the website they claim that "due to high demand they will be closing registrations at the end of the day"… However the program has said that EVERY day since it's launch.
I can prove to that you because as you can see below it says that message on the 17th of September 2019, but no doubt you will be reading this Libra Method review in the future & it will still say the same message:

And there's the so-called "testimonials" which share "real member" stories about how much they're allegedly making thanks to the Libra Method App… But as shown below those are fake too: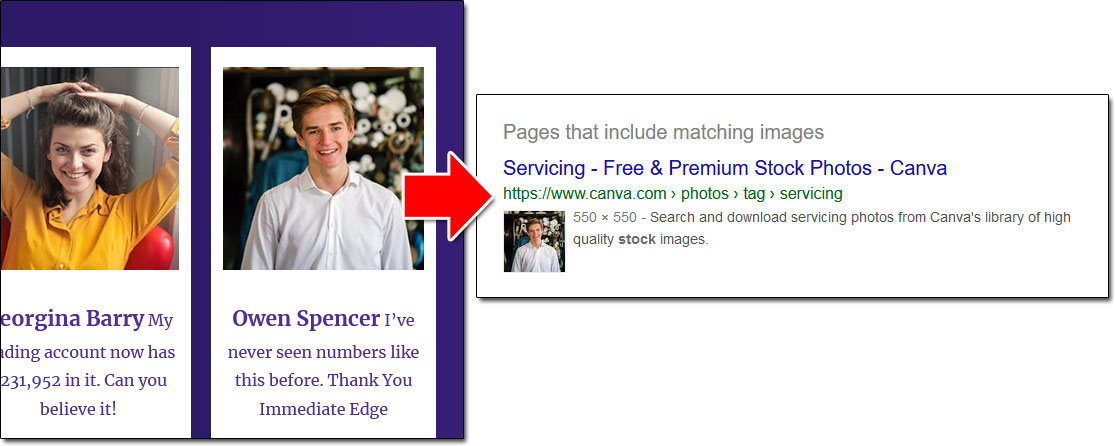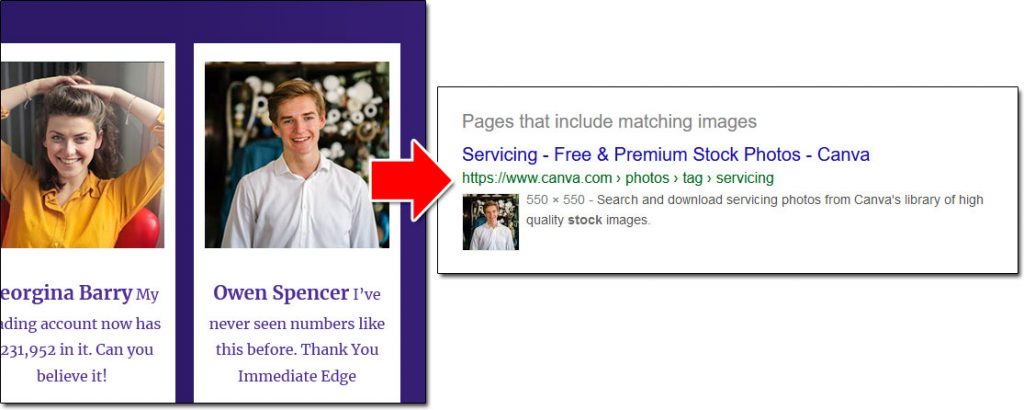 Using Google's Reverse Image Search tool I was able to find out that "Owen Spencer" is just a made-up person & that the photo of him has simply been pulled from the stock photo website Canva. The same applies to the other "members" too…
But aside from all that there's also the fact that the Libra Method App is an investment related website which means that by law it MUST display the number of it's license & the address of its registered office… Which it fails to do.
There is NO way a legitimate investment company would fail to do that, and a search of the registers (such as the FCA register) shows that the Libra Method App does NOT hold any license, so it is operating illegal.
This also means that you have no idea as to who is actually behind the website, so it is essentially like handing your money over to a stranger in the street that you may never see again. I hope you wouldn't do that, therefore I hope you wouldn't sign up to the Libra Method App either…
And that brings me onto…
Is Libra Method a Scam?
Yes there's absolutely no doubt about it, the Libra Method App is definitely a scam. Nobody who joins it will ever make money, instead they'll just be tricked into handing over a deposit of $250 or more to an unregulated broker that'll then try to con them out of even more cash.
The system itself doesn't actually work as promised but you're only left to discover that the hard way after firstly handing over your money. It's all just a ploy that's been put together to trick you into doing exactly that so that the creator can earn a commission at your expense.
Like I mentioned towards the beginning of this review I've already seen this exact same scam launched under several different names such as Bitcoin Future, Crypto Revolt & Bitcoin Evolution. They're all only geared to make their creator rich, not you so they should be 100% avoided.
Instead if you are wanting to make good money online legitimately then I would advise you check out affiliate marketing. That's the same way I personally make most of my own money online & in my opinion it's one of the best ways to make money online there is.
The reason I think it's the best is because it's very easy to get started with & the earning potential is completely uncapped. With some work you can quite easily make a full-time income with it & you can even begin with it for free over at Commission Academy.
Or alternatively there are also these other cool ways to make money online as well.
But whatever you decide to do I just sincerely hope that my review of the Libra Method App here has given you a good insight into how it works & more importantly I hope it has helped you to save your money. Feel free to leave any further questions or comments below if you still happen to have any. 🙂
A Better Alternative
The sad truth is that unfortunately most of the programs promising to help you make money online are scams. I can say that confidently after exposing over 500+ of them here on this blog.
But the good news is that even though most of them are indeed scams, there are actually some very good programs in amongst them - some programs that can truly help you to earn money.
And out of all of the legit programs I've seen, the one I would recommend the most to anybody looking to get started online is Commission Academy. In my own opinion, that's the best place to start.
At Commission Academy, you'll be provided with everything you need (including the training & tools) to begin earning real money by promoting products or services for companies like Amazon online.
The best part is that there's literally no limit on the amount you can earn with it & the process is pretty simple which means that it's absolutely perfect for people that don't have much experience.
Some wealthy affiliates even earn as much as 5-figures per month... Or more!

I mean don't get me wrong, that kind of money won't just fall into your lap without doing any work... But the harder you're willing to work at it, the more you stand to earn with it.
So if you're looking to get started but don't know which route you should go down or which program you should join (and don't want to waste money on bogus things that don't actually work), then I'd highly recommend checking out Commission Academy first. You can learn more about it here.