The brand new Bitcoin Future system claims that it can enable you to easily become the next Bitcoin millionaire & it even appears to have been endorsed by the likes of big names such as Richard Branson & Bill Gates…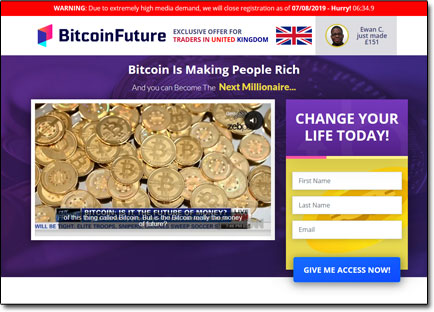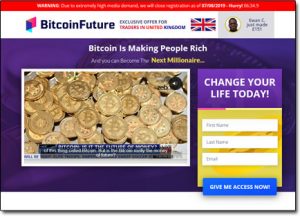 You're led to believe that you can simply sign up, deposit some funds & set the system to auto-trade Bitcoin on your behalf to begin making you money entirely on autopilot… But is it really legit? Or is the Bitcoin Future system a scam to avoid?
Well it's lucky that you've landed here at this review prior to signing up because what I can tell you right from the off is that the Bitcoin Future system is definitely NOT what it seems (as you'll soon see for yourself when I expose it below)…
What Is Bitcoin Future?   |   How Does Bitcoin Future Work?   |   The Red Flags   |   Is Bitcoin Future a Scam?   |   A Better Alternative
What Is Bitcoin Future?
The Bitcoin Future system basically portrays itself as being an automated trading system that can allegedly trade Bitcoin on your behalf & see you generating guaranteed, automated profits of thousands of dollars per day.
The website states that all you need to do is sign up, deposit as little as $250 & then set the system to "trade" to begin making money…


But it all just sounds a little too good to be true, don't you think? I mean if you can really just "push a button" and begin making money so easily like the creator of the Bitcoin Future system makes out you can then why isn't everybody doing it?
Why are people still working at jobs they dislike if they can just "push a button and make millions"?
Sounds like a scam, right?
And that's because it is a scam! Right from the off I can tell you that the Bitcoin Future system is a phony & I can say that so confidently because I've previously exposed it before back when it was operating under the names Bitcoin Revolution & Crypto Revolt.
The people behind it have merely changed the names in an attempt to escape the negative reviews (like the ones I published) so that they can continue tricking more people into signing up but the scam remains exactly the same.
So how does it work? How does it scam people? And how you can be 100% it's definitely a scam? Keep on reading to find out…
How Does Bitcoin Future Work?
Well basically the Bitcoin Future "system" doesn't really work at all, and instead it is just all a ploy to trick you into making a deposit with a rogue binary options broker so that the creator of the whole thing can earn a commission at your expense.
And that's the important part that the creator of the Bitcoin Future system fails to tell you – he fails to tell you that he's affiliated with the broker that he "recommends" which means he's getting paid a commission for every person that he gets to deposit…
So you've got to ask, why would a binary options broker (a broker that only makes money when people lose money) pay commissions to somebody who's supposedly created a system that "guarantees" profits?
In short the answer is that they wouldn't, as it would put them out of business.
The real reason they're paying the creator of the Bitcoin Future system commissions is because they're both in cahoots & they know that in reality the whole thing is actually designed to make you LOSE money instead.
So you'll sign up to the Bitcoin Future system expecting to make money, deposit $250+ with the "recommended" broker & then simply be left to find out the hard way that the whole thing doesn't actually work as promised.
Then when you try to get your money back you'll realize that's not quite so easy either, because the broker is in cahoots with the creator of the system & they'll do everything they can to prevent you from getting a withdrawal…
So if you think you can just sign up & "try it out" then withdraw if it doesn't work as promised, think again.
Sadly though that's how they catch most of their victims, by making them think that they can just "try it out". They've also been known to falsify your trades too to make you think you're profiting to get you to deposit more..
Basically the whole thing is just bad news & completely set out to part you with as much cash as possible so it should be 100% avoided. You can check out these other legit ways to actually make money instead.
And just in case any part of you is still thinking about actually "trying it out"…
You Might Also Like:
A Closer Look At The Red-Flags
First off there's the fact that whole thing simply sound WAY too good to be true, and if something sounds too good to be true then it generally is (which is why you should always check my reviews before joining a program/system).
But on top of that there's also a lot of other red-flags too, such as the fact that the Bitcoin Future website is an investment related website which must by law have a license (and display details of its license) yet fails to do so.
That alone is a HUGE red-flag as it's extremely importantly for any legitimate investment site to display their license info.
Then on top of that the site offers absolutely no contact details whatsoever. Where is their office based? Who is actually behind it? By signing up you would essentially just be handing over money to a complete stranger that could disappear at any moment without trace.
I certainly hope you'd never do that, no matter how good the opportunity "seemed" to be…
Alongside that though there's the issue with the Bitcoin Future website claiming to have been featured in high profile publications such as Forbes, CNN, Time & FT.com when in actual fact it hasn't been featured in any.

A quick search of their websites reveals that but the creators of the Bitcoin Future website are just hoping you don't bother searching – and that's why they pressure you into signing up quickly using a fake scarcity timer.
The timer states that you have just a mere 6 minutes before the registration closes to entice you into making a rushed decision but that too is phony as a refresh of the page resets the clock back to the start.

And then if all of those red-flags weren't enough on their own, there's the issue with the fake testimonials too…
On the website you're shown images of "members" who've supposedly made thousands with the system such as "Jane K from Cardiff" shown below – but their images have just been taken from stock photo websites:

Therefore it's quite clear to see that the testimonials have been made up too – and why would any legitimate website need to do that? If people were actually making money then I'm sure they'd be more than happy to share their expense.
All you can find about the Bitcoin Future system though is scam reports, which brings me onto…
Is Bitcoin Future a Scam?
There's absolutely no doubt about it, the Bitcoin Future system is definitely a scam & nobody who signs up will find themselves making money, they'll just find themselves losing it (and potentially lots of it).
What the creator of the Bitcoin Future system fails to tell you is that he is actually affiliated with the broker that he "recommends" and that means he is getting paid commissions for getting you to sign up.
The whole system therefore is basically just a con, a ploy to trick you into signing up so that he can earn some commissions. It doesn't really generate "automated profits" like he claims, that's just a lie to get you to deposit.
And the biggest problem is that him & the broker are both in cahoots together so if you do happen to make a deposit then the broker will make it next to impossible for you to actually get any of your money back.
So it's safe to say that the Bitcoin Future system should definitely be avoided, and instead if you're looking for a real way to make good money online then I suggest you head on over to my top picks page here.
Or if you're interested in my all-time number 1 recommended way to make money online (which is called affiliate marketing) then you can check out the guide I've put together on getting started with that right here.
The reason I recommend affiliate marketing is because not only is it the same way I make most of my own money, but it's straight forward, the earning potential is unlimited & you can actually get started for free with it over at Wealthy Affiliate.
But yeah whatever you decide to do I just sincerely hope that my review of the Bitcoin Future system here has given you a good insight into how it all really works & hopefully you can now see why it should be avoided. Feel free to leave any comments below. 🙂
A Better Alternative
The sad truth is that unfortunately most of the programs promising to help you make money online are scams. I can say that confidently after exposing over 500+ of them here on this blog.
But the good news is that even though most of them are indeed scams, there are actually some very good programs in amongst them - some programs that can truly help you to earn money.
And out of all of the legit programs I've seen, the one I would recommend the most to anybody looking to get started online is Commission Academy. In my own opinion, that's the best place to start.
At Commission Academy, you'll be provided with everything you need (including the training & tools) to begin earning real money by promoting products or services for companies like Amazon online.
The best part is that there's literally no limit on the amount you can earn with it & the process is pretty simple which means that it's absolutely perfect for people that don't have much experience.
Some wealthy affiliates even earn as much as 5-figures per month... Or more!

I mean don't get me wrong, that kind of money won't just fall into your lap without doing any work... But the harder you're willing to work at it, the more you stand to earn with it.
So if you're looking to get started but don't know which route you should go down or which program you should join (and don't want to waste money on bogus things that don't actually work), then I'd highly recommend checking out Commission Academy first. You can learn more about it here.