Steemit.com is a relatively new cryptocurrency based social media site that claims to pay its users in return for them being active on the site. You're led to believe that you can earn thousands of dollars per month just by writing & interacting with other posts on the site.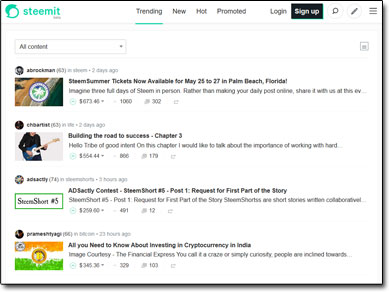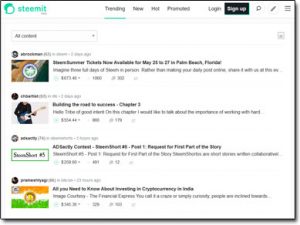 But naturally, you'll probably be sceptical about the thing – especially since it's not obvious where any of this money is actually coming from, so what's the deal?
Is it actually legit or is Steemit a scam that'll just see you wasting your time?
Thankfully you've landed in exactly the right place to find out because I've taken a closer look into it all and in this review, I'll be uncovering everything there is that you need to know including how it all works & whether or not you can really make money with it.
What Is Steemit?   |   How Does Steemit Work?   |   Can You Really Make Money With Steemit?   |   Is Steemit a Scam?   |   A Better Alternative
What Is Steemit.com?
As I very briefly touched on above Steemit.com is a relatively new social networking site, but the unique thing about this one is that it's based around cryptocurrency & it claims to pay its members in return for them being active on the site.
In their FAQ they even claim that it's possible to earn thousands of dollars as a member…
And I think you'll agree when I say that's a pretty bold claim – I mean essentially that's like getting offered thousands of dollars just to be active & product content on Facebook, Twitter or Instagram…
You'd be right to be sceptical about the whole thing & I'm not surprised you've came looking for reviews to see how it really works.
So how can Steemit afford to pay out all this money to their members? The answer to that isn't obvious & as a result there's been a LOT of people asking where does the Steemit money come from… Especially since there doesn't seem to be any form of advertising on the site or anything like that.
Well taken directly from an article on Steemit's website, here's the answer:
A blockchain-based software network creates Steem dollars, to be used as currency, from loans on the value of Steem digital assets. Steem digital assets represent the ownership of this software network and have value because they're useful and they are scarce.
To summarize, they're basically creating their own digital money & that's what's getting paid out to members.
So you're not getting paid real money as such, you're getting paid in something called STEEM dollars which is Steemit's own cryptocurrency. Yes this can later be transferred to real money, but you should know that the process is quite tedious.
In order to get your earnings from Steemit converted into real money, you'll first need to sign up for a cryptocurrency wallet (like a CoinBase wallet for example), then you'll have to get the STEEM dollars exchanged to BTC and finally, you'll have to get the BTC converted to cash.
Sound confusing? It is confusing that's why… And to be honest the amount you'll really be able to earn through Steemit doesn't really make the process worthwhile in my opinion. As far as I'm concerned there are better ways to make money online.
But anyway, Steemit is what you're interested in so let's take a look at how it all works, how you make money & how much you can actually make…
How Does Steemit Work?
Okay so as a member of Steemit the main goal is for you to actively produce content – whether this is blog posts on the site or comments, the creator of Steemit wants you "creating" stuff…
In return, you'll get the opportunity to earn money when any of your content on the site gets upvoted.
So for example, if you created a Steemit blog post then other members will be able to upvote it if they think it's useful. Comments members leave can also be upvoted too in the same way.
This is good in a sense because it encourages people to create quality content. After all, the idea is to get more upvotes since that's what will ultimately be making you the money. Poorer quality content won't gain anywhere near as many upvotes…
But of course, people still try, and that leads to content like this appearing on the site:

It's inevitable when you promise to pay people in return for creating content you're going to end up with spam. That's pretty much the reason why the big networks like Facebook & Twitter etc don't do it.
So whilst there is certainly a bunch of useful content on Steemit, much of it is spam – and much of the engagement is clearly forced.
In my opinion, it's a social network that's not really about the socialness…
You Might Also Like:
Can You Really Make Money With Steemit?
The truth is that you can actually make money with Steemit, though based on the business model I'm not sure how sustainable it will be going forward – I personally just don't see how it could stand the test of time… Can they really just keep on giving out "free money"?
The other thing you should know though is that whilst yes there is the potential to earn good money through the site – it's unlikely that you will. Steemit does a very good job at explaining this in their FAQ as shown below:

I'll put emphasis on the "expect to make nothing" bit – because if you join Steemit then that's definitely the mentality you should approach it with otherwise you'll likely set yourself up for major disappointment.
Truth be told there is a much better way to make money from content online & that is by starting your own blog. Rather than wasting time producing content for Steemit's site & making them money, it would seem much more logical to set up your own blog & leverage your content to make money entirely for yourself.
If you're not sure about how blogs make money & why it could be beneficial publishing content on your own blog instead of Steemit then you can read my free guide explaining how blogs make money here.
Also when it comes to Steemit I'd like to point out that it's not easy getting paid – in fact, it's quite a challenge. As mentioned towards the beginning of this review you'll have to firstly sign up for a cryptocurrency wallet, then you'll have to get your STEEM dollars converted to BTC & finally you'll have to have your BTC converted to whatever currency you wish to be paid in.
That's quite a hassle in my opinion – I prefer just to be paid in straight cash… At least that way I know what I'll be earning. The way these cryptocurrencies are going up and down you just won't know where you stand in terms of earnings with Steemit.
Is Steemit a Scam?
Well, it's not a scam – at least not to the best of my knowledge, however, I really don't think you'll see yourself earning a great deal through Steemit & ultimately I just feel like there are much better ways to make money online.
Sure, the top producers of content at Steemit do seem to be making a good income & from the reviews, I've seen it does appear that Steemit is indeed paying them the money they've been earning – but as I mentioned above in this review they'd have likely made much more if they were producing this content on their own blog rather than on the Steemit platform.
The other thing I don't really like about Steemit is the sheer amount of low-quality content that's on the site. This is bound to happen when people are being offered cash for writing stuff & it means that as a user you have to trawl through BS comments & posts just to find any level of decent content.
And to top it all off getting paid from Steemit is just so darn difficult because of all the steps you need to take.
So all in all despite the Steemit opportunity seemingly being legit, I won't be recommending it to you because I don't think in reality it will really help you earn much money online & if you join you'll probably just be disappointed.
Anyway, I hope this review has given you the insight you were looking for into it all – but if you do happen to have any further questions or comments about it then feel free to leave them below & I'll do my best to respond as quickly as I can.
A Better Alternative
The sad truth is that unfortunately most of the programs promising to help you make money online are scams. I can say that confidently after exposing over 500+ of them here on this blog.
But the good news is that even though most of them are indeed scams, there are actually some very good programs in amongst them - some programs that can truly help you to earn money.
And out of all of the legit programs I've seen, the one I would recommend the most to anybody looking to get started online is Commission Academy. In my own opinion, that's the best place to start.
At Commission Academy, you'll be provided with everything you need (including the training & tools) to begin earning real money by promoting products or services for companies like Amazon online.
The best part is that there's literally no limit on the amount you can earn with it & the process is pretty simple which means that it's absolutely perfect for people that don't have much experience.
Some wealthy affiliates even earn as much as 5-figures per month... Or more!

I mean don't get me wrong, that kind of money won't just fall into your lap without doing any work... But the harder you're willing to work at it, the more you stand to earn with it.
So if you're looking to get started but don't know which route you should go down or which program you should join (and don't want to waste money on bogus things that don't actually work), then I'd highly recommend checking out Commission Academy first. You can learn more about it here.