Being paid $400 per day in passive income from an online system would likely be a dream come true for most people, and that's what many of these online money-making schemes prey on… The WiFi Wealth System is yet another addition to the seemingly unending chain of income-generating miracles.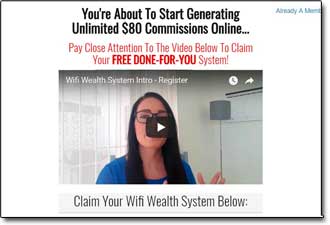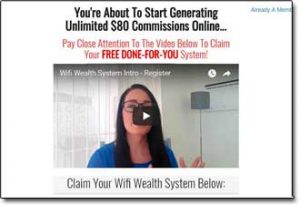 Anji Long – the lady behind this so-called powerful system – in addition to $400/day also claims the award of unbelievable commissions. But do you actually know anybody who's really making money from this system? And do you know exactly how the system is supposed to work? Your answer to those questions is likely no, so I suggest you carefully read this WiFi Wealth System review to find out what's really going on.
Legitimacy of a money-making website is the biggest concern. In this review, I'll determine if the WiFi Wealth System is just another scam or if it's something that really works. So let's begin with the introduction to the website itself followed by an explanation of the important factors.
What Is WiFi Wealth?   |   How Does WiFi Wealth Work?   |   How Do You Earn Money With It?   |   Is WiFi Wealth a Scam?   |   A Better Alternative
What Is WiFi Wealth?
Entering the website introduces you to a demonstration video that features Anji Long – the presenter and supposedly, the owner of the system. She makes a huge claim of being able to generate $400/day with the help of only one simple system which is supposedly powerful, efficient, effective as well as reliable.
Completely Free – Really?
The most striking aspect is not really the amount of pre-day income but its "100% Free Membership". Wait a minute! Somebody is offering thousands across the globe a $400/day income opportunity and doesn't require something in return? This is beyond logic. Let's dig in deeper!
After some research – which took me a couple of days to confirm – I reached the conclusion that WiFi Wealth System is actually kind of 100% free and the claim made in the video about free membership is true. So what's she getting in return then? Why is she so generous to devote herself to the service of the whole mankind in the contemporary world where everybody throws back stones at you?
After You Join…
Oh my! You join this 100% free of cost system only to know that you need assistance for setting the system up. This assistance isn't free at all. This is the point where you realize why the website offers 100% free membership.
The video features another extremely powerful sales tactic. Nearing the conclusion, she encourages the viewers to join at the drop of a hat because she has a limited number of copies and that she is awarding the copies on a first-come, first-serve basis. Logically, you can't limit a software or a system because you can create as many copies as you want. Just think about MS Office, does Microsoft sell a limited number of copies? If you have software, you can create thousands of duplicate copies because you already have the coding and documentation. Why would somebody restrict the number of copies of such an amazing system which pays you 10 times of the average daily income? It doesn't make sense.
Those who've tried WiFi Wealth System revealed that it actually takes you further to the introduction of new programs. This system is based on funnels and tricks the visitors into a series of suspicious offers. Once you become a free member, the system actually doesn't pay anything because there is no real system. It is a neatly knitted net which takes you deeper into the confusing and elusive mechanism. The website actually tries to motivate its members so that they become ready to participate in the promotional activities & lure other people to it.
How Does WiFi Wealth Work?
I'll call it a wisely devised plan consisting of three steps. It is obvious that if a website makes huge claims and invites visitors to join for free, so a relatively healthier percentage will give it a go. The game begins after the free membership…
Once you join for free, you're presented with an offer to join Ebates. Some of you might have heard of this app. This is an online shop and offers discounts/cashback to the buyers. The creator of the WiFi Wealth System actually receives money in accordance with the number of successful subscriptions to Ebates. It means that this website is primarily promoting other platforms and it doesn't have any magical money-making system which is talked about in the demonstration video.
So essentially rather than helping you make money like it claims it's just been built to make it's creator wealthy at your expense – just like most of the other scams that I regularly expose here on this blog.
How Do You Earn With WiFi Wealth?
Simple! You earn by becoming a part of the website. You'll be promoting the same platforms to bring in your friends just like you do for a pyramid scheme. You'll earn bonuses against each successful referral. You can also use referral links to promote sales on Ebates. You receive a certain percentage of the total sales volume through your referral link.
So basically it's a case of signing up to the WiFi Wealth System, joining all of the "recommended" programs inside & then attempting to convince others to sign up to the system & join all of the "recommended" programs inside of it just like you did (just like the High Ticket Wealth System which is a similar program I recently exposed).
Apart from Ebates, there are a couple of additional offers which include MCA and AWeber. MCA attracts most of the website's visitors because the WiFi Wealth System promises the award of $80 against each successful recruitment/referral to the MCA platform (a network marketing program). On the other hand, AWeber is the system which is used to build an email list to which you can use to send referral links. So, basically, this is a common online marketing tool rather than a miraculous $400/day income generator. Apart from Ebates, the remaining two platforms require paid subscription. In the case of AWeber, you can have a 30-day free trial followed by a monthly fee ranging from $19 to $100+.
Essentially it doesn't turn out to be quite so free at all, and the true cost could be hundreds of dollars per month with no guarantee of earning anything back… And even if you do manage to earn anything it's extremely unlikely that you'll see anywhere near $50 per day let alone $400 per day.
Is WiFi Wealth a Scam?
In my opinion, the WiFi Wealth System is technically not a scam because the platform actually does actually pay members, but you'll be extremely unlikely to earn anything even near to the advertised claims.
Network marketing referral systems like the WiFi Wealth System, on paper, are attractive and potentially capable of performing miracles… However, in reality, everything is weaker than a card-house. Your dreams and anticipations will likely shatter in just a week because you'll quickly realize it doesn't work the way you would have liked. It basically tricks you into something which has never been discussed in the promotional video.
The truth is there are legitimate ways that you can make good money online, but none of them will make you rich quickly & with little work – that's just a fantasy, and it's a fantasy that bogus get-rich-quick systems like the WiFi Wealth System prey on to trick people into doing things to make their creators wealthy.
If you are prepared to put in the work though then the best place, in my opinion, to get started making money online is Commission Academy – it's there that you'll get all of the proper tools & training you need to see success & the best part about it is that you can actually get started with it for free… And yes, I mean free – not like the WiFi Wealth System which just pretends to be free.
So yeah overall it's safe to say that I won't be recommending the WiFi Wealth System to you because I know that it doesn't live up to its claims & it won't really help you in any way… It'll just waste your time.
Hopefully, this review helped you see why I am not recommending & hopefully it gave you a good insight into how it actually works. If you do happen to have any further questions or comments about it though then don't hesitate to leave them below.
A Better Alternative
The sad truth is that unfortunately most of the programs promising to help you make money online are scams. I can say that confidently after exposing over 500+ of them here on this blog.
But the good news is that even though most of them are indeed scams, there are actually some very good programs in amongst them - some programs that can truly help you to earn money.
And out of all of the legit programs I've seen, the one I would recommend the most to anybody looking to get started online is Commission Academy. In my own opinion, that's the best place to start.
At Commission Academy, you'll be provided with everything you need (including the training & tools) to begin earning real money by promoting products or services for companies like Amazon online.
The best part is that there's literally no limit on the amount you can earn with it & the process is pretty simple which means that it's absolutely perfect for people that don't have much experience.
Some wealthy affiliates even earn as much as 5-figures per month... Or more!

I mean don't get me wrong, that kind of money won't just fall into your lap without doing any work... But the harder you're willing to work at it, the more you stand to earn with it.
So if you're looking to get started but don't know which route you should go down or which program you should join (and don't want to waste money on bogus things that don't actually work), then I'd highly recommend checking out Commission Academy first. You can learn more about it here.