The YT Crusher system (alternatively known as the YouTube Crusher system) claims that it can provide you with a super-easy way to consistently make as much as $2,000 per day from YouTube, even if you've never made a single penny online before.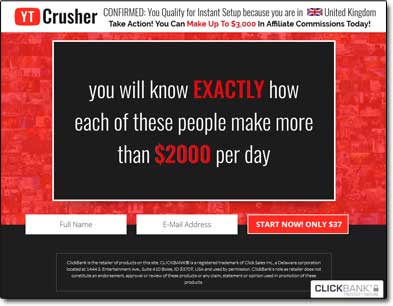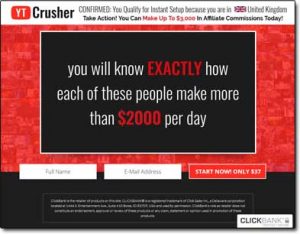 The system's creator who's allegedly named Ciaran states you don't need any special skills & that you barely need to do any work whatsoever…
But is it actually legit? Or will the YT Crusher system scam you & leave you out of pocket?
Thankfully you've landed in the right place to find out as I've dug deeper to see exactly how it all works & in this honest review I'll be uncovering the real truth about it, including whether or not you can really make any money with it like the creator claims.
What Is YT Crusher?   |   How Does YT Crusher Work?   |   The Good News   |   Is YT Crusher a Scam?   |   A Better Alternative
What Is YT Crusher?
The YT Crusher system claims to be an entirely "done-for-you" system that can see supposedly see you generating an automated income from YouTube through something called affiliate marketing.
The first thing I'll point out is that affiliate marketing in itself is actually a legitimate way to make money, in fact, it's the same way I personally make most of my own money – but the concept the YT Crusher system is based around seems pretty dodgy.
Right from the off the whole thing looks like a typical get-rich-quick scam to me…
But anyway yeah, in case you don't know – affiliate marketing is basically where you promote third party products or services online & get paid commissions in return for any sales you manage to generate.
So, for example, you could become an affiliate of Amazon, which would mean you'd be able to promote any of the products from their website. You'd simply get a unique link for each of their products to share, then if anybody clicked to the product via your link & made a purchase the sale would be tracked back to you & you'd earn a commission.
Here's a visual I've put together of how it works which should hopefully help you understand it a little better: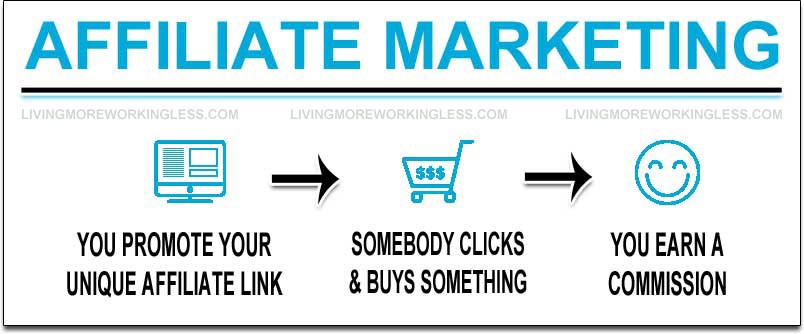 So yeah, affiliate marketing is definitely legit – and one of the best places I've come across to get started with affiliate marketing is Commission Academy. However, of course, finding success with affiliate marketing takes work, and that's where the YT Crusher system comes in…
The YT Crusher system's creator who goes by the name of Ciaran states that he's come up with a way to make money from affiliate marketing without actually doing any work. He says that his method is so powerful he's even had to protect his identity because apparently the gurus want to stop him from sharing his method…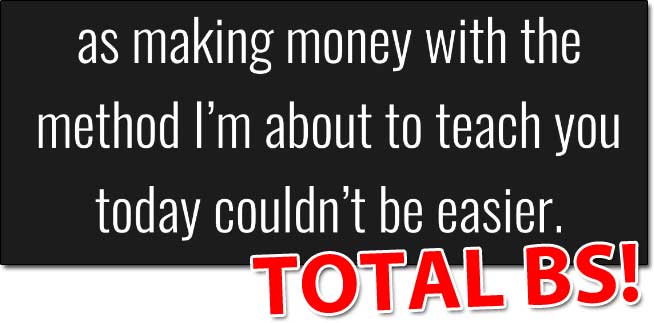 But do you know the more likely scenario? The more likely scenario is that the YT Crusher system is just a scam & that the real reason the creator is hiding his identity is that he's just conning people out of their hard-earned cash.
In fact, I can actually tell you right from the off that it's a scam because I have exposed this EXACT same system before when it launched under a different name. It was previously called Tube Crusher & it looks like the name has been changed so that the creator can try & escape all of the negative reviews.
If you look at my review of Tube Crusher you'll see that it's the exact same website, same video & same story…
So what's going on? How does it scam you? Let me explain…
How Does YT Crusher Work?
Well, the first thing I want to stress just in case you happen to have scrolled straight down to this section of the review is that the YT Crusher system absolutely doesn't work as promised, that's for sure.
Basically the whole thing is just a trick to get you to part with your cash.
You see the so-called creator Ciaran promises that he'll be giving you access to a super easy, automated way to begin making money from YouTube with affiliate marketing but that's simply not true.
To find out more though you're tricked into handing over $37.

It's only when you hand over the $37 (which I don't recommend doing) that you'll be left to find out the whole thing doesn't really work as promised, and instead of getting access to an "automated system" all you really get access to is some bogus training on uploading videos to YouTube and adding affiliate links to the description.
Can you make money by putting videos on YouTube and adding affiliate links? YES, but the YT Crusher system will not help you do it because there are a few fundamental flaws with the program…
The first flaw is that YouTube has changed its policies since the YT Crusher was launched & it is now much stricter with affiliate links. Once upon a time, you could just add any old links to your videos, but now if you add affiliate links they will just delete your video & close your account unless you do it in a certain way (which the YT Crusher doesn't explain).
The second flaw is that you can't just add videos to YouTube and expect to get lots of hits and make money. Maybe that would have happened once upon a time when YouTube was smaller, but now there are so many other videos on there that unless you know how to properly promote them your videos will just get lost in amongst the others & nobody will see them. If nobody sees them, nobody will click your links & you won't earn any money.
So yeah, the whole thing is flawed really – and aside from the flaws, the training is VERY poor. It's super-low quality and even as a complete newbie to online marketing you probably won't find much value from it.
If you really want to learn how to make money properly with affiliate marketing then you should just join Commission Academy. You don't even need to pay anything to get started there either & at least their program is proven, unlike the YT Crusher system.
You Might Also Like:
Some Good News…
The good news is that if you've already bought into the YT Crusher system prior to arriving at my review then you stand a good chance of getting your money back as the whole thing is sold through a third party merchant named ClickBank.
So whilst the YT Crusher system people might ignore or refuse your request for a refund, if you contact ClickBank directly they should be able to fix you up & get you your money back… They're usually pretty good as long as you contact them within 60 days of your purchase.
The people behind the YT Crusher scam are just hoping that you'll buy into it, then forget about getting a refund because it's such a small amount… That's how they're making their money, it's just a typical get-rich-quick scam.
And that brings me onto…
Is YT Crusher a Scam?
In my opinion yes, the YT Crusher is a scam. I appreciate that you do get access to some training in return for your money but as far as I'm concerned you're sold into it on a total pack of lies. There is NO way you will be making $2,000 with their system, you probably won't even make any money at all with it because it's so poor.
In my eyes, the whole thing has just been designed to make its own creator wealthy at your expense & that's why he (or potentially she) has chosen to hide behind the fake Ciaran alias. That's also why they changed the name from Tube Crusher to YT Crusher, to part more people with their hard-earned cash.
So I think it's safe to say that there's actually no way I'll be recommending the YT Crusher system to you because it's just total BS in my opinion & it'll just end up leaving you disappointed & out of pocket.
If you really want to make good money with affiliate marketing then like I mentioned a couple of times throughout this review you should just join a legitimate & proven program like Commission Academy.
Whatever you decide to do though I just hope that my review here helped you out & hopefully it helped you save some cash. If you do still have any further questions then don't hesitate to leave them below & I'll get back to you as soon as I can.
A Better Alternative
The sad truth is that unfortunately most of the programs promising to help you make money online are scams. I can say that confidently after exposing over 500+ of them here on this blog.
But the good news is that even though most of them are indeed scams, there are actually some very good programs in amongst them - some programs that can truly help you to earn money.
And out of all of the legit programs I've seen, the one I would recommend the most to anybody looking to get started online is Commission Academy. In my own opinion, that's the best place to start.
At Commission Academy, you'll be provided with everything you need (including the training & tools) to begin earning real money by promoting products or services for companies like Amazon online.
The best part is that there's literally no limit on the amount you can earn with it & the process is pretty simple which means that it's absolutely perfect for people that don't have much experience.
Some wealthy affiliates even earn as much as 5-figures per month... Or more!

I mean don't get me wrong, that kind of money won't just fall into your lap without doing any work... But the harder you're willing to work at it, the more you stand to earn with it.
So if you're looking to get started but don't know which route you should go down or which program you should join (and don't want to waste money on bogus things that don't actually work), then I'd highly recommend checking out Commission Academy first. You can learn more about it here.