The Tube Crusher system is brand new & it claims that it can give you access to a method that will enable you consistently earn as much as $2,000 per day from YouTube by doing almost no work whatsoever.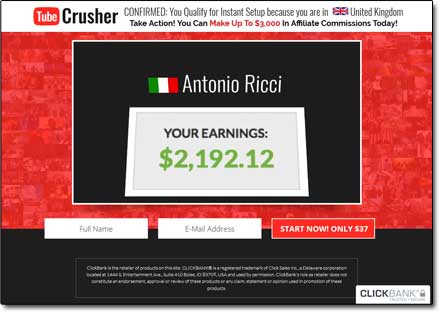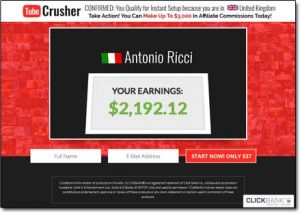 You're led to believe that the guy who's created it (named Ciaran) is a YouTube millionaire & that he's sharing his "secret" method which only the top earners know about… He even says that you can make money the very same day that you get started.
But no doubt you'll agree with me when I say that the whole thing sounds way too good to be true, so what's the deal?
Is it actually legit? Or is Tube Crusher a scam that'll just end up costing you money rather than helping you make it?
Well, thankfully you've landed in exactly the right place to find out as that's exactly what I'll be uncovering right here in my honest Tube Crusher review.
What Is Tube Crusher?   |   How Does Tube Crusher Work?   |   Fake Testimonials   |   Is Tube Crusher a Scam?   |   A Better Alternative
What Is Tube Crusher?
The Tube Crusher system is apparently the brainchild of somebody who goes under the name of Ciaran, or at least that's what you're told in the video promoting the system… However "Ciaran" isn't actually a real person.
The video states that Ciaran is just an alias and that the true creator of the system is using an alias because they're actually a famous YouTube star & they don't want to be linked to the Tube Crusher system.
He says he doesn't want to be linked to it because he's revealing the "secret" that all of the top YouTube millionaires (including himself) are using to make money & he's worried they'll be mad at him for sharing it.
However you're led to believe that "Ciaran" wants to give back, and as a result, he'll be sharing the secret anyway so that others, AKA you can profit from this so-called "secret" method & build a better life.

So basically the concept is that Ciaran has built the Tube Crusher system in a way so that anybody can just plug into it and start making money from YouTube, even with no previous experience. He claims that the system will do all of the hard work & that it will begin generating it's members an income of $2,000 per day right from the very first day they get started.
But don't go rushing into signing up just yet because sadly the whole thing is nothing but a big fat scam.
Instead of being designed to help you make money like it claims, in reality, it's just been designed to take money from you & the only person really making money from it is the anonymous person that's set the whole thing up.
You'll soon see that for yourself below when I explain how it all really works…
How Does Tube Crusher Work?
In short, the Tube Crusher system is just your typical get-rich-quick scam. It promises that it will help you make lot's of easy money, tricks you into handing over your cash & then fails to deliver on any of its promises.
And I suspect that it's been put together by the exact same person who just recently released Easy Insta Profits, which was another similar program & the creator of that one also remains hidden too.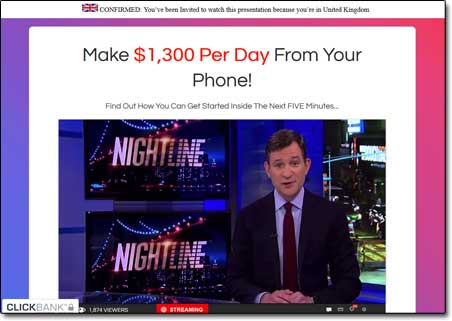 But anyway yeah, basically if you were to buy into the Tube Crusher system (which I totally don't recommend) you'd just be left to find out the hard way that there is no system at all.
Instead, all you get access to is some very basic training on how to set up a YouTube account, how to upload videos & how to potentially make money…
You see the truth is you can actually make money from YouTube but it takes a lot of work & it doesn't happen overnight like the Tube Crusher system promises. It could take you weeks or even months before you see your first dollar… And it could take years before you hit just $10 per day or more.
Don't get me wrong it's obviously worth it if you stick it out because eventually, you can indeed build a large income – but there is just absolutely no way you are going to start making $2,000 right off the bat with some sort of easy system like the Tube Crusher system.
Whoever is behind is just lying to you to trick you into parting with your cash so that they can earn money at your expense.
And if you think the program only costs $37 you can think again too. After handing over the initial fee of $37 you'd also find you'd be presented with upsell after upsell which could cost you hundreds of dollars more.
The people behind this thing literally just want to take as much cash from you as they can.
You Might Also Like:
The Testimonials Are Fake, Too
I appreciate that you might have been getting really excited about the Tube Crusher system & you may be still clinging onto some hope that it actually works… After all who wouldn't want a super-easy way to earn $2,000 per day?
So you might be wondering why are all of the people in the video praising the system if it doesn't really work? Why are they all claiming that they're making money from it if the whole thing is fake?
Well, the truth is that all of those people you see in the Tube Crusher video are paid actors from the website Fiverr.
I'm not going to go through every single one of them, but here is 1 guy just to prove my point: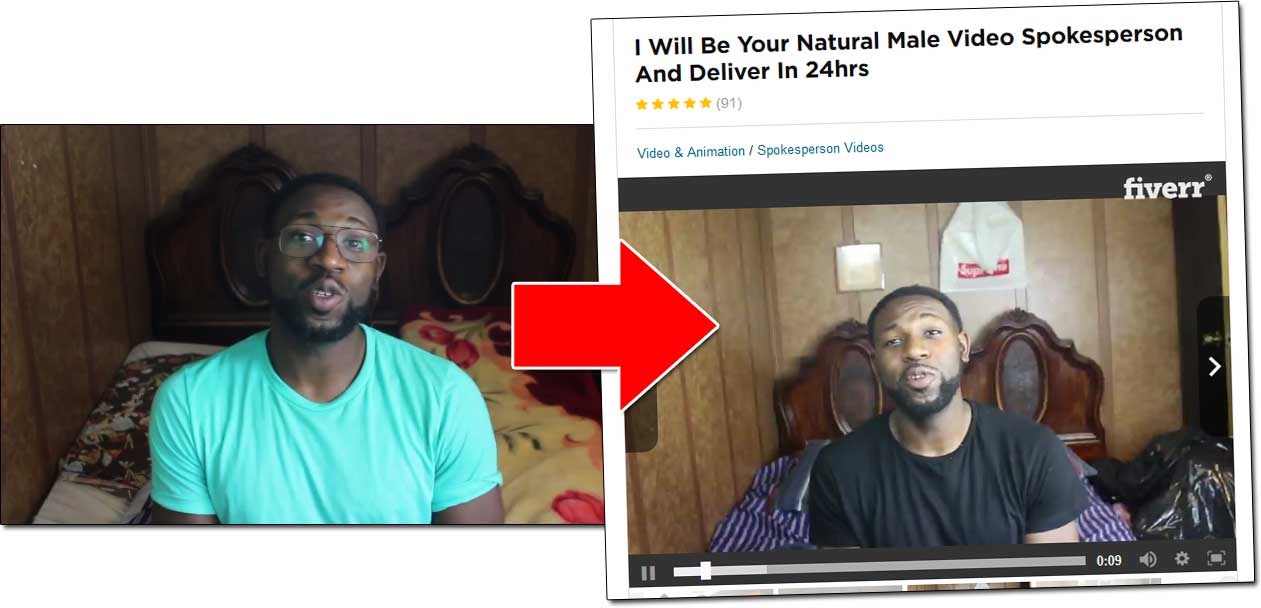 On the left, you will see the snippet of where he talks in the Tube Crusher video, and on the right, you will see his actor listing on Fiverr.
Don't believe a word any of these people are saying because the creator of the Tube Crusher system has just gone to Fiverr, paid them some money & given them a script. They're not genuine users of the system.
Which brings me onto…
Is Tube Crusher a Scam?
In my opinion yes, the Tube Crusher system is a flat-out scam. I mean don't get me wrong after handing over your money you do indeed get access to some training but it is just total BS & you're basically "tricked" into buying it.
The website makes out like you are going to be getting access to some sort of done-for-you system which will start generating you $2,000+ per day right from the very start but that couldn't be further from the truth.
It's unlikely that you will make any money at all from this system, so for that reason, I won't be recommending it. Instead, if you really want to make good money online I suggest you just check out a legitimate & proven program like Commission Academy.
Commission Academy is actually free to join & it's there that you'll get all of the proper tools & training you need to start making real money. Don't waste your time on BS systems like the Tube Crusher system.
But anyway whatever you decide to do is completely up to you – I just hope at least that my review here has given you a better insight into how it all really works & hopefully you can see why I'm not recommending it.
If you do still happen to have any further questions though or maybe some comments then don't hesitate to leave them below & as always I'll do my best to get back to you as soon as I can.
A Better Alternative
The sad truth is that unfortunately most of the programs promising to help you make money online are scams. I can say that confidently after exposing over 500+ of them here on this blog.
But the good news is that even though most of them are indeed scams, there are actually some very good programs in amongst them - some programs that can truly help you to earn money.
And out of all of the legit programs I've seen, the one I would recommend the most to anybody looking to get started online is Commission Academy. In my own opinion, that's the best place to start.
At Commission Academy, you'll be provided with everything you need (including the training & tools) to begin earning real money by promoting products or services for companies like Amazon online.
The best part is that there's literally no limit on the amount you can earn with it & the process is pretty simple which means that it's absolutely perfect for people that don't have much experience.
Some wealthy affiliates even earn as much as 5-figures per month... Or more!


I mean don't get me wrong, that kind of money won't just fall into your lap without doing any work... But the harder you're willing to work at it, the more you stand to earn with it.
So if you're looking to get started but don't know which route you should go down or which program you should join (and don't want to waste money on bogus things that don't actually work), then I'd highly recommend checking out Commission Academy first. You can learn more about it here.