Making quick money online is what everyone wants in the contemporary world with technology being the dominant force. 60 Minute Profit Plan – by its name – appears to be a system which promises the opportunity for you to do exactly that. But we'll have to dig in deeper before stating anything with certainty.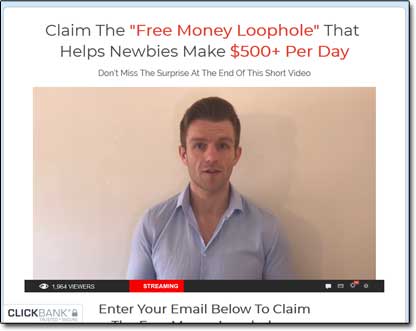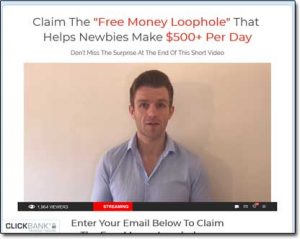 If you're one who like me also loves to explore online money-making opportunities then you might have visited this website already. Well today, in this fact-based 60 Minute Profit Plan review I'll throw light on the main points to determine the level of legitimacy of this promising program.
$500 per day an absolutely ridiculous claim and it's likely that claim that's given birth to 60 Minute Profit Plan scam rumours. Today, I'll introduce you to the most striking features of this platform so that you can decide if this program actually carries some value.
What Is 60 Minute Profit Plan?   |   How Does 60 Minute Profit Plan Work?   |   Is 60 Minute Profit Plan a Scam?   |   A Better Alternative
What Is 60 Minute Profit Plan?
The claims are certainly incredibly attractive! I mean I would even prepare to quit my own online business just to make the most of 60 Minute Profit Plan. After all, why should I work if I can get money for doing nothing instead? But can you really make money without doing anything like it makes out?

Unrealistic claims have become typical for these types of money making programs. Seeing such bold claims doesn't even feel strange any more these days because people just take it as an advertisement tactic. Keeping aside ethics and morality, these platforms are mainly concerned with convincing the visitors one way or the other, be it moral or otherwise.
Upon playing the video presentation, I realized that the $500 per day is the lower bar of what they're promising. The video is actually claiming as much as $200/hr and $1600/day. The video suggests that there is no need to acquire technical skills. The program is extremely quick and simple, says the presenter.
An alleged member, in the video, claims that he made over $200 during the first hours after he signed in. Well, this is something I needed to look into. $34,000 a month is certainly something!
The System
The video script suggests that the system is compatible with any computer on earth. The system is basically some underground program and only a few know about it. But at the same time, the presenter claims that the program is actually designed to help ordinary individuals to help them compete in society. Then she claims that it doesn't require any software installation and the good thing is that 60 Minute Profit Plan system is also compatible with smartphones.
Sounds like a dream come true right? Maybe… But don't rush into signing up just yet.
How Does 60 Minute Profit Plan Work?
As per the video claims, the program is supposedly simple, it allegedly doesn't require any technical skills, and it starts generating money as soon as you sign in. However, the reality is otherwise. The video never reveals what the program actually does. There is no hint of what the program is all about. But as the video goes on, the presenter suddenly starts talking about cryptocurrency.
She talks about her first introduction to Bitcoin and that she lost $800 in purchasing different digital currencies but they turned out to be nothing but scams. The problem is, the lady keeps talking ill of various online money making programs and scams but she never hits the point. She seems to purposely avoid talking specifically about the program she is offering.
Fake Presenters
The video doesn't feature legitimate users. The fact is that the people participating in the video presentation are local actors because they've been promoting many other money-making programs, like the Partner With Patrick program for example. Even the testimonials on the webpage are also fake. These are nothing but retouched screenshots.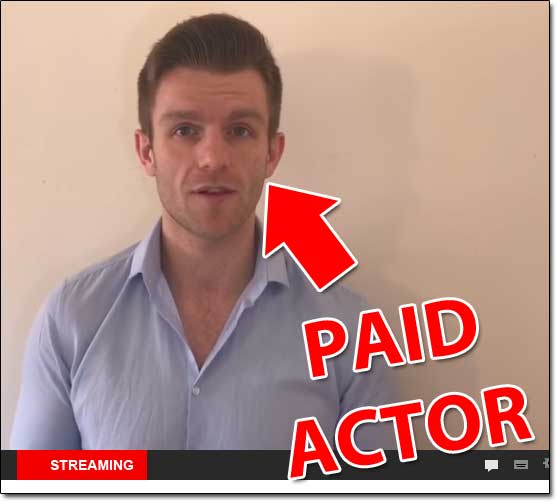 Even, Brittany – the lady promoting the program in the video – isn't real. The fact is that the lady pretending to be the real presenter of this program is also found on many other money-making websites. All these revelations hint towards yet another scam. But let's not be so quick in making a sweeping statement.
The truth is that the 60 Minute Profit Program is actually a training package, not a "system" like you're led to believe. This package contains video tutorials and guides about earning via email marketing. But the issue is that these videos and training programs don't actually offer anything new or useful. The content is actually available on the internet for free. This package is just a rearrangement or reproduction of the existing online courses and eBooks about email marketing.
In my opinion, it isn't really even worth a mere $10 & to my surprise, this particular offer requires you to pay $97 for it. This is way too expensive as far as I'm concerned & if you hand over the cash you will just find yourself disappointed for sure. Once you pay, you have the option to request for refund. But I have no proof if anybody has managed to successfully receive their funds back.
To be honest, rather than spending $97 on the 60 Minute Profit Plan program you could just sign up to Commission Academy instead for free & you'll get the same training along with a whole load more & all of the tools you need too…
I'm personally a member of Wealthy Affiliate myself & it's an excellent place to learn how to make good money online – in fact, it's actually been one of my top-rated programs for a while & if you want to you can find out how it all works by clicking here.
Is It Worth It?
I don't think so! Considering the fact that the quality of the training material is not up to the mark. Most of the training program features standard practices open to everybody on the internet & it won't really help you to get started. There is nothing about live lectures, there are no 1-1 classes, and there is no real guidance.
Everything you get is pretty basic & the whole thing is way overpriced & way over-hyped. Like I mentioned above I'll suggest that you join a legitimate program like Commission Academy instead. That will prove much more useful to you than the 60 Minute Profit Plan system will.
Is 60 Minute Profit Plan a Scam?
Well, I guess it's not technically a scam as such since you do actually get some training in return for your money (even if it's junk), but at the same time, it's definitely not 100% legit as in my opinion you're totally misled into making a purchase.
On top of that, the price of the whole thing is way too expensive & whilst it claims to be designed for newbies, if you are brand new then it will just leave you feeling confused because the training isn't very good.
As I said earlier in this review you can get better step-by-step training for free at Commission Academy, so for that reason & on the basis of false claims I won't be recommending the 60 Minute Profit Plan to you… I really don't feel like it will provide you with any value at all & if you do happen to buy into it I feel like you would just be left disappointed at what you actually receive.
But anyway hopefully this review gave you a good insight into how it all really works & I hope it also helped you save some money. If you do happen to have any further comments or questions about it though then don't hesitate to leave them below. As always I'll do my best to get back to you as quickly as possible.
A Better Alternative
The sad truth is that unfortunately most of the programs promising to help you make money online are scams. I can say that confidently after exposing over 500+ of them here on this blog.
But the good news is that even though most of them are indeed scams, there are actually some very good programs in amongst them - some programs that can truly help you to earn money.
And out of all of the legit programs I've seen, the one I would recommend the most to anybody looking to get started online is Commission Academy. In my own opinion, that's the best place to start.
At Commission Academy, you'll be provided with everything you need (including the training & tools) to begin earning real money by promoting products or services for companies like Amazon online.
The best part is that there's literally no limit on the amount you can earn with it & the process is pretty simple which means that it's absolutely perfect for people that don't have much experience.
Some wealthy affiliates even earn as much as 5-figures per month... Or more!

I mean don't get me wrong, that kind of money won't just fall into your lap without doing any work... But the harder you're willing to work at it, the more you stand to earn with it.
So if you're looking to get started but don't know which route you should go down or which program you should join (and don't want to waste money on bogus things that don't actually work), then I'd highly recommend checking out Commission Academy first. You can learn more about it here.