Mosh Bari is back again, this time with a program named 6FigZ which he claims can see you earning as much as 6-figures per year online, all without actually having to do any work.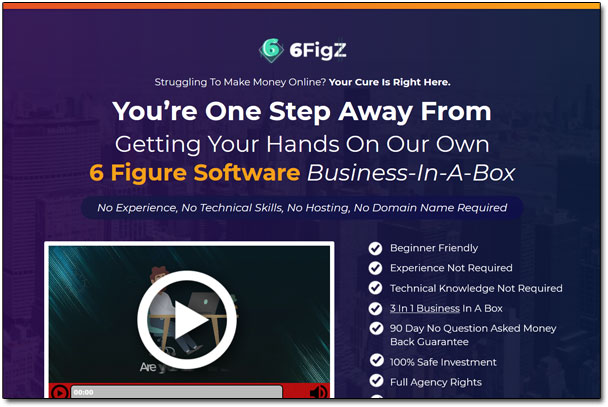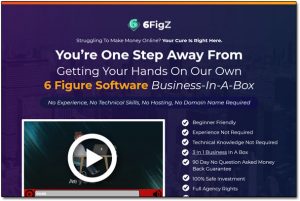 According to him, all you need to do is simply sign up to 6FigZ, activate his software & you can begin generating an income online even if you're totally brand new.
No technical experience is required, you don't need hosting & you don't even need a domain name…
Allegedly.
But is it really true? Or is 6FigZ a scam that you should simply avoid?
Well, the good news is that you've landed in the right place to find out because in this honest 6FigZ review I'm going to be uncovering the real truth about how it all actually works (and explaining the 3 important reasons as to why I believe it should be avoided).
What Is 6FigZ?   |   Who Is Mosh Bari?   |   How Does 6FigZ Work?   |   The Problems   |   Is 6Figz a Scam?   |   A Better Alternative
What Is 6FigZ?
6FigZ names itself a "6-figure business in a box" & the sales page for it leads you towards believing that it'll ultimately provide you with an easy & automated way to earn lots of money online.
All you need to do is simply sign up, activate it (by following some instructions) & then watch the money come pouring in… Or at least that's what Mosh Bari, the program's creator wants you to believe.
But the problem is that as you've probably noticed, the 6FigZ sales page doesn't really give much away as to how the method itself is actually supposed to work.
Instead, you're just encouraged to hand over some of your own hard-earned money to find out more & get started… But I can tell you right away that that's a HUGE red flag.
Usually, if a program promises to give you access to a quick & easy way to earn money but requires you to pay money upfront first to find out more, it is likely just a get-rich-quick scam.
But since this particular product has been created by a known marketer & claims to come with a money-back guarantee, I decided to give it the benefit of the doubt to see if there was actually anything worthwhile on the inside.
I'll reveal what I found (and how it actually works) in a moment, but first let's take a look at the man behind it, Mosh Bari…
Who Is Mosh Bari?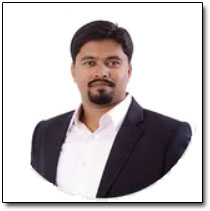 On the sales page of the 6FigZ program, Mosh Bari describes himself as a 7-figure marketer, but other than that he gives away very little information about his so-called success.
As a result, I decided to do some searching to find out a little more about him… After all, you want to know if he's actually the real deal or not, right?
And it quickly became very clear how Mosh Bari makes his money online. Mosh Bari makes his money online, by creating & selling products that claim to help others make money online.
Sadly, however, it seems his programs have a reputation of not delivering on their promises (surprisingly) & as a result, a Google search of his name brought up a lot of complaints.
Here are a couple, for example:

Not good.
And as it turns out, I've actually reviewed some of Mosh Bari's other programs in the past such as:
Surprise surprise, I didn't recommend any of them because the verdict was that they didn't work as promised & were just designed to trick people into handing over their cash.
So, what about 6FigZ? Is it any different?
Let's take a look…
How Does 6FigZ Work?
First of all, I can tell you that earning money with 6FigZ isn't anywhere near as easy as Mosh Bari claims it is. You can't just "activate it" and earn like you're led to believe.
The reason for that is because the idea of his program is to enable you to earn money by managing people's YouTube channels for them in return for payments.
So you'll essentially be setting up a "YouTube management service".
You see, he claims to have generated a piece of software which can automatically grow people's YouTube channels (which is what you get access to when you hand over your cash).
So the idea is that you then reach out to people on YouTube & tell them that you'll manage their channel for them in return for a fee.
Then, if they agree, you'll use the 6FigZ YouTube "robot" to do all of the managings, so that you'll supposedly earn an income on autopilot.
In theory, it almost sounds plausible, and if you're new to making money online then you may indeed be thinking that it could actually work… But I can tell you that it won't.
There are a few reasons as to why I say that which I'll touch on in a moment, but before I do, I also want to highlight that $17 isn't really the true cost of the 6FigZ program.
Instead, after handing over the $17 to try the program out (which I don't recommend doing) you'll be forced through a long string of additional upsells as shown below: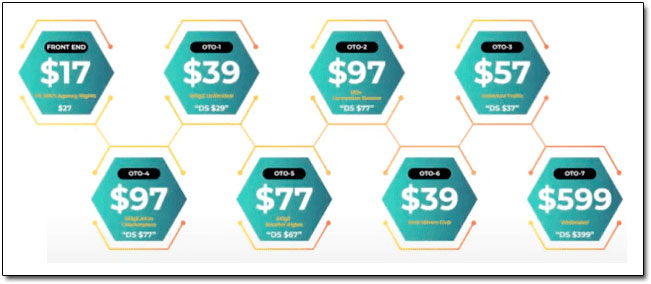 In total, to get access to the full offering you'll need to spend in excess of $700!
And if you don't, you're led to believe that the system won't really work for you because you're told that it's by using the additional upsells that you'll actually see success.
But I can tell you that even if you do splash the full $700+ on the 6FigZ program, you still won't make any money & that's because of the problems which I'm going to discuss below.
You Might Also Like:
The Problems With 6FigZ
The first problem you have here is that, in reality, even if you were manually managing the YouTube channels, it is going to be difficult to find clients that will pay you to do so.
And it's going to be even more difficult to find those clients if you're brand new at managing YouTube channels and if you're going to attempt to use a robot to manage it on your behalf.
So that's problem number 1.
Problem number 2, however, is that the software just simply doesn't work as advertised. In short, all it really does it place automated comments & replies on other videos.
And it's very easy, even for a non-YouTube-expert to see that the comments have been written by a robot… So this means that even if you do find a client, there's no way that they'll actually pay you once they see that you're just using a bot.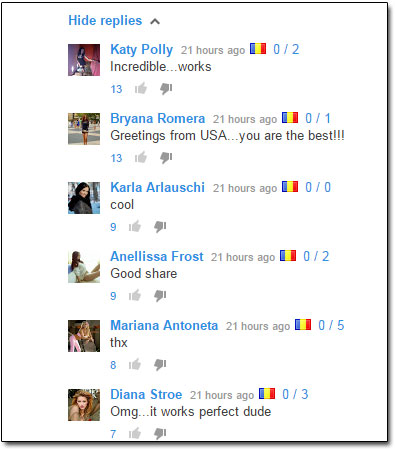 In fact, they'll likely be very quick to tell you to stop because the use of robots is disallowed by YouTube which means that their channel could actually end up getting banned.
And that's problem number 3.
Problem number 3 is that if their channel gets banned, you're going to have a BIG problem on your hands. You could even find yourself being faced with a lawsuit & sued for damages.
So it's probably now clear to see why you shouldn't use the 6FigZ program.
It's not going to really make you money like it claims it will, and instead, it'll likely just end up landing you in a lot of trouble (in the unlikely event that you do actually manage to get a client).
Plus, you can actually find YouTube auto-comment bots all over the web for free… So even if this is something you want to do, there's still no need to pay for the 6FigZ program.
And that brings me onto…
Is 6FigZ a Scam?
Well, it's not a scam since you do actually get access to a YouTube tool in return for your money, but at the same time the whole program is just pretty pointless (and expensive).
Plus, it's also very misleading because, in reality, there's no way that you're going to make money anywhere near as easily as the program's creator, Mosh Bari, claims you will.
In my opinion, the whole thing has just been hyped up on purpose to trick you into handing over your cash so that the creator (Mosh Bari) can make himself richer at your expense.
It's not really set out to help you at all, as far as I'm concerned.
And don't be fooled by the money-back guarantee either because the guarantee only applies to the initial purchase (the $17). If you purchase any of the upsells (which cost $700+), then none of that cash will be refunded.
So my advice is to steer clear of the 6FigZ program & instead, if you truly want to earn money online (without the expense or risk) then I would suggest you simply stick with a proven platform like Commission Academy.
Commission Academy is free to join & it's there that you'll get all of the tools, training & community support that you need to succeed with one of my favourite methods, which is affiliate marketing.
But alongside that, you can also check out my other recommendations here as well.
Either way, whatever you decide to do, I just hope that you found my 6FigZ review here useful & most importantly I hope that it helped you save your hard-earned cash.
If you still happen to have any further questions or comments then don't hesitate to leave them below.
A Better Alternative
The sad truth is that unfortunately most of the programs promising to help you make money online are scams. I can say that confidently after exposing over 500+ of them here on this blog.
But the good news is that even though most of them are indeed scams, there are actually some very good programs in amongst them - some programs that can truly help you to earn money.
And out of all of the legit programs I've seen, the one I would recommend the most to anybody looking to get started online is Commission Academy. In my own opinion, that's the best place to start.
At Commission Academy, you'll be provided with everything you need (including the training & tools) to begin earning real money by promoting products or services for companies like Amazon online.
The best part is that there's literally no limit on the amount you can earn with it & the process is pretty simple which means that it's absolutely perfect for people that don't have much experience.
Some wealthy affiliates even earn as much as 5-figures per month... Or more!

I mean don't get me wrong, that kind of money won't just fall into your lap without doing any work... But the harder you're willing to work at it, the more you stand to earn with it.
So if you're looking to get started but don't know which route you should go down or which program you should join (and don't want to waste money on bogus things that don't actually work), then I'd highly recommend checking out Commission Academy first. You can learn more about it here.