The Insta-Minator program has been put together by two guys named Jason Fulton and Mosh Bari who claim that it can enable anybody (even a stone-cold newbie) to begin generating as much as $333.54 per day online right from the very next day of getting started.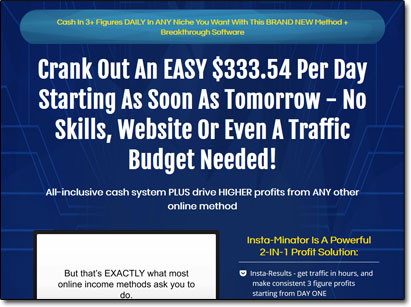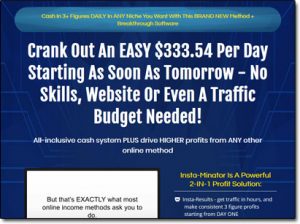 But the promise of making so much money so quickly sounds a little suspicious to me (and no doubt it does to you too), so what's the truth about it?
Is it really legit like they claim, or will the Insta-Minator scam you instead & just leave you with a bogus method?
Thankfully you've landed in the right place to find out as I've taken a closer look into it to see exactly how it works & in this honest review I'll be uncovering everything you need to know – including whether or not you can really make any money with it.
What Is Insta-Minator?   |   How Does Insta-Minator Work?   |   The Method   |   Is Insta-Minator a Scam?   |   A Better Alternative
What Is Insta-Minator?
The Insta-Minator system which as I mentioned above has been created by two guys named Jason Fulton and Mosh Bari is described as an "all-inclusive cash system" that can allegedly generate you higher profits than any other methods…
The whole thing leads you into believing that you won't need any skills, that you won't need a website & that you won't need any budget for traffic. Apparently you can just sign up & begin making as much as $333.54 within hours of getting started just by following some "easy" steps, even if you're totally brand new…

And if that already didn't sound suspicious enough, the guys behind it all are allegedly giving you access to the whole thing for just $12.95… Yup, TWELVE dollars and ninety-five cents…
A so-called $333.54 per day method for just $12.95? LOL.
If the method really worked then so great then why are the guys wasting their time trying to sell the product for such a low price? Why aren't they either using the method themselves, giving it away for free, or charging a realistic amount for it?
The answer, of course, is likely because it doesn't work as promised (as with most of the junk that's sold through WarriorPlus)… But obviously I'm not just gonna brush it off straightway… After all where there's potentially money to be made I'm always interested in checking it out so keep on reading & I'll uncover exactly how it all works.
How Does Insta-Minator Work?
Well the thing I found pretty surprising after taking a closer look into the Insta-Minator system is that despite the sales page claiming that it doesn't involve building a website or using paid traffic… That's actually exactly what it does involve.
I mean sure – they do include a method which doesn't require a website & they do share some free methods of getting traffic – but realistically to stand any chance of success with the program you're likely going to need the website & the paid traffic.
The downside though is that whilst they tell you that you need a website & they tell you what you should do with the website, they don't actually show you step-by-step how to actually start your own website or blog.
This means that if you do buy into the Insta-Minator & you do decide you want to pursue the method, you'll have to look elsewhere (like here) for free training on how to start a website since they don't provide it.
So How Does The "Method" Actually Work?
Okay so primarily the method the Insta-Minator program is based around involves setting up a WordPress website, adding something called push notifications & then using the notifications to promote affiliate offers.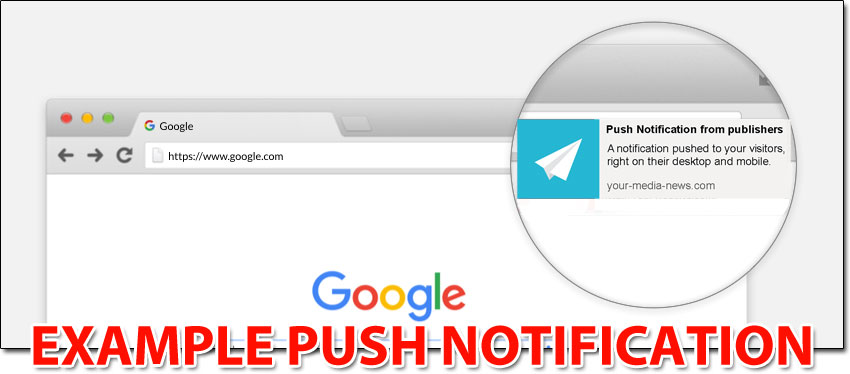 You'll then be shown a few methods to generate traffic to the website you set up, so the idea is that people will visit the site – sign up for the notifications, and then you can "push" offers through to them.
This would then put you in the position to earn commissions if any of the people happened to click through the offers & make a purchase (or complete an action in the case of CPA offers).
There are a few problems though…
Firstly, the obvious & main one, is that they don't show you how to set up a WordPress website.
Secondly, whilst yes, you could potentially make money with this method – it's nothing revolutionary & it still relies solely on traffic. No traffic means no visitors which means no sales & that brings me onto my third point…
The traffic training ain't really gonna help you generate much traffic. I mean sure, you might get some dribs & drabs but it's unlikely that you'll get any substantial amounts of traffic by following the Insta-Minator traffic training. Instead, you're pushed towards using paid traffic but that's very risky especially if you're brand new as you could lose a lot of money very quickly.
If fact to be honest if you're new or don't have thousands of dollars to spare then I'd strongly advise against using paid traffic.
So yeah all in all the Insta-Minator program isn't really "all that"… And I highly doubt that it will ever help anyone to earn as much as $333.54 per day… It certainly won't do it the very next day either that's for sure.
In my opinion whilst it's technically legit, it's just another low-quality over-hyped WarriorPlus product…
Is Insta-Minator a Scam?
Well Insta-Minator is definitely not a scam – it's a legitimate training program, however, in my opinion, it's extremely overhyped & the chances of you actually finding success with it are very slim.
As far as I'm concerned there is absolutely no way you'll find yourself making $333.54 per day with their training alone, and given that the training lacks some vital components (such as how to actually set up the website which you'll need) I don't really think most people will earn anything at all.
I think in reality the only people earning anything from it will be Jason Fulton and Mosh Bari, the creators… Oh, and you should also expect several upsells inside of the program too as the cost doesn't stop at just $12.95.
Overall there is just no way I'm going to be recommending the program because despite it technically being legit, in my opinion, it's overhyped & just doesn't deliver enough value (even for the price).
If you really want to learn how to make good money with affiliate marketing properly then you should just join a legitimate platform like Wealthy Affiliate which you can actually get started with for free. It's there that you'll get the best methods to find proper success.
But whatever you decide to do I just hope that my review here has given you a better insight into how the Insta-Minator program actually works & hopefully you can see why I've made the decision not to recommend it. If you do have any further questions or comments though then don't hesitate to leave them below & I'll get back to you as soon as I can.
A Better Alternative
The sad truth is that unfortunately most of the programs promising to help you make money online are scams. I can say that confidently after exposing over 500+ of them here on this blog.
But the good news is that even though most of them are indeed scams, there are actually some very good programs in amongst them - some programs that can truly help you to earn money.
And out of all of the legit programs I've seen, the one I would recommend the most to anybody looking to get started online is Commission Academy. In my own opinion, that's the best place to start.
At Commission Academy, you'll be provided with everything you need (including the training & tools) to begin earning real money by promoting products or services for companies like Amazon online.
The best part is that there's literally no limit on the amount you can earn with it & the process is pretty simple which means that it's absolutely perfect for people that don't have much experience.
Some wealthy affiliates even earn as much as 5-figures per month... Or more!


I mean don't get me wrong, that kind of money won't just fall into your lap without doing any work... But the harder you're willing to work at it, the more you stand to earn with it.
So if you're looking to get started but don't know which route you should go down or which program you should join (and don't want to waste money on bogus things that don't actually work), then I'd highly recommend checking out Commission Academy first. You can learn more about it here.