The 7 Figure Freedom Formula system which has been put together by Bill and Michelle Pescosolido leads you into believing that you can generate as much as $30,000 in 24 hours by allegedly just following 2 simple steps.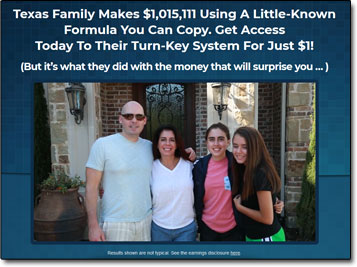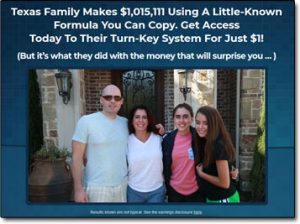 They claim that providing you can give up just 30 to 60 minutes of our time per day you'll be able to see massive success from their system even if you're totally brand new…
But is it actually legit or is the 7 Figure Freedom Formula scam?
Thankfully you've landed in the right place to find out because I've taken a closer look into to see what's really going on & in this review I'll be uncovering everything you need to know, including whether or not you can really make money with it.
What Is 7 Figure Freedom Formula?   |   How Does 7 Figure Freedom Formula Work?   |   The Big Problem   |   Is 7 Figure Freedom Formula a Scam?   |   A Better Alternative
What Is 7 Figure Freedom Formula?
As I just briefly touched on above the 7 Figure Freedom Formula system is a website that's been put together by 2 people (husband & wife) named Bill and Michelle Pescosolido.
They claim that the system has been built around the exact same formula that enabled them to earn a whopping $1,015,111 online & you're led to believe that as a member you will be able to simply "copy" this formula to start earning the same money for yourself…
On their sales page they even state that the very same system helped them make $30,000 in just 24 hours as shown below:

And further down that same page, they state that you can achieve the exact same results just by copying & pasting some ads that they give you… But of course, there's a catch – which is that in order to get started you've got to hand over some money.
I mean admittedly they claim it's only a dollar, but this is where things start to sound pretty darn suspicious…
Why would 2 people who allegedly have a "secret formula" for generating millions so easily be willing to give it away for just a mere dollar? And if they're willing to give it away for a dollar, why not just give it away for free?
In my opinion, it sounds an awful lot like the classic "pay me some money to teach you how to get rich" style scam – so what's really going on here? Let's dive in and take a look at how it all really works…
How Does 7 Figure Freedom Formula Work?
The sales page promoting the 7 Figure Freedom Formula system contains in total nearly 2,000 words of random spiel about the Pescosolido's life & how they allegedly got so rich but condensed down this is basically what it all says:
Pay them $1
Spend 30-60 minutes copying some ads they give you & posting them on Facebook
Let them sell products to the people who click on your ads
Expect to earn as much as $30,000 in 24 hours
But I can tell you right that from the off that's just total BS – in reality, the 7 Figure Freedom Formula is going to cost you a LOT more than $1 & making money with it won't be anywhere near as easy as they make it out to be…
How do I know that?
Easy, because the 7 Figure Freedom Formula system isn't actually a system at all… It's just a sales funnel that's been designed to get you to buy into the My Own Business Education opportunity, an entirely different opportunity altogether.
So why would Bill and Michelle Pescosolido create the 7 Figure Freedom Formula to trick you into buying MOBE?
Well, the answer to that will become more clear when you realize what MOBE actually is which I'll explain now…
MOBE Explained…
Basically MOBE is what's known as a high-ticket network marketing opportunity. It claims to teach people how to make money online but basically the way you actually make money with it is by selling it onto other people…
So you'll buy into MOBE under the impression that you'll be able to make lot's of money pretty easily & that you'll get access to some sort of done-for-you business… But then when you go through all the training you'll realize that it basically consists of selling MOBE onto other people & getting them to invest just like you did.
The more members you get to sign up to MOBE & the more money you get them to invest, the more you'll earn in commissions.
However, it's worth pointing out that in total MOBE's products cost around $50,000 and you can only earn commissions on the products you've personally bought – so you're heavily pressured into spending money.
And the way they catch you out is by making the entry fee seem really small, then gradually adding upgrade after upgrade… That's why the 7 Figure Freedom Formula system claims to cost just $1…
But once you've spent that dollar and got access you'll realize that the price keeps going up & up & up as you progress through the training. Like I say all in all you could end up spending around $50k… And that's before you even get the ball rolling.
Digital Altitude was a program that worked in a very similar way but surprise surprise it was recently shut down by the FTC. I certainly wouldn't want to invest $50k in a program which potentially also risks being closed down…
So how does this connect with the 7 Figure Freedom Formula? Let's take a look…
How The Systems Connect Together…
You're probably wondering why the heck Bill and Michelle Pescosolido would go to all the effort of creating their own system just to get people to buy into MOBE & the answer is pretty simple…
The reason they're doing it is that they know that most people going through the MOBE program will end up spending thousands upon thousands of dollars, meaning as affiliates of MOBE they'll stand to make huge commissions.
So they've created the 7 Figure Freedom Formula system in an attempt to increase the number of people they can get to sign up to MOBE, after all the more people they get to buy the more commissions they stand to make.
Ultimately they're just out to make money at your expense – but these aren't the first people I've seen doing it. I've actually seen several other similar systems promoting MOBE such as the Ultimate Dot Com Lifestyle & My 7 Figure Nest Egg programs.
You Might Also Like:
The Big Problem With It All…
The truth is MOBE itself is technically legit – although it's expensive, there is the potential to make money… But the big problem is that systems like the 7 Figure Freedom Formula are extremely misleading.
They make out like it will all be really easy & that you won't have to do much work – they also don't cover anything about the sheer amount of money you'll be required to invest (or pushed into investing) either.
Sadly though this is all just a fantasy – making money with a program like MOBE is indeed possible, but it will take a LOT of hard work & dedication… It certainly won't happen overnight or as easily as they lead you to believe.
That's why it's clear to me they're only after your money because if they really wanted to you succeed then they would be totally honest & upfront with you from the very start… Otherwise, you'll just find yourself disappointed.
And that's probably why most of MOBE's members make little to no money as shown money: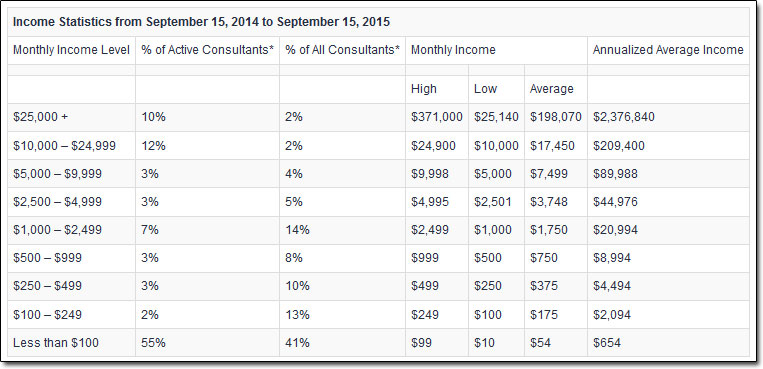 That's right, despite the 7 Figure Freedom Formula making out as if you'll easily be able to earn as much as $30,000 in 24 hours just by copying some simple ads 55% of the active members make less than $100 per month.
And they could have potentially spent $50k to get started.
Crazy huh? Which brings me onto…
Is 7 Figure Freedom Formula a Scam?
Well it's not a scam as such – essentially it just sells you into a program called My Own Business Education which is technically legit, but ultimately, in my opinion, it's extremely misleading & if you sign up you'll likely find yourself disappointed.
As far as I'm concerned the 7 Figure Freedom Formula website has been put together purely to "trick" you into signing up to MOBE so that the creators can earn a commission at your expense.
That's the real reason they're so wealthy – because they're earning huge commissions as they get others to part with their cash into a program that will likely see them spending more than they ever manage to earn.
I mean in my opinion there's just no need to spend that level of cash to get started, not when there are many legitimate programs out there that you can actually get started with for free such as Commission Academy for example.
Therefore overall I won't be recommending the 7 Figure Freedom Formula system to you because like I mentioned above I think that if you buy into it you'll only find yourself disappointed at what you actually receive due to the fact that the sales pitch is so misleading.
Anyway, I do hope you found my review here useful & if you happen to have any further questions or comments about it then don't hesitate to leave them below & I'll get back to you as soon as possible.
A Better Alternative
The sad truth is that unfortunately most of the programs promising to help you make money online are scams. I can say that confidently after exposing over 500+ of them here on this blog.
But the good news is that even though most of them are indeed scams, there are actually some very good programs in amongst them - some programs that can truly help you to earn money.
And out of all of the legit programs I've seen, the one I would recommend the most to anybody looking to get started online is Commission Academy. In my own opinion, that's the best place to start.
At Commission Academy, you'll be provided with everything you need (including the training & tools) to begin earning real money by promoting products or services for companies like Amazon online.
The best part is that there's literally no limit on the amount you can earn with it & the process is pretty simple which means that it's absolutely perfect for people that don't have much experience.
Some wealthy affiliates even earn as much as 5-figures per month... Or more!

I mean don't get me wrong, that kind of money won't just fall into your lap without doing any work... But the harder you're willing to work at it, the more you stand to earn with it.
So if you're looking to get started but don't know which route you should go down or which program you should join (and don't want to waste money on bogus things that don't actually work), then I'd highly recommend checking out Commission Academy first. You can learn more about it here.