I've received several emails over the past couple of weeks from a bunch of different online marketers who are all pushing something called The Big Profit System.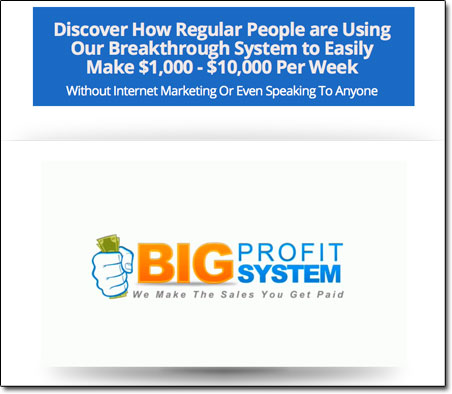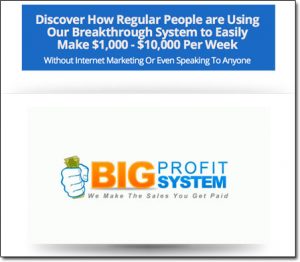 Initially, I had just ignored the emails, but because of their persistence, I've decided to check it out & find out what it's all about.
I figured if they're pushing it onto people so hard then they must be making from it, but can it really make the other people who sign up for it any money too? Well, all will be revealed in this review…
So if you've come across The Big Profit System & you're contemplating joining then you can rest assured that you're in the right place to find out more about the company and figure out if it's really right for you.
What Is The Big Profit System?   |   How Does It Work?   |   How Do You Make Money With It?   |   The Compensation Plan   |   Is The Big Profit System a Scam?   |   A Better Alternative
What Is The Big Profit System?
The Big Profit System claims to a breakthrough system that can make it's users easy profits of $1,000 to $10,000 per week without internet marketing or speaking to anyone. You're literally told that after joining The Big Profit System you can just sit back, relax and count the cash…

Now don't get me wrong – it is possible to generate that kind of amount of money online, but it's going to take a LOT of work to get there & it's certainly not going to happen overnight. When I see systems making claims like this it just immediately sends alarm bells ringing in my head.
Chances are it's sent alarm bells ringing in your head too which is probably why you're here reading this review. If that's the case then I respect you for doing your due diligence before diving in with both feet.
In among all the hyped-up mumbo-jumbo on the homepage, there is a little bit of a giveaway as to what this system is really about as you're told that it helps you generate profits by combining top-tier direct sales with advertising packages.
So that leaves me a little confused because at the very top of the page you're told you don't need to speak to anyone & it's definitely not marketing, yet slightly further down you're told that it's about sales & advertising (i.e. talking to people & marketing).
I feel like there's a bit of trickery going on & that the full truth isn't being revealed until after you've handed over your credit card details.
How Does The Big Profit System Work?
After doing a bit of digging it became quite clear that The Big Profit System is a network marketing business opportunity which means you'll definitely be marketing & you'll definitely be talking to people (if of course, you want to actually be able to make any money with it that is).
It operates a top-tier business model too which is basically a fancy way of saying that it's super expensive. There are quite a few other companies that run similar models with one of the most popular ones being MOBE.

Generally, with typical top-tier online businesses, you're offered something such as a luxury getaway in return for your huge investment but in the case of The Big Profit System, it seems the only encouragement to invest is so that you can earn more money.
Basically, you'll only be able to earn commissions on the amounts that you've personally bought in at, so let's say you bought in at the $1,000 level, that would only entitle you to be able to earn the $500 commissions from your downline. If you want to be able to unlock the full compensation plan you're going to have to go all-in and invest a whopping $20,000.
I don't know about you but I personally wouldn't fancy investing $20,000 into a company who not only don't seem to put any focus on tangible products but also don't even seem to want to reveal their identities. There's zero contact information on the website or inclination as to who actually runs it & the domain registration is completely set to private too.
I mean yes, it could potentially be legit – but similarly, they could shut up shop & disappear with your money without a trace. It's a big risk & when it comes to that amount of money it's not one I'd personally be willing to take.
How Do You Make Money With It?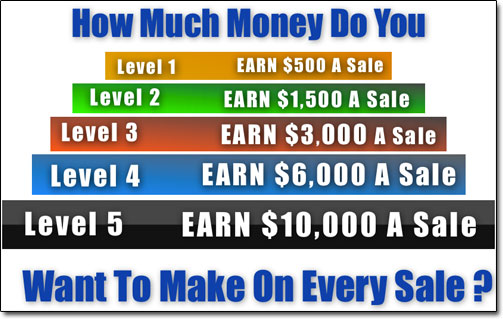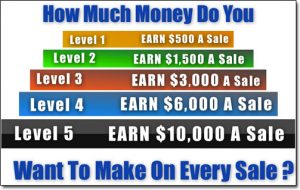 Basically, the concept is that you buy into The Big Profit System yourself & then you go on to sell it onto other people too. You're pretty much just handing over cash for the opportunity to sell people a dream.
If you manage to get other people to buy into it too then you could potentially recoup your investment, but if you're not an expert at sales or marketing then you're probably going to struggle at selling such an expensive product & end up out of pocket as a result.
Remember – you'll only be able to earn commissions on the levels that you personally buy-in at too. If you're in at the $1,000 level and you make a $20,000 sale you're not going to see a penny of that extra commission, it'll go straight up over your head & to the next person who's qualified in your upline.
Meaning if you haven't got $20,000 to throw around willy-nilly then your basically building somebody else's business, not your own.
Oh & if you think you really have a "success coach" helping you then think again, that's just what they're calling their sales team whose real job is to persuade you to get yourself upgraded to those top levels.
The Compensation Plan
The compensation plan inside of TBPS is pretty straight forward – it runs on a traditional uni-level structure, meaning you refer people directly & they go on your level 1 team, the people they refer go on your level 2 team, the people they refer go on your level 3 team and so on…
Basically, the important part to note is that everybody is getting positioned below you and that if somebody isn't qualified for a commission then that particular commission will get passed UP to the next person who IS qualified in the upline (regardless of however many levels that may be).
There are 5 different commission levels inside TBPS and these are as follows:
Level 1 – $1,000 cost (commission $500)
Level 2 – $3,000 cost (commission $1,500)
Level 3 – $6,000 cost (commission $3,000)
Level 4 – $12,000 cost (commission $6,000)
Level 5 – $20,000 cost (commission $10,000)
You're told that the products include "high-quality digital education courses" but you're not told what courses you're getting for which buy-in amounts. It's clear that the emphasis is put solely onto the money-making opportunity itself.
As I've said throughout this review it's important to be aware that you'll only earn the commissions on the levels that you have personally purchased, so if you have bought in at the $1,000 level and you make a $10,000 sale then you will not get that commission. It will get passed up to the next person in your upline that has bought in at the $20,000 level (a common scarcity tactic to get you to buy in higher).
You Might Also Like:
Is The Big Profit System a Scam?
Whilst this particular system is not necessarily a "scam" as such since there is the slim potential for you to make money, I feel that there's a great deal of risk involved & the lack of focus on any sort of tangible products puts this in the category of a "scheme".
You basically paying money to sell the opportunity of making money onto somebody else, and whilst they've tried to cover this up by adding brief mention of products it's clear that there is no real focus on them & that the main selling point is the promising of quick riches.
The other worrying thing is the fact that the owners of this system haven't disclosed who they are yet are asking you to hand over $20,000 in cash to them. If they decide to shut up shop & disappear you've got absolutely no comeback whatsoever.
For those reasons I won't be recommending The Big Profit System, in fact, I'll actually be doing the opposite – I'll be advising you to stay away from this system. If you really want to get in the top-tier network marketing niche then you're probably best at looking into something like MOBE instead, but even though it can be quite lucrative it's personally not something I'd really recommend you get involved in… There are much better ways (and cheaper) ways of building an income online.
So anyway on that note I hope you appreciated my insight into The Big Profit System & I hope it helped you arrive at a decision as to whether or not it's really something that you want to join.
A Better Alternative
The sad truth is that unfortunately most of the programs promising to help you make money online are scams. I can say that confidently after exposing over 500+ of them here on this blog.
But the good news is that even though most of them are indeed scams, there are actually some very good programs in amongst them - some programs that can truly help you to earn money.
And out of all of the legit programs I've seen, the one I would recommend the most to anybody looking to get started online is Commission Academy. In my own opinion, that's the best place to start.
At Commission Academy, you'll be provided with everything you need (including the training & tools) to begin earning real money by promoting products or services for companies like Amazon online.
The best part is that there's literally no limit on the amount you can earn with it & the process is pretty simple which means that it's absolutely perfect for people that don't have much experience.
Some wealthy affiliates even earn as much as 5-figures per month... Or more!

I mean don't get me wrong, that kind of money won't just fall into your lap without doing any work... But the harder you're willing to work at it, the more you stand to earn with it.
So if you're looking to get started but don't know which route you should go down or which program you should join (and don't want to waste money on bogus things that don't actually work), then I'd highly recommend checking out Commission Academy first. You can learn more about it here.