The BitRobo system portrays itself as an automated cryptocurrency trading system & the website that hosts it makes out as you can simply sign up & begin making hundreds of dollars per day all on complete autopilot…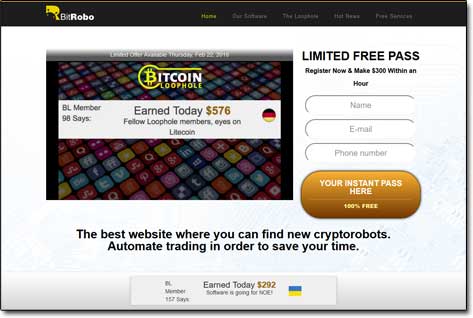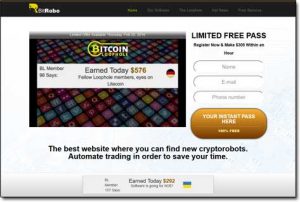 But obviously that's a pretty bold claim… I mean if it could really earn you so much money so easily then why isn't everybody doing it?
Is BitRobo a scam that's just going to see you losing money… or is it actually legit?
I know that's what you're probably wondering but don't worry, you've landed in exactly the right place to find out as I've taken a closer look into it & in this honest review I'll be uncovering the real truth about the BitRobo system & showing you how it really works.
What Is BitRobo?   |   How Does BitRobo Work?   |   The Red Flags   |   Is BitRobo a Scam?   |   A Better Alternative
What Is BitRobo?
The BitRobo system is a system that's allegedly been designed to exploit a loophole in the Bitcoin network (which is known as the Blockchain) and as a result, it claims it can enable you to generate hundreds of dollars of daily income all on complete autopilot.
You're told that all you need to do is sign up, make a small deposit & then "fire the system up" for it to begin making trades on your behalf. The system will then allegedly begin making trades via a binary options broker & the profits generated will be deposited into your account.
How does it guarantee profitable trades I hear you ask? Well, it claims that the "loophole" it exploits enables the system to detect trends in the crypto market in advance of them happening, and as a result, it can allegedly accurately determine whether or not the price will go up or down… Meaning it can make a profitable binary bet.
However, I can tell you right from the off that it doesn't work as promised – in fact the whole thing is actually nothing but a dangerous scam… And the reason I can say that so confidently is because it's actually just a rehashed version of the Bitcoin Loophole system which I've previously exposed on this blog before.
In fact, the creators of the BitRobo haven't even bothered to change the video on the website which still refers to the Bitcoin Loophole system (as shown below):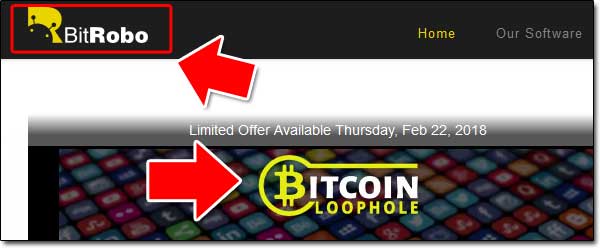 So it's safe to say the BitRobo system isn't something I'm going to be recommending, but obviously I'm not just going to expect you to take my word for it when I say it's a scam… Instead, if you keep on reading I'll explain how it all really works & you can see for yourself what's really going on.
How Does BitRobo Work?
Okay so as I mentioned above the idea is that the whole system is built around some sort of "loophole" that enables the trading bot to generate guaranteed profits (only it doesn't work as promised at all).
To get started with it the process is as follows;
Sign up to the system
Deposit via their "recommended" broker
Set the system to trade
From there you're said to be able to sit back & relax whilst the automated profits begin filling up your account… But what they don't tell you is that they're actually affiliated with the broker that they recommend you to.
This means that when you sign up & deposit with them the creators of the BitRobo system earn a commission – and in reality that's their only intention, to earn commissions at the expense of others by tricking them into signing up with the broker.
What's worse is that the broker they recommend you to is also a scam binary options broker… And when you do make a deposit (which I obviously don't recommend) you'll just be left to find out the hard way that the system doesn't really work as promised. In fact instead of making profitable trades like it claims it will it'll actually make nothing but losses.
And if you think you'll just be able to withdraw your money back out then think again – like I just said, the broker they recommend you to is a scam broker, therefore, they'll make it next to impossible for you to get your money back.
Once they've got it they'll do their best to keep it… Because it's a scam!
Literally the whole thing is just a ploy to trick you into parting with your cash. Admittedly it's a pretty darn clever ploy but it's just a ploy all the same… There's no loophole, no secret algorithm & no profitable trades.
Sadly though the BitRobo system isn't the only binary options scam that you've got to watch out for… New ones launch literally every single day & this week alone I've already exposed 2 others named the Bitcoin Hack system & the Automated Bitcoin Generator (both of which are also fake).
So basically if you come across another so-called "automated trading system" I'd give it a width berth if I were you – there's simply no such thing and never will be – well, not one that actually generates profits anyway.
Anything that promises otherwise is likely a get-rich-quick scam… Basically, if it sounds too good to be true, it probably is.
You Might Also Like:
The Red Flags
Firstly one of the most obvious red-flags associated with the BitRobo system is the fact that they've left a lot of reference to the previous Bitcoin Loophole scam on their website. The video is from the Bitcoin Loophole system & a lot of the text still reads Bitcoin Loophole or "BL" on the site…
Aside from that though there are a handful of other red-flags such as;
No company/ownership info or contact details
Classic "too good to be true" claims
Forced to deposit via "recommended" broker
Associated with binary options (renowned for being bad news)
Fake statistics all over the website
But anyway you get the gist – I could be here all day picking out all the red flags on the site, which brings me onto…
Is BitRobo a Scam?
Yup, there's absolutely no doubt about it – the BitRobo system is indeed a scam & rather than being set out to help you make money like it claims it is, in reality, it's just set out to part you with your cash.
The only people really making money from it will be its creators & the scam broker that you're recommended to – meanwhile, everybody else who tries it out will just be left to find themselves disappointed & out of pocket.
So it's safe to say that overall there's no way I'm going to be recommending the BitRobo system to you – but I do want to make it clear that it is absolutely possible to make good money online, it's just that there's no "automated system" which will do it for you without you having to do any work.
If you want to make good money online then like with anything in life you must be prepared to put in the work. The good news though is that if you are prepared to do that then there are legitimate programs out there such as Commission Academy where you can get everything you need (including the training) to get started.
Regardless as to what you decide to do though I just hope that my review here has given you a better insight into how the scam works & more importantly I hope it's helped you save your cash. If you do still have any questions or comments then don't hesitate to leave them below. As always I'll do my best to get back to you as quickly as I can.
A Better Alternative
The sad truth is that unfortunately most of the programs promising to help you make money online are scams. I can say that confidently after exposing over 500+ of them here on this blog.
But the good news is that even though most of them are indeed scams, there are actually some very good programs in amongst them - some programs that can truly help you to earn money.
And out of all of the legit programs I've seen, the one I would recommend the most to anybody looking to get started online is Commission Academy. In my own opinion, that's the best place to start.
At Commission Academy, you'll be provided with everything you need (including the training & tools) to begin earning real money by promoting products or services for companies like Amazon online.
The best part is that there's literally no limit on the amount you can earn with it & the process is pretty simple which means that it's absolutely perfect for people that don't have much experience.
Some wealthy affiliates even earn as much as 5-figures per month... Or more!


I mean don't get me wrong, that kind of money won't just fall into your lap without doing any work... But the harder you're willing to work at it, the more you stand to earn with it.
So if you're looking to get started but don't know which route you should go down or which program you should join (and don't want to waste money on bogus things that don't actually work), then I'd highly recommend checking out Commission Academy first. You can learn more about it here.