The Click N Flip system claims that it has some bizarre secret which could result in you getting paid good money for simply clicking and "flipping" pictures online, even if you're totally brand new to making money online.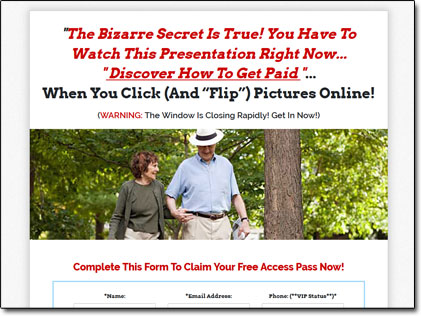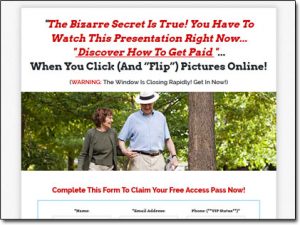 You're led to believe that the system will enable you to earn a consistent income & that "flipping" just one picture alone could earn you in excess of $10,000…
But is it really legit & true? Or is Click N Flip a scam that's really just set out to part you with your hard-earned cash?
Thankfully you've landed at my review because I've taken a closer look into how it all works & after I uncover everything here you'll see that the truth about the Click N Flip system is actually pretty weird.
What Is Click N Flip?   |   How Does Click N Flip Work?   |   Is Click N Flip a Scam?   |   A Better Alternative
What Is Click N Flip?
I have to admit that the Click N Flip system is probably one of the weirdest money-making systems I've ever come across online & it claims to be based around a method called picture flipping, which is something I've actually never heard of…
Naturally, I was therefore extremely interested in checking this system out because I've been making a full-time income online for around the past 7 years & I found it pretty strange that I hadn't heard of this picture flipping thing before.

I mean I had recently heard of something called ad flipping, but that concept turned out to be totally fake… And I'm not gonna lie, given the bold claims that the Click N Flip system makes right from the off I was leaning towards picture flipping being fake too.
But anyway, you're led to believe that the creator of the Click N Flip system (who goes by the name of Teo Vee) was shown this "picture flipping" method by a so-called 14-year-old French genius.
He claims that all you'll be doing is "picking and flipping" pictures of products – pictures which are apparently displayed everywhere, on sites such as Google, Facebook & Yahoo etc…
Some pictures might make you nothing, but Teo Vee the man behind it says that some pictures may make you multiple thousands… And he claims one single picture he flipped was worth $10,228.22…
However he's apparently made it easy for you because via his system you'll allegedly be able to see what pictures people are clicking on, which will help you better pick which pictures to flip…
But this is the part where I've got to stop & point out that the whole thing is FAKE. Just like the ad flipping scam that I previously exposed on this blog, this new "picture flipping" concept is totally fake too.
It's just been fabricated so that Teo Vee can trick you into purchasing his system to make himself some money at your expense – and as you'll soon see what you buy into isn't even the Click N Flip program at all (more on that in a moment).
Obviously, though I don't just expect you to take my word for that so keep reading & I'll explain exactly how it all really works below…
How Does Click N Flip Work?
Basically Teo Vee, the guy behind the Click N Flip program has just come up with some sort of "gimmick" to trick you into handing over your cash and buying into his system so he can make some money at your expense.
The whole "picture flipping" thing he talks about doesn't exist…
You see Teo Vee is actually the guy that's behind a program named My Ecom Club, a dodgy program that costs thousands of dollars which promises to help people make money through e-commerce.
And because his My Ecom Club program utilises some dodgy practices (which I talked about in my own review of it) there have been several negative reviews published about it all over the web.
People have been saying that it's BS, that it's expensive, and some have even called it a flat-out scam.
Anyway Teo seems to have come up with a "tricky" way of getting people to sign up without seeing the negative reviews, and that's by launching all of these fake gimmicky systems under different names.
If you search for Click N Flip as I'm writing this review nothing will come up because it's brand new – and that's what Teo wants. He wants you to hand over your cash to "try it out" so he can make some money.
And if you do sign up to Click N Flip (which I don't recommend) that's when you'll find out that what you've actually bought into is the My Ecom Club program because the Click N Flip program doesn't really exist – hence the whole fake picture flipping thing.
This isn't the first weird trick system he's launched though – I recently exposed one called Get This Plan where he claimed you'd be getting access to a passive income from the Vatican investment.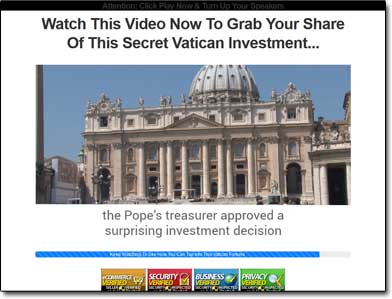 It seems he's just coming up with totally random concepts in the hope of catching peoples interest & getting them to sign up…
Obviously though if you did sign up to either of those systems – the Click N Flip system or the Get This Plan system then you'd likely find yourself pretty disappointed because they both just sell you into the My Ecom Club program, which is something totally different to what you paid for.
And that brings me onto…
Is Click N Flip a Scam?
Honestly, in my opinion, yes it is a scam – because whilst you are ultimately buying into a program through which you are provided with some training (the My Ecom Club program), essentially I feel you're being totally misled into it.
I mean the fact that you're being lied to from the start about the whole picture flipping thing (which actually doesn't exist) isn't good at all – so it's clear that the creator is just trying to trick you to get your cash.
Therefore overall there is simply no way I'll be recommending it to you because I feel like if you sign up to it you're just going to be totally disappointed because what you get access to is NOT what you signed up for… And also the My Ecom Club program which is what you're sold into via it costs thousands of dollars.
The truth is that there's simply no need to spend thousands of dollars or sign up to a program like My Ecom Club which uses tricks to get your money – you could just join a legitimate & platform like Commission Academy for free… And it's there that you'll find success.
Or alternative you could check out one of these other ways to make money online.
But either way whatever you decide to do I just hope that you found my review here insightful & hopefully it helped you save some cash. If you do have any further questions or comments though then please do leave them below & I'll get back to you as soon as I can… I always enjoy hearing from my readers.
A Better Alternative
The sad truth is that unfortunately most of the programs promising to help you make money online are scams. I can say that confidently after exposing over 500+ of them here on this blog.
But the good news is that even though most of them are indeed scams, there are actually some very good programs in amongst them - some programs that can truly help you to earn money.
And out of all of the legit programs I've seen, the one I would recommend the most to anybody looking to get started online is Commission Academy. In my own opinion, that's the best place to start.
At Commission Academy, you'll be provided with everything you need (including the training & tools) to begin earning real money by promoting products or services for companies like Amazon online.
The best part is that there's literally no limit on the amount you can earn with it & the process is pretty simple which means that it's absolutely perfect for people that don't have much experience.
Some wealthy affiliates even earn as much as 5-figures per month... Or more!

I mean don't get me wrong, that kind of money won't just fall into your lap without doing any work... But the harder you're willing to work at it, the more you stand to earn with it.
So if you're looking to get started but don't know which route you should go down or which program you should join (and don't want to waste money on bogus things that don't actually work), then I'd highly recommend checking out Commission Academy first. You can learn more about it here.