The "Get This Plan" system (found at getthisplan.com) claims that it is going to reveal a secret to you which will allegedly see you earning a passive income from a so-called secret Vatican investment.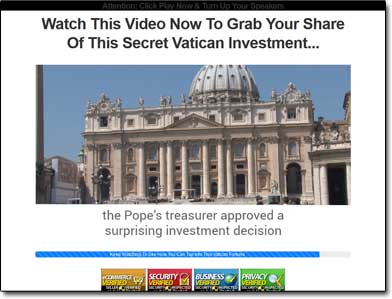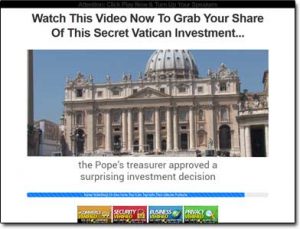 You're told that it's completely legal & that it's actually been authorised by the Pope's treasurer…
But is it really legit?
Can you really get monthly pay-checks from this Vatican investment, or will Get This Plan scam you & just leave you out of pocket instead?
Thankfully you've landed in exactly the right place to find out as I've taken a closer look into this peculiar system to find out what's really going on & in this honest review I'll be sharing the truth about it so you can see for yourself whether or not you can really make any money with it.
What Is Get This Plan?   |   How Does Get This Plan Work?   |   Why You'll Be Disappointed   |   Is Get This Plan a Scam?   |   A Better Alternative
What Is Get This Plan?
The Get This Plan system is a crazy new system which claims that it's going to reveal a secret to you which will allegedly enable you to earn a monthly passive income from a so-called "secret" Vatican investment.

However, the video found on the system website doesn't really go into much detail about how or why you'll be getting paid this money… Instead, it just goes on to really hype you up about how great & easy it will be…
You're told that even if you've never made money online before, even if you have no technical experience or investment knowledge, that you too will be able to still earn lot's of easy money from the Get This Plan system.
But surprise surprise in order to get access to more information you're told that you need to hand over some of your hard-earned cash, and this is very suspicious because this is exactly how a typical get-rich-quick scam works.

They promise you the world, ask you to hand over some money, then they just leave you to find out the hard way that the whole thing doesn't really work as promised after all.
So is that the case of the Get This Plan system? Or can you really make money from the Vatican investment like the anonymous creator of this system claims? Let's take a look to find out…
How Does Get This Plan Work?
Well after taking a closer look into the Get This Plan system & doing some research on it I was actually quite shocked at what I discovered. The whole thing is total BS…
I actually have no idea whatsoever as to why the whole thing has even been produced – because in actual fact the whole thing is just a trick to get you to buy into something called My Ecom Club.
So you're told that you'll be getting access to a "secret" way to earn money from the Vatican investment, but in actual fact, you're just buying into an extremely expensive program that teaches about e-commerce businesses.
And by the way, in my review of the program, I deemed it very suspicious (and potentially a scam) – because it uses many tricks. Fake names, fake addresses, fake income claims etc…
Plus it claims to only cost $97 but after going through the first few initial steps you'll find out that it'll actually cost you thousands of dollars if you wish to continue.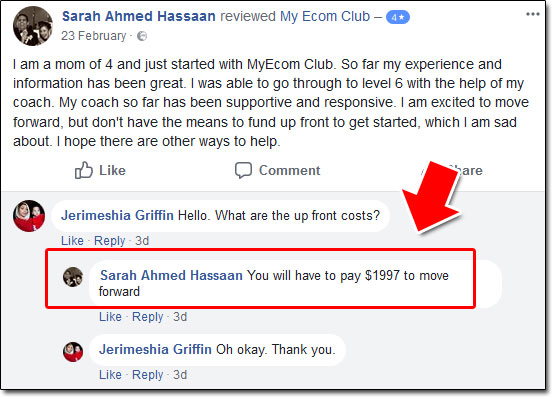 As far as I was concerned whilst there was some training provided, I felt it was just more of a way for its creator (Teo Vanyo) to make himself rich at the expense of others by parting them with their cash.
It's Not The First "Trick" System Either…
Just the other day I exposed another trick system which was selling people into My Ecom Club called the Passive Money Miracle. This system (just like the Get This Plan program) also claimed it was going to provide you with a super-easy way to make money… But in reality, it too was just selling people into My Ecom Club.
So why has Teo Vanyo decided to set up all these tricky systems?
Well, my guess is that he's trying to escape all the negative reviews that have surfaced about his My Ecom Club company so that he can continue getting people to sign up for him to keep making money.
You see when he launched his My Ecom Club program, myself and many others reviewed it & decided it was very suspicious like I mentioned above. Some people even came out to call it a flat-out scam.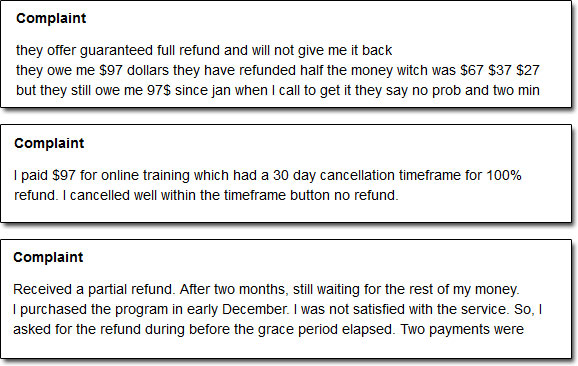 So now if you search for My Ecom Club reviews you'll likely discover that it's pretty bad news… And so I feel Teo has created all of these systems under different names just so he can keep conning people with his system. This way they won't see the reviews, they'll sign up to try it out & Teo will make money at their expense.
You Might Also Like:
Pure Disappointment
There is absolutely no doubt that if you buy into the Get This Plan program by paying $97 that you are going to find yourself utterly disappointed at what you receive. I mean you are expecting to hand over your cash & get access to a way to get an easy passive income from the Vatican investment… But that ain't gonna happen.
Like I say you're just going to be sent through an e-commerce training course instead, and whilst you can make good money with e-commerce there are two big problems here. Firstly, the My Ecom Club training program in my opinion totally sucks (for the price) and secondly, succeeding with e-commerce takes a LOT of work and money.
You are not just going to be able to sign up & start making cash right away like you're led to believe, therefore you're going to be disappointed… Because you're sold on something that you're not actually getting.
If you REALLY want to learn how to make good money online (and are indeed prepared to put in the work required to make it happen) then you should just follow the step-by-step training at a legitimate place like Wealthy Affiliate. It's there that you'll truly find out how to succeed.
So anyway yeah, that brings me onto…
Is Get This Plan a Scam?
In my opinion, it is a scam & the reason I say that is because the whole thing is built on lies & deceit. You're being totally tricked into parting with your cash & buying into something entirely different than what you were promised.
As far as I'm concerned the whole thing has just been set up so that its creator, Teo Vanyo, can make money at the expense of others – and that's why he's employing such tricks (as no legitimate program would).
So overall there is simply no way that I'm going to be recommending the Get This Plan program to you because I just believe that it's an absolute total joke & that if you sign up to it you are just going to end up out of pocket.
If you really want to make good money online then like I mentioned earlier in this review you should just follow the training at a legitimate place like Commission Academy which is proven to work & is free to join. There's no need to waste your time with BS programs like the Get This Plan program.
Whatever you decide to do though one thing I do hope is that my review here helped you save your hard-earned cash – and hopefully it gave you a good insight into how the program really works (or should I say doesn't work).
If you do still happen to have any more questions or comments about it though then don't hesitate to leave them below & I'll get back to you as soon as I can.
A Better Alternative
The sad truth is that unfortunately most of the programs promising to help you make money online are scams. I can say that confidently after exposing over 500+ of them here on this blog.
But the good news is that even though most of them are indeed scams, there are actually some very good programs in amongst them - some programs that can truly help you to earn money.
And out of all of the legit programs I've seen, the one I would recommend the most to anybody looking to get started online is Commission Academy. In my own opinion, that's the best place to start.
At Commission Academy, you'll be provided with everything you need (including the training & tools) to begin earning real money by promoting products or services for companies like Amazon online.
The best part is that there's literally no limit on the amount you can earn with it & the process is pretty simple which means that it's absolutely perfect for people that don't have much experience.
Some wealthy affiliates even earn as much as 5-figures per month... Or more!

I mean don't get me wrong, that kind of money won't just fall into your lap without doing any work... But the harder you're willing to work at it, the more you stand to earn with it.
So if you're looking to get started but don't know which route you should go down or which program you should join (and don't want to waste money on bogus things that don't actually work), then I'd highly recommend checking out Commission Academy first. You can learn more about it here.