The Passive Money Miracle system claims to be a "little-known, yet remarkable system" that can allegedly legally deposit large sums of cash into your bank account each & every day all on complete autopilot…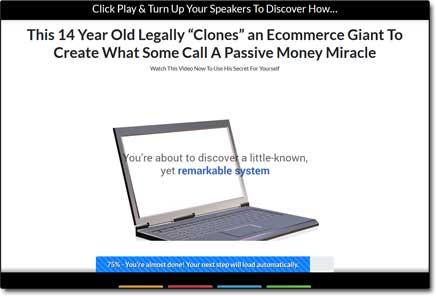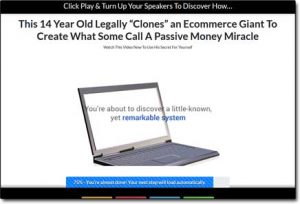 However no doubt you probably think that's an extremely bold claim, and I agree… So what's the deal?
Is the Passive Money Miracle legit or is it a scam that'll just end up parting you with your hard-earned cash instead?
Thankfully you've landed in the right place to find out as I've taken a closer look into it & in this honest review I'll be uncovering the truth about how it all really works, as well as revealing whether or not you can really make any money with it like its creator claims.
What Is Passive Money Miracle?   |   How Does Passive Money Miracle Work?   |   Is Passive Money Miracle a Scam?   |   A Better Alternative
What Is Passive Money Miracle?
The Passive Money Miracle system portrays itself as a super-easy way for you to make lots of money online. So easy in fact that the website states even a 14-year-old is using the same system to generate thousands of dollars per day…

You're led to believe that you'll just be able to sign up, follow some simple instructions & "clone" an e-commerce giant to create a huge passive income which could keep on paying you without you having to do any extra work.
The video goes on to tell you that you don't need any experience, that you don't need any technical knowledge and that you don't even have to have had made a single penny online before. The system is apparently so easy to follow that anybody can just sign up and make money…
But it sounds way too good to be true right?
And sadly to find out any more information about how it all actually works (which isn't revealed in the video) you're forced into handing over a cash sum of $97 – which is when it starts to look like a scam.

You see that's how typical get-rich-quick scams work – they promise you super easy ways to make lots of money but require you to pay some money first… Then after handing over your money they just leave you to find out the hard way that they don't actually work as promised.
You should never really trust anything that doesn't give you all the full details before you hand over your cash… But is the Passive Money Miracle any different? Can you actually make any money with it?
Let's take a look…
How Does Passive Money Miracle Work?
Okay so like I mentioned above in the previous section of this review the Passive Money Miracle website itself gives absolutely no indication away as to how the whole thing actually works. Instead of the video just basically sells you in how easy & lucrative it supposedly is…
However, I did some digging & I managed to find out exactly what's really going on…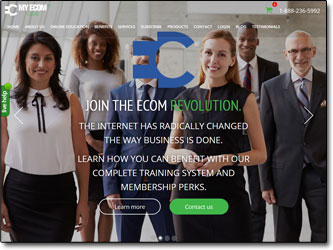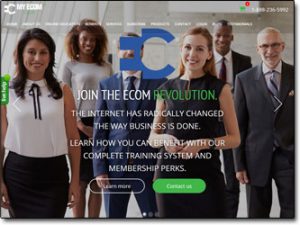 The truth is that rather than being a super-easy way to make money, the Passive Money Miracle system is actually just a sales funnel that's been put together to trick you into purchasing something called My Ecom Club.
My Ecom Club is a program that was launched by a guy named Teo Vanyo & when I reviewed it I came to the conclusion that it was all very suspicious. The company was using fake names, fake addresses, and was charging people thousands of dollars for training that they were told was only going to cost $97.
Obviously I, therefore, came to the conclusion not to recommend it, and as did several other reviewers who looked into it… They too thought it was all very suspicious & some even called it a flat-out scam.
So it looks like Tea & his team have come up with a sneaky way of avoiding the negative reviews that were published about his program & that's by creating other programs under different names that trick people into buying it.
For example, the Passive Money Miracle system is one of these tricks like I just mentioned & so after handing over $97 to buy into that program you'll just be left to find out that you've actually bought into My Ecom Club… Even though that was never mentioned!
And the Passive Money Miracle system isn't the first trick system I've come across selling people into My Ecom Club. There have actually been several others – and they all boast similar hyped-up promises.
As you can probably guess though, sadly the promises don't hold true.
YES, you can make money with the methods taught via the My Ecom Club program – however firstly it's very expensive, and secondly, it requires a LOT of hard work & dedication. It's not just a push-button way to make money like it's made out to be.
In my opinion, you'd be much better off just going through a free training program like Wealthy Affiliate instead. There's no need to spend thousands of dollars on bogus training when you can get much better training for free.
Anyway, I think you probably get the idea, which brings me onto…
Is Passive Money Miracle a Scam?
In my opinion yes, it is a scam. I mean sure – as I mentioned you do indeed get access to some training after handing over your cash, but as far as I'm concerned you're "tricked" into buying it… And the whole thing is built upon pure lies.
There is simply no way you're going to make money anywhere nearly as easily as the Passive Money Miracle website makes out you will – in fact, the chances are that you'll just end up losing money instead due to how extremely expensive the program is.
In my opinion, the whole thing is just set out to make its creator wealthy at your expense – it's not really set out to help you as it claims. If it was, it would be honest & upfront about what's involved – and it would explain about the amount of work you need to put in to find success (which is a lot!).
Instead, it promises you access to some almost magical "push button" system that's just going to make you money on complete autopilot which is total BS. Nothing like that exists & it never will.
So obviously there is no way I am going to be recommending it to you because as far as I'm concerned it's bad news & it'll just leave you out of pocket. If you really want to learn how to make good money online then just join a free, legitimate & proven training program like Commission Academy instead. It's there that you'll find success.
But whatever you decide to do I just hope that my review here has been insightful & more importantly I hope it's helped prevent you from losing your hard-earned cash to this trickster system. If you do happen to have any further questions though or any comments you'd like to add then don't hesitate to leave them below & I'll get back to you as soon as I can.
A Better Alternative
The sad truth is that unfortunately most of the programs promising to help you make money online are scams. I can say that confidently after exposing over 500+ of them here on this blog.
But the good news is that even though most of them are indeed scams, there are actually some very good programs in amongst them - some programs that can truly help you to earn money.
And out of all of the legit programs I've seen, the one I would recommend the most to anybody looking to get started online is Commission Academy. In my own opinion, that's the best place to start.
At Commission Academy, you'll be provided with everything you need (including the training & tools) to begin earning real money by promoting products or services for companies like Amazon online.
The best part is that there's literally no limit on the amount you can earn with it & the process is pretty simple which means that it's absolutely perfect for people that don't have much experience.
Some wealthy affiliates even earn as much as 5-figures per month... Or more!


I mean don't get me wrong, that kind of money won't just fall into your lap without doing any work... But the harder you're willing to work at it, the more you stand to earn with it.
So if you're looking to get started but don't know which route you should go down or which program you should join (and don't want to waste money on bogus things that don't actually work), then I'd highly recommend checking out Commission Academy first. You can learn more about it here.