CoinBulb is a PTC website through which you can supposedly earn Bitcoins by clicking on adverts – or alternatively if you're an advertiser it's a website through which you can promote your product or service (and by the way PTC stands for Pay-To-Click)…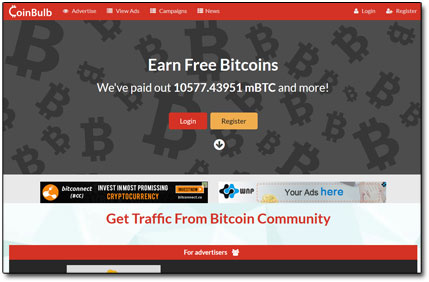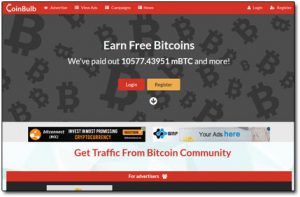 But the question is, is it actually legit or is CoinBulb a scam? And can really make money through them as either a "clicker" or advertiser? I've done the digging to find out & in this review I'm going to be uncovering everything there is you need to know.
So if you've been thinking about joining CoinBulb then you can rest assured that you've landed in the right place to find out whether or not it will actually be worthwhile, and on that note let's dive right in to see what it's all about.
What Is CoinBulb?   |   How Does CoinBulb Work?   |   Payment Proof   |   Is CoinBulb a Scam?   |   A Better Alternative
What Is CoinBulb?
As I briefly touched on above CoinBulb is what's known as a PTC website which stands for Pay-To-Click. As the name suggests this is a website that will pay you (or will supposedly pay you) for clicking on advertisements.
It's not the first PTC site I've come across, in fact I've actually come across quite a few but sadly whilst there are some legit ones many of them are actually scams. The good thing I can confirm right from the off here is that CoinBulb is not a scam.
So CoinBulb is indeed a legitimate website that will pay you for clicking ads – but despite it being legit I will still not be recommending it because in my opinions there are a few problems with it which you'll find out more about as you read this review…
Hint: one of the main reasons I don't recommend it is because in comparison to other opportunities to make money PTC sites like CoinBulb pay very little money in return for your time.
It's also not so great for advertisers, but as I say you'll find out why if you keep reading…
How Does CoinBulb Work?
Often people are very skeptical about these PTC sites because they think that there is no way that a website would pay you just for clicking. Well, that's kind of half true – they don't really pay you just for clicking. Instead you will have to click on an advert & then you will have to view the ad for a specified amount of time before you earn any money, usually this is around 20 to 30 seconds but sometimes it's over a minute.
Anyway it's still super easy, but as a result because it's so easy they only pay you a very little amount. Typical PTC sites that pay in dollars often don't even pay you a single cent per click, but this one pays in Bitcoin instead. Despite paying in Bitcoin they still don't pay out very much per click as you can only earn a maximum of 0.00110 mBTC per click.
At a glance that might seem like quite a bit of Bitcoin just for clicking but notice the "m" in front of BTC – that means milliBTC & so in USD 0.00110 mBTC only actually equals $0.0144.
So let me just reiterate you will only be earning a maximum of $0.0144 per click which I think you'll agree is a VERY small amount. That's one of the main reasons why I don't really recommend these types of websites… I know it's a bit harsh but in my opinion it's just a waste of time.
Where Does The Money Come From?
Okay so CoinBulb is basically just a middleman between advertisers & "clickers". They let advertisers purchase slots on their website & then they pay people to click on them – but obviously they keep a portion of the money for themselves for providing the service.
So the advertisers are happy because they're getting clicks, CoinBulb are happy because they're getting a percentage of the money spent, and you are happy (well happy-ish) because you are getting paid despite it not being very much.
The advertisers are obviously made aware that people will be getting paid to click on the ads, but because of this they get sold the advertising very cheap because CoinBulb know that 99% of the people clicking the ads will not actually be interested in the advertisers product or service, they are just clicking it to make money. That's why these companies never pay out any decent money.
This type of advertising is a big risk to advertisers & usually it never really works out for them – they'll just buy this cheap advertising in the hope that "somebody" who clicks will be interested in whatever it is they're offering. Sadly most people never are but thankfully there are enough advertisers willing to try it out at least once to keep these kind of things afloat.
CoinBulb Payment Proof
Whenever you are looking into a PTC site (or any make money opportunity) for that matter it's often a good idea to look for payment proof… Are people really getting paid, or is it a scam?
Well CoinBulb understand that you will be looking for proof so that they have put up a dedicated page on their website showing you all of the latest transactions & withdrawals that are going on.
There are no photos or videos or anything, just a transaction log so this in itself is not really "proof" as I've seen companies fake them, but in this instance I've done my due diligence & can confirm that the CoinBulb payment proof page is legit.
Here is a screenshot:
Also out of around 100 payouts it seems only 1 of them has been rejected. I am not sure why it has been rejected as there is no information but it is likely because the "clicker" was trying to cheat the system – it happens a lot on these types of sites unfortunately.
You Might Also Like:
Is CoinBulb a Scam or Legit?
I'm confident here in saying that CoinBulb is legit & when it comes to PTC websites it's rare I say that because I've actually only come across around 1 other legit PTC website before this one which was Wad Ojooo.
However even though I say the website is legit & not a scam I still won't be recommending it & the reason for that is simply because it pays so little. I mean you are going to be investing quite a fair amount of time into clicking on ads through this website & you are not really going to be earning anything exciting in return.
You could be using your time much more wisely & going through a program like Commission Academy for example instead through which you could eventually build a full-time income online. Here at CoinBulb no matter how hard you work your earnings will never increase because you are getting paid fixed amounts & you can only ever click on a maximum of 10 ads per day which is pretty rubbish.
So yes CoinBulb is legit but in my opinion it is simply not worth it. Anyway, that's all I'm going to say about it because hopefully you will look around this blog & find a better opportunity instead… But if you do have any further questions or comments feel free to leave them below.
A Better Alternative
The sad truth is that unfortunately most of the programs promising to help you make money online are scams. I can say that confidently after exposing over 500+ of them here on this blog.
But the good news is that even though most of them are indeed scams, there are actually some very good programs in amongst them - some programs that can truly help you to earn money.
And out of all of the legit programs I've seen, the one I would recommend the most to anybody looking to get started online is Commission Academy. In my own opinion, that's the best place to start.
At Commission Academy, you'll be provided with everything you need (including the training & tools) to begin earning real money by promoting products or services for companies like Amazon online.
The best part is that there's literally no limit on the amount you can earn with it & the process is pretty simple which means that it's absolutely perfect for people that don't have much experience.
Some wealthy affiliates even earn as much as 5-figures per month... Or more!

I mean don't get me wrong, that kind of money won't just fall into your lap without doing any work... But the harder you're willing to work at it, the more you stand to earn with it.
So if you're looking to get started but don't know which route you should go down or which program you should join (and don't want to waste money on bogus things that don't actually work), then I'd highly recommend checking out Commission Academy first. You can learn more about it here.