The Crypto Cash For Beginners program has been allegedly put together by a guy named Edward Clark & through it you're led to believe that you'll be getting access to some sort of "secret" which can enable absolutely anybody to begin generating thousands of dollars from the cryptocurrency market.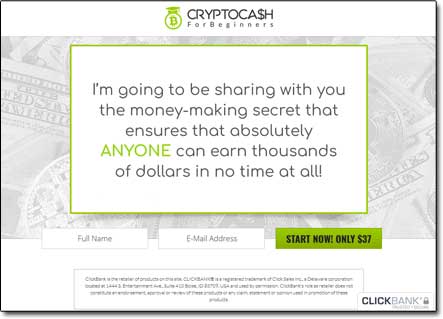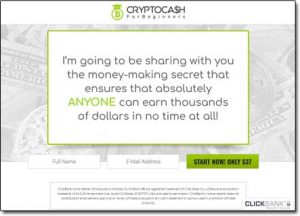 For just a $37 access fee you're told that you can get instant access to the program & that you can start making money the very same day…
But is it really legit or is Crypto Cash For Beginners a scam?
Thankfully though you've landed in exactly the right place because I've taken a closer look into it & in this review, I'm going to be uncovering everything you need to know about it including whether or not you can really make any money with it.
What Is Crypto Cash For Beginners?   |   How Does It Work?   |   Taking a Reality Check   |   What You Actually Get   |   Is Crypto Cash For Beginners a Scam?   |   A Better Alternative
What Is Crypto Cash For Beginners?
Crypto Cash For Beginners is one of the latest products being sold through the ClickBank marketplace promising to provide people with a magical way to begin earning thousands of dollars through cryptocurrency even if they have absolutely no experience with it whatsoever.
The site makes the extremely bold claim that you'll be able to sign up and turn $5 into $5,000 within just 20 minutes… And it's creator Edward Clark wants you to believe that you can do that over & over again.

Essentially he wants to make you believe that his system will generate you unlimited wealth, but surprisingly all he wants for you to get access is a mere $37.
Pay him $37, you get the secret & you can begin (allegedly) turning $5 into $5,000 every 20 minutes.
Sounds crazy right? Well, that's because it is crazy! You know what they say about things that sound too good to be true… They usually are! And in this instance, I can confirm that it definitely is.
This is just another program that's going to be joining a long list of ClickBank crypto scams such as the Crypto Coin Sniper, Crypto Cash System & Crypto Dukes. They're all totally fake.
But obviously I appreciate that you might have been really hoping that this system would work for you so I'm not just going to expect you to merely take my word for it when I say it's a scam. Instead, I'll show you exactly how it all works so you can see for yourself what's really going on.
How Does Crypto Cash For Beginners Work?
Prior to handing over your money I'll admit that the whole thing looks pretty darn promising, especially if you're new to making money online. Often most people are sceptical about promises of making lot's of money really quickly (and rightly so) but when it comes to cryptocurrency peoples perspectives change a little…
They consider that "maybe it's actually true", and that's likely because they don't have a proper understanding of cryptocurrency or because they have seen the many stories hitting the headlines about people becoming overnight crypto-millionaires.

Because of this many scammers online have switched their focus from pushing traditional get-rich-quick schemes (which not so many people fall for nowadays) to pushing cryptocurrency scams instead.
The reason they're doing this is that they know it's easier to make people fall for them based off what I've said above.
However, the truth is that not actually all that many people actually made money from crypto… And those that did got really darn lucky. Right now the price of crypto is actually falling & in reality it's pretty darn difficult to make money from it.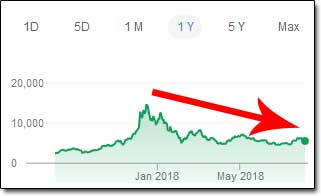 But that doesn't stop people trying to cash in by selling you bogus cryptocurrency training programs, which is exactly what the Crypto Cash For Beginners system is.
Time For a Reality Check
If the guy behind the Crypto Cash For Beginners program (who claims to be named Edward Clark) truly had a "secret" method for turning $5 into $5,000 every 20 minutes through crypto do you really think he would be selling access to it for $37?
I mean for $37 would be absolute peanuts to him so why would he bother charging? He may as well just give it away for free… And if he really wanted to make money from it then why doesn't he sell it for millions? After all the method could generate you $360,000 per day if it were actually true.
If I had the money I'd sure as heck pay a million for something that could legitimately generate me $360,000 per day.. Anybody would!
The sad truth is that it simply doesn't work as promised & instead he's just trying to make his money at the expense of others by selling them into some over-hyped bogus training platform. He probably hasn't even made a dime through crypto himself & it's highly unlikely that his names really Edward Clark.
The whole thing's a con!
You Might Also Like:
What You Actually Get For Your $37…
After handing over your money all you really get access too is some extremely basic training on cryptocurrency trading. It's basically just an "introduction to cryptocurrency" more than anything else & it's training you could quite easily find elsewhere online completely free of charge.
You're essentially just told to "buy low & sell high" which I think you'll agree is pretty obvious stuff…
But after going through what training there is it's then that you get to find out the true intention of the program, which is to funnel you through into something called CryptoHopper, which is an online trading platform.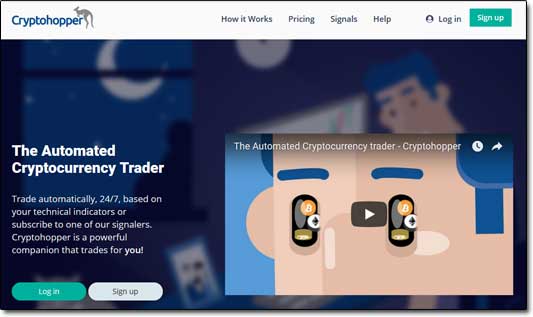 You'll be told to join there, deposit some money & follow the instructions.
The creator of the Crypto Cash For Beginners system makes out like you'll be guaranteed to make money through the CryptoHopper trading platform but again that's just another lie.
The only reason he really wants you to sign up there is that if you do, he'll get paid a commission. Then when you do actually start trading you'll be left to find out that it isn't quite as easy as promised.
Instead of making profits, you'll likely make nothing but losses… However, by this point, the creator of the Crypto Cash For Beginners doesn't care. He's already got his $37 & he's now been paid his commission for getting you to deposit with CryptoHopper. You've been tricked!
Which brings me onto…
Is Crypto Cash For Beginners a Scam?
Well, I guess "scam" isn't really the right word for it, because after handing over your cash you do indeed get some training in return for your money (even if it totally rubbish). However, it's clear to me the whole thing is built upon lies.
There is simply no way that you'll be able to "easily" turn $5 into $5,000 – and to be honest it's unlikely that you'll actually make any money at all. The reality is that you'll probably just end up losing it, and you could end up losing an awful lot too.
Like I say the whole thing is just a trick to get you to sign up with the CryptoHopper platform so that the creator of the whole thing can earn a commission at your expense. He (or she) whoever is really behind it doesn't care about your success at all.
So for that reason, I won't be recommending it to you because I know you'll just be disappointed and I also know there are much better ways to make money online.
One of the best ways I've personally come across to make money online is something called affiliate marketing & that's the same way I still make most of my income online right to this very day – it's an awesome method & if you want to you can learn more about it over at Commission Academy.
But overall I just hope my review here has helped prevent you from losing your hard-earned cash to the Crypto Cash For Beginners system & hopefully it's given you the insight into the program that you were looking for.
If you do still happen to have any further questions then don't hesitate to leave them below & I'll do my best to get back to you as quickly as possible.
A Better Alternative
The sad truth is that unfortunately most of the programs promising to help you make money online are scams. I can say that confidently after exposing over 500+ of them here on this blog.
But the good news is that even though most of them are indeed scams, there are actually some very good programs in amongst them - some programs that can truly help you to earn money.
And out of all of the legit programs I've seen, the one I would recommend the most to anybody looking to get started online is Commission Academy. In my own opinion, that's the best place to start.
At Commission Academy, you'll be provided with everything you need (including the training & tools) to begin earning real money by promoting products or services for companies like Amazon online.
The best part is that there's literally no limit on the amount you can earn with it & the process is pretty simple which means that it's absolutely perfect for people that don't have much experience.
Some wealthy affiliates even earn as much as 5-figures per month... Or more!

I mean don't get me wrong, that kind of money won't just fall into your lap without doing any work... But the harder you're willing to work at it, the more you stand to earn with it.
So if you're looking to get started but don't know which route you should go down or which program you should join (and don't want to waste money on bogus things that don't actually work), then I'd highly recommend checking out Commission Academy first. You can learn more about it here.