The Cryptorobo system promises to be able to make you profits of over $5,830 per day on complete autopilot & claims that its revolutionary algorithm can win over 93% of all trades placed (a very bold claim I think you'll agree).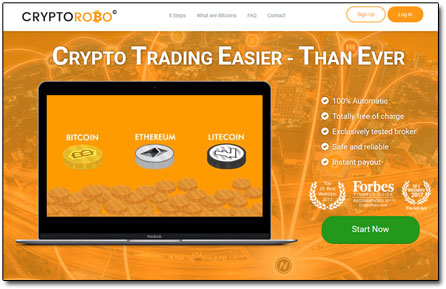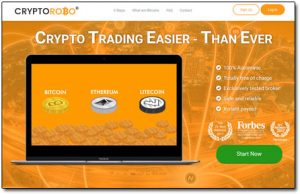 But what's the deal here? Is it actually legit or Cryptorobo a scam that's just set to part you of your hard-earned cash?
Thankfully you've landed in the right place to find out as I'm going to be uncovering literally everything there is to know right here in this review.
So if you've been thinking about trying out Cryptorobo be sure to keep reading because there's definitely something things you'll want to know before you hand over your cash (and after reading them you likely won't want to hand over your cash at all).
What Is Cryptorobo?   |   How Does Cryptorobo Work?   |   Is Cryptorobo a Scam?   |   A Better Alternative
What Is Cryptorobo?
Cryptorobo claims to be an automated trading system that can generate you profitable trades on complete autopilot. You're led to believe that you can simply sign up to the system, push a button & begin making money.
At a glance it seems ideal – I mean who wouldn't want an automated way of making over $5,830 per day? I mean heck come on that equates to something like $174,900 per month & to earn all that money Cryptorobo claims that you don't even have to do anything…
Sadly though as you probably suspect the reality is not quite as great.
But hey, what can you expect from a website that lies about appearing in Forbes (as well as many other publications)?


And if you think that's the only lie told by Cryptorobo think again, the whole website is literally built up on lies. It's clear to me what's really going on here with this system as I've seen this exact scam several times before.
How Does Cryptorobo Work?
Well, the first thing I want to stress is the fact that Cryptorobo doesn't work, at least not in the way they promise you it does anyway. You're led to believe that this system will generate you autopilot profits but I can tell you right now that it will do nothing other than part you with your money.
How can I be so sure? I've seen this exact same type of scam launched under several different names recently. I've been regularly exposing it on my blog, it's previously been called The Crypto Genius system, The Crypto Edge System & The Bitcoin Code.
All of these programs work in exactly the same way & they are likely all connected – it seems that they just keep changing their names so that they can escape the negative reviews to continue scamming more people of their hard-earned cash.
Cryptorobo is actually nothing more than a binary options scam, so the only people that are going to be making money from it are the creators & the affiliates that are going around promoting it.
The scam works like this…
The person (or people) who created the Cryptorobo system have affiliated themselves with a binary options broker. This basically means that if they get people to sign up with the broker & deposit funds they will earn a commission (which will often be hundreds of dollars for every person they get to sign up).
Basically, the only reason they have created the Cryptorobo system is to get more people to sign up & deposit with the broker that they are affiliated with so that they can earn more commissions.
This wouldn't be bad if the system actually worked, but it doesn't. The Cryptorobo system is nothing more than false-hype that's been put together to make you think that you will be able to automatically generate profits.
Providing they can get you to think that you will be able to profit they know that you will go ahead & sign up & deposit funds to try it out. It is only at this point that you will realize that it doesn't actually work as promised but unfortunately by this point it will already be too late because they will have parted you with your cash & earned themselves a big fat commission for doing so.
And if you think you can simply withdraw your money back out via the broker then think again… The brokers are in on it too.
Yes, it's sad but it's true, that's why Forbes recently published an article warning people about the dangers of binary options trading (seen below) and the USA along with several other countries even took action to completely ban it. Basically, the whole binary options industry is full of rogues.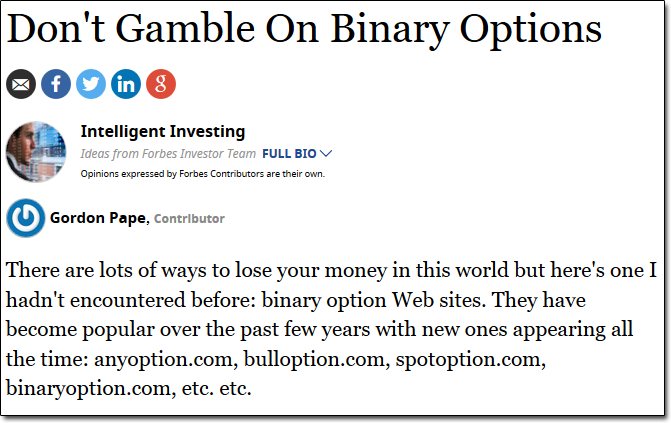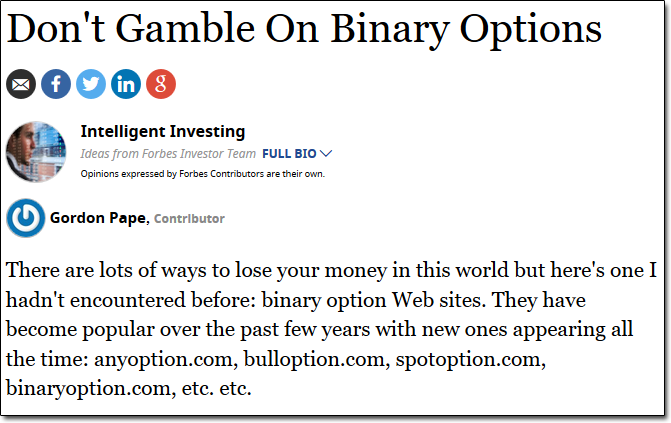 So what I am saying is that despite looking convincing, the Cryptorobo system is actually just a fake. Yes, there is a system in place, but I can tell you that it will not generate you any profitable trades – instead, your trades will all be losses.
They are just saying & showing you whatever they can to try & get you to "try it out" because that's how they will catch you. They want you to think that you can try it out risk-free but there is nothing risk-free about it… Any money you deposit will be gone for good, even if you don't trade with it all… The brokers will not let you have any of it back once it is in their possession.
Think about this…
Binary brokers (like the one recommended via Cryptorobo) only make money when people LOSE, this is because they do not add fees to their trades. So why on earth would they pay the creators of the Cryptorobo system a commission if all of the members they were referring were "beating the brokers"?
Simple, they wouldn't because it would be putting them out of business… This is sign #1 that it doesn't actually work.
Secondly, if Cryptorobo really could generate people profits of $5,830 per day without them actually having to do anything then do you really think they would have to lie about being featured in Forbes, CNN etc…
No, of course not! These places would be begging for interviews with Cryptorobo because it would totally rock the world. Everybody would be quitting their jobs & earning money via this automated system instead… This is sign #2 that it doesn't actually work.
Sign #3 is the fact that they are paying affiliates to promote Cryptorobo… Why on earth would you need to pay people to get them to sign up to this? And why would affiliates waste their time promoting it when they could just sign up to it & generate $5,830 per day without doing anything?
Drum roll, please…
Because it doesn't actually work!
You Might Also Like:
Is Cryptorobo a Scam?
Yes, I can clearly see that this particular program is 100% a scam. The internet provides you with many opportunities to make money but there are certainly none that will generate you so much money so quickly without you having to actually do anything.
If such a thing existed & actually worked then everybody would be doing it. Who on earth would be working a job when they could be earning $5,830 per day from wherever they are in the world without them having to do anything? Pretty much nobody I'd imagine – instead, they'd be vacationing & doing the things they actually want to do.
So yes, it's clear that this system is a phoney & as I say it's just a re-hashed version of the other cryptocurrency binary options scams I've exposed before on this blog like The Ethereum Code for example. They are bad news and you should stay away from them.
Honestly, if you really want to make money online then there are legitimate ways to do it, but if you want to make anything substantial then you must be prepared to put in at least some amount of work & understand that it isn't going to happen overnight… But if you are willing to work towards it then Commission Academy would be a very good place for you to start in my opinion.
Anyway, I hope you enjoyed reading this Cryptorobo review & of course I hope I was able to prevent you from losing money to this program. If you do happen to have any further comments or maybe some questions then please feel free to leave them below.
A Better Alternative
The sad truth is that unfortunately most of the programs promising to help you make money online are scams. I can say that confidently after exposing over 500+ of them here on this blog.
But the good news is that even though most of them are indeed scams, there are actually some very good programs in amongst them - some programs that can truly help you to earn money.
And out of all of the legit programs I've seen, the one I would recommend the most to anybody looking to get started online is Commission Academy. In my own opinion, that's the best place to start.
At Commission Academy, you'll be provided with everything you need (including the training & tools) to begin earning real money by promoting products or services for companies like Amazon online.
The best part is that there's literally no limit on the amount you can earn with it & the process is pretty simple which means that it's absolutely perfect for people that don't have much experience.
Some wealthy affiliates even earn as much as 5-figures per month... Or more!

I mean don't get me wrong, that kind of money won't just fall into your lap without doing any work... But the harder you're willing to work at it, the more you stand to earn with it.
So if you're looking to get started but don't know which route you should go down or which program you should join (and don't want to waste money on bogus things that don't actually work), then I'd highly recommend checking out Commission Academy first. You can learn more about it here.