In this review, I'm going to be taking a closer look at the Desert Millionaire system which claims it can make you in excess of $70,000 per month through automated binary options trades online.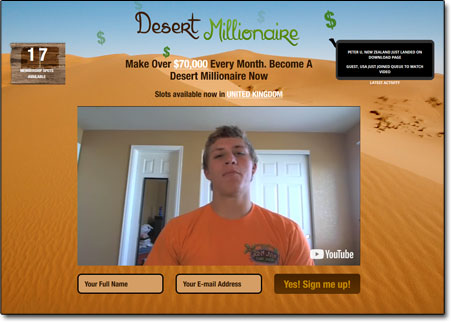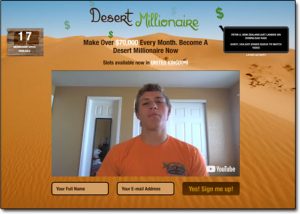 The creator of the system says that "it will make you seriously rich" (his words, not mine), and that he's even going to give you access to it for free.
But is it actually legit?
Or is the Desert Millionaire a scam?
Well, you've come to the right place to find out as I've personally taken a closer look into it & in this honest Desert Millionaire review I'll be uncovering the truth about how it really works.
What Is Desert Millionaire?   |   How Does Desert Millionaire Work?   |   The Lies   |   The Trick That Catches People Out   |   Is Desert Millionaire a Scam?   |   A Better Alternative
What Is Desert Millionaire?
The Desert Millionaire system is an automated binary options trading platform that claims it can generate you guaranteed profitable trades on complete autopilot, even if you know nothing about trading.
The system supposedly works using a special algorithm that detects trends on Middle-East based assets (hence the name Desert Millionaire) & the creator claims it can easily make you $70,000 per month.
Which I think you'll agree that's a pretty bold claim, especially since you're allegedly able to make all that money without doing anything or paying anything upfront other than the deposit with the broker.
How Does Desert Millionaire Work?
You're led to believe that all you need to do is create a free account, deposit funds with the broker they recommend to you, hit the "start trading" button & that you'll start seeing floods of money coming into your account.
However sadly, in reality, it doesn't quite like work like that, in fact, I can confirm that the Desert Millionaire system is no different to any of the other binary options scams that have come before it.
Basically, this system has been created by a group of internet marketers, not by some Middle-Eastern based traders as you're led to believe – and those marketers are simply out to take your cash.
They've essentially affiliated themselves with a handful of broker companies & this means that they get paid commissions for each new member they get to sign up & deposit funds with any of those companies.
And when you join the Desert Millionaire system you'll find yourself forced to sign up with one of their "recommended" brokers before you can access the system, even if you already have a trading account elsewhere.
The reason they're "recommending" these brokers to you is simple – it's because these are the companies they're affiliated with & they'll earn a commission if you then go on to sign up & deposit funds.
The Lies
The entire Desert Millionaire system is built on complete lies, it's all just a ploy to make you think that you'll be able to profit so that you'll be more likely to go ahead & sign up with one of their "recommended" brokers.
It's only after you make your deposit that you'll find out the system doesn't actually work as promised, but unfortunately, by this point, it'll be too late because of course, they'll have already got your cash from you.
And if you think you'll be able to just withdraw it back out think again, the brokers these guys work with are also rogue brokers & they'll make it very difficult (well almost impossible) for you to get any of your money back.
Just take a look at this screenshot from their earnings disclaimer:

All throughout their website, sales videos & other marketing material, they promise you insane guaranteed profits of over $70,000 per month & then hidden away in their earnings disclaimer they say that you might actually lose all your money.
And sadly the latter is much, much more likely.
In fact, let me correct that sentence – there is absolutely no way you will make money through this system. After depositing any funds (which I don't recommend you do) you won't see any of those promised profits, instead, you'll just see your account balance quickly depleting as the trades made by the system turn out to be nothing but losses.
The Trick That Catches People Out…
The reason there are so many of these binary options scams is that frankly, they're so good at scamming people out of their money – and they do it by lulling them into a false sense of security.
Basically, they make you feel like the system is free & that you can just try it out without any real risk to your money – they basically make you feel like you can just withdraw your cash if it doesn't work as promised.
But that's where the problem lies because you can't just withdraw your cash back out because the brokers are in on the whole thing too & they'll make it next to impossible for you to get your money back.
Basically, any money you deposit will be gone for good – even if you don't trade it all. The brokers generally either point blank refuse withdrawal requests or use tricks to make your money "disappear".
You Might Also Like:
Is Desert Millionaire a Scam?
Yes, it is, it's obvious to me that this system is nothing but a scam that's been designed to part you with your hard-earned cash by getting you to sign up & deposit funds with a rogue binary options broker.
It consists of nothing but lies in an attempt to hype you up about the potential opportunity of making easy money online (which doesn't exist) & then gives you access to a duff system which doesn't work as promised.
The internet provides people with a whole variety of ways to make money from home but sadly it's not magical & there are none that will make you rich without you actually doing anything.
It's clear to me that this system is just preying on people who are in the most desperate financial situations who are willing to try anything or people who are new to making money online who don't really know how it works.
Therefore as you can probably guess I won't be recommending this system to you because it's definitely a scam that's merely out to part you with your hard-earned cash & I advise you stay away from it.
A Better Alternative
The sad truth is that unfortunately most of the programs promising to help you make money online are scams. I can say that confidently after exposing over 500+ of them here on this blog.
But the good news is that even though most of them are indeed scams, there are actually some very good programs in amongst them - some programs that can truly help you to earn money.
And out of all of the legit programs I've seen, the one I would recommend the most to anybody looking to get started online is Commission Academy. In my own opinion, that's the best place to start.
At Commission Academy, you'll be provided with everything you need (including the training & tools) to begin earning real money by promoting products or services for companies like Amazon online.
The best part is that there's literally no limit on the amount you can earn with it & the process is pretty simple which means that it's absolutely perfect for people that don't have much experience.
Some wealthy affiliates even earn as much as 5-figures per month... Or more!

I mean don't get me wrong, that kind of money won't just fall into your lap without doing any work... But the harder you're willing to work at it, the more you stand to earn with it.
So if you're looking to get started but don't know which route you should go down or which program you should join (and don't want to waste money on bogus things that don't actually work), then I'd highly recommend checking out Commission Academy first. You can learn more about it here.