Are you considering investing in James Kuck's Digital Real Estate course (otherwise known as the DRE Shortcuts Opportunity)?
If so, you're probably wondering if it's worth the investment or if it's just another scam to avoid.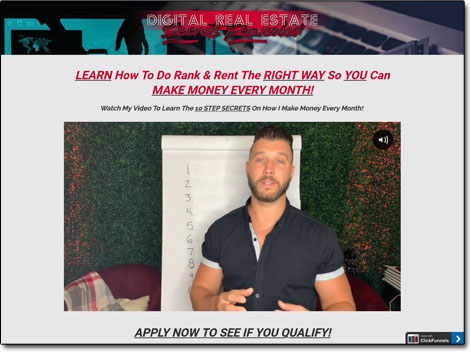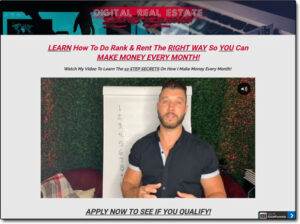 Well, in short, the Digital Real Estate Program is an online lead generation course that teaches how to generate money online by creating local lead generation websites, ranking them in search engines, and then renting them to local business owners for a commission.
We've done the research, and in this in-depth review, we'll take a look at the course and its features, as well as the pros and cons, to give you a better idea of how the program works and if it's right for you.
By the end of this review, you should have a better understanding of the program and whether or not it's actually worth investing in. So without further ado, let's get started.
What Is Digital Real Estate?
As we briefly mentioned above, "Digital Real Estate" is a course that teaches students how to create local lead generation websites, rank them on search engines like Google, and then rent them to local business owners for a commission.
These types of websites are commonly referred to as "lead magnets." When someone visits the lead magnet, they fill out a lead form that gives the person running the website their contact information. This information is then used to build a local clientele for the website owner, who owns the lead magnet.
The idea behind this online course is to earn money online by generating leads for businesses. A good example of a lead magnet is a "Free Water Test" sign. If you own a local water treatment business, you could create a lead magnet using that sign.
Then, you can promote your business both online on your website and offline by getting people to visit the lead magnet website. You can also target your leads based on the type of water they have in their home.
This leads to a higher conversion rate, which makes the website more appealing to local business owners.
The method itself can indeed work & there are people certainly making money from local lead generation websites like these… But is the DRE Shortcuts Opportunity the course that'll get you making money as well?
We'll find out in a moment, but first, let's take a look at who's actually behind it.
Who Is Behind The Digital Real Estate Course?
James Kuck is the founder and creator of the Digital Real Estate Course.
He is an online marketer and co-founder of several online businesses, such as My Media Pal, which is an online hub for learning digital services.
He also owns a YouTube channel where he offers free educational videos. At the time of this review's publication, the channel had over 13.7K subscribers.
And there's no doubt about it, his YouTube channel offers solid value. But does that value flow through into his DRE Shortcuts Opportunity course? Let's take a look inside to find out.
How Does Digital Real Estate Work?
Digital Real Estate gives students access to its online course on how to create lead magnets and rent them, which they can then use with their clients and the techniques they learned to increase repeat business and grow their online business over time.
In this section of our review, we'll be taking a look at how the Digital Real Estate course works in practice now that we know a bit more about its creator, James Kuck.
The course is structured around a simple 10-step process that has been broken down as follows:
1. Choosing a Niche
The first step in engaging in Digital Real Estate is determining your market niche, as selecting a certain niche to focus on is important while establishing your web presence.
To put it simply, it will be the backbone of your digital real estate business, and if not handled correctly from the outset, it might make or break it.
It is also important that you avoid picking a highly competitive market; doing so will make ranking your site and generating leads much easier.
There's a need to choose a niche that interests you and that you know enough about to share with others. This isn't required, but it might be helpful as you learn more about this new area. It'll also make creating content for it much easier & much more enjoyable.
However, it is most important to make sure that the chosen niche has the potential to be lucrative.
2. Choosing the Location
The main goals of the Digital Real Estate course are to build websites that bring in leads and sell those leads to local businesses. That's why it is crucial to decide which location to focus on.
This brings us to the second step in the Digital Real Estate course, which is choosing the ideal location because it is just as crucial as selecting the ideal niche.
Finding the ideal niche, where there is little to no competition, and then a location that isn't overcrowded, however, can be difficult. This is an area where Digital Real Estate might be useful by informing and guiding you on what needs to be done.
It would also be best to choose a location that is both inexpensive and not too populated.
3. Picking a Relevant Domain Name
Your website's internet address is determined by your domain name. A domain name is exclusive and cannot be used by another website. Users enter this into the search bar of their browser to go directly to your website.
Because the goal of this business is to make local websites that local businesses can rent, you need a domain name that not only describes your business but also has the potential to rank well locally and, most importantly, within the required locations.
One of the best ways to make a domain name that stands out from the rest is to include both your location and your niche. This summarizes your main idea and gives your client a hint as to what your digital real estate is all about.
In his course, James Kuck will explain how to pick an appropriate domain name so you can begin creating your digital real estate website.
4. Create, Design, And Optimize Your Website
The next step in building your digital real estate is to buy hosting and start creating, designing, and optimizing your website.
There are many companies, like BlueHost, DreamHost, GoDaddy, and others, that offer hosting services at prices that are quite affordable.
You can also start from scratch and build your own site, or you can choose from a number of real estate themes that are made for lead magnets.
Then you can make your own website, which doesn't require advanced knowledge of coding or web development because this course will teach you the basics.
The next step is to set up your website so that it gets a lot of organic traffic and ranks highly on Google. Even though you can buy traffic, it's better to begin by focusing on getting your website to the first page of search results organically.
However, it's important to pay attention to your website's design and how to give readers the experience they want. When a potential client visits your site, it's all about making a good first impression and giving them a reason to want to return, as easy navigation on your website increases user engagement.
The main goal is to build a straightforward website without excessive plugins, pop-ups, or other optimization and to grab clients' attention, which requires your website to be simple to use and easy to navigate.
You'll then need to generate traffic to your site after it's up and running in order to expand your clientele. There are a few ways to do this, but using Google Ads (formerly known as Adwords) is the most popular and efficient platform.
James Kuck's course will teach you how to create, design, and SEO-optimize your niche website from scratch & the training in this section goes pretty in-depth and is easy to follow.
5. Keeping Track
Once your website is running and your ad or promotion has been sent out, you must closely monitor it to ensure that you're getting the best results.
Now it's up to you to keep an eye on your progress and fix any problems that might be slowing it down.
Monitoring the website statistics will give you more insight into how your leads arrive on your website, and keeping track of the statistics becomes vital once everything has been established.
This displays whether the right leads that arrive on your website are being converted, and if there is an issue, it can be resolved, and everything can be made to function properly.
James Kuck will also teach students how to use phone software that requires every phone call log to be recorded in order to improve tracking and monitor the operation of the website. Practically every phone call log is recorded by the software.
In addition to this software, you can also use Google Analytics to track and monitor how visitors use your website. This tool will assist you in learning more about your audience, including where they are coming from and how long they spend on your website.
6. On-Page SEO
The term "SEO" stands for "search engine optimization," and optimizing your website for search engines is another important area of website development.
The ability to be found on Google is crucial to the success of your digital real estate business since, without it, you have no chance of generating leads, and no one will be willing to invest any money in a website like this.
On-page SEO is the process of making your website pages search engine-friendly so that they rank higher and get more visitors from search engines who are interested in what you have to offer.
The sixth step of the Digital Real Estate course teaches on-page SEO, which provides assistance in content ranking and gives visitors the best user experience possible.
For clients and other search engines, you should organize all of the content on your website according to your on-page SEO strategy. This includes URLs, title tags, internal links, and information about your website.
Your goal is to rank as high as possible, so make sure your website's web pages are well search engine optimized.
7. Off-Page SEO
In this segment of the course, you will be shown how to optimize your page for off-page SEO in addition to the earlier on-page SEO.
Off-page SEO is quite similar to on-page SEO in that it refers to measures made to influence your rankings on search engine results pages (SERPs), but in this case, outside of your website through means such as link building, social media marketing, etc.
When it comes to on-page SEO, the focus is entirely on your own website, but off-page SEO, on the other hand, is applied outside of your website.
It provides a means of guiding visitors to your page after they click your links that can be found outside of your website. The basic strategy for improving your off-page SEO is to build a number of high-quality links.
To sum this up, the best content creation and citation building are the two most important SEO techniques.
8. Find Potential Customers
The next stage after creating and optimizing your website is to start pitching clients so that you may rent your website out and earn money from it once you've ranked highly, are receiving traffic, and have a good amount of it.
The more people you can find who are eager to pay for leads for their local businesses, the more opportunities you'll have and the more earnings you will make.
Here, you'll need to get in touch with local business owners who could benefit from your site and get them interested in what you have to offer.
You'll see that a variety of people are interested in your website, including clients who are running Google Ads. You can take advantage of this to build your client base.
To do this, you can use Google Ads to get leads for your website, where they can view the free report you generated when they clicked on your ad, and they will then have to provide you with their contact information.
The beautiful thing about this is that this process is covered in the course. James Kuck shows you how to use your analytics at this stage, as well as how to find new clients and use your website's data to get them interested in renting your website.
9. Closing a Deal
The reality is that it can be difficult to successfully seal a deal. Using the information from your website, you can show clients, with proof to back it up, how your service can increase their revenue rather than just telling them.
This Digital Real Estate course's stage focuses on connecting with clients. After you've located a possible client, you can easily provide them with some of your free leads.
Offering some of your free leads will help your clients realize how important your services are, especially if you notice some apathy.
But since most local business owners still use old-fashioned ways of selling, you will need to explain this new method of doing things to them and point out its benefits.
To put it another way, make them aware that there is a need for your services. Make sure everything under your control operates well, and this will catch their attention and, in turn, help you close the deal.
During the training, James will show you how to talk to new clients, keep track of your outreach efforts, and close the deal.
Additionally, you will receive a sales closing script that you can use to ensure that when you find a potential client to pitch, a deal is closed.
10. Rinse and Repeat
The course's last lesson, which is also the 10th stage, summarizes the entire Digital Real Estate program.
At this stage, all you have to do is repeat the procedure after your first deal is successfully completed. You need to have a plan in place that you can use to repeat the process and close more sales.
Since you're just starting out in the field and might not have enough experience yet, the first offer you get will definitely be the hardest to seal.
However, once that initial contract has really been closed, all that is needed to do is to keep repeating the process. In other words, use the same strategy over and over to attract a large number of clients.
Your top priorities should be getting as many clients as possible, keeping them as clients, and getting used to the system. If you do these things, future deals will be a breeze.
What Do You Get Inside Digital Real Estate?
When you buy the Digital Real Estate Course, you will have access to a number of the resources listed below. All of its features are included in this list:
Complete lifetime access to the course,
Over 75 hours of video training are available, which includes updates applying to the training,
Access to James's Prospecting King's course for free,
Access to Local Youtube Domination course,
Access to his Private FB Mastermind Group,
Facebook Messenger direct line with the pros in the course,
Email templates and phone scripts, and
Full access to developers and outsources
The modules include everything you need to get started, including videos and PDFs on topics like choosing the best niche, creating the perfect website, domains, hosting, conducting keyword research, using Google Ads, and much more, as previously mentioned.
In the next section of this review, we'll talk about how much this course costs, including how much it costs to use the materials and resources related to this online business.
How Much Does Digital Real Estate Cost?
There's a lot of out-of-date information and reviews on the web about the Digital Real Estate course, but at the time of writing, this course costs $297 and provides lifetime access to its materials.
On the checkout page, there is also an instant upgrade for sale. If students choose this option, James Kuck and his team will take care of all the technical work that goes into making a website behind the scenes. However, a payment of $97 is required for this optional extra.
They also provide a refund policy that states that students can get a refund on the training within the first 14 days if they haven't completed more than 20% of it.
In other words, if after 14 days, a student has completed less than 20% of the training and decided it's not for them, they can request a full refund.
You may also be curious about whether or not there are any extra fees. There are, in fact, some added expenses.
If you want to make the most of the course, you should know that you will probably need to invest some additional money into things like hosting and software.
This is a general overview of what you'll need to purchase to implement the Digital Real Estate system & below are the estimate of the ongoing expenses for this business model;
Pricing for hosting and domain name: $25 monthly per website.
Price of email autoresponder service: $15+ monthly.
Call tracking services cost between $45 and $145 each month.
The one-time price of $498 is charged for using Callsling.
6 months of PO Box service can cost between $19 and $75.
For AHrefs, you can pay $99 per month.
SpyFu, monthly subscriptions from $33 to $199.
Budget at least $200 per month for pay-per-click ads.
Outsourcing: It Depends on the Job at Hand.
Keep in mind that it is expected that most, if not all of these resources will be required to successfully carry out this business model.
This means that on top of the initial cost of the course, you will be looking at around $500 in total each month to keep the business running.
Of course, however, whilst that may seem like a lot, it is not actually a huge amount in the grand scheme of things when it comes to starting a business.
Depending on whether or not it makes a profit, that is…
So, as we move on to the next section of this review, we will take a look at whether or not Digital Real Estate is a scam and if it is worth your money.
You Might Also Like:
Is Digital Real Estate a Scam?
If you are worried that Digital Real Estate is a scam, don't be. The simple answer is "no."
As you can likely see after reading this review, James Kuck has developed a convincing and practical training program for making money online.
This is a legitimate online course that teaches students how to create a website for generating local leads so they can rent it out to local business owners and profit from it.
Having said that, this course would be the best choice if you're interested in creating a lead generation website, pitching potential clients, and renting it to them for money.
It is also fairly priced; however, putting this strategy into proper practice requires a lot of time and effort, and it is by no means a get-rich-quick scheme.
Anyone can learn; even those wishing to leave the 9-to-5 job may do it with the right commitment and drive. So, in conclusion, Digital Real Estate is legit and not a scam.
Digital Real Estate Pros and Cons
To make it easier for you to decide whether or not it's worth it, we'll run through bullet-pointed lists of both the pros & the cons of the DRE Shortcuts Opportunity.
Pros
Ranking and renting websites is a legitimate business.
James Kuck is an expert in his field.
There are live coaching calls and meetings available.
The course is well-structured and reasonably easy to follow.
Positive reviews from students.
Purchases are backed by a 14-day money-back guarantee
Cons
For starters, the $297 payment fee can seem like a lot.
Digital Real Estate is an expensive business.
Building and ranking websites takes time.
Some unnecessary add-ons.
The extensive coverage is a drawback.
The pros and cons of Digital Real Estate listed above likely don't need any more explanation. Still, to give a better picture, we will go into more detail about one con, which is the extensive coverage of the program.
The extensive coverage is a drawback.
One drawback of Digital Real Estate is its extensive coverage. When the focus is on one niche at a time, it is more advantageous.
James is solidly grounded in the essentials. Even though he doesn't stand out in any one area, he gives advice across the whole field.
The downside is that engaging in several different niches instead of just one may be confusing for users, who may have trouble choosing which niche to focus all of their attention on, unlike if the course only focused on one niche.
With that being said, if you think this business model isn't for you, you might want to look into another way to make money online.
Read this review until the very end if you're looking for a low-cost option that's ideal for beginners, which will enable you to launch your successful online business from scratch and won't cost you anything to get started.
Final Thoughts
Making money online is possible with the help of the Digital Real Estate course, and it is a great choice if you're seeking a legit way to earn money online.
With this business strategy, you may earn as much or as little as you like, and you can do it from anywhere on the globe as long as you have internet access.
Anyone who's determined may carry out this business model because it doesn't call for any specialized knowledge or expertise, as everything that will be needed will be taught in the course of the program.
A website can be built, optimized, and promoted by anyone. Finding a client is the only thing that could be challenging for certain people. However, your computer and internet connection are the two most important things you need to make this work.
You can earn recurring income each month if you find a reliable client base and rent your website to them. It is important to remember that in order to gain their trust, you must provide evidence of your services.
James also does a great job of promoting this training course and giving away a number of bonuses. Additionally, his teaching approach makes it possible for everyone to comprehend this business concept.
However, some people could find this business strategy intimidating. For someone with at least 2-3 years of SEO experience, it might be a better choice.
We can't say for sure whether James' training is the best option for those just starting out in the field of digital marketing.
So, if you want a reliable alternative, you don't have to look any further. We'll be revealing one of the best affiliate marketing training platforms that can also be used to earn money online. Find out more below.
A Better Alternative
The sad truth is that unfortunately most of the programs promising to help you make money online are scams. I can say that confidently after exposing over 500+ of them here on this blog.
But the good news is that even though most of them are indeed scams, there are actually some very good programs in amongst them - some programs that can truly help you to earn money.
And out of all of the legit programs I've seen, the one I would recommend the most to anybody looking to get started online is Commission Academy. In my own opinion, that's the best place to start.
At Commission Academy, you'll be provided with everything you need (including the training & tools) to begin earning real money by promoting products or services for companies like Amazon online.
The best part is that there's literally no limit on the amount you can earn with it & the process is pretty simple which means that it's absolutely perfect for people that don't have much experience.
Some wealthy affiliates even earn as much as 5-figures per month... Or more!

I mean don't get me wrong, that kind of money won't just fall into your lap without doing any work... But the harder you're willing to work at it, the more you stand to earn with it.
So if you're looking to get started but don't know which route you should go down or which program you should join (and don't want to waste money on bogus things that don't actually work), then I'd highly recommend checking out Commission Academy first. You can learn more about it here.