The Discover This Plan system claims that it's going to share with a so-called "weird online trick" that allegedly enabled an 8 year old girl to make $490,600 – and it's also allegedly going to show you how you too can copy the trick too…
So basically in short they claim they're going to help you make hundreds of thousands of dollars with ease… But in order to actually get access to "the weird online trick" you've go to firstly hand over $97, which brings the big question – is it really legit? Or will Discover The Plan scam you out of your hard earned cash instead?
Thankfully you've landed in the right place to find out as I've personally took a closer look into this system & in this honest review I'll be uncovering the truth about the so-called weird online trick, as well as uncovering whether or not you can really make any money with it. 🙂
What Exactly Is Discover The Plan About?
Alina Morse from Oakland County, that's the 8 year old girl that the Discover The Plan system starts out by telling you about. She's the girl that sold over 2 million worth of healthy lollipops online… And apparently, according to the Discover The Plan system it was through some sort of "weird online trick".
However whilst Alina Morse's was indeed legit, if you just happen to scroll a little bit down the Discover The Plan website you'll be presented with a disclaimer that states the following:
*8 Year Old Girl Mentioned Is Not A Client Of This Product Or Program. She's Just An Example Of Someone Using The Same Business Model . Results Not Typical, Implied Or Guaranteed Obviously.
So essentially that basically says that the 8 year old girl is irrelevant.
Whilst her success is amazing, and even more so that she's achieved it at such a young age, basically it has nothing to do with the Discover The Plan program & it does not mean you will be able to earn anywhere near the same kind of money.
In fact I'm not gonna lie, after taking a closer look into the Discover The Plan & seeing what the "weird online trick" really entails, the truth is you'd be lucky to manage to make any money at all.
That's because essentially the Discover The Plan website is just a "doorway" website that's been put together to sell you into something called My Ecom Club, a program I chose NOT to recommend.
The reason I chose not to recommend it is because whilst it is technically legit, it's very expensive (thousands of dollars) and it seems to use a LOT of tricks to get people to buy into it – just like the Discover The Plan website, which in my opinion is another trick.
And Discover The Plan is not the first "doorway" website I've come across selling people into My Ecom Club. I've actually come across several others such as:
They all basically claim to provide you with some sort of easy "trick" or revolutionary "unheard of" method for making money online, but in reality despite their different approaches & claims they all just sell you through into My Ecom Club.
And the reason for that is likely because there have been a lot of negative reviews about My Ecom Club, so the creator of it (Teo Vee) is likely trying to create these new systems to escape the negative reviews…
It's a trick I see time & time again… But anyway let's take a look at how it all actually works…
How Does Discover The Plan Work?
Okay so basically the Discover The Plan website serves only 1 purpose, which is to basically hype you up about the potential opportunity of being able to earn lots of money quickly & easily online.
That's why the whole website is geared around some sort of "weird online trick", because the creators of it want you to believe that it's super simple & that you can basically just sign up & begin making money.
However surprise surprise the video found on the Discover The Plan website doesn't go into any great detail as to what the whole thing actually entails or what you'll be doing in order to make money…
Instead you're just pushed into handing over $97 in order to "find out more", which is a common trait of a get-rich-quick scam.
And it's when you hand over that $97 that you'll get to find out what you've really bought, because it's not access to a weird online trick at all, you'll have actually bought into (without knowing it) the My Ecom Club program.
So whilst you're essentially being sold access to a weird online trick for easily making $490,600, what you actually get access to is just a training course on how to start an ecommerce business online.
But there's another problem – which is the cost.
You see the training course that you're sold into (with some trickery) is actually technically legit, in the sense that you do get access to some genuine training… However that comes with a price.
The $97 is basically just an entry-fee, and as shown in the screenshot below in order to get full access to the program you'll be required to spend thousands of dollars… With no guarantee of making anything back.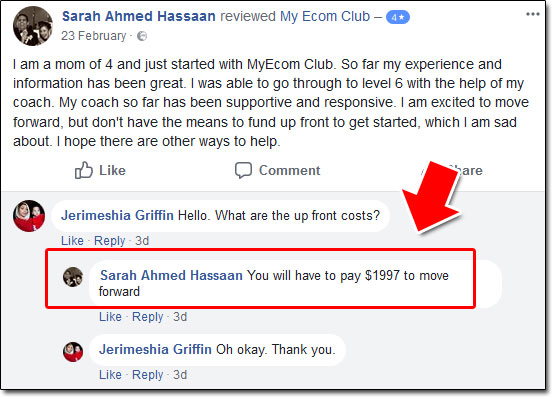 But will you make anything back? Well to be honest, the likelihood is no – because as far as I'm concerned even though the program is legit in the sense that it gives you training, I personally feel like it's more geared towards taking money from you than it is towards actually helping you.
And there is simply NO need to pay such crazy amounts for training that essentially uses tricks to get you to sign up when there are many legitimate & proven programs available like Wealthy Affiliate or Amazing Selling Machine.
Oh and the weird online trick? There isn't one! The trick is that they're using the promise of a trick to trick you into singing up… LOL.
The only way to earn good money online is to put in hard work, just like it works offline… You see the internet is great & all but it's not magical & therefore there isn't (and never will be) any super easy way to make tons of money.
Which brings me onto…
My Verdict – Is Discover The Plan a Scam?
As far as I'm concerned yes, Discover The Plan is indeed a scam. I mean I appreciate that you do indeed get access to some legitimate training, however due to the way it tricks you into buying something entirely different to what it promises, in my opinion it's a scam.
You see the truth is the whole website has realistically been setup with the intention of making it's creators (and the people who are promoting it) wealthy at your expense instead of actually been setup with the intention of helping you like it claims.
That's why it costs so much & that's why they're using all of these tricks and bold promises to get you to sign up rather than just telling you what's actually involved & being honest about the whole thing.
So for that reason I won't be recommending it to you because ultimately I feel like you'll find yourself disappointed if you buy into it & you'll likely ending up losing more than you ever manage to make. If you really want to learn how to make money then as I mentioned above in this review I suggest you simply check out a legitimate (and free) program like Wealthy Affiliate instead.
Or alternatively check out one of these other legit ways to make money online.
Either way just steer clear of the Discover The Plan system because it's honestly nothing but bad news – and if you do happen to have any further questions or comments then don't hesitate to leave them below. 🙂