The Amazing Selling Machine program (now known as Amazing Selling Machine X or ASMX for short) promises to provide you with a way to quickly build a life-changing business using Amazon, and it even claims to guarantee you results.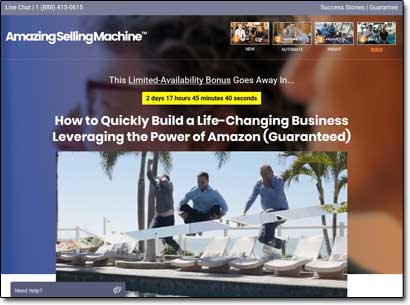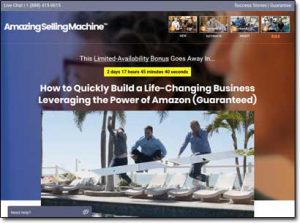 You're told that you'll be getting access to the most powerful program ever created & that you'll learn how to build your dream business even if you're totally new to online marketing…
But is it really legit? Or will the Amazing Selling Machine scam you & leave you out of pocket instead?
Thankfully you've landed in the right place to find out all the answers to your questions about the program as I've decided to put this review together sharing my honest experience with the ASMX program & I'll also be uncovering whether or not you'll truly be able to find success with it as they claim.
What Is Amazing Selling Machine X?   |   How Does It Work?   |   What Will You Learn?   |   The Costs   |   Is The Amazing Selling Machine a Scam?   |   A Better Alternative
What Is Amazing Selling Machine X?
The Amazing Selling Machine program is a jam-packed training course that teaches you how to create a profitable online business by leveraging Amazon & selling physical products through their site.

This version, the Amazing Selling Machine X or ASMX as it's commonly referred to is actually the 10th version of the Amazing Selling Machine and I have to admit that I have previously come across the product before but never really took much notice to it.
I can actually remember sitting watching the promotional video when it was previously launched the last time (I remember it well because the video was coincidently filmed in the same hotel room I stayed at in Las Vegas)… But I didn't take any action on it because at the time I had no interest in selling physical products on Amazon.
The reason I didn't take any action on it is that I'm an affiliate marketer. This means that I get paid commissions to promote third party products or services without ever having to handle sales/shipping or support.
All I have to do is connect people with the products they're looking for and I get paid commissions if they happen to click through my links & make a purchase (like how it's shown in the image below).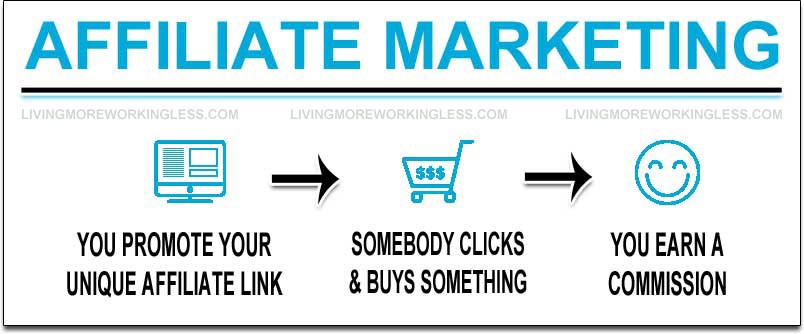 I figured that I didn't need to mess around selling physical products on Amazon for profit, after all, I could just join Amazon as an affiliate and promote any of the products from their site without having to mess around holding stock etc…
But I'm not gonna lie I made a mistake in thinking that.
Sure, affiliate marketing is great – you can certainly make a LOT of money with it. For example, right now I make around $10k+ per month with it which is pretty good but some people I know are making over $100k per month with it which is pretty darn crazy…
But there's also a LOT of money to be made by selling physical products on Amazon too, and unlike what I first thought, you don't actually need to hold stock or mess around shipping items or dealing with support. The Amazing Selling Machine X program shows you how you can build a hugely successful ($100k+ per month) business on Amazon selling physical products without ever having to hold stock.
So yeah, it's safe to say that you can't really compare the two. They are both VERY good ways to make money in their own right. There is no way you can really say that one is better than the other.
And by the way, if you do want to learn more about affiliate marketing whilst you're here be sure to check out Commission Academy – that's the best place I've ever come across to date to learn affiliate marketing.
But anyway back onto the Amazing Selling Machine X, no doubt you want to know about the good stuff… How does it actually work? What does it teach you? Do they really guarantee you'll make money? Let's take a look…
How Does Amazing Selling Machine X Work?
Okay so like I mentioned earlier in this review the Amazing Selling Machine X training program focuses on teaches you how to make money by selling physical products on Amazon. Don't get it confused, the ASMX is NOT an affiliate marketing course.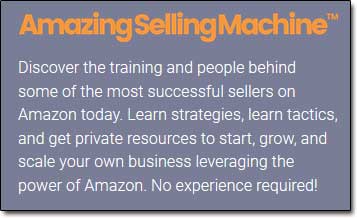 But the extremely interesting thing about the ASMX program is that they teach you how to do all of that without ever having to hold any stock at all – and of course, on top of that, they also guarantee that you'll find success.
Though when it comes to the guarantee I'm not quite sure how well that really holds out. I know MOBE (which has now shut down) made a similar guarantee but then pulled out every excuse to get out of it when people didn't find success…
I do have a lot more faith in the Amazing Selling Machine though they seem a lot more genuine & I'd like to think that they'd honour their promises.
Anyway so yeah, the one thing you can certainly rest assured about when it comes to the Amazing Selling Machine program is that they really do leave absolutely no stone unturned. When they say it's the most powerful program ever created to teach you how to profit from Amazon they really mean it, with over 120 lessons in their 8 module web class alone.
And like I said earlier in this review too this particular version is the 10th version of the Amazing Selling Machine, so they've improved & improved & you're getting access to their best program yet.
Also, I want to point out that unlike many other programs which use false scarcity tactics to get you to sign up, the scarcity on the Amazing Selling Machine website is very real. They open up, let a few people in then close out. The whole "time is running out" thing is not a joke when it comes to ASMX, so if you want in, you better get in whilst it's still open.

I missed out on the last one – I came back to it a few months after I first saw it (after I realized you didn't need to hold stock etc) but the doors were closed.
What Will You Learn In The ASMX Program?
Honestly, it's not often that I'm so praising of a program but through the Amazing Selling Machine course you'll learn literally everything there is to know about getting started & turning profits through Amazon sales.
If you regularly follow my blog you'll probably have noticed that most of the programs I review I end up giving a thumbs down, and that's because when I review things I am always brutally honest. If a program doesn't work as promised or I don't feel it'll really help you, I'll give it a thumbs down.
So it's rare I give a product a thumbs up (because there are so few genuine products), let alone get excited about one – like I am for the Amazing Selling Machine.
Through their training course you'll learn things like:
How to pick a profitable niche / find red hot products to promote
How to find high-quality suppliers to get great products at the cheapest price
Creating a brand for the products you sell
How to create a perfect Amazon product page to increase sales
How to get your products ranked at the top of Amazon in less than a week
How to nearly automate the logistics side of the business by leveraging Amazon
How to scale it all up – up to a monthly income of $100k by adding more products
On top of that, you also get access to a whole bunch of done-for-you material too, such as pre-written emails etc that you can send out to suppliers. This comes as part of what they call their "Private Resource Vault".
Oh, and you're never left to go it alone either like you are at many other programs. You get access to both a mentorship program & also an active community where you can engage with other members from the program.
And I know what you're thinking… You've heard the whole "mentorship" thing before but the mentors tend to just be salespeople (kind of like they are in high-ticket programs like the Six Figure Mentors)… But that's not the case with the Amazing Selling Machine.
Each of the mentors that you're given access to have had their own successful Amazon businesses doing exactly the same thing that you are being taught in the course – and to quote the Amazing Selling Machine website, "on average, the Mentors have sold over $1 MILLION on Amazon EACH in their own businesses".
That's pretty impressive!
You Might Also Like:
The Amazing Selling Machine Costs…
Okay, I'll admit – the Amazing Selling Machine is pretty expensive… But is it worth the cost? In my opinion yes it is – and I think in the instance of the Amazing Selling Machine (which is a genuinely limited availability program) the price is justified.
They are charging so much because they are only allowing a small number of people to get access so that they can offer proper coaching & support to those people. Therefore due to the small number of people they have in they have to price it accordingly otherwise it wouldn't be worth their while given how much content they've put into the whole thing.
So how much does it cost then?
Well, it's $3,997 if you decide to pay all in one go, or alternatively you can pay in 5 monthly instalments of $997.

The good news though is that they also offer a 30 day refund period so if you're not happy with you can just get your money back. As far as I'm aware they seem to honour that policy well too.
It's clear then to see that the Amazing Selling Machine is not really just for those dipping their toes, and it certainly shouldn't be seen as a way to "get rich quick"… So if you're down to your last $5k and thinking about buying in the hope that it'll quickly enable you to turn that into more money, then it's not for you…
But if you're serious about building an online business via Amazon & you have a good amount of cash to spare (as well as time to learn) then the Amazing Selling Machine is indeed a VERY good program and I'm certain you'll find massive value from it.
Is The Amazing Selling Machine a Scam?
The Amazing Selling Machine is absolutely 100% NOT a scam. It is a genuine, legitimate & very, very good program that will teach you everything you need to know about making money selling physical products on Amazon.
Sure, as I mentioned above it's not for those dipping their toes or looking to get rich quick, but if you're serious about building a long-term, proper business online then it'll definitely provide you with great value.
And whilst the limited availability can be a bit frustrating if you don't manage to get in on time if you do manage to become a member before it closes you can rest assured that due to the limitation on memberships you'll be getting a proper, more personal mentoring/training experience.
Don't forget though if you want something cheaper (or free) that can generate you the same kind of income then you can always check out Commission Academy which is my number 1 recommendation for getting started as an affiliate… Where you promote the products for commissions rather than sell them yourself.
Either way though whatever you decide to do I just hope that you found my review here insightful and hopefully it's helped you make a better decision as to whether or not you feel the Amazing Selling Machine X program is right for you. If you still happen to have any questions though then don't hesitate to leave them below & as always I'll do my best to respond as quickly as I can.
A Better Alternative
The sad truth is that unfortunately most of the programs promising to help you make money online are scams. I can say that confidently after exposing over 500+ of them here on this blog.
But the good news is that even though most of them are indeed scams, there are actually some very good programs in amongst them - some programs that can truly help you to earn money.
And out of all of the legit programs I've seen, the one I would recommend the most to anybody looking to get started online is Commission Academy. In my own opinion, that's the best place to start.
At Commission Academy, you'll be provided with everything you need (including the training & tools) to begin earning real money by promoting products or services for companies like Amazon online.
The best part is that there's literally no limit on the amount you can earn with it & the process is pretty simple which means that it's absolutely perfect for people that don't have much experience.
Some wealthy affiliates even earn as much as 5-figures per month... Or more!

I mean don't get me wrong, that kind of money won't just fall into your lap without doing any work... But the harder you're willing to work at it, the more you stand to earn with it.
So if you're looking to get started but don't know which route you should go down or which program you should join (and don't want to waste money on bogus things that don't actually work), then I'd highly recommend checking out Commission Academy first. You can learn more about it here.