The weirdly named DMM System Millionaire Coach (found at dmmsystem.com) promises to give you access to some sort of easy method for generating $1,000, $3,000 & even $5,000 cash commissions…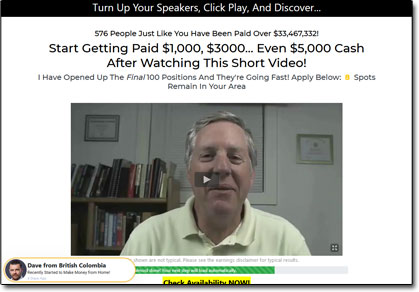 However in order to "try it out" you're required to firstly hand over $97 of your own hard earned cash, which has likely left you feeling a little sceptical.
So what's the truth? Does it really work? Or is the DMM System Millionaire Coach a scam to avoid?
Well the good news is that you've landed in the right place to find out because not only am I going to be revealing the full truth about it in this review, but I'm also going to be uncovering how the creator actually tried to silence me to prevent you from finding it out.
What Is The DMM System Millionaire Coach?   |   Why The Weird Name?   |   How Does It Work?   |   Is The DMM System a Scam?   |   The Creator Tried To Silence Me   |   The Bottom Line   |   A Better Alternative
What Is The DMM System Millionaire Coach?
The DMM System Millionaire Coach (which I'll be referring to as just the DMM System from now on) basically portrays itself as being some sort of system that can automatically earn you large commissions online without you having to do a great deal of work.
The website promoting it boasts claims like "you can start getting paid $1,000, $3,000, $5,000 commissions"… And that "over 576 people just like you have already been paid $33,467,332″…
So there's no doubt that it sounds pretty intriguing to say the least…
However just like most of the typical get-rich-quick scams I expose the DMM System then essentially forces you to hand over $97 of your own hard earned cash first in order to find out more about how it actually works.
The video on the homepage (prior to handing over your money) claims to tell you how it works, but it never does – at least not in any really form of detail anyway… Instead it just continually hypes up the opportunity in a further attempt to push you into handing over your cash.
And one thing I always stress is that you should NEVER spend money on something that is not fully explained prior to handing over your cash.
The reason for that is because most get-rich-quick scams promise members the opportunity to earn easy, fast money but then simply leave them to find out things aren't as they seem after they hand over their cash.
And I can say with confidence that in my opinion the DMM System is certainly NOT what it seems – and as their disclaimer states (shown below) – "who knows, you may never make any money":

I will explain why you likely won't make money with it below, but firstly before I do that…
Why The Weird Name?
One thing you're probably thinking is that the full name of the program, DMM System Millionaire Coach, is a little weird…
Well the reason for that is because the system actually goes under several names. Some web pages on the dmmsystem.com website refer to it as just the DMM System, some refer to it as the DMM System MOPB & some refer to it as the DMM System My Millionaire Coach.

This, in my opinion is done as a bit of trickery… To make it hard for you to find reviews about the program.
You see often when money-making scams launch they will regularly change their names in an attempt to escape the negative reviews that surface so that they can go on to con more people out of their hard earned cash…
And it seems in my opinion that rather than doing that, the creator of the DMM System has just made up a bunch of wacky names from the start in the hope that it'll simply make it difficult for people to find the correct reviews… Thus leading to them "trying it out".
And "trying it out" is exactly what the creator wants you to do, because that's how he's cashing in… But when I show you how it all works in the next section below I hope that you'll decide not to do that – and to avoid it instead. 🙂
How Does The DMM System Work?
The truth is that the DMM System is really just a doorway page that funnels visitors through into something known as a high-ticket affiliate program, and this is where things begin to get really sketchy.
You see the DMM System Millionaire Coach website itself boasts really hyped-up claims about how you'll be able to make lots of money & how you'll be able to make it all really easily… But not only is that very far from the truth, the creators also fail to mention the money that you'll actually need to spend first.
They make it seem like $97 is the only cost involved & that immediately after spending that money you'll be able to begin profiting – however the true cost is actually multiple $1,000's… Potentially even 10's of thousands.
And the majority of people who join these types of high-ticket affiliate programs actually fail to make anything back… So they end up spending thousands upon thousands of dollars & seeing nothing in return.
That's why the FTC has been busy shutting them down. Last year alone they shut down both MOBE & Digital Altitude & it wouldn't surprise me if they shut more down this year too (including this one).
But how are you supposed to make money through them?
Well in short the concept is that you sign up to learn how to make money, then you're left to discover that the way you actually make money with it is by getting others to sign up to it & invest just like you did.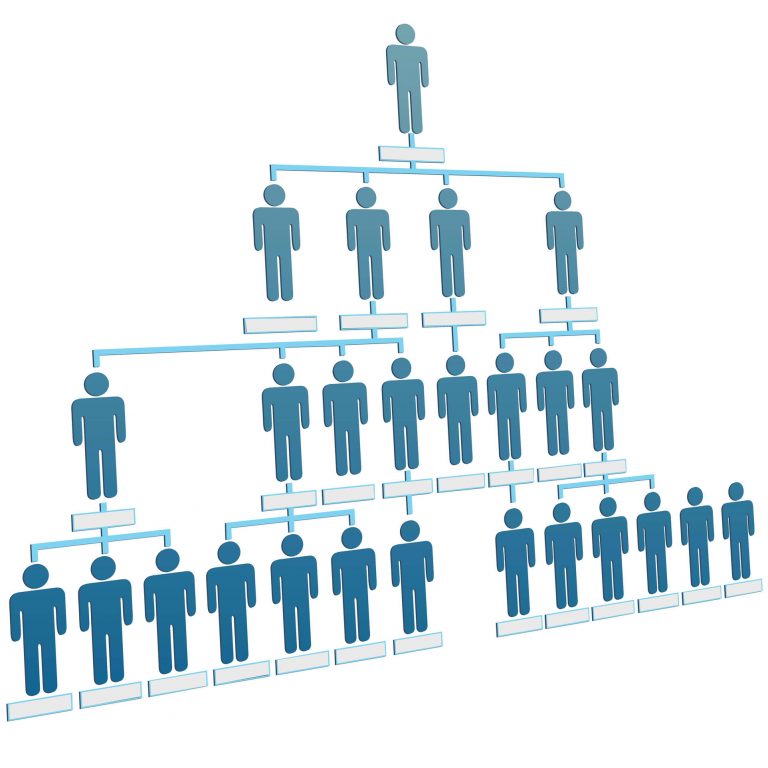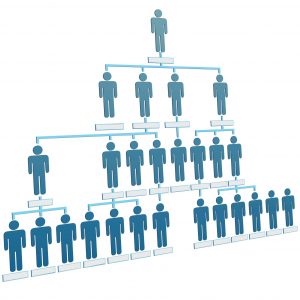 So you'll sign up to the DMM System, pay $97, then potentially multiple thousands… Then it will be your job to get others to sign up & invest as much money just like you did, only this time you'll earn at their expense.
It's safe to say it's not a business model l am fond of whatsoever as it falls extremely close to a pyramid scheme, which of course is completely illegal & ultimately unsustainable.
The much better option is just to join a free training ground like Commission Academy & learn how to properly build a real business online – a business that is actually legitimate & that will stand the test of time.
Is The DMM System a Scam?
Sure, there is the "possibility" of being able to make money via the whole DMM System thing (if you're able to recruit somebody else and get them to invest), but ultimately in my opinion I do believe it is still a scam simply because it is SO misleading.
You're led to believe that you can just sign up & profit, but that is not going to happen…
And also you're told that you'll get access to so-called "millionaire coaches", who in actual fact aren't millionaire coaches at all… They're just sales people that have been employed to encourage you to invest more money.
Those tactics in my opinion are tactics of a scam.
But those aren't the only dodgy tactics either – it actually gets worse because all of the so-called "testimonials" on the website are fake as well. The people shown in the video are simply paid actors that have been hired from the website Fiverr.
You can see below that the same guy shown in the DMM System video has actually featured in several other videos for scam systems boasting similar claims:

Why would any legitimate business need to pay actors to say good things about their services if they were truly as good as they claimed?
They wouldn't… It's the act of a trickster… And I think that alone speaks volumes about the whole thing.
But that brings me onto my next point…
How Did The Creator Try To Silence Me?
Believe it or not, upon advising people to steer clear of this system the creator of the high-ticket affiliate program behind it threatened me with legal action, claiming that my claims were "defaming"… Which frankly is just ridiculous.
It is quite clear for anybody to see that the claims presented by the DMM System are wildly misleading.
How can you run with the headline "start getting paid $1,000, $3,000 and even $5,000 cash after watching this video" and then include the following your disclaimer:

How can you claim you have "opened up the final 100 positions" when the website has been online for months and is still accepting new members?
How can you use fake actors making fake claims about the program to trick people into signing up & think that is OK?
Clearly therefore my statements are not defaming, they are true – and I will continue to publish them in order to protect people from falling victim to this thing.
The Bottom Line
In my opinion the DMM System has been launched with the sole intention of parting people with their hard earned cash so that the person behind it (and the "gurus" that are promoting it) can earn commissions at their expense.
Just as the DMM System disclaimer states, the average person who joins it will likely make no money (despite the website claiming that it easy to make thousands of dollars even if you're new).
So for that reason there is simply no way that I will be recommending the DMM System to you, and instead I will be advising that you steer clear of it.
A Better Alternative
The sad truth is that unfortunately most of the programs promising to help you make money online are scams. I can say that confidently after exposing over 500+ of them here on this blog.
But the good news is that even though most of them are indeed scams, there are actually some very good programs in amongst them - some programs that can truly help you to earn money.
And out of all of the legit programs I've seen, the one I would recommend the most to anybody looking to get started online is Commission Academy. In my own opinion, that's the best place to start.
At Commission Academy, you'll be provided with everything you need (including the training & tools) to begin earning real money by promoting products or services for companies like Amazon online.
The best part is that there's literally no limit on the amount you can earn with it & the process is pretty simple which means that it's absolutely perfect for people that don't have much experience.
Some wealthy affiliates even earn as much as 5-figures per month... Or more!


I mean don't get me wrong, that kind of money won't just fall into your lap without doing any work... But the harder you're willing to work at it, the more you stand to earn with it.
So if you're looking to get started but don't know which route you should go down or which program you should join (and don't want to waste money on bogus things that don't actually work), then I'd highly recommend checking out Commission Academy first. You can learn more about it here.