Welcome to my DragonChain review. In case you don't already know DragonChain is a newly launched cryptocurrency that claims to be built on the most secure & flexible serverless blockchain platform ever made.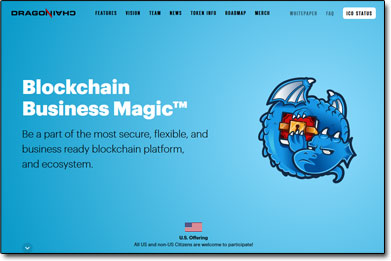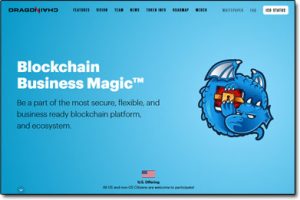 The blockchain protocol itself was actually originally built by Disney but the Dragon coin has now launched under an ICO Initial Coin Offering with the hope of releasing publicly & rivalling the likes of Ethereum – but will it really stand a chance?
Thankfully you've landed in the right place to find out as I'm going to be uncovering everything there is to know about it right here in this review.
What Is DragonChain?   |   The DragonChain ICO   |   Can You Make Money From DragonChain?   |   Is DragonChain a Scam?   |   A Better Alternative
What Is DragonChain?
Originally created by Disney, DragonChain is a blockchain network that was launched with the intention of being able to transfer money with more privacy than you currently can with the more widely known networks like Bitcoin, Ethereum etc.
At first, it was only going to be built for Disney's own use but the creators have since decided to scale it up & turn it into a full-blown commercial business so that other companies can take advantage of the technology & make transfers through DragonChain themselves to help maintain more privacy.
The idea of creating a blockchain with more privacy is to help reduce the risk of fraud, as with other blockchains your data is essentially "out there" in the public eye & currently available encryption can ultimately be decrypted with a little bit of time & work.
Instead of encryption DragonChain uses complex algorithms to document transactions which is much more difficult (and hopefully to them almost impossible) to access.
Over the past few months, I've seen a LOT of new ICO's launch such as Electroneum, IndaHash & Ethconnect but I have to say that alongside them DragonChain definitely seems to boast the most potential.
And with it being associated with Disney it obviously brings that additional level of trust.
The DragonChain ICO (Initial Coin Offering)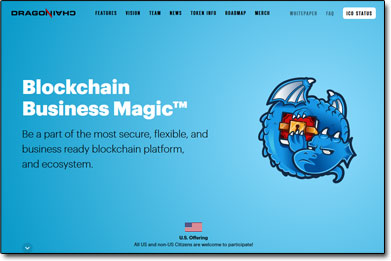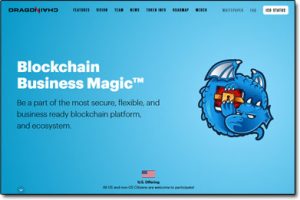 At the moment the Dragon coin hasn't been publicly released & instead tokens are currently being sold to raise funds through an ICO which stands for Initial Coin Offering.
By investing in the ICO you will be able to get early access to the currency & you will be able to buy the currency at its lowest price with the hope that after it's launch it will increase in value & give you a return on your investment.
However, there is always the chance that things might not go to plan & there is no guarantee that the currency will go up in value – it could potentially even go down & that's why when looking at anything like this it's important to only ever consider investing funds that you can actually afford to lose.
The main thing to look out when investing in an ICO is the "unique selling point" – what makes the coin better than others? Can it rival the other big names like Bitcoin or Ethereum?
If it doesn't have one or you don't think it can rival the other coins then it's probably not worth investing in because it most likely won't make too much of an impact upon launch. As an example, Electroneum's USP was that it could make mobile cryptocurrency transactions easier – in this instance with DragonChain the main USP is that it can make transactions more private.
Is that a good enough USP to rival other coins? In my opinion yes it is, in fact it's probably one of the best ICO's I've come across yet because the majority of people that are actually transacting cryptocurrencies are doing so to keep their transactions private. Privacy is a big thing in the crypto-world & I am confident that anything that can heighten that will make waves for sure.
It's safe to say that quite a lot of other people believe in the DragonChain technology too because to date here's the amount they've raised through their ICO:
ETH – 30,521.85
BTC – 622.51
USD – 13,836,803.14
Chances are those values will change when you read this review but it just highlights the staggering amount of people that clearly believe in the DRGN Dragon coin & the technology that it's built on.
You Might Also Like:
Can You Make Money From DragonChain?
There is definitely the potential to make money by investing DragonChain but as with any ICO there is no way of guaranteeing what the value of the coin will look like upon it's like – it could go up but similarly it could go down.
Essentially investing in any ICO or cryptocurrency poses risks, but in my personal opinion, I think that out of all of the ICO's I've come across so far DragonChain definitely looks like one of the more promising ones to invest in.
The main reasons for that are because it's backed by a solid name, associated with a big brand & built with new technology that could definitely carry the potential to rock the crypto-world & rival big-name coins like Bitcoin & Ethereum.
So can you make money? Yes… But will you make money? Who knows – maybe, maybe not.
Is DragonChain a Scam?
I can appreciate why a lot of people are asking this question. With all the cryptocurrency scams launching lately like Bitpetite & Ethconnect it can leave you wondering who you can trust but in my opinion, DragonChain is definitely not a scam.
The reason I am so confident in saying that is because the company is so very closely associated with the big-name Disney (and yes they actually are, not like the scams who claim to be associated with big companies or claim to have had backing from celebrities).
Obviously, they wouldn't want to ruin their reputation by releasing something like this so I have very good faith in the fact that the team behind DragonChain will be putting their all into the company & doing their best to produce a reliable blockchain with its users in mind.
In my opinion, overall I see DragonChain as being a very promising ICO.
A Better Alternative
The sad truth is that unfortunately most of the programs promising to help you make money online are scams. I can say that confidently after exposing over 500+ of them here on this blog.
But the good news is that even though most of them are indeed scams, there are actually some very good programs in amongst them - some programs that can truly help you to earn money.
And out of all of the legit programs I've seen, the one I would recommend the most to anybody looking to get started online is Commission Academy. In my own opinion, that's the best place to start.
At Commission Academy, you'll be provided with everything you need (including the training & tools) to begin earning real money by promoting products or services for companies like Amazon online.
The best part is that there's literally no limit on the amount you can earn with it & the process is pretty simple which means that it's absolutely perfect for people that don't have much experience.
Some wealthy affiliates even earn as much as 5-figures per month... Or more!


I mean don't get me wrong, that kind of money won't just fall into your lap without doing any work... But the harder you're willing to work at it, the more you stand to earn with it.
So if you're looking to get started but don't know which route you should go down or which program you should join (and don't want to waste money on bogus things that don't actually work), then I'd highly recommend checking out Commission Academy first. You can learn more about it here.