IndaHash is a website that connects social media influencers with advertisers in an effort to help them make money, but on top of that, the company is now releasing a cryptocurrency named the IndaHash Coin…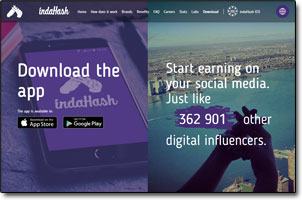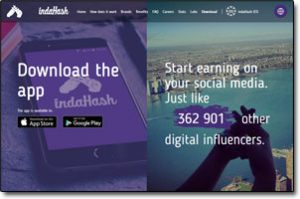 At the moment the coin is in its ICO stage (Initial Coin Offering) & the company claims that investors will likely see great returns when the coins released if they purchase tokens prior to its launch…
But this has left a lot of people wondering is it legit or is IndaHash a scam, and are you really likely to make money from the coin? I've taken a closer look & in this review, I'll be answering all those questions.
What Is IndaHash?   |   The IndaHash ICO   |   Can You Make Money?   |   A Better Alternative
What Is IndaHash?
To help determine whether or not the IndaHash coin will be profitable you should probably know what the company is about & how they generate revenue, so before talking about the IndaHash ICO let me firstly run over a few details about the company itself…
Basically IndaHash acts as a middleman between people who have influence on social media & advertisers who are looking to promote their brand.
So essentially if you have a large or strong following on social media you can sign up to IndaHash & advertisers will pay you to promote their products (if they determine your audience to be a good fit for their brand).
IndaHash of course take a small cut of the fees paid in return for providing the service, and this is where the majority of the companies revenue comes from.
And unlike some of the other cryptocurrency opportunities I've come across recently (like USI Tech & BitConnect), IndaHash don't keep any of the details about the company hidden – in fact their actually very open & transparent.
The company has been founded by a lady named Barbara Solytysinska who formerly owned a company named Life Tube which she not so long ago sold in order to raise funds to start up IndaHash.
It's safe to say Barbara herself has a solid reputation as she's previously won the Entrepreneur of the Year awards & has been rated among the top 100 most inspiring people in the business world.
She is also quite well known for being the first woman to win the MIXX "Man of the Year Award" back in 2015.
But the most important thing about Barbara's previous business experience is that she's clearly been able to generate some good contacts & she's already managed to get several reputable big name brands working with IndaHash such as Coca-Cola, McDonalds & Mastercard.
So if you're wondering is IndaHash legit as a company then yes, it most certainly is…
But What About The IndaHash ICO?
The biggest problem IndaHash has faced to date is with making payments to their influencers. Don't get me wrong they have a good reputation at making payments & making them on time, but with their influencers being located in so many different countries all across the world this makes payment transfers quite expensive & timely.
So Barbara has decided to venture into the cryptocurrency world, creating the IndaHash coin which will mean that influencers that are associated with the company can get paid much more quickly & easily.
It will also mean that IndaHash will be able to save a huge amount of money on the payments made & these savings will also be passed onto influencers & advertisers so it should help increase business as a whole.
On top of that it also means that influencers won't need to pass on as much personal data to IndaHash (such as bank account details etc) so IndaHash estimate that they'll be able to build a much larger base of influencers as they'll open themselves up to those worried about sharing data online.
So is the IndaHash coin legit? Yes in my opinion it is – in fact out of all of the various cryptocurrency ICO's I've seen surfacing over the past few months I'd have to say that the IndaHash coin looks to be one of the most promising – alongside the Electroneum Coin.
Now for the part you've most likely been waiting for…
Can You Make Money With The IndaHash ICO?
Well the IndaHash coin is clearly legitimate as we've determined above & it does have the potential to rise in value, but the only way I can see it significantly rising in value is if it becomes adopted throughout the whole industry but that's something I can't really see happening.
The reason I can't see it happening is because IndaHash is branded to the company, so if other social media companies were to introduce it then they'd effectively be promoting IndaHash which is something I can't imagine they'd really want to do because it could ultimately take business away from them.
However in saying that as ICO's go IndaHash is probably one of the most legitimate ones I've come across & does definitely still have some good potential so I wouldn't completely disregard it, though I may sway towards saying that Electroneum could possibly be a better coin to look at.
Overall though thumbs up for IndaHash, the IndaHash Coin & the ICO.
A Better Alternative
The sad truth is that unfortunately most of the programs promising to help you make money online are scams. I can say that confidently after exposing over 500+ of them here on this blog.
But the good news is that even though most of them are indeed scams, there are actually some very good programs in amongst them - some programs that can truly help you to earn money.
And out of all of the legit programs I've seen, the one I would recommend the most to anybody looking to get started online is Commission Academy. In my own opinion, that's the best place to start.
At Commission Academy, you'll be provided with everything you need (including the training & tools) to begin earning real money by promoting products or services for companies like Amazon online.
The best part is that there's literally no limit on the amount you can earn with it & the process is pretty simple which means that it's absolutely perfect for people that don't have much experience.
Some wealthy affiliates even earn as much as 5-figures per month... Or more!


I mean don't get me wrong, that kind of money won't just fall into your lap without doing any work... But the harder you're willing to work at it, the more you stand to earn with it.
So if you're looking to get started but don't know which route you should go down or which program you should join (and don't want to waste money on bogus things that don't actually work), then I'd highly recommend checking out Commission Academy first. You can learn more about it here.