Welcome to my Ethconnect review! Ethconnect (otherwise known as ECH) is a new blockchain-based cryptocurrency that's currently in its ICO Initial Coin Offering stage & on top of making transactions easier it claims to be able to help it's members earn money through investments & lending.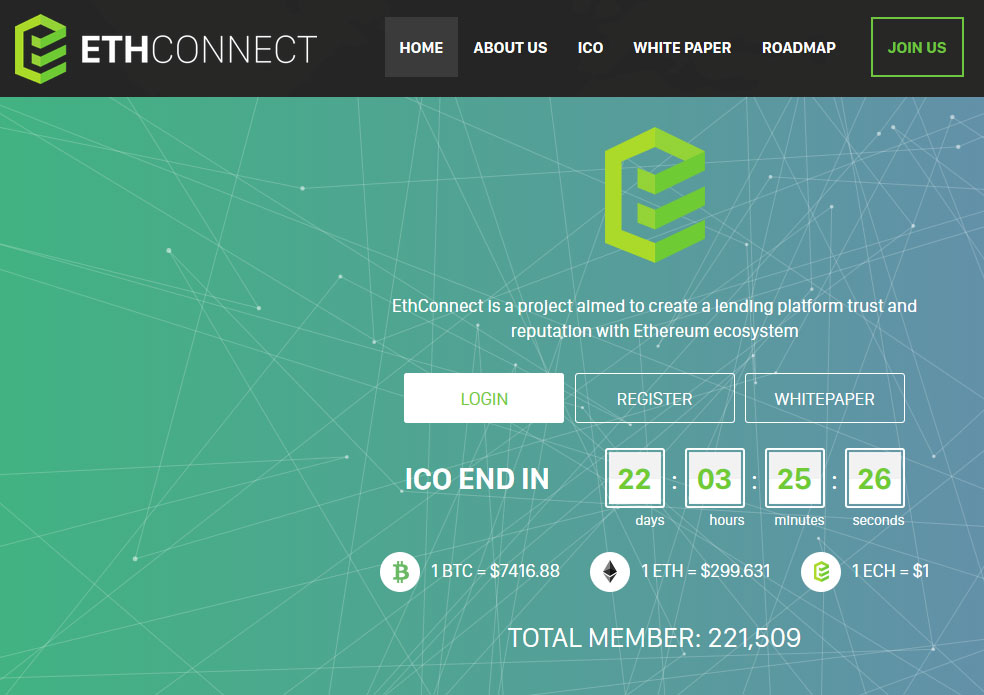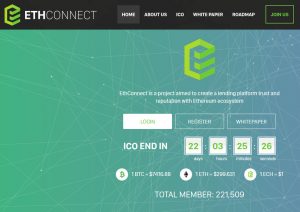 The question many people are wondering though is whether or not Ethconnect is actually legit as there's been a lot of shady new ICO's & cryptocurrency opportunities launching over the past year, many of which I've exposed on this blog.
Thankfully you've landed in the right place to find out because in this review I'm going to uncovering literally everything there is you need to know about Ethconnect ECH.
What Is Ethconnect?   |   The Ethconnect ICO   |   How Does Ethconnect Work?   |   Can You Make Money With Ethconnect?   |   Is Ethconnect a Scam?   |   A Better Alternative
What Is Ethconnect (ECH)?
Ethconnect is actually another branch of a recently launched opportunity named Bitconnect & it claims to provide a trustworthy lending platform through which you can receive daily interest on your investment.
The interest paid out can be up to a whopping 52% monthly which is most likely what's caused the Ethconnect scam rumours because as you probably know when something sounds too good to be true sadly it generally is.
And if it follows similar traits to its relative Bitconnect then it could potentially just be another well-disguised Ponzi scheme that will ultimately just be a churn & burn money-maker for some, but a long-term loss for others.
The Ethconnect ICO (Initial Coin Offering)
At the moment Ethconnect is currently in its ICO stage which means the coins are not being traded publicly at the moment, but you can purchase them prior to their launch in the hope that when they do launch they will increase in value.
Its biggest rival is another cryptocurrency named Electroneum, but that particular currency has just recently been hit by a cyber-attack prior to its launch which has caused quite a lot of investors to pull out – now a lot of the attention that was formerly being paid to Electroneum is now being paid towards Ethconnect instead.
Ethconnect plan on releasing a total of 8,000,000 ECH tokens during their ICO (which you will then be able to exchange for ECH coins once they're launched). The cost of the tokens will increase as more are purchased, so essentially they have created a sense of urgency as the sooner you invest the cheaper you will obtain tokens for.
Here is a breakdown of how the tokens will be priced during their release:
0-1 million tokens: $0.50
1-2 million tokens: $0.55
2-3 million tokens: $0.60
3-4 million tokens: $0.65
4-5 million tokens: $0.70
5-6 million tokens: $0.80
6-7 million tokens: $0.90
7-8 million tokens: $1.00
This false sense of urgency makes it a little harder to determine how the coin will value will go after they are released to the public because ultimately the demand could be purely down to people aiming to get the coin at its lowest price as opposed to investing based on seeing the potential in the company itself.
How Does Ethconnect Work?
Many of the other ICO's such as IndaHash, for example, are launching coins purely to make transactions easier/help increase the companies growth & are providing people with the opportunity to invest in the coin merely with the hope that it will increase in value due to it's usefulness.
Ethconnect, however, is different, they themselves don't actually seem to be bringing anything new to the table & their opportunity to earn money is a little different to those provided by the other ICO's that are currently launching.
Yes, with ECH you can invest in the coin & hope it will increase in value (known as staking) however it seems that the majority of the money being paid out is through their "Lending" program.
Essentially you'll be investing money in ECH which will supposedly be borrowed to Ethconnect themselves to allegedly help them develop their business (similar to how Home Blockcoin works), then in return Ethconnect claim, they will pay you a whopping daily interest which can equate to up to 52% per month.
At a glance, it sounds like the scheme could potentially be legitimate but when you take a closer look at the company you'll see that they also operate a recruitment opportunity & when bold returns & recruitment are combined generally it means a Ponzi scheme is being operated.
Through the recruitment opportunity you get paid commissions on the investments made by people you refer to the company (and these commissions are paid out on multiple levels as shown below):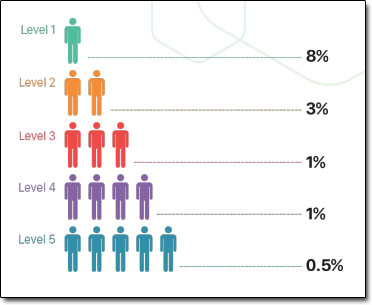 This basically means that there's an extremely high chance that the money being paid out through the "Lending" opportunity as interest is actually coming from the new funds being paid in by new investors which will ultimately make the company completely unsustainable & put people at risk of losing money.
I'm not saying that definitely is the case as it's far too early to tell but it certainly looks likely that it could be & to be honest, that's why where recruiting is involved I always advise people to steer clear because, in my opinion, it's just way too risky.
You Might Also Like:
Can You Make Money With Ethconnect?
There is certainly the potential to make money with Ethconnect but it looks to me that to do so you would be required to put your funds under a high lot of risk as it seems the company is relying on new investors as their main source of income.
This means that if new investors stopped paying in, then money would be stopped paying out – and often when this happens the company completely shuts up shop & disappears taking all of the invested funds with them.
The other worrying thing is that you cannot directly invest money in return for the ECH currency, you have to buy in through either Bitcoin or Ethereum which means that your investments will be completely untraceable so if they do disappear with your money then you'll have pretty much no chance of getting it back.
Is Ethconnect a Scam?
To be honest, as I mentioned earlier in this review with it still being in its ICO stage it's a little bit too early to tell but I'm not going to lie it does show all the tell-tale signs of being a Ponzi scheme as many (including myself) also suspected of its partner Bitconnect.
Would I personally in the ECH coin through Ethconnect? No, I personally wouldn't because I just believe that where both investing & recruiting is involved things just get far too risky as it's too easy for companies to disguise where the money is coming from which could potentially mean it's coming directly from new investors buying in.
Don't get me wrong though there's definitely the potential to make money with opportunities like Ethconnect, you just need to know that there's a heck of a lot of risks involved, not only because the company could disappear at any given moment but because the investments made are completely untraceable as they're made via cryptocurrencies.
Basically what I'm saying is that if you do still plan on investing in Ethconnect then you should make sure that you only invest money that you can afford to lose – as you should with any type of investment that carries risk.
A Better Alternative
The sad truth is that unfortunately most of the programs promising to help you make money online are scams. I can say that confidently after exposing over 500+ of them here on this blog.
But the good news is that even though most of them are indeed scams, there are actually some very good programs in amongst them - some programs that can truly help you to earn money.
And out of all of the legit programs I've seen, the one I would recommend the most to anybody looking to get started online is Commission Academy. In my own opinion, that's the best place to start.
At Commission Academy, you'll be provided with everything you need (including the training & tools) to begin earning real money by promoting products or services for companies like Amazon online.
The best part is that there's literally no limit on the amount you can earn with it & the process is pretty simple which means that it's absolutely perfect for people that don't have much experience.
Some wealthy affiliates even earn as much as 5-figures per month... Or more!

I mean don't get me wrong, that kind of money won't just fall into your lap without doing any work... But the harder you're willing to work at it, the more you stand to earn with it.
So if you're looking to get started but don't know which route you should go down or which program you should join (and don't want to waste money on bogus things that don't actually work), then I'd highly recommend checking out Commission Academy first. You can learn more about it here.